Optimize Your Connection to the Hybrid Cloud
With more options for connectivity, organizations face challenges as they move more data and systems to the cloud.
Ram Neema
Principal Field Solution Architect
As a Principal Field Solution Architect, Ram engages with customers to discuss their Enterprise-wide SD-WAN solution, enables hybrid work environments and cloud connectivity options and designs SD-WAN & cloud security solutions of all sizes and ranges of complexity.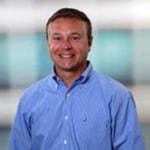 Pete Schepers has been with CDW for more than 13 years and has worked in roles on the Professional Services side of CDW and most recently as a Secure Network Access Solution Architect. Working with professional services allowed Pete to have in depth experience at deploying both small- and large-scale networks across technology spaces. The technologies include security, networking, and wireless.