ServiceNow: Your Enterprise Engine for Strategic IT
ServiceNow capabilities can help organizations align IT and business operations to achieve true digital transformation.
Digital Transformation and IT's New Role
The Building Blocks of Business Agility
Optimize ServiceNow with CDW
The Opportunity and Risk of Digital Transformation
For many business and IT leaders, digital transformation poses a unique challenge: It is the most urgent adaptation their organizations must make to survive in the digital economy, and it can be a daunting endeavor. What's more, organizations do not have the luxury of slowly finding their way. According to McKinsey, pandemic-driven disruptions quickened the pace of digital technology adoption by three to seven years. The winning pace a few years ago is now, quite simply, too slow. 
Digital transformation can be powerful, disruptive and complex. For many organizations, it fails to achieve desired objectives, and leaders are often unsure why. IT departments are at the forefront of these initiatives, but they may also struggle to support them. Insulated from enterprise outcomes and strategies, the IT team tends to become an "order taker" rather than a strategic, service-oriented partner aligned with business needs and digital strategies.
ServiceNow, a cloud-based company that enables enterprises to modernize operations on a single platform for IT, provides a "digital transformation engine." This helps to reposition IT while facilitating the three pillars of digital transformation: an IT operational backbone, a service-aligned operating model and digital product portfolio management.
ServiceNow provides the technologies that can mature an IT department into a modern, business-driven organization that supports enterprise digital transformation at scale. At its core, the platform provides workflow automation, intuitive user experiences, a shared data model and a single system of action that accelerates an IT team's ability to deliver digital products and services at speed.
Organizations that succeed in digital transformation typically follow a similar approach. They take a longer-term strategic posture that incorporates fundamental changes in the way they do business. This includes building a digital transformation engine that simplifies routine work and frees up the organization to focus on innovation. Agility today is much broader than a single technology solution. The right foundation, however, can set the stage for all the efforts that follow, ensuring that change becomes faster, more effective and longer-lasting.
3 PILLARS TO SUCCESSFUL DIGITAL TRANSFORMATION
IT Operational Backbone: A modern backbone provides standard processes, source-of-truth data and a system of action, which together form the bedrock of capabilities to operate at the speed of digital business.
Service-Aligned Operating Model: When properly aligned with business needs and objectives, IT services provide the value and delivery mechanisms that underpin digital business strategy.

Digital Product Portfolio Management: This is a shift from project-based investment strategies to digital product investment strategies with value streams that yield stronger connections to business needs and organizational priorities.
Digital Transformation and IT's New Role
Many organizations pursue digital optimization activities that are mislabeled as digital transformation, which can lead them to fall short of expected outcomes. A truly transformative approach is a holistic journey, open to change and driven by clear, specific and value-based relationships between IT investments and business outcomes. 
These initiatives focus on digitizing a function, process or workflow. For example, an organization may deploy an onboarding portal for new employees to automate certain tasks, increase visibility and enhance the user experience. While such improvements provide valuable outcomes, they are targeted initiatives with narrowly defined scopes.
A JOURNEY TO MODERNIZE IT
Modernizing IT is a journey to develop the core competencies needed to support digital transformation at scale. In each area, ServiceNow technologies are leveraged in the context of organizational change to support modern capabilities that provide a foundation for future optimization.
Digital transformation incorporates the business strategy that defines how an organization wants to operate in the digital economy — for example, creating a digital storefront that offers online shopping via a mobile app. It encompasses organizational structure, operating models, processes, technology and culture. Transformation is a journey requiring a holistic approach.
The goal of modernizing IT is to build a set of repeatable, modern capabilities with a level of operational efficiency that enables the organization to focus on more strategic digital transformation work. ServiceNow drives that efficiency through core operational processes that are managed using its end-to-end workflows.
IT AS A STRATEGIC PARTNER
Digitally driven solutions and products require organizations to rethink interactions with customers, suppliers and supply chains. That in turn requires IT departments to engage in new ways, shifting to become a strategic partner in enterprise digital initiatives, with modern operational capabilities to meet business needs at speed.
Learn how CDW can help your organization move from digital optimization to the full power of digital transformation.
The percentage of executives who view digital transformation as very important to their organizations and foresee significant related investment in 20221
The percentage of CEOs who are leveraging automation, digital platforms and other technology solutions to protect and improve profit margins2
The percentage of CIOs who will prioritize "evolving IT beyond an enablement function to be a strategic partner to the business" in 20223
The increase in innovation, measured as a percentage of revenue derived from new offerings, among companies with an effective operational backbone4
The increase in agility, measured as reusing a service in developing new offerings, among companies with an effective operational backbone4
The percentage of digital investments that by 2025 "will fail to deliver their expected business outcomes in the absence of a strategic portfolio management approach"5
Sources: 1PwC, "PwC Pulse Survey: Executive views on business in 2022," January 2022; 2EY, "EY 2022 CEO Outlook Survey," January 2022; 3ey.com, "CIOs, CTOs and Technology Leaders: Latest findings from PwC's Pulse Survey," January 2022; 4Jeanne W. Ross, Cynthia M. Beath and Martin Mocker, "Designed for Digital: How to Architect Your Business for Sustained Success," September 2019; 5Gartner, "Leadership Vision 2022, Program and Portfolio Management," August 2021
The Building Blocks of Business Agility
Researchers at the Massachusetts Institute of Technology first defined the "operational backbone" as integrated systems and processes that facilitate efficiency and ensure high-quality data. Most simply, it represents the foundational capabilities needed to compete in the modern digital economy. More importantly, when applied to IT organizations, the operational backbone enables IT teams to perform as strategic partners with constituent enterprise functions in pursuit of digital change initiatives. 
The IT operational backbone has four dimensions: standard processes, shared data, shared applications and shared technologies. Together, they form the necessary structure to modernize IT so that routine operational work is truly routine, creating a level of efficiency that frees IT professionals to focus on the strategic work that drives digital transformation. ServiceNow is uniquely positioned to merge these dimensions on a single platform, enabling organizations to achieve the operational efficiencies that drive speed, innovation and IT-business alignment. 
Complementing the IT operational backbone are the service-aligned operating model, which positions IT to effectively deliver the value and capabilities behind digital strategy, and digital product portfolio management, which builds strong connections between organizational goals and digital transformation investments.
Power Your Transformation
Digital transformation requires a repositioning of IT within the organization. ServiceNow provides systems and structure for the core capabilities of that new role.
Standardized processes leverage automated efficiencies and intuitive interfaces to establish cohesive, efficient workflows. These are a hallmark of ServiceNow capabilities. The platform provides numerous out-of-the-box processes that support enterprise use cases across the operational spectrum, including IT service management, asset management, security operations and integrated risk management. This consistency modernizes the user experience and ensures end-to-end visibility.
SERVICE-ORIENTED IT MODEL
A service-oriented approach shifts the perception of the IT department from "order taker" to provider of services that advance digital strategy. The IT team builds and extends services proactively based on deep knowledge of business objectives: forecasting demand, making investments and, in short, functioning like a business rather than a technology provider. This partnership builds trust as it aligns IT services with business needs.
Data is a powerful asset for growth:          22 percent of CEOs prioritize the use of data to develop new products and services, according to EY. Shared data, accessible across functional boundaries, provides end-to-end visibility and insights. ServiceNow's Configuration Management Database serves as a source-of-truth nerve center, while its Common Service Data Model provides the data structures to enable workflow automation, artificial intelligence and advanced optimization.
SERVICE ACROSS THE LIFECYCLE
As with the IT operational backbone, the ServiceNow platform provides the tools to enable a service context across the lifecycle of activities. Out-of-the-box capabilities include service request catalogs, automated service delivery workstreams, and automated service event detection and remediation through the use of a common service data model, which provides contextual data to inform business impacts and work prioritization.
Shared applications drive speed, efficiency and agility. Competing applications do the opposite. To ensure continuous visibility into applications across an organization, ServiceNow provides a bottom-up view of application technology through IT discovery tools and configuration management processes. In concert with portfolio management tools, the platform can also layer in a top-down view aligned with business capabilities to further optimize the portfolio.
DIGITAL PRODUCT PORTFOLIO
Management of the digital product portfolio — the solutions and capabilities that drive digital transformation — encompasses the underlying system of interconnected applications, services, contracts, technologies and organizational resources. This system forms a digital product portfolio and functions in a value stream that provides visibility into supply, demand, cost and revenue dimensions that in turn inform investment strategy across the enterprise.
Shared technologies allow everyone to do their work on shared tools or shared infrastructure. ServiceNow, when leveraged as a single system of action, brings together many of the core operational functions into a single platform. This results in standardization of process interactions and the ability to use shared data to leverage shared applications — eliminating silos while increasing consistency and cohesion.
Learn how CDW can help you optimize the value of your ServiceNow investment and streamline IT operations across your organization.
An IT operational backbone within a service-oriented operating model that is aligned with product investment portfolios is the foundation of digital transformation. ServiceNow is the engine that brings these core elements together in a single, enterprisewide platform. It does so in part by helping organizations mature in two areas that are often the centerpiece of digital strategy: process automation and data-informed decision-making.
Facilitates the service-aligned operating model through standardized processes, shared data and shared technology; core features include a service taxonomy, end-to-end delivery mechanisms and DevOps acceleration capabilities
Formalizes the IT team's new role with Demand Management (centralizes requests and automates steps for investment decision-making), Application Portfolio Management, investment planning, agile development and resource management
Supports shared, reliable data across the enterprise through the integration and visibility provided by the Configuration Management Database, Discovery, Service Mapping and Event Management capabilities
Include Customer Service Management, HR Service Delivery, Security Operations and Risk Management; a centralized source-of-truth foundation helps organizations overcome silos and inconsistencies that can hinder digital transformation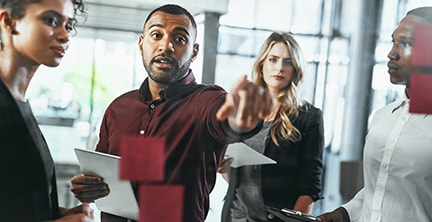 DESIGN WITH THE END IN MIND
Strategy Alignment and Roadmap: Because this is a journey and every organization has a unique path to value, we start with an assessment of the three pillars of digital capabilities. We engage key stakeholders to align and prioritize IT initiatives and outcomes with enterprise digital transformation strategies. This leads to an execution plan that supports opportunities where the organization can quickly see value, enabled by the simplest capabilities available.
This service helps organizations define goals and develop a ServiceNow implementation plan that resolves business issues, while also positioning them to pursue digital transformation at scale. The resulting roadmap is actionable and addresses key aspects of ROI from both business and IT perspectives, including process efficiency, cost reduction and digital product portfolio management.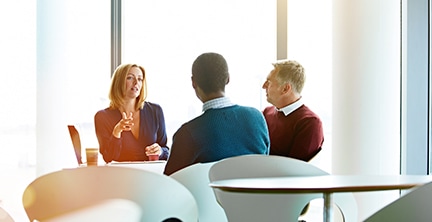 Roadmap Execution: We partner with your organization to enable the key capabilities defined in the roadmap execution plan. We provide industry-leading professional services with experienced consultants, architects and solution engineers to help customers enable capabilities in a "quick to value" approach. This provides a foundation of capabilities to jump-start your digital transformation journey. Once the foundation is in place, additional optimization opportunities are available to further mature IT business and operational capabilities.
Because we know these capabilities encompass more than a technology solution, we provide process, governance and organizational management services focused on specific organizational needs.
After implementation, our continual improvement program provides resources focused on strengthening core competencies and expanding capabilities to support a modern IT operation, including ongoing training, coaching and configuration assistance. 
CDW's depth and breadth of expertise allow us to support your digital transformation strategy through advisory and technical consulting, ServiceNow configuration support and managed services.
Story by Dale Landowski, a champion of extending the IT value chain by leveraging digital product and service management practices that provide strong links to business strategies. He is a strategic thinker focused on holistic solutions with cost-competitive and customer-centric features. Landowski brings a diverse background and a big-picture mindset to IT challenges. His career journey includes leadership roles in enterprise architecture, data center operations, product management, ServiceNow program management and executive-level consulting. He is manager of the ServiceNow solutions IT Service Management practice.
Learn how partnering with CDW can help your organization accelerate and optimize its ServiceNow investment.

Dale Landowski
CDW Expert
view more work

Dale Landowski is a champion of extending the IT value chain by leveraging digital product and service management practices that provide strong linkage to business strategies. He is a strategic thinker focused on holistic solutions with cost-competitive and customer-centric features. Dale brings a diverse background and a big-picture mindset to IT challenges. His career journey includes leaders
view more work