About Nutanix
Nutanix integrates compute, storage, virtualization and networking to run nearly any application with the agility and simplicity of the public cloud and the security and control you expect from a private cloud. 
---
The Definitive Guide to Public Cloud
Deploy infrastructure in minutes and shift focus to the applications that power your business. Nutanix delivers a comprehensive enterprise cloud platform that bridges the gap between traditional infrastructure and public cloud services.
---
Transform Your Business with HCI
See how Nutanix can help your organization implement efficient, cloud-ready environments with agility and simplicity. Nutanix customers share their success stories and game-changing results.
---
Hybrid Enables True Cost Optimization
IT costs are complex and variable. Take the guesswork out of planning with Nutanix's flexible infrastructure that enables technology choice for your business.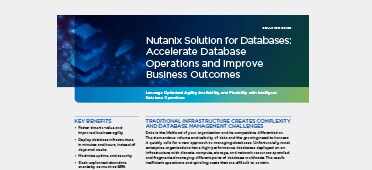 Improve Operations with Nutanix for Databases
See how Nutanix for databases can contain your cost and boost efficiency with a single API and console.
Real Organizations, Real Database Challenges
See how businesses have leveraged Nutanix to simplify and save on their database operations.
Database-as-a-Service on Your Terms
Enable your team to manage large fleets of databases through one console. See how you can take the weight of manual operations off your teams. 
NextGen HCI for Dummies
Learn how Nutanix can enable advanced services and maximize enterprise security in this simple guide. 
---
Your Cloud, Your Choice
Nutanix melds public and private cloud operations to enable powerful hybrid enviroments. See how IT teams can seamlessly manage applications across clouds, including AWS, Google Cloud and Azure.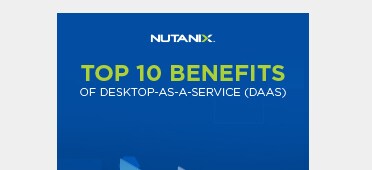 Top 10 Benefits of DaaS
For companies undergoing digital transformation, DaaS is a great way to empower end users with greater flexibility while easing the burden on IT teams with simpler VDI integration. See all the ways DaaS makes digital transformation painless for your teams.
Desktop-as-a-Service for Dummies
Learn how DaaS can simplify deployment and run applications from the data center of in the cloud.
Definitive Guide to Desktop-as-a-Service
A digital workspace provides greater flexibility, so that employees can access the applications and data they need. See how DaaS elminates the need to manage complicated infrastructure while giving employees the access they need. 
Modern Infrastructure for Better End User Experiences
Citrix Virtual App and Desktops on Nutanix brings seamless access to apps, virtual desktops and data securely— from any cloud, on any device. 
End User Computing for Dummies
Dramatically reduce the operational complexity of migrating, extending or bursting your applications and data between clouds. 
Modern Infrastructure for Better End User Experience
Citrix Virtual App and Desktops on Nutanix brings seamless access to apps, virtual desktops and data securely— from any cloud, on any device.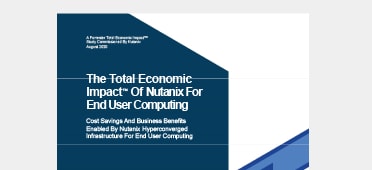 Total Economic Impact™ of HCI
Customers choose Nutanix for simplified management with centralized maintenence and for the cost-effectiveness of HCI enviroments. Forrester reports on the Total Economic Impact™ Nutanix can bring to your business.
---

---