About Google
Google is a multinational technology company specializing in internet-related services and products. Its portfolio includes online advertising technologies, search engine, cloud computing, software and hardware and a range of IT devices.
---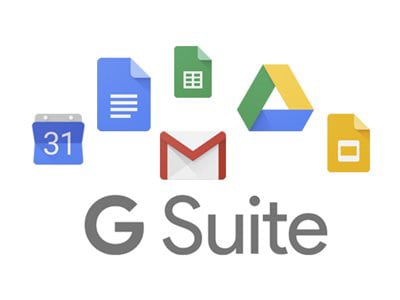 G Suite: A Transformative Experience
Through G Suite people can create impactful work and access coworkers and knowledge from around the globe. Information and applications live in a connected cloud and are layered with Google's machine intelligence to offer insights that move businesses beyond productivity. Find the best version of G Suite for your business.
Connect
Reinvent the way your team collaborates. G Suite creates a work environment that's reliable and easy to access and share with coworkers around the globe.
Improve the Meeting Experience
Today's workplace is more diverse, dynamic and distributed than ever before. Cloud technology has accelerated the pace of innovation. G Suite lets teammates communicate and collaborate by hosting a meeting platform that's easy to join from wherever, whenever.
---
Three G Suite Tools Your Organization Should be Using
G Suite is redefining productivity with new features and apps that take collaboration, visbility and control to the next level. Learn more about the top three G Suite apps your organize can and should be using.
---
Create
Get all the tools you need to fully realize and bring projects to life. Create documents, spreadsheets and presentations in G Suite and share seamlessly with coworkers across multiple devices.
Changing the Way Teams Work
G Suite by Google Cloud seamlessly brings together collaboration and productivity solutions. With G Suite teams stay connected to their work and to each other, spending less time struggling with logistics and more time doing work that matters.
---
Access
Store files in a single, secure location with the ability to instantly access and share. Powerful Cloud Search capabilities let you search content across G Suite from Google Drive to Docs so that you can find relevant information as you need it.
Managing Your Content
Unlock productivity in all new ways with intelligent business apps hosted by G Suite. Help people focus their time on real work, expand their skill sets and speed up processes. Let technology be a tool rather than an obstacle to getting real work done.
---
Control
Manage users, devices and data all from one platform. Vault allows you to archive corporate data from all G Suite products while keeping your data secure and readily available.
Security You Can Trust
In today's cloud era data needs to be easily accesible while still remaining secure. G Suite provides you with the control needed to access and share your information. Through the cloud-based Vault you can archive and manage corporate data that spans across all G Suite apps.
---

---