What Hospitals Can Learn from a Clinical Mobility Workshop
Moving healthcare workflows to a mobile platform improves the user experience and patient outcomes.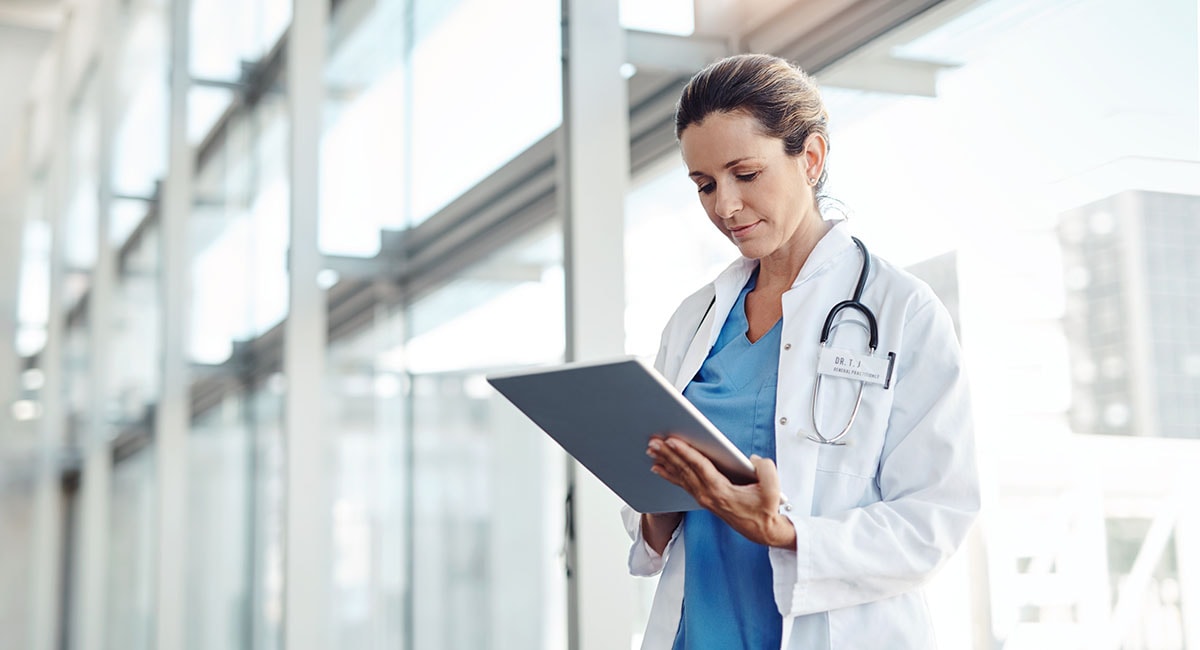 As in many industries, healthcare organizations are finding that employee expectations of technology are rising as millennials and Generation Z employees replace retiring workers. These younger healthcare professionals grew up with mobility, and they expect to be able to use mobile devices and apps to do virtually all aspects of their jobs.
The reality, though, is that providing mobile access to healthcare data and applications can quickly become complicated due to both patient privacy mandates and the challenges of integrating disparate systems. To help overcome these hurdles, many healthcare organizations turn to CDW for our Clinical Mobility Workshops.
Visit CDW.com/healthcare to learn how we can help you improve your workflows.
Here are three beneficial takeaways that these engagements provide.
1. Goal Setting
In a Clinical Mobility Workshop, we bring together stakeholders from both the IT department and clinical operations to get a better sense of where the organization wants to go. It's incredibly helpful to get everybody on the same page in terms of which workflows should be moved to a mobile model, and why.
During these workshops, for instance, IT managers may learn that clinicians want to find ways to use mobile apps to optimize shift changes, or that they desire apps with voice recognition functionality to make it easier to add information to an electronic health record. Our goal isn't to rip and replace everything, but rather to find specific pain points where mobile tools can improve the clinician experience — and, ultimately, improve patient outcomes.
2. Communications Mapping
Healthcare organizations are made up of numerous moving parts, and many of these moving parts are human. Understanding the flow of information from one person or department to the next is a critical part of understanding where and how inefficiencies bubble up into complex clinical processes.
When we speak with groups of nurses, for instance, they often tell us that they don't have a ready way to reach physicians when they need to communicate with them. In some organizations, physicians end up giving out their cell phone numbers to nurses so that they can be quickly reached via text message.
This sort of workaround, of course, creates liabilities around security and patient privacy, and also makes it impossible for organizations to monitor and manage the flow of information. After they develop an understanding of where communication breakdowns are happening, organizations can develop a plan for fixing those breakdowns with the help of mobile tools.
3. Solution Design
Once IT teams have a better understanding of which sorts of workflows would benefit from increased mobility, CDW can help design those solutions. They can include applications and processes for workflows such as secure communication, alert and alarm management, medication administration, specimen collection, wound documentation and mobile documentation. Here's a real-world example of what that can look like:
We worked with one hospital that previously had four dedicated staffers taking photographs of patients' wounds, uploading those photos into the EHR system, printing them out and then clipping the photo printouts onto bedside charts. By leveraging mobile tools, we replaced this with a system where nurses can take photos and import them into the EHR in just a few quick steps.
Our Clinical Mobility Workshops are so successful because they require that clinical staffers and IT professionals work together. The workshops wouldn't carry any real benefit if they were conducted for the IT team alone — after all, clinicians are the ones who will ultimately be using mobile devices and apps to deliver patient care.
Historically, there hasn't always been a clear communication path between IT and clinical groups. Through our Clinical Mobility Workshops, we are making that communication happen.