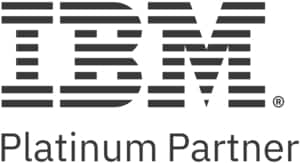 As the comprehensive solutions provider for the IBM solutions portfolio, CDW offers the expertise to fit your evolving business needs. IBM integrates technology and expertise, providing infrastructure and software solutions for clients as they pursue digital transformation.
WE GET

Digital Transformation
IBM® is one of the largest technology companies in the world and is best known for developing and manufacturing high-performance servers, storage systems and software for automation, data & AI, security, and sustainability. 
Contact CDW for a Consultation →
Intelligent Automation & AI Solutions to Power Your Mission Critical Projects
Unlock the full value of your data with IBM's tools so your business can shape better outcomes and enable your workers to do higher value work. CDW experts can find the solution you need and ensure you harness the full depth of its abilities so you can deploy AI capabilities at scale.
Guard Your Data with IBM Security
IBM Security QRadar Suite is the next generation threat detection and response suite with EDR, log management, SIEM and SOAR delivered as a service with a unified analyst experience across the entire product suite.
IBM FlashSystem Storage solutions can make it easy to manage and modernize your legacy storage systems with ultra-low latency, cost-effective operational efficiency and mission-critical reliability.
IBM Power Servers deliver exceptional performance, security and hybrid cloud flexibility to organizations of all sizes.
Explore all IBM's offerings and learn how your organization can optimize deployment and management when they partner with CDW.
Learn how CDW and IBM can help improve IT across your organization, contact your account manager today
Contact your account manager, or give us a call.
For robust AI-powered Security, get started with an IBM and CDW custom solution today.
CSS - APPLY GRID TO NEW SHOWCASE PAGES