Chrome OS for business and CDW
Together bringing you the tools and solutions to let your business securely expand and thrive.

About Chrome OS for business
Chrome OS is a modern secure endpoint solution that together with Chrome Enterprise Upgrade unlocks the device management capabilities of Chrome OS and Chrome OS devices, enabling workers to stay productive and secure from anywhere, whether in the office, at home, or in the field.
Benefits of Chrome OS for business
Built-in and Proactive Security
With a low on-device data footprint with most files being stored in the cloud reduces threat of ransomware.
IT can manage devices remotely with the cloud-based Google Admin Console.
Fast Deployment and Simple Management
Chrome OS devices deploy 76% faster than competitors.*
Take Control of Your Security With Chrome OS
Empower Your Hybrid Workforce with Chrome OS
Chrome OS is a modern, secure, cost-effective platform that is the only cloud-first platform designed to support hybrid work and your return to office strategy. It allows IT to manage devices from anywhere.
Enable Workers to be Productive from Anywhere
Whether workers are at home, in the office or in the field, Chrome OS provides the tools your business needs.
Stay Secure Everywhere. Chrome OS provides regular security updates to minimize the attack surface.
Manage Remotely. Easily manage devices and users from anywhere using Google Admin console.
Simplify Deployment. Get workers up and running quickly with zero-touch enrollment and dropship pre-configured devices.
See how Chrome OS and CDW can help your organization make the transition
Read About Zero-Touch Enrollment for Chrome OS Devices (PDF)
Chrome Enterprise Upgrade
Chrome Enterprise Upgrade adds to the security and simplicity of Chrome OS by providing the functionality and controls needed to mobilize employees and reduce costs. With management APIs, Chrome Enterprise Upgrade enables businesses to integrate Chrome device management and ensure greater operational efficiency.

Take Your Business to the Next Level
Chrome Enterprise Upgrade unlocks the built-in business capabilities of Chrome OS devices for IT to secure, orchestrate and power the cloud workforce. With 24/7 IT admin support included, you can rest assured that your business will keep running smoothly.

Provide Workers Access to the Legacy Apps They Need
Whether your workers spend most of their time using web apps or traditional legacy apps, Chrome OS offers several solutions to enable access to all the legacy apps your teams need to be productive from anywhere, without compromising security.
Chrome OS and VDI Offer an Ideal Thin Client Solution
With support for leading VDI services, Chrome OS makes providing access to legacy apps seamless, while enabling the benefits of Chrome OS.
Chrome OS supports leading VDI services: Citrix, VMware, Cameyo, Nutanix, Itopla and Workspot.
Access to all the apps your workers need: Whether your teams rely on web apps or legacy Windows apps, Chrome OS is a highly secure endpoint solution for your team.
Seamlessly transition to cloud-first devices: Reduce your legacy and Windows device footprint by leveraging VDI services.
 
Learn How VDI Can Unlock the Power of Chrome OS for Your Business (PDF)
Run Windows Apps Locally with Parallels Desktop on Chrome OS
Parallels Desktop for Chromebook OS offers the flexibility of a cloud-first OS alongside access to legacy apps, locally on device.
Run Windows apps locally on Chrome OS: Enable workers with the legacy apps they need, including support for fully-featured Microsoft Office.
Offline access: Legacy apps leveraging Parallels Desktop run locally on-device, even without an internet connection.
Administrative controls: Select which users have access to Parallels Desktop all from the Google Admin console.
Parallels Desktop with Chrome OS provides a solution for your business' legacy applications as you transition to Chrome OS.
Choose the Right Chrome OS Device for Your Workers With Our Device Selector
Find the Right Chrome OS Devices For
Your Employees
To be productive and do their best work, employees need to be equipped with the right tools. Based on the type of work they do and the specifications required, our Device Selector makes it easy to identify the right Chrome OS device for your hybrid worker.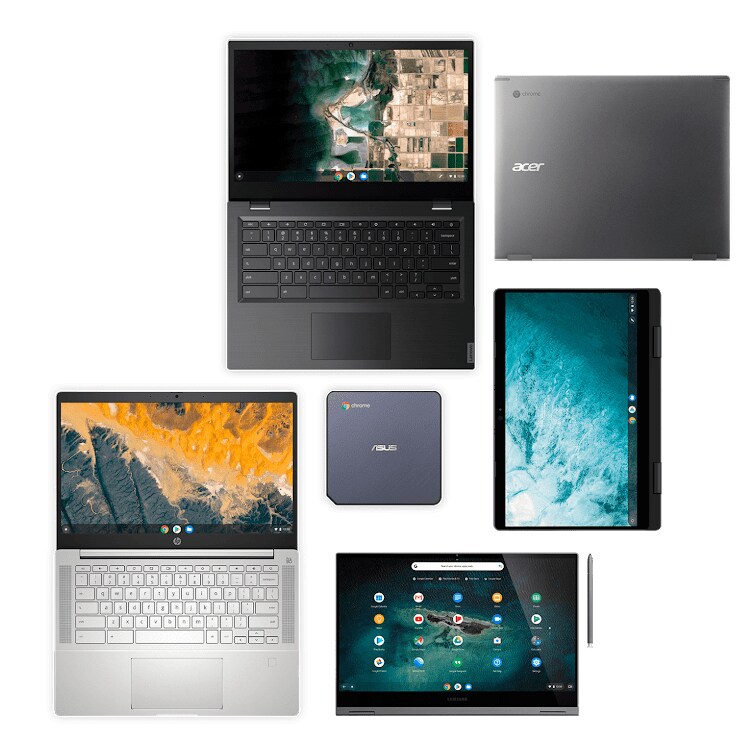 Accelerate and expand your Chrome OS deployment by repurposing your existing PCs and Macs with CloudReady.
Deliver a Flexible, Scalable Chrome OS Experience
CloudReady is an operating system that optimizes existing hardware for the cloud to replace legacy operating systems and local app. Unify your fleet of devices with managed access, simplified deployment and advanced security.
CloudReady installs in minutes, for immediate device transformation.

Use Chrome Enterprise Upgrade to manage CloudReady devices right alongside your other Chrome OS devices in Google Admin console.

CloudReady is certified on more than 450 devices.
Get A Limited Time Offer for CloudReady and Chrome Enterprise Upgrade (PDF)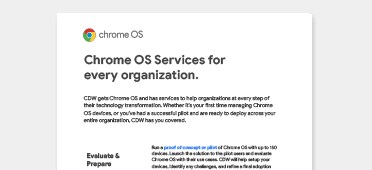 CDW gets Chrome OS and has services to help you at every step of their technology transformation. With Chrome OS Services, CDW has you covered.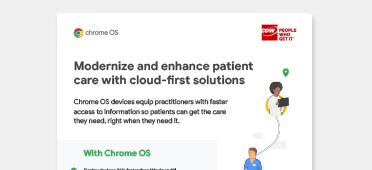 Healthcare with Chrome OS
Chrome OS and VDI provide a centralized, secure management point for patient data. Get faster access to patient information for better care in the moment.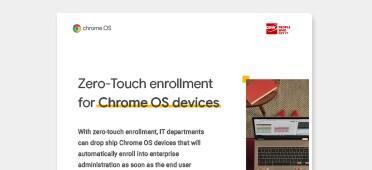 CDW offers a simplified deployment solution for Chrome OS. Drop ship directly to employee devices with automatic enrollment into enterprise administration.
*Source: ESG Technical Review, Accelerating Device Lifecycle Management, July 2020.