What to Look For in an SD-WAN Solution
Identify your organization's business requirements before diving into an SD-WAN solution.
Organizations face challenges of maintaining reliable and predictable internet connection, getting their end users to reach applications, trying to gain network visibility, integrating security components and growing sites quickly without too much overhead. To address these challenges, organizations are transitioning to SD-WAN to improve WAN resiliency, application performance and network visibility while reducing operational costs and complexity.
However, not all SD-WAN solutions are the same. So, if you want to adopt SD-WAN as your branch network strategy, ensure that it meets your business needs first. Here are a few considerations to keep in mind.
Begin Identifying Your Organization's Business Requirements
Before diving into SD-WAN vendor evaluations, identify your primary business requirements. Here are some common areas to assess:
What are your main challenges around operating your WAN circuits? Find out if consolidating internet circuits at sites and centrally managing the connectivity will help reduce your operational overhead.
Is improving user experience to access off-site applications crucial to your business? If so, SD-WAN provides benefits such as direct cloud access, site-to-site network access, more cost-effective bandwidth and better resilience.
Is avoiding or reducing cost a priority? SD-WAN can help organizations avoid costs, and some also see direct cost savings when deployment coincides with a circuit refresh. Sometimes, organizations can make the savings even greater by reducing MPLS circuit sizes or renegotiating contracts to a lower rate.
Is reducing network complexity and IT operation overhead an immediate goal? SD-WAN solutions simplify the configuration of complex technologies via graphical user interface and policy templates. Search for vendors that offer policy-based traffic steering, zero-touch deployments and centralized management for remote branches. Built-in monitoring and analytics capabilities for capacity planning can also reduce the operational burden for many organizations.
Have you considered security? Many of the top SD-WAN vendors' products contain some on-box security features. These security features are often limited and not intended to replace a next-gen firewall. Consider secure access service edge (SASE) architecture. SASE combines highly sophisticated WAN and VPN orchestration technology and advanced cloud-delivered security.
Identify the Technical Requirements of SD-WAN
Most businesses seek the following technical requirements of an SD-WAN solution:
WAN circuit aggregation. Every SD-WAN router should have this capability for better performance, increased bandwidth and WAN resiliency.
Cost optimization. Route business-critical applications through higher-quality, better-performing circuits, and change the path when the situations change proactively. By doing this, you can either lower the bandwidth requirement or reduce the high-cost circuits, such as MPLS and leased fiber.
Quality of service based on applications and business needs. This feature is at the heart of any SD-WAN solution. The right solution should be able to prioritize selected traffic over others. Some applications are very latency-sensitive, and the SD-WAN should be able to route more traffic through a better-quality circuit.
Auto-VPN for site-to-site connectivity. Your SD-WAN solution should automatically set up tunnels based on pre-defined requirements.
Auto path selection. An SD-WAN router should be capable of dynamically switching the traffic path based on the bandwidth, WAN circuit availability, quality and cost. If your ISP is down, you want to be able to automatically switch over to a working ISP without any user intervention.
Centralized management, zero-touch deployment and policy push. SD-WAN solutions simplify the configuration of complex technologies via graphical user interface and policy templates. The following components can reduce the operational burden for many organizations:

Policy-based traffic steering
Zero-touch deployments
Centralized management for remote branches
Built-in monitoring and analytics capabilities for capacity planning
Ease of deployment and ongoing daily operations. Organizations should look for a solution that is easy to manage, troubleshoot and operate. This key feature of the SD-WAN solution will help run operations better, faster and quicker, reducing the time it takes to resolve issues.
If you are ready to adopt SD-WAN as your branch network strategy, CDW has the experts to help you select, design, plan, deploy and manage a solution fit for your environment and scalable for future needs.
CDW can also help customers in their process of evaluating and selecting vendors through a service called SD-WAN Advisory Workshop. It's an interactive workshop that leverages CDW's engineering training and field knowledge within multiple disciplines and its training and field knowledge for each major vendor. We provide recommendations based on your business requirements discussed in the discovery phase.
Story by Jack Wang Principal Solution Architect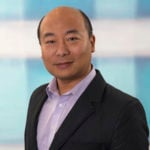 Jack Wang
Principal Solution Architect
view more work

Jack Wang is a principal solution architect for CDW's secure access service edge (SASE) practice, focusing on solution design and developing strategic relationships with customers. He has attained CCIE and PCNSE certifications, and is also a published author on Cisco technology and a private pilot.
view more work