SASE Offers a Simpler Approach to Facilitating Security and Management
Secure access service edge delivers compelling advantages for a distributed workforce.
Today's workforce is highly mobile. While some users are beginning to return to office settings, others now regularly work from remote locations. Technology leaders must find ways to deliver a consistent experience no matter where users are located while also maintaining high standards of security. That's a formidable challenge for resource-constrained organizations.
Secure access service edge (SASE) architecture promises to solve these problems for IT teams by combining comprehensive WAN capabilities with strong security features. Organizations adopting a SASE philosophy choose to move security policy enforcement away from centralized data centers and office locations and toward the endpoints where users interact with data and services. Achieving this goal requires integrating a wide variety of technical solutions, including cloud access security brokers, data loss prevention, Firewall as a Service, secure web gateway, Domain Name System security, SSL decryption and zero-trust network architecture. These solutions are often integrated with endpoint detection and response as well as security orchestration, automation and response platforms. The goal of the SASE model is to provide a consistent and secure user experience anytime and anywhere.
The Benefits of a SASE Approach
SASE is an architectural philosophy that combines software-defined WAN (SD-WAN) and security rather than a rigid set of technologies and configurations. Organizations can use many of their existing security technologies but must shift their mindset toward creating branch office connectivity and a secure user-based experience. SASE architectures offer five major benefits to organizations:
Simplified and highly sophisticated approach to network connectivity: In a traditional office-based workforce model, secure connectivity was simple. Organizations built a strong network perimeter and placed their sensitive systems and information within that perimeter. They connected remote locations using a combination of VPN and multiprotocol label-switching technology, but those technologies proved difficult to maintain. SASE embraces SD-WAN technology that simplifies the end-user experience. 
Distributed enforcement of security policies: In a traditional approach to network security, a centralized firewall enforces security policies. This requires expensive investments in hardware and creates a single point of failure for all network traffic. SASE distributes policy enforcement closer to where users are before data traffic enters the corporate network. The enforcing point is often delivered in the cloud, so there is no hardware to install, which makes scaling and management easy.
Facilitation of consistent security policies: Many organizations have hundreds or thousands of users scattered around the world. The SASE model simplifies the administrative burden of deploying appropriate security policies to each endpoint based on a user's identity and location.
Centralized visibility into user and device behavior: A SASE approach offers aggregation of security information, enabling teams to quickly correlate information from multiple systems, gain insight into security events and improve their ability to troubleshoot connectivity problems.
Scalable and easily managed solutions: SD-WAN's template-based configuration and automated deployment methods simplify the connection of branch offices and remote locations. Furthermore, SASE's security technologies leverage the cloud, reducing the need to deploy and manage physical firewalls at branch offices. This also reduces the overhead on IT teams and provides easy scalability without large capital expenditures.
Organizations that choose to move toward a SASE approach will need to incorporate the SASE model into their cybersecurity and networking projects over time. Given the compelling advantages of this approach, it's best to begin that journey now and build a sustainable and resilient program for networking and security.
Stay ahead of the vulnerability curve for effective application security. Explore the NGINX® App Protect solution from F5®.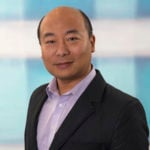 Jack Wang
Principal Solution Architect
view more work

Jack Wang is a principal solution architect for CDW's secure access service edge (SASE) practice, focusing on solution design and developing strategic relationships with customers. He has attained CCIE and PCNSE certifications, and is also a published author on Cisco technology and a private pilot.
view more work