Article
Achieving Modern Collaboration
Videoconferencing technology connects any workforce.
The consumerization of IT, coupled with the ubiquity of personal messaging, collaboration and video apps, is seeping into business life. When it comes to meetings, modern workforces demand seamless connectivity and instant collaboration.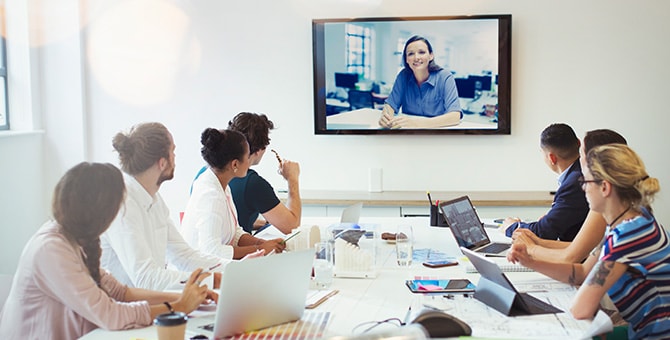 Today, videoconferencing technology and messaging platforms have evolved to harness wireless, AI, smart devices and IoT to deliver next-gen collaboration capabilities, whether in conference rooms and huddle rooms, or by connecting remote workers from their desks, home offices or while traveling.
But without the right digital workspace solution in place, even the most advanced office environments cannot take advantage of the latest technologies and work streams to support greater productivity, connection, convenience and efficiency. That's where CDW comes in.

Key considerations in designing a modern digital meeting space
What size is the room and what are its characteristics (where are the doors, windows and exits in relation to the seating and displays)?
How many people will the room need to accommodate for a meeting?
How far away is the furthest seat/person from the microphone/audio endpoints?
How do people share content in the room? (HDMI cable? Via an adapter based on a specific computer type? Wirelessly via video endpoint?)
What technology is already in place in the room?
Navigate the Nuances of Digital Collaboration
CDW's multifaceted approach to collaborative workspaces and workforce connectivity means your organization can take meetings, messaging and brainstorming to a new level: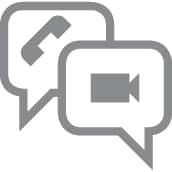 Video Communication
Leveraging cloud-based videoconferencing (Cisco Webex Teams, BlueJeans, Pexip, Cisco Video, Microsoft Skype for Business, etc.) and videoconferencing hardware and software (Cisco, Logitech, Lifesize, Polycom, etc.), we can help you equip, set up and manage immersive telepresence rooms as well as formal and informal videoconferencing hubs, including cloud video bridges.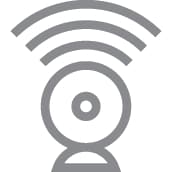 Digital Displays and Cameras
The latest displays incorporate modern capabilities like touchscreens, interactive displays, hi-def video, smart features and digital whiteboard functions. And modern cameras are also smarter, enabling facial recognition and integration of usage stats, as well as providing digital sensors that automatically pan, tilt and zoom without loss of resolution and without human intervention. CDW can provide you with the right technology to take videoconferencing and digital collaboration further.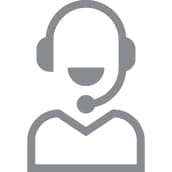 Voice and Audio
We work with top providers to provide you with a choice of solutions — ranging from desktop to mobile, wired to VoIP telephony, and on premises to the cloud. Today, many audio solutions come built into video endpoints to reduce the cost and difficulty of set-up for modern organizations.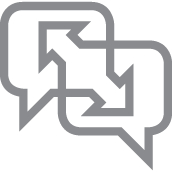 Messaging
We'll help you establish secured business platforms for enterprise email, messaging and collaboration, creating customized solutions from top providers.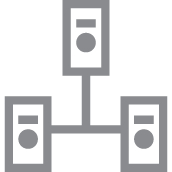 Infrastructure and Video Endpoints
From wired or wireless networking and wireless endpoints to video endpoints, we can provide all the components to connect the digital dots and ensure your digital workspace can address current and future needs.
We Get the Right Solutions Need the Right Partners
Our trusted partnerships with many leading technology providers, combined with our in-depth expertise, means we can orchestrate the right cyber workspace solution to fit your precise needs. 

Explore how CDW can help you achieve modern collaboration.