Article
Expert Review: APC Smart-UPS 1500VA with SmartConnect Delivers Intelligent Power
A free, new feature from Schneider Electric can help organizations keep an eye on their UPS devices via the cloud.
Many small and midsize organizations have neither the IT staff nor the budget to deploy network management cards to oversee their IT infrastructure. But for these organizations, remotely keeping an eye on their uninterruptible power supplies is no longer beyond their capabilities. SmartConnect, a free service from Schneider Electric, provides remote monitoring capabilities to the company's APC Smart-UPS line. SmartConnect is available in units such as the APC Smart-UPS 1500VA LCD 120V. The service provides a free, secure web portal that enables users to monitor their UPS appliances.
The Smart-UPS 1500VA has a port on the back, where a user can connect a network cable. This links the UPS to the Schneider Electric Cloud, which provides automatic notifications of important situations, such as when internal batteries need to be replaced, when a device is at the end of its life or if an incident has occurred that requires attention.This feature is ideal for smaller businesses, such as a retail store in which the UPS backs up a network that supports point-of-sale transactions, or a doctor's office in which the power supply is used to maintain medical records. The Smart-UPS is also well-suited for small and midsize financial firms for which data transfer is extremely critical and even small outages can negatively affect operations. 
Powerful Features
The APC Smart-UPS 1500VA includes an LCD display that provides all the critical information about the UPS. It also features automatic voltage regulation, which controls the power level of the electricity flowing from the UPS to a device, protecting devices from harmful power surges. 
With the Smart-UPS line, Schneider Electric also has taken several steps to ensure security. All UPS data shared with the Schneider Electric Cloud is encrypted. This data is strictly limited to UPS monitoring and account profile information and adheres to industry standards for data access control, data redundancy and auditing of data transfers. The APC SmartConnect web portal does not access any data stored on an organization's servers, storage equipment or monitoring solutions, or any traffic that passes through its network.
With advanced features such as SmartConnect, robust security and smooth power, the APC Smart-UPS 1500VA LCD makes keeping an eye on your power supply simple and efficient.
Specifications
Output Power Capacity: 1000W/1440VA
Maximum Configurable Power: 1000W/1440VA
Nominal Output Voltage: 120V
Output Voltage Distortion: Less than 5% at full load
Typical Recharge Time: 3 hours
Surge Energy Rating: 459 Joules
CDW Price: $499.00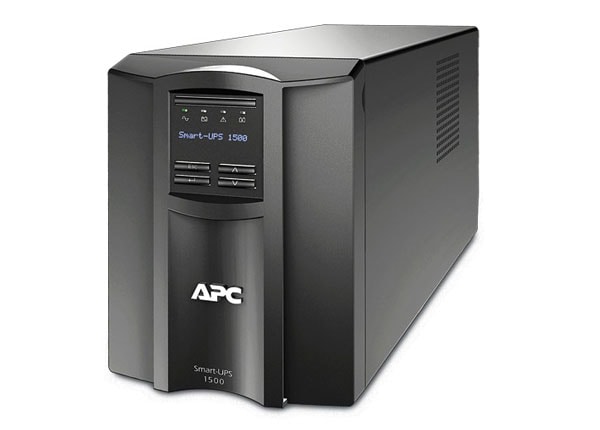 Cloud Monitoring
The SmartConnect feature allows users to monitor their uninterruptible power supply via the cloud.
 
Automated Attention
SmartConnect provides automatic notifications when users need information about the UPS, as well as automated firmware updates.
Smart Simplicity
The interface of the UPS is simple enough for non-IT professionals to manage the device.
 

No IT Staff? No Problem
Like others in the APC Smart-UPS line, the Smart-UPS 1500VA is designed to be usable even by those who aren't IT professionals. Setup involves a simple, three-step process. First, the user installs the UPS. Next, the SmartConnect port is connected to the internet. Finally, the user scans a QR code on the product, which takes him or her directly to the SmartConnect web portal to create an account.
Once on the web portal, a user can pick one of three settings to decide how often to receive notifications. At the lowest level, the system sends a notification only when a problem arises, such as when an outage occurs or when a battery needs to be replaced. The next level gives users a bit more information, and the third provides regular updates, giving users deep visibility into the appliance's performance.
SmartConnect also can be used to connect with a managed service provider (MSP) who will monitor the UPS. This feature works with two leading software products used by MSPs, Kaseya and ConnectWise Automate. This capability eliminates the need to purchase a network management card in order to have a UPS managed by an MSP.
While most of the SmartConnect features provide only monitoring capabilities, the system does have one management component: automatic firmware updates. When the firmware requires an update to ensure that the UPS performs optimally, the Schneider Electric Cloud automatically sends the update to the device, which a user can install at his or her convenience. Updates can also be installed remotely, eliminating the need to travel to far-flung devices to make sure they are operating at full capacity.


Explore APC's complete portfolio of data center systems and IT solutions.