CDW Exec-Connect: Centered on CX
Cecelia Myers, CDW's VP of Digital holds shop with Lee Washington, VP of Enterprise Infrastructure, about building CDW's new customer portal, data privacy, and how IT working with LOB is the new standard in Digital Transformation.
Each day our individual experiences are driven by the data economy, and it is no different for the CDW customer. In my role driving digital transformation alongside other teams, we see good and bad experiences leveraging data. Ultimately, we see it as a benefit when wielded in a secure environment that helps me as a leader and as a consumer.
A year ago, leading up to our reimagining of CDW's proprietary customer portal, Lee Washington and I wanted to understand how we could expand our current platform and enhance the experience for customers who want to make purchases, manage assets, and engage with CDW account managers and OEM partners. Lee, the Vice President of Enterprise Infrastructure and Applications joined CDW a few months prior. His goal has been to help our IT customers successfully work alongside their internal line of business clients to collaborate on hybrid cloud deployments that would accelerate their leader-defined business outcomes. In other words, he helps CDW customers use tech solutions and services as a market differentiator. 
Lee and I realized right out the gate that our partnership on the new CDW customer portal is exactly the kind of digital transformation we recommend our IT customers make with their internal customers; one that is less transactional but where IT and LOB unite on business outcomes that contribute to the success of the company.
We'll be speaking on a panel about our experience at CDW's Executive Summit Series this month and our customer portal improvements are rolling out now. If you can't wait until then, here's a sneak peak of what we learned building CDW's customer portal.
I'm realizing more now, it's not just using IT as an afterthought, but seeing IT as a partner... 
Cecelia Myers
VP, Digital
Cecelia: So, Lee, our debut is nearing. We opened our new customer portal to a select few verticals during the pilot last year, but now it will soon be available to all CDW customers. Are you excited?
Lee: For sure! It's been a really fun ride and it's not over. We've laid the framework for better performance, faster, more accurate searches, and moving our website to the cloud definitely helps us put customer needs first. What are you looking forward to about the launch?
Cecelia: I agree, getting the cloud version of our search engine up and running so customers can see more relevant search results is fantastic. But, what I look forward to the most is being able to add more third-party solutions. It's difficult to almost impossible to successfully employ third-party solutions on-prem. But now, we will be able to partner with other software development companies by moving into their cloud offerings and take advantage of new capabilities. 
Lee: Yes, that is a plus. One thing is for sure, the secret to making this happen in a way where our teams were able to support one another was relying on SAFe and agile principles, plus building a Cloud Center of Excellence. This project really allowed us to test our business rules and find automation solutions that we didn't have previously. Without that, I think we would have been spinning our wheels. What was the best part of this experience for you, Cecelia?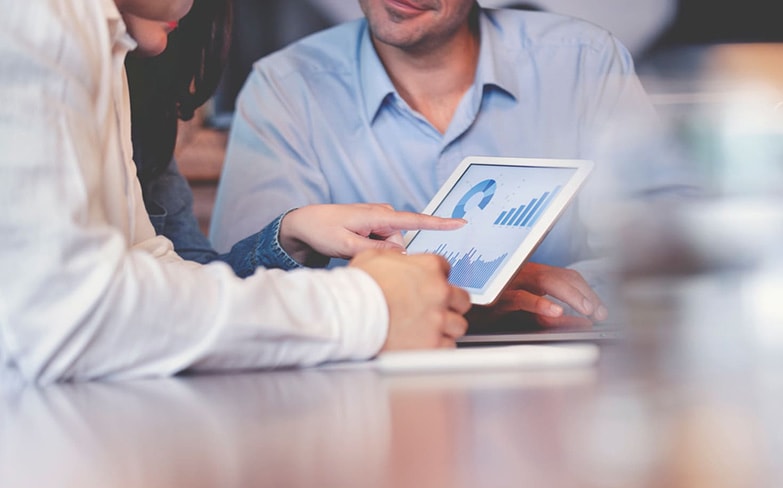 Cecelia: It was such a learning experience. I have a new understanding of the role of Infrastructure in digital experience and commerce. It has been really cool for me to see how your team makes features and capabilities come alive on CDW.com and on our new customer portal. Working with the Infrastructure team has enabled us to do things we couldn't do before. I'm realizing more now, it's not just using IT as an afterthought, but seeing IT as a partner to advance CDW's goals.
Lee: How is that different from the way you've worked in the past?
Cecelia: Thinking back to some of the organizations I've worked at, those places started off in the cloud. I've never worked this closely with the infrastructure side. We didn't have this kind of partnership, modernizing the infrastructure in the way that CDW has had to. It wasn't a thing for organizations that started out digital. So, in a sense, I'm leaving this experience with a much better understanding of the strategic value of the IT team because I'm in a transformation space right now. It can't be overstated how much you guys enabled us to get to this launch faster and get there smarter.
Lee: We're both going through a transformation at the same time and that's really what brought our two internal organizations down this path, right? My team has a path to re-envision CDW's hybrid cloud strategy and transform our DevOps processes. You're doing the same thing on digital. So, the goal to relaunch our customer portal came together at the perfect time. That's what really allowed us to work very seamlessly to get this done. So, I think it's been great.
Secondarily for me, as a former CDW customer, I was excited to be pulled in to get a chance to work with you, give advice and be advised, based on the experiences we both had. From that perspective, I see how our collaboration can be a template for other IT and LOB teams to work together.
Cecelia: Yeah, I agree. I think it's important that customers know we didn't enter into this update haphazardly. We looked at the market to validate versus direct our decisions. We listened and talked to our customers. We conducted research with people like you, Lee. You are a former CDW customer turned CDW coworker, right? That was very convenient to have you leading this initiative.
Using Data to Inform Customer Experience
Lee: Yes, and in the role that I currently sit in at CDW, my team actually purchases things from CDW for CDW. We're the ideal internal customer for the new online portal. Throughout this journey, I've been able to transfer knowledge to your team, and talk about my previous experiences as a customer of CDW and what insights would have been valuable to me. Being able to partner with you and the different product teams on the Digital side to fulfill these changes that I'd always envisioned, has been quite satisfying.
Cecelia: I'm sure it has been. I know data is your thing, and throughout the update you were vocal about the benefits of moving data to the cloud and closer to the customer, while also using data to help customers achieve better business outcomes.
Lee: I'm an old data guy. My first job was as a software developer at a data company. I was always fascinated about how we took large pieces of information and delivered valuable insights to our customers to make business decisions and marketing campaigns. I saw those same business rules reflected back at me as I entered different stages in life, getting married and having my first child. Things were marketed to me and they were all relevant and useful.
Have you seen the latest Gartner report? It shows that 86% of B2B customers expect companies to be well-informed about their personal information during service interactions. This leads to personalized insights that are valuable for their specific line of business.
Cecelia: Some people don't like that. And I do get it, but we make a decision to engage, right? I make online purchases, so I know my personal data is out there. But I understand the advantages of convenience that this data affords me when used securely and ethically. So, ultimately there is a benefit there. Yet, there are some things I don't do. I draw lines on how I engage with brands and with my online social presence.
When companies are transparent and use data ethically, it can be quite useful, especially when a brand uses my purchasing history to make my life easier and make suggestions to me in my shopping cart about products or services, I probably need but really didn't know existed. I'm a new mom working a demanding job. I don't always have time to do research before I need to make a purchase. The silver lining is that with new data privacy laws, brands are more circumspect than they had been in the past.
Lee: I know what you mean. Data has become very targeted. Each individual has to decide how to navigate the use of their data and make it work for them.
Cecelia: Most people get that there is you in real life and then the "you" that is culled together from your online presence, your app activity and your purchases. One social network has figured out that I lead a relatively sizeable team and now I see ads for work productivity solutions. I've checked them out, and now I'm genuinely interested in a few of them. I sometimes wonder "What am I in this data world?" It's so interesting that data can help people like me find solutions to be better at my job.
That's what we're trying to do here with CDW's new customer portal, and why you and I have had the pleasure of working alongside one another. CDW has a lot of data because of our juxtaposition in this industry. We're in the middle of OEMs, service providers, and distributors, and we see possibilities across many partners. We want to be transparent about how we use that data, and help customers keep track of their purchases. But also, we're finding a demand for that from customers like you, Lee, when you were a CDW customer, and other professionals—because it's actually not just IT anymore. IT purchasing extends to marketing, finance and HR. There are lots of tech purchasers in this tech space who aren't in IT. We wanted to figure out how do we anticipate their needs in a meaningful way, before they can fully articulate what they need, whether it be a product, solution, or service.
Lee: We've done it, but the ride's not over, Cecelia. 
Cecelia: Nope, not over by a long shot. 
Lee: I just can't stress enough how our uptime will improve. As we continue to iterate on the site, what once took months to code, we can now turnaround in weeks, days even. The advantage of this will help us act faster on data and customer recommendations.
Cecelia: As long as our customers are making requests, we'll be making updates…But much faster now.
Lee: Absolutely.
Cecelia Myers is the vice president of digital at CDW, leading the company's product management, design, demand generation, customer integration and merchandising teams. Her wide-ranging experience across product management and development, product and marketing design, creative direction, e-commerce, venture capital and entrepreneurship brought her to CDW with the goal of transforming how CDW customers digitally interact with CDW's world-class sellers. Cecelia has a Master of Science in product design and development from Northwestern University's McCormick School of Engineering and attended Indiana University for her undergraduate degree in literature. As a lymphoma survivor, she also leads several charity initiatives with the Lymphoma Research Foundation and is a mentor angel with Imerman Angels. Cecelia lives in Oak Park with her husband, Matt, and their 3-year-old son, Ben.
Lee Washington is vice president of enterprise infrastructure for CDW. Lee is responsible for global planning and strategy, architecture, deployment, management and operation of functional applications, infrastructure and end-user support enterprisewide, which includes data center, network and compute services, service monitoring, telecommunications services, user desktop support and help desk, intranet, servers, storage and related software. Lee joined CDW in 2020 and brings over 25 years of experience as a technology leader, combining his visionary leadership, technical pedigree and business acumen to help drive transformational IT results at CDW. Before joining CDW, Lee was CIO at ABC Financial Services, where he was responsible for the company's overall IT strategy, leading teams in the areas of infrastructure, architecture, enterprise applications, operations, security, risk management and procurement. Previously, Lee held several senior positions at Acxiom, a leading data company, where he served as vice president of IT for more than five years after having the role of vice president of information systems since 2008. Before that, he was the director of internal systems. Lee earned a bachelor's degree in computer science from the University of Central Arkansas.
CSS Reference
Use this molecule on every article. This contains the styling for the rest of the molecules used on articles.