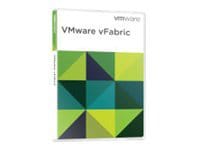 Know your gear
VMware vFabric Postgres (vPostgres) is an ACID-compliant, ANSI-SQL-compliant transactional, relational database designed for the virtual environment and optimized for vSphere. It is based on the Postgres open-source relational database and is compatible with Postgres SQL (psql) and the PostgreSQL tools and client drivers. Its features include elastic database memory, database-aware high availability, and automated optimal database configuration.

You can create, run, and manage vPostgres databases using the Data Director Administration UI, or use client tools to connect to vPostgres databases, load data, run scripts, perform backups, and run applications.

SNS is Required and sold separately. (up to 2 vCPUs per VM). Only Partners authorized with a VMware Academic Specialization may have access to quote the Academic SKU's. This sku is for Academic purposes only.