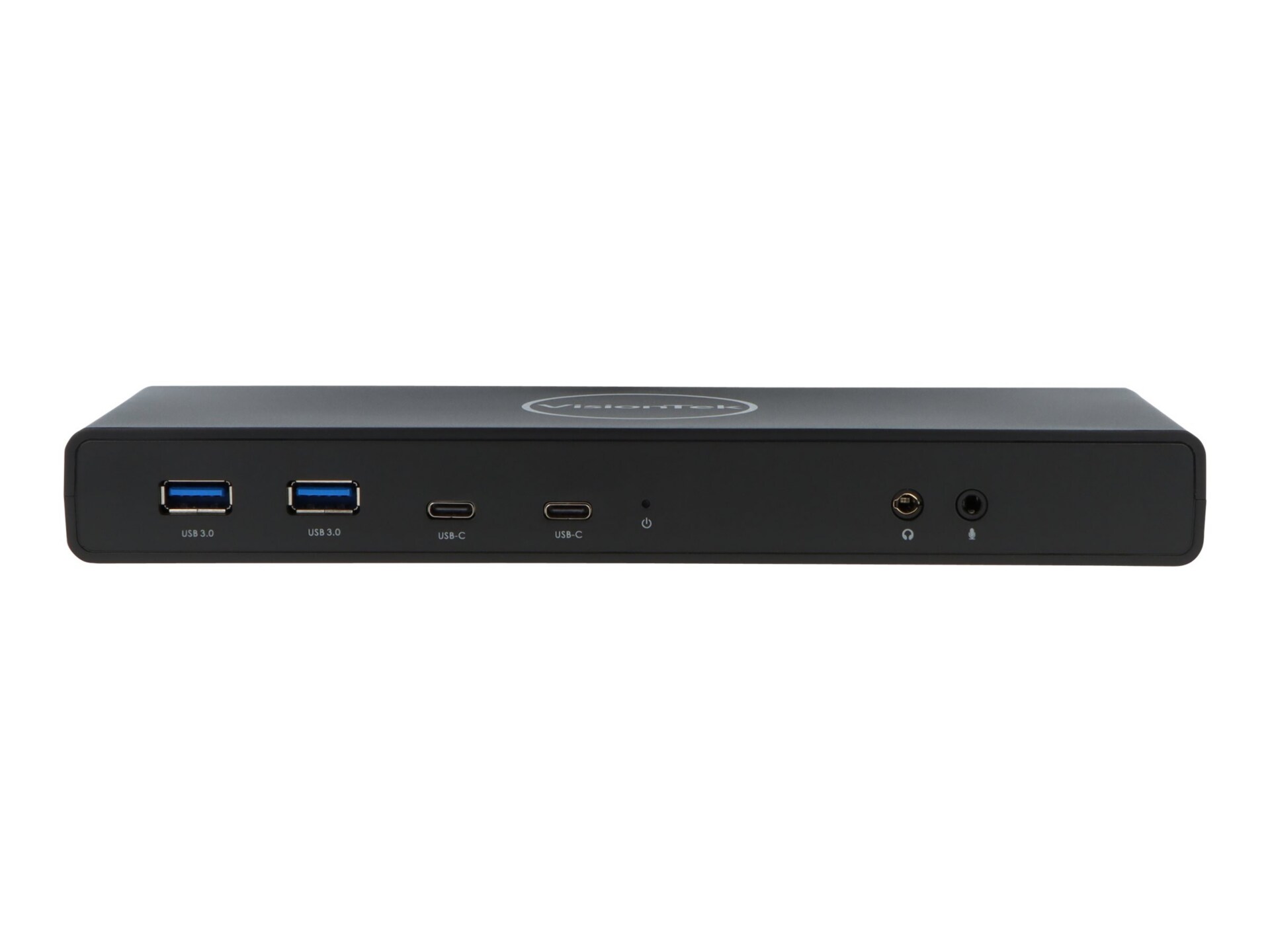 Quick tech specs
Docking station
2 x HDMI
GigE
View All
Know your gear
VisionTek's VT4500 Dual Display 4K Docking Station with Power Delivery enables you to easily connect to your Windows, Mac, or Chrome laptop to dual 4K displays and up to eight peripherals. Compatibility with USB 3.0, USB-C and Thunderbolt 3 systems makes the VT4500 an ideal docking station for mixed system environments.

Increase productivity by expanding your screen space with up to two additional displays. The VT4500 allows you to charge your USB-C laptop with up to 60W of Power Delivery.

1x USB 3.1 Type-C Gen 2 port connects to your system with either of the included cables. 1x USB 3.0 Type-A to USB 3.1 Type-C. 1x USB 3.1 Type-C to USB 3.1 Type-C. 2x DP and 2x HDMI ports let you connect up to two external displays to increase your system workspace. 4x USB 3.0 ports let you connect external storage, full size keyboard and mouse, or mobile devices while supporting data transfer rates of up to 5Gbps. 2x USB 3.1 Type-C Gen 1 ports allow connection to external storage or mobile devices while supporting transfer rates of up to 10Gbps. 1x 3.5mm Audio Line-Out port for headphones and a 3.5mm Line-In port for microphones allow for video conference communication and clear audio. 1x RJ45 Ethernet with 10/100/1000 Mbps support keeps you wired the internet, avoiding Wi-Fi connection issues or security concerns.
VisionTek VT4500 - docking station - USB-C / USB 3.0 - 2 x HDMI, 2 x DP - G
is rated
3.30
out of
5
by
17
.
Rated

5

out of

5
by
MAD
from
USB-C Notebook Power Bank 65Whr
Technician had exact specs of my laptop. The connections did not fit my computer. Never again.
Date published: 2020-08-04T00:00:00-04:00
Rated

5

out of

5
by
Marc
from
Great product
Works well, plug and go. I have 2 monitors, mouse, keyboard and headset plugged into it. Works perfect and im able to unplug from one laptop and plug into another and everything works perfect
Date published: 2020-05-27T00:00:00-04:00
Rated

5

out of

5
by
Chuck Clymer
from
VT
Frankly, it does not work as expected and you will not back the purchase as told to me by phone to one of your tech people. If you move the cords, at all, it turns off the computer, keyboard and/or the mouse. Bad product, Needs replacement.
Date published: 2020-08-08T00:00:00-04:00
Rated

5

out of

5
by
DG
from
Good device
It worked well, easy to use.
Date published: 2020-07-31T00:00:00-04:00
Rated

5

out of

5
by
JOHN
from
Not enough power to recharge my computer
This docking station was recommended as I was buying my XPS15, however, it does not apparently have the power to recharge my machine. So, after a couple months of owning it, I started to get an error on startup saying the power source was insufficient. Dell support was great, but, there was nothing they could do. But, I got sold a product that is only partially compatible with the computer, despite it being advertised as an accessory to it. Disappointing.
Date published: 2019-11-28T00:00:00-05:00
Rated

5

out of

5
by
Jacie
from
Would have been 5 stars, but...
All in all it's great. However, I have noticed that when I turn my desktop on, and the docking station is already on, my monitors do not come on. I must turn the docking station off, then on again for the monitors to display.
Date published: 2019-11-21T00:00:00-05:00
Rated

5

out of

5
by
gerald alan
from
Works great
I am using this for dual monitors and using my laptop screen as the 3rd. Delivers powerr and charges my system so when I take it away it has a full charge. Also hae a couple of USB peripherals plugged in as well and they work great.
Date published: 2019-09-03T00:00:00-04:00
Rated

5

out of

5
by
Steven D
from
Fast and easy to set up. I connected both monitors to the HDMI and the docking station located and loaded all of my accessoried.
Best one yet. This was my third Visiontek and the best one yet.
Date published: 2020-11-06T00:00:00-05:00
Rated

5

out of

5
by
null
from
Dual 4K output with USB-C laptop charging
Utilized with HP ProBook for charging capabilities and dual 4K output. No special drivers needed
Date published: 2022-08-24T17:16:37-04:00
Rated

5

out of

5
by
Very unhappy consumer
from
Do not buy this product
I absolutely hate this docking station would like my money back. I bought it to run two external monitors, support some usb A devices such as my cordless mouse and keyboard, and keep my laptop charged. It does none of these things. Before I purchased it, I specifically asked if it would keep my laptop charged and was assured that it would, but it will not. With respect to the cordless mouse and keyboard, there is a response delay of a second or two, the mouse jumps around erratically and is hard to control and the keyboard sometimes does not respond at all. I have two external display monitors and they go out and then the laptop cannot detect either of them. I have abandoned this docking station and it was a very expensive lesson to learn. Thank goodness the new computer I ordered from Dell at the same time has enough ports for most of my peripherals, but unfortunately not my second monitor. I can't think of enough bad words to describe this product.
Date published: 2020-12-03T00:00:00-05:00
Rated

5

out of

5
by
LJW1230
from
Not a good choice
Very disappointing. I needed a good quality dock that would support two 4K monitors. Based on specs and reviews, this one seemed like a good solution. It has plenty of ports and a good mix of connection options; however, it has a major flaw that makes it very frustrating to use. When my computer hibernates, sleeps or is powered off, the dock loses connection with the monitors, so I have to unplug the powered USB-C connection and reset the dock in order for the computer to recognize that the monitors are connected. It's particularly annoying if you have your laptop set to energy saving mode or have it set to go to go to sleep after relatively short periods of inactivity.
Date published: 2021-02-25T00:00:00-05:00
Rated

5

out of

5
by
Tibor
from
This Plug and Play Docking Station is Awesome!
The docking station works great as advertised. We purchased it in order to have a mobile working office when we are out of town.
Date published: 2021-04-05T00:00:00-04:00
Rated

5

out of

5
by
GP
from
Great product
Easy to set up and works for multiple hookups which is why I bought it. Only drawback is del took a month to make and me to receive it.
Date published: 2021-07-20T00:00:00-04:00
Rated

5

out of

5
by
HS
from
Great except for speed of charging.
The one issue I have for this product is that you get a warning on your Dell laptop that it charges slowly. It doesn't charge at the speed a regular powercord will charge. Other than that it works great for me.
Date published: 2021-08-22T00:00:00-04:00
Rated

5

out of

5
by
John G
from
Dock it
Does not deliver enough charging power to laptop. Otherwise, it was easy to connect and works fine
Date published: 2021-04-29T00:00:00-04:00
Rated

5

out of

5
by
Dora Daniel
from
Not compatible with Dell laptop as represented. Had to send back to Dell along with poorly built laptop
Not compatible, set up instructions and support POOR
Date published: 2021-05-10T00:00:00-04:00
Rated

5

out of

5
by
Jalante
from
Wise investment
This thing was plug & play. Downloaded the app, plugged everything in, and it worked like a charm. Fast internet connection too. Utilizes the same USB-C cable that charges the laptop and connects the external monitor. Bought it to connect to a Vostro 5502 laptop. Works as advertised, no complaints as of yet
Date published: 2021-05-13T00:00:00-04:00