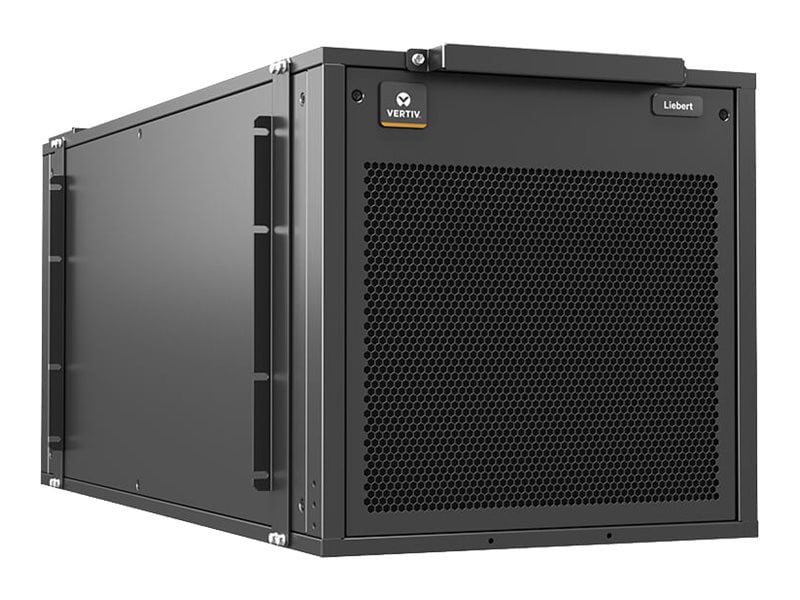 Quick tech specs
12000 BTU air conditioner delivers up to 3.5kW of sensible cooling for equipment in small IT rooms
Variable speed fans and compressor help this data center cooling unit consume energy efficiently
Add one year on top of the default two-year replacement warranty for extended protection
120V 60Hz 1ph air cooler that takes up only 10 in standard racks,saving IT floorspace
Server rack cooling unit that can be installed even by internal staff
View All
Know your gear
The Vertiv VRC100KIT is a self-contained rack cooling unit that provides reliable and efficient cooling for critical IT equipment located in small server rooms, network closets, and edge computing spaces. This 120V, 60Hz server rack cooling equipment delivers up to 3,500 watts (12,000 BTU) of cooling power in a compact form that is designed for fast and easy installation.
RACK-MOUNTABLE SPACE-SAVER
The small 12000 BTU air conditioner takes up only 10U of space in standard 19-inch racks, saving valuable floor area in small network closets and directing cold air towards IT equipment. Heat rejection can also help decrease warm air recirculation.
EFFICIENCY AND PRECISION
Variable speed fans and compressor continually match changing IT heat load to help reduce wasteful energy consumption, which ultimately leads to lower operating costs. The high sensible cooling of the VRC also provides the cooling that your IT gear needs.
EASY INSTALLATION
The Vertiv VRC is designed for quick and easy installation that can be done by the end user. It is shipped with an integrated heat rejection system including an air duct and ceiling tile for heat rejection into a ventilated double ceiling, a condensate pump, a filter, and a ceiling grille for makeup air.
REMOTE MONITORING
The Vertiv VRC also provides peace of mind and ease of management through remote monitoring capabilities. The SNMP Monitoring Card enables monitoring of the unit over the network, while the ModBus monitoring card enables connection and access to building management system.