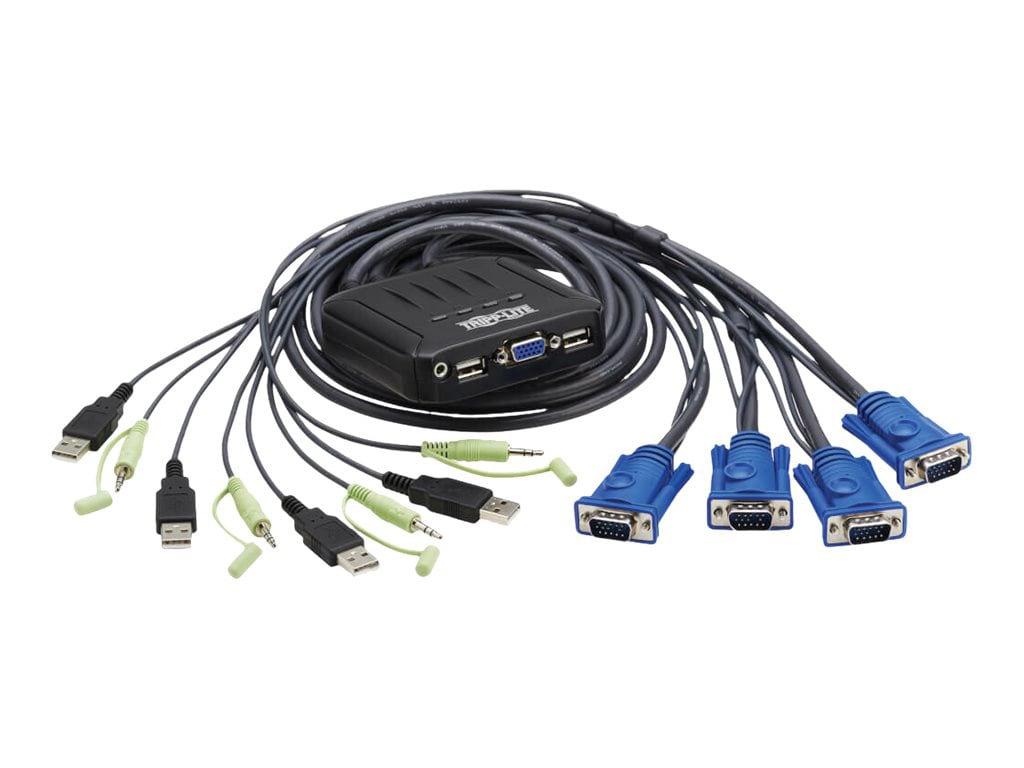 Quick tech specs
Lets you access/control up to 4 computers using 1 VGA monitor/1 USB keyboard/mouse
Hotkeys allow fast/easy toggling between connected computers
Connect USB peripherals for sharing via optional USB hub/cable
Tripp Lite is now part of Eaton
Features built-in 4ft VGA/USB and audio cables for connecting to computers
Connect a VGA monitor with P502-006-SM cable for 2048x1536 DDC2B resolutions
Works with major operating systems including Windows/macOS/Linux
3 Year Limited Warranty
View All
Know your gear
Connects 4 Computers to a VGA Monitor and a Single Keyboard/Mouse

This single-monitor KVM switch lets you connect as many as four computers, which you can access and control by toggling between them. All connected computers share one VGA monitor and one USB keyboard/mouse, which saves space on your desk or workspace. Built-in four-foot (1.2-meter) VGA, USB and audio cables save you the expense and effort of buying separate cable kits for each computer. The B032-VUA4 supports video resolutions up to 2048 x 1536 (DDC2B) on a VGA monitor (P502-006-SM VGA coaxial cable sold separately).

Switching Between Computers Is Fast and Easy

Use hotkey commands or a connected mouse for quick and easy switching among computers. You can also use the Auto Scan feature to scan all connected computers automatically in five-second intervals. Port LEDs indicate which computer is currently selected. Computers may be added, removed or replaced without disconnecting or rebooting other connected computers.

Optional USB Hub Lets You Share Peripherals between Computers

Connecting an optional USB hub (sold separately) to the USB console mouse port lets you share USB peripherals, such as printers, hard drives, scanners and webcams, between all connected computers. This lets you avoid the expense and clutter of separate USB hubs.

Simple Plug-and-Play Installation and Operation

The heavy-duty metal housing can be placed on a desktop or other level surface that safely supports the weight of the KVM switch and attached cables. It requires no extra software, external power or other complicated setup procedures. It works with any computer with available VGA and USB ports (the UR024-001 USB cable is an optional accessory). It also works with gaming keyboards and wireless keyboards/mice.