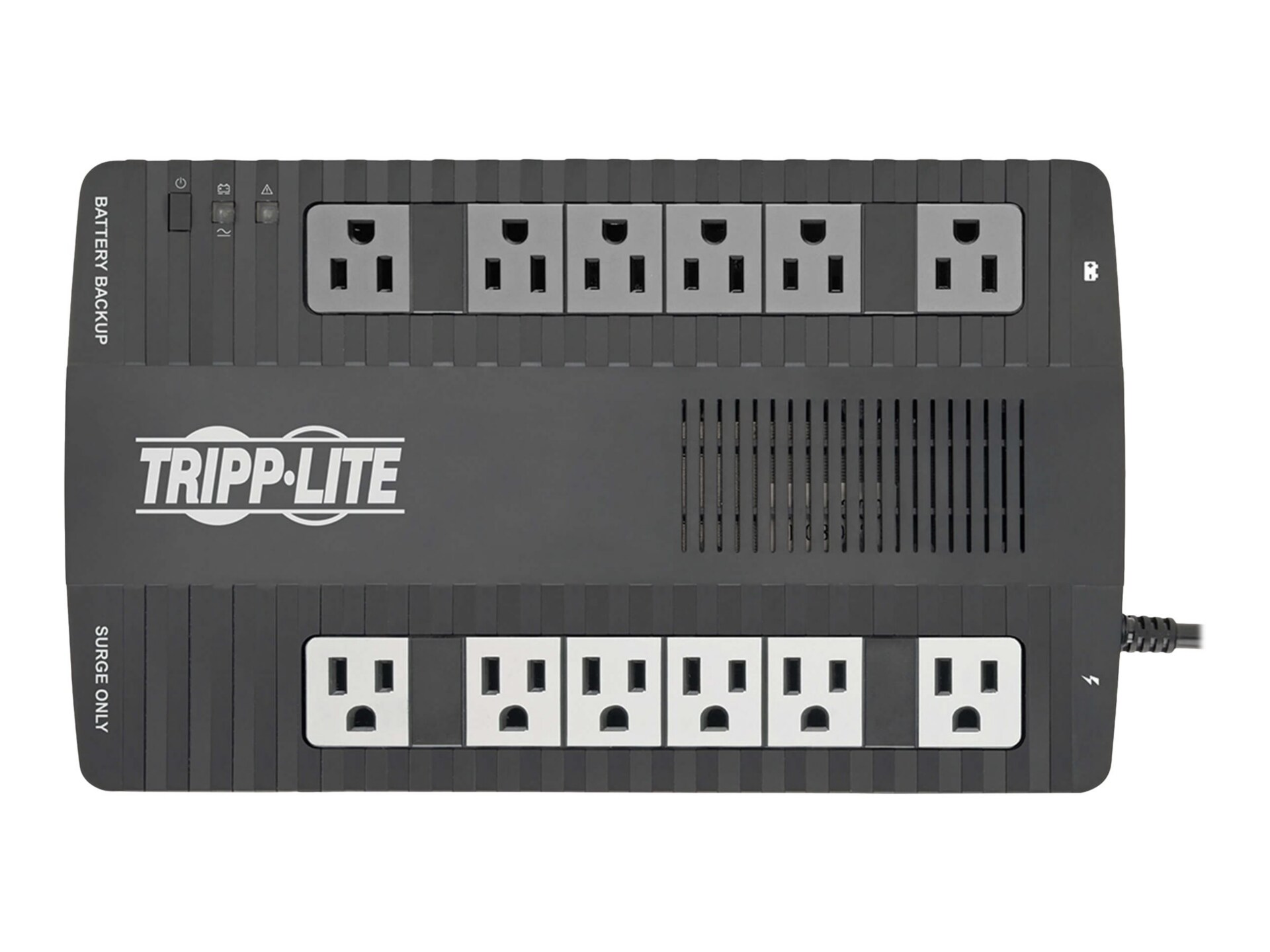 Quick tech specs
Desktop line-interactive 12 outlet USB Port Uninterrupted Power Supply with long lasting battery backup and Automatic Voltage Regulation that corrects brownouts and overvoltages without using battery power
Runtimes: 50% load (240W) @ 8.4 mins./ 60W continuous @ 45 mins.
3-year Tripp Lite warranty/ $100,000 Lifetime Insurance
Single-line tel/DSL connection with surge suppression protects modems fax machines cordless phones
6 UPS battery supported and 6 surge-only outlets
View All
Know your gear
The line-interactive AVR900U UPS system with AVR protection provides reliable battery backup and AC power protection against blackouts, brownouts, overvoltages, surges and line noise that can damage valuable electronics or destroy data. The 12-outlet 120V battery backup is ideal protection for your home office, media center or commerce components, including computers, routers, printers, HDTVs, Blu-ray players, game consoles, ATMs, security systems and digital signage equipment.

Backup support allows you to work through short power failures and gives you enough time to safely save files and shut down your system in case of a prolonged blackout. Backup time varies according to load, but the line-interactive UPS system should keep an energy-efficient desktop computer with small LCD monitor powered as long as 47 minutes. During normal operation, incoming utility power keeps the replaceable internal battery fully charged, so backup power will always be available.

Six 5-15R outlets provide battery backup, surge protection and voltage regulation for your computer, monitor and other crucial components. The other six 5-15R outlets provide surge suppression only for printers, speakers and other desktop equipment regarded as non-essential during a blackout. A high >96% line mode efficiency rating reduces BTU emissions, energy consumption and, ultimately, your energy costs.

AVR protects your equipment from incremental hardware damage, data loss and performance problems caused by brownouts and overvoltages. The AVR900U can correct brownouts as low as 89V and overvoltages as high as 145V back to nominal 120V power continuously, all while keeping the battery fully charged and ready to take over in case of power failure.

A 316-joule surge suppression rating protects connected components from the harmful effects of power surges.

Various electromagnetic and radio sources found in virtually every home and business can cause disruptive interference on the AC line. Known as EMI (electromagnetic interference) and RFI (radio frequency interference), this line noise is a common cause of performance problems and can lead to incremental hardware damage, data corruption and audio/video transmission problems. The AVR900U incorporates technology that filters out disruptive line noise so that it won't affect your equipment.

The UPS remains silent in both line and battery backup modes. The alarm sounds only to report low battery, battery replace, overload and fault condition. Dual front-panel LEDs report line and battery mode operation.

This USB port connects the AVR900U to a computer running Tripp Lite's free downloadable PowerAlert software to enable safe unattended file saves and system shutdown in case of a prolonged power failure. USB cable is included. Battery independent restart ensures automatic UPS power-up without user interaction after lengthy power outages, even when batteries are expired and require replacement.

The space-saving ABS housing fits on a desktop, shelf or anywhere else convenient to your workstation or home theater. Keyhole mounting tabs on the rear allow easy wall-mount installation. The five-foot power cord with NEMA 5-15P plug connects to any compatible AC outlet.


Tripp Lite 900VA UPS Desktop Battery Back Up AVR USB RJ11
is rated
5.00
out of
5
by
8
.
Rated

5

out of

5
by
Lemster
from
I wouldn't buy this product again
The "burning plastic" when the unit was first plugged in that it was unusable. I connected the unit to an outside plug in a covered porch, and after 5 weeks the odor had abated to a degree I could start using it.
Date published: 2016-02-28T00:00:00-05:00
Rated

5

out of

5
by
junior
from
Good UPS and a decent price
We bought several of these for the office and have so far been pleased with all of them. They have kept our equipment running during several power outages. They keep an average PC running for a lot longer than we expected. Would definitely purchase them again.
Date published: 2013-09-06T00:00:00-04:00
Rated

5

out of

5
by
Taksuli
from
Great Product and Great Customer Service!
I have several Tripplites on several computers, could not be happier.
Date published: 2017-02-22T00:00:00-05:00
Rated

5

out of

5
by
Skip
from
Great Backup Source
This is a nice compact backup power strip. The small raised lettering was the only shortfall fo rmy poor eyesight.
Date published: 2018-07-02T00:00:00-04:00
Rated

5

out of

5
by
MTBDP
from
Top product
Added three more to the ones we already have. All function as top products.
Date published: 2015-03-16T00:00:00-04:00
Rated

5

out of

5
by
John
from
easy to install, has enough battery power to carry through
Installed two for stand alone computers.
Date published: 2018-05-08T00:00:00-04:00
Rated

5

out of

5
by
FrankA
from
Excellent performance
I have used two of these for a number of years.They have reliably provided backup power during somewhat frequent short term power outages. I believe these two units saved our computers and related equipment when we received a close lightning strike and the power surge was instantly controlled to our equipment. This is an excellent product.
Date published: 2013-09-09T00:00:00-04:00
Rated

5

out of

5
by
IRTV
from
Great for typical home computer systems.
Great for computers and cable/satellite equipment and DVR's.
Date published: 2018-03-23T00:00:00-04:00
Rated

5

out of

5
by
Danno
from
Great general purpose home UPS
This UPS packs a punch for a reasonable price. Great power backup length of time. 12, I repeat 12 outlets! Reliability that Tripp-Lite provides is second to none. When my low older 2 1/2 year old battery started making my UPS do strange things, they were amazing with customer service that went above and beyond most experiences with any other company. Kudo's guys. Would definitely buy another, oh wait, I already have 3 of these and counting ...
Date published: 2012-10-29T00:00:00-04:00
Rated

5

out of

5
by
BigJohn
from
Great product
I've been using these for years and have absolute confidence in them.
Date published: 2014-10-01T00:00:00-04:00