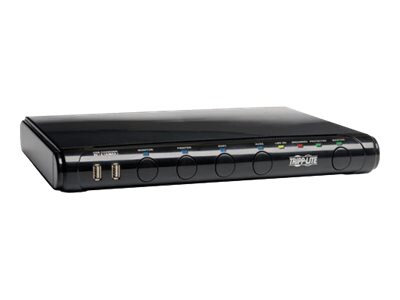 Quick tech specs
Premium protection for home/office computer and peripherals against dangerous power surges spikes and line noise
Low-profile design fits beneath monitor or laptop
Surge Suppressor/ Multiple Outlets/ Power Strip
Surge suppressor recommended for computers printers routers Fax telephone line modem
15A circuit breaker protects all outlets and shuts down connected equipment in the event of an overload
Lifetime Tripp Lite Warranty/ $100,000 Ultimate Life Insurance
View All
Know your gear
Tripp Lite's MT 6PLUS (TouchMaster Plus) under-monitor console surge suppressor offers convenient AC and phone line computer power protection, individually controllable outlets and multiple power switches for remote control of connected equipment. High grade protection circuits utilize Tripp Lite's Isobar protection system with a generous combination of high quality components and unique noise filtration system. Robust surge suppression circuits with sine-wave tracking offer extreme levels of protection against the heaviest surge conditions exceeding IEEE 587 category A and B specifications. Isobar's unique protection system combines large torroidal chokes, HF/VHF capacitors and multiple layers of metal oxide varistors into exclusive isolated filter banks that remove EMI/RFI interference. MT 6PLUS offers 6 outlets total, 4 individually controllable via front panel mounted switches, one completely unswitched and one controlled by the master switch. Surge suppression rated at 1790 joules prevents equipment damage due to transient surges. Diagnostic LEDs confirm power availability and protection status, plus offer indication of line fault, suppressor fault and low voltage conditions. Includes 10 foot AC line cord. Space-saving under-monitor design offers convenient protection and power control of computers and all system peripherals. Lifetime warranty with $25,000 Ultimate Lifetime connected equipment Insurance (USA and Canada Only).



Features:

MT 6PLUS console suppressors incorporate Tripp Lite's premium Isobar protection circuitry, the world's #1 selling premium suppressor series with more than 14 million satisfied customers and a safety-tested history of 20+ years



Robust surge suppression with sine-wave tracking protects against the heaviest of surge conditions, exceeding IEEE category AandB specifications



Multi-component suppression circuits combine torroidal chokes, HF/VHF capacitors and multiple layers of metal oxide varistors for enhanced protection from EMI/RFI interference



Includes 6 NEMA 5-15R output receptacles, 4 of which are individually controllable via front panel mounted switches, plus one completely unswitched and one controlled by the master switch



Network grade surge suppression rated at 1440 joules



Single phone line surge suppression protects modems, fax machines and cordless phones (2 wire, single line, RJ11 jacks)



4 LED indicators confirm suppressor operation and site wiring status, plus warning of suppressor or electrical fault conditions and low voltage conditions



Lighted power switches confirm power on/off status for each individually controllable outlet



10 foot AC line cord with space-saving angled input plug



Space-saving under-monitor console design offers convenient power protection and power control of entire desktop systems



120V AC, 50/60Hz electrical compatibility



$25,000 Ultimate Lifetime Insurance (USA and Canada Only)



Lifetime product warranty



UL1449 listed - surge suppression (330V let-through), UL1283 listed - EMI protection, UL1363 listed - power tap, UL497A listed - communications suppression, cUL approved to Canadian standards, Complies with part 68 - FCC rules



Package Includes:

MT 6PLUS Surge Suppressor

RJ11 telephone cable
Tripp Lite Under Monitor Isobar Surge Protector 6 Outlet 10ft Cord 1440 Jls
is rated
4.88
out of
5
by
25
.
Rated

5

out of

5
by
FIGHTINGIRISH
from
MT-6PLUS
I have 2 of these one in my office and one in my bedroom.I choose them because of the style.The look like a sleek fine piece of equipment worthy enough to have sitting on my furniture.Very classy.
Date published: 2015-03-18T00:00:00-04:00
Rated

5

out of

5
by
Bob
from
A very functional and. protective product
My PC monitor has had one of these units under it for about the last 25 years. Bought my first one based on the recommendation of the person who assembled my first PC. The excellent service policy I haveexperienced was extraordinary for the four different models I have had during that time.
Date published: 2017-10-25T00:00:00-04:00
Rated

5

out of

5
by
Will46
from
Can not be beat
My first Tripp Lite Product was 15 years old, finally one day it decided to quit. I was not upset at all. so I did a quick Google search and found a new one. I a new unit. It seems to be built for the most part like my first one , though mine was metal this is plastic. I had forgot the life time warranty but I put trust in the Tripp Lite name, and will do so again anytime
Date published: 2013-09-05T00:00:00-04:00
Rated

5

out of

5
by
Dave
from
Love it! I would most certainly reccomend this devto anyone.
Replaces similar device that is about 20 years old while had a couple of switch failures. I love the convenience of not having to crawl under a desk to plug a device in.
Date published: 2016-03-26T00:00:00-04:00
Rated

5

out of

5
by
James
from
I purchased several & will buy again if needed.
Several computers and copy machines.
Date published: 2018-11-05T00:00:00-05:00
Rated

5

out of

5
by
Big Timber
from
Just what I wanted
This Under-Monitor Surge Protector is exactly what I wanted. It has all the features I needed and functions to perfection.
Date published: 2017-02-20T00:00:00-05:00
Rated

5

out of

5
by
Rich
from
Power lights are too bright
The power lights, with the exception of the LINE OK light, are much too bright. I couldn't find any way to dim these lights.
Date published: 2016-12-18T00:00:00-05:00
Rated

5

out of

5
by
ED
from
Tripp-Lite Stands Behind What It Sells
Absolutely great product to compactly protect your desktop computer and more than enough plug-ins to connect and protect your peripherals. Its appearance is pleasing to the eye and it even has two ports to charge your cell phone, tablet, camara, etc. with. As my rating of this product indicates, I am very pleased with it. However, what I am really pleased with and will make me come back to Tripp-Lite again and again is its call center representatives and how this company stands behind what it sells. I had a very old unit that I acquired from a long long time ago. When i called in to Tripp-Lite I was hopeful that I might be able to obtain the parts for a faulty toggle switch that was broken. Well, what the rep apparently was empowered to do on this unit was replace and ship, at no cost, its newer unit, providing I could send them a couple of photos of my existing unit that proved I had the unit in question. Approximately eight days later my new and greatly inproved new unit arrived, as promised.
Date published: 2017-07-19T00:00:00-04:00
Rated

5

out of

5
by
pencil_pushin
from
I recommend the Isobar 6-outlet under monitor surge protecto
Arrived quickly and easy to set up. Really works great to have the surge protector sit under the monitor. I can hide a lot of the wires behind it.
Date published: 2017-11-07T00:00:00-05:00
Rated

5

out of

5
by
Sharon
from
Highly recommend
Great product slipped under my monitor, really liked the 8 ft cord.
Date published: 2019-02-01T00:00:00-05:00