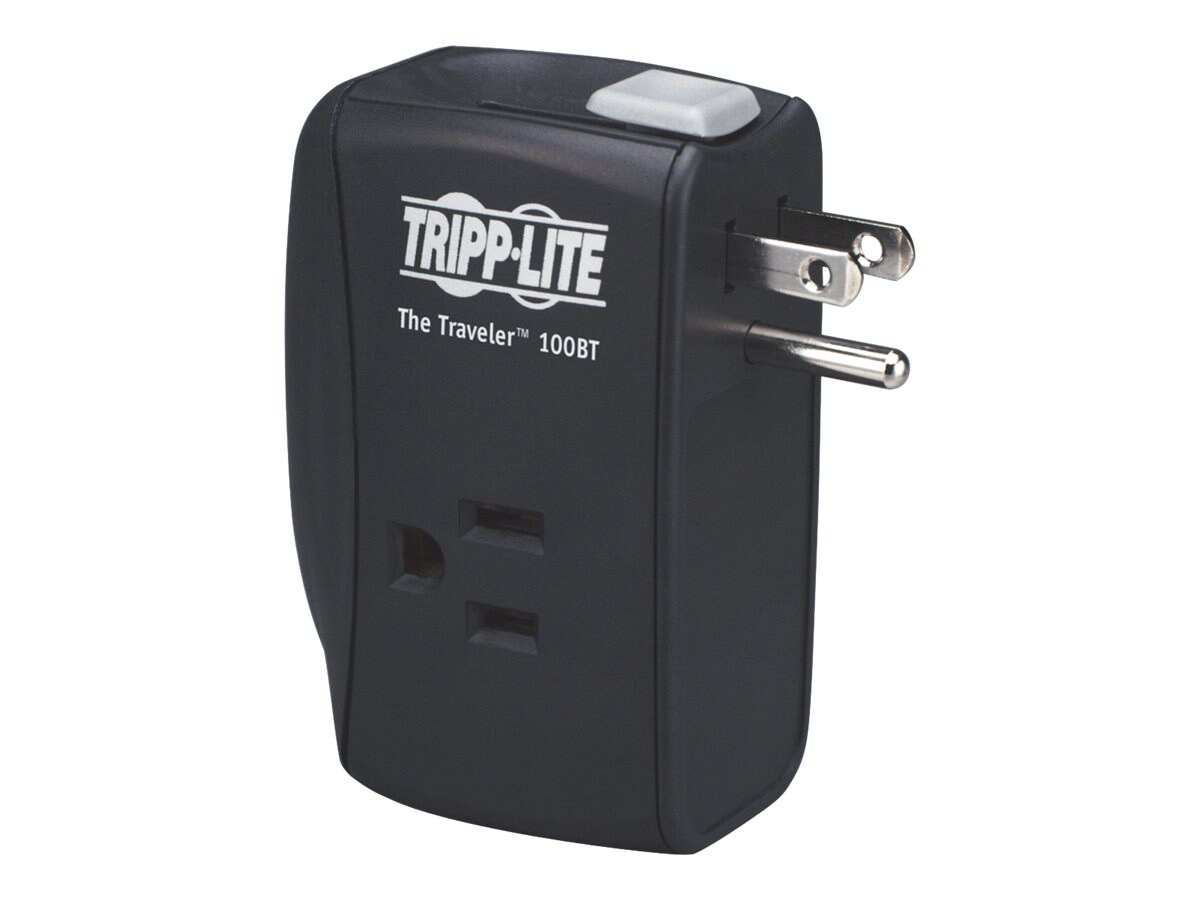 Quick tech specs
Direct Plug-in surge suppressor offers complete AC and Ethernet protection for laptops electronic notepads personal organizers and other portable electronic devices from dangerous power surges spikes and line noise
Set of RJ45 jacks for Ethernet or phone line surge suppression protect network lines or dial-up DSL modem fax cordless tel phones
Lifetime Tripp Lite Warranty
Ideal for home office workstations client office dorm and hotel rooms
Portable Power Strip/ 15 A/ 1050 Joules
View All
Know your gear
Tripp Lite's portable TRAVELER100BT surge suppressor offers complete AC and Ethernet or phone line surge suppression for laptops, electronic notepads, personal organizers and other portable electronic devices. Compact portable housing weighing less than 4 ounces neatly fits into laptop travel cases. Retractable plug prevents scratching of expensive portable electronics. Set of RJ45 Ethernet or telephone line suppression jacks protect network lines or dialup and DSL modem lines. TRAVELER100BT offers 2 total outlets in a space saving direct plug-in format and diagnostic LEDs to warn of wiring problems and suppressor damage. $50,000 Ultimate Lifetime Insurance (USA and Canada Only).



Features

1050 joules AC surge suppression shields equipment from the strongest surges and line noise



2 AC outlets with room for 2 transformer plugs without blocking outlets covers computer and one peripheral



Ethernet or phone line surge suppression protects network lines or dialup and DSL modems, plus fax machines, cordless phones and more (pair of RJ45 jacks, 2 wire, 1 line, includes 6 ft phone cable)



Exceeds IEEE 587 category A and B surge suppression specifications



Extra-small portable housing weighing less than 4 ounces neatly fits into laptop travel cases - retractable input plug prevents scratching of laptops and other devices



Fail-safe thermal fusing protects against fire and other damage in the event of an extreme, extended overvoltage or surge condition



Diagnostic LEDs confirm outlet grounding and surge suppression status



UL1449 Rated (330V all modes), UL1363 (Power Tap), UL497A (Communications), Meets FCC part 68 rules, cUL (Canada)



Lifetime warranty with $50,000 Ultimate Lifetime Insurance (USA and Canada Only)



Typical Applications

Ideal for use with laptops, electronic notepads, personal organizers and other portable electronic devices.



Package Includes

TRAVELER100BT Surge Suppressor

6-ft. telephone cord

Instruction manual with warranty information
Tripp Lite Notebook Surge Protector Wallmount Direct Plug In 2 Outlet RJ45
is rated
5.00
out of
5
by
12
.
Rated

5

out of

5
by
MassTransit
from
Travel Outlet Day-Saver
Have you ever run into the situation where there aren't any outlets available at the airport, hotel, airplane, or train? This little tool has saved me in many a situation where I needed to charge my laptop & all the ports were in use. It has put up with being stored in a backpack with various other items for a couple of years now & still works great. It is of particular use in trains or planes, where on-vehicle power may not be stable. It adds an extra layer of protection against surges in those situations.
Date published: 2013-09-05T00:00:00-04:00
Rated

5

out of

5
by
kwescott
from
Works as promised
Small and compact and protects our equipment!!!!!!
Date published: 2013-09-05T00:00:00-04:00
Rated

5

out of

5
by
JohnD1
from
Great product
This surge protector is very dependable. It has protected my computer through several power surges.
Date published: 2014-10-02T00:00:00-04:00
Rated

5

out of

5
by
Vanin
from
Works as promised.
I use this while traveling. I had a laptop destroyed by a power surge at a hotel. I now use this surge suppressor to protect my equipment.
Date published: 2014-10-30T00:00:00-04:00
Rated

5

out of

5
by
Amry2007
from
This is the perfect product for the person on the go
I travel to several different locations and I can not verify the stability of their electrical systems. This product give me reassurance I need to travel with confidence. It has paid for itself 100 times over, due to a power surge at a local office. Everyone who did not have their laptop connected to a power surge basically fried their equipment. Fortunately for me, I had my little travel buddy and my brand new laptop was spared. Thanks for great product.
Date published: 2013-10-10T00:00:00-04:00
Rated

5

out of

5
by
Tony
from
I would buy this product again and refer to anyone
Great for protecting local network and surge to main PC being used, great self assurance knowing valuable equipment is well protected
Date published: 2017-08-05T00:00:00-04:00
Rated

5

out of

5
by
chrisd7
from
perfect on the road...
...exactly what I needed for the business trips, within the US and the 110V limitation. But for that purpose it does the job well, is light weighted and protects my equipment.
Date published: 2011-12-09T00:00:00-05:00
Rated

5

out of

5
by
Lizzard
from
Yes, I would buy this portable surge protector again.
I use this to protect a $6500 piece of electronics that I purchased.
Date published: 2017-02-12T00:00:00-05:00
Rated

5

out of

5
by
Eddie
from
CDW : The reliable Source
The tripp Lite surge is the best value for your dollar out there. Meets our Vendor's criteria and specs for warranty coverage on ALL of our large and small printers! And the price was right! Thanks CDW! You Rock! Eddie
Date published: 2019-02-20T00:00:00-05:00
Rated

5

out of

5
by
SuperNed
from
No, I did not get paid for writing this review. IÕm just a very, VERY satisfied customer.
Please Read ALL of Review: I type this so that you donÃ?t make the same mistakes weÃ?ve made and inevitably Ã?have to learn the hard wayÃ?. Review for the TRAVELER100BT I have only positive comments to say about TRIPP-LITE. I have replaced all of our surge protection with several TRIPP-LITE units. Now, concerning the TRAVELER100BT, we only use this unit for our Internet Line Protection. This is why: In the Spring of 2013, we had a lightning storm that was the deciding factor to go with TRIPP-LITE from now on. The Surge came in through the Ã?electricalÃ? line; it took out 2 wireless routers and one Internet signal converter (we use Wireless Internet [not satellite], and not DSL). The wireless routers were on Ã?cheapÃ? surge protectors (NOT TRIPP-LITE) so we didnÃ?t even bother making claims etcÃ? The Ã?flowÃ? of our TRIPP-LITE Internet line protection was: Outside Antenna to Equipment, but not Equipment to Antenna. We had properly planned for outside lightening strike (TRAVELER100BT), but Ã?cheaplyÃ? planned the other way around (lesser surge protectors)! This is why our outside antenna didnÃ?t get fried. I know, I know; we have since then learned our lesson: Protect EVERYTHING and ANYTHING connected in ALL directions. THE GOOD: After the storm, when I checked out the TRAVELER100BT, Ã?bothÃ? lights were on, but no Internet signal. I plugged other electrical devices in the electrical plugs and they worked fine. I called customer service to see what was going on etcÃ? They basically said that the Ethernet Surge Suppressor (for the Internet line) did its job etcÃ? then they asked for the Serial Number of the unit. Next is what surprised me. They basically asked me for my name and mailing address etcÃ? and said to throw the Ã?sacrificedÃ? unit away and that I would have a replacement by the end of the week! I didnÃ?t have to pay Ã?shippingÃ? costs or Ã?replacementÃ? costs of any kind! And I did get it by the end of the week! I need to mention (THE DECIDING FACTOR). We also had computers and laser printers and duplicating devices on Ã?otherÃ? brand name lightning surge protectors that were NOT damage by the storm. They themselves were also Ã?sacrificedÃ?, but our equipment was fine. THE BAD: Nothing Bad about TRIPP-LITE. I just wish I had their units protecting ALL of our equipment from the VERY beginning. It would have saved us lots of time, lots of headache, and a whole lot of $$$. Not just this time, but in previous years before. I hate learning the hard way! THE UGLY: When I contacted Ã?the other guysÃ? to replace 2 of their units that also did their job, I was told that we would have to ship them the defective units (us pay the shipping to them [$10.00-$15.00]), and also pay $10.00 for each defective unit for Ã?returnÃ? shipping back to us. Our total replacement cost would be about $35.00. This does not seem like a bad deal since the equipment that was plugged into these units was NOT damaged, but compared to TRIPP-LITEÃ?s policyÃ? It was a no-brainer for me, I used that money to buy TRIPP-LITE instead. BOTTOM LINE: When you buy TRIPP-LITE, youÃ?ve bought it for life! Our TRIPP-LITE (TRAVELER100BT) saved our outside Wireless Internet antenna from being fried while saving us replacement costs! IÃ?m VERY impressed with their company! I purchased 4 of these TRAVELER100BT units: 2 to protect our Internet lines, 1 for myself when I travel, and 1 for another family member. I also purchased 2 SUPER7TEL units to replace the units from Ã?the other guysÃ?, and will be purchasing more TRIPP-LITE Lightning Surge Suppressors as well. IÃ?m sold on the TRIPP-LITE Warranty! TRIPP-LITE for life! And no, I did not get paid for writing this review. IÃ?m just a very, VERY satisfied customer.
Date published: 2013-09-11T00:00:00-04:00
Rated

5

out of

5
by
David
from
Purchase known Joules Protection in a Surge Protector!
Needed a compact 120 volt travel Surge Protector, a lot of ones are offered, but they get "wiggly" about what if any Joules protection they have. Intend to use on our night of departure for Wales, and then leave in the car until we get back. Don't take overseas, you just blow them out if you plug into a 240 volt circuit. I know.
Date published: 2022-07-05T00:00:00-04:00
Rated

5

out of

5
by
Melody
from
Great product, Buy it!
I now have two of these. They are great, small, easy to use and I have had no issues with the one I have had for several years. I use one for my router/modem and cell phone extender. The other one for my laptop and printer. The added warranty is a big plus! Definitely worth it!
Date published: 2022-11-11T00:00:00-05:00