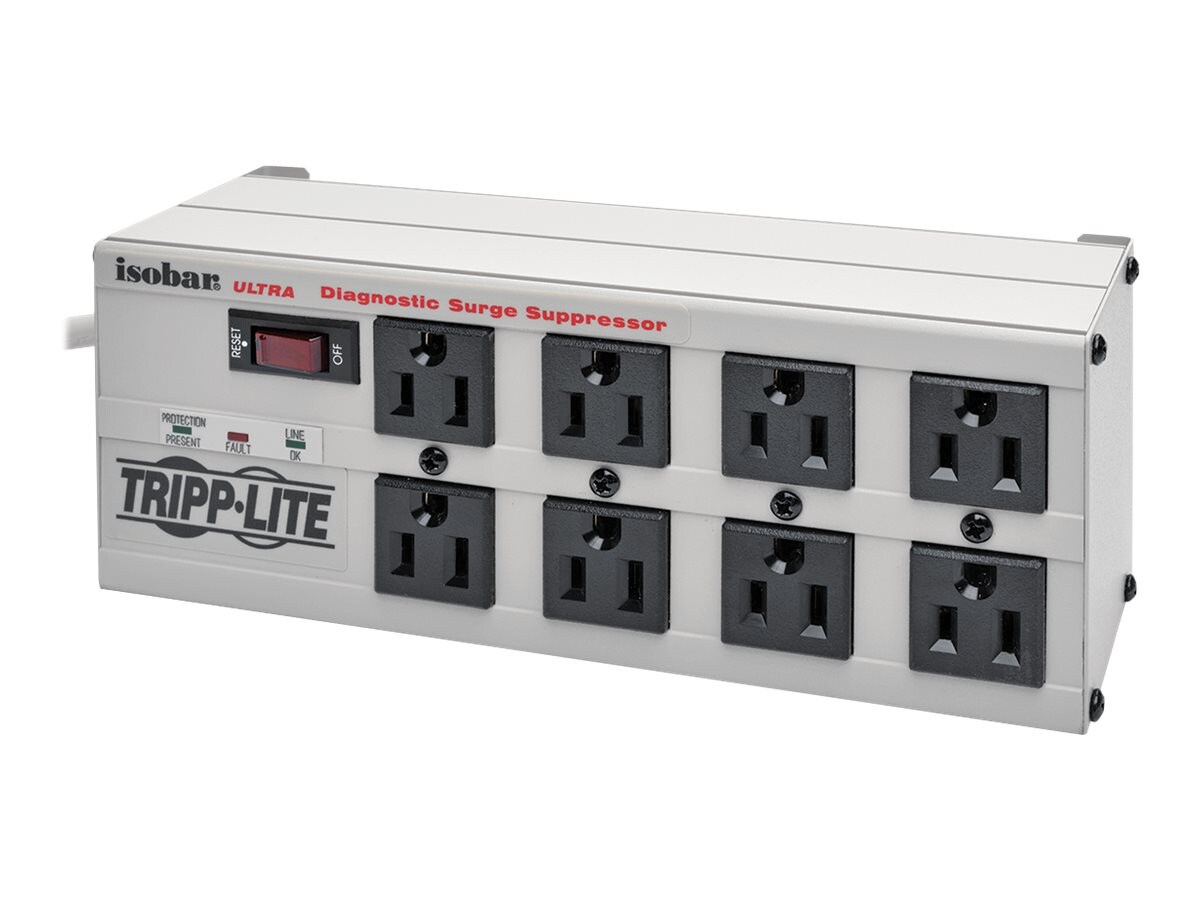 Quick tech specs
Premium protection for your A/V components network hardware retail displays appliances power tools and other electronics against even the strongest surges and spikes
12A circuit breaker protects outlets and shuts down connected equipment in the event of an overload
Lifetime Tripp Lite Warranty
Surge suppressor for network workstations telecom systems point-of-sale equipment and audio/video systems in home office and industrial environments
Power Strip/ Right-angle NEMA 5-15P plug
View All
Know your gear
For more than 20 years, America's leading companies have trusted Tripp Lite's Isobar Premium surge and noise protectors to protect sensitive computer, networking and telecom equipment. With more than 18 million satisfied customers, the Isobar remains the world's #1 selling premium surge protector. Loaded with a generous combination of high quality components, near indestructible all-metal case and unique noise filtration system, the Isobar offers the highest level of protection attainable in a multi-outlet strip. Robust surge suppression circuits with sine-wave tracking offer extreme levels of protection against the heaviest surge conditions exceeding IEEE 587 category A and B specifications and reducing 6,000V test surges to harmless levels under 35 volts. Isobar's unique protection system combines large toroidal chokes, ferrite rod-core inductors, HF/VHF capacitors and multiple layers of metal oxide varistors into exclusive isolated filter banks that remove EMI/RFI interference, even noise generated by other pieces of connected equipment. ISOBAR8ULTRA offers 8 outlets arranged in four filter banks to prevent system crashes, reboots and performance problems common as noisy system peripherals are powered off and on. Surge suppression rated at 3840 joules/97,000 amps offers network-grade protection. Widely spaced NEMA 5-15 outlets accommodate up to 4 large transformer plugs without blocking outlets. Diagnostic LEDs confirm power availability, line fault and protection status. Includes 12 foot AC line cord with space-saving angled input plug, keyhole mounting tabs and a set of 4 child safety covers.
Tripp Lite Isobar Surge Protector Metal 8 Outlet 12ft Cord 3840 Joules
is rated
4.98
out of
5
by
47
.
Rated

5

out of

5
by
Captainug
from
What a well built product!
Feel the security of plugging in your high dollar electronics to the security of Tripp-Lite.
Date published: 2019-07-23T00:00:00-04:00
Rated

5

out of

5
by
wyn50
from
great product and warranty
This product has been great providing the length we need and having great warranty when it does happen to give out.
Date published: 2014-10-01T00:00:00-04:00
Rated

5

out of

5
by
ThomasR
from
High quality premium surge suppressor
Very happy with my purchase, the Isobar 8 Ultra is definitely worth the money. TV and surround system seem much clearer. Picture and sound seem much cleaner. You will definitely notice the difference especially with a TV and sound system.
Date published: 2011-12-19T00:00:00-05:00
Rated

5

out of

5
by
ralphac
from
The on/off switch breaks down continually
I am not the only one that has experienced your cheap faulty on/off switch.It's causing you unnecessary expense and your customer unnecessary spent time getting a replacement.I have your unit connected to a new 6 socket electric bar in the ON position so I don't use your switch to turn it on. What a waist of the extra bar.What could it possibly cost to replace the on/off switch with one that doesn't break down almost every 1 to 2 years?
Date published: 2015-01-30T00:00:00-05:00
Rated

5

out of

5
by
Ron
from
Works Exactly as Planned
Used this unit in my high-end stereo system. Plugged all key components into the unit. Actually think that the stereo system sounds better - mostly clearer than before putting the unit into place.
Date published: 2016-02-23T00:00:00-05:00
Rated

5

out of

5
by
Judy
from
I would buy this again for sure
Love the idea that they have like insurance if hit by lightening
Date published: 2017-07-05T00:00:00-04:00
Rated

5

out of

5
by
John55
from
Excellent surge protector...very well built!
I purchased the Isobar8Ultra for use with my keyboards and other equipment in my band. I have a few other Tripp Lite products and appreciate the quality and service from this company. Very well built and perfect cord length for my needs. I highly recommend the Isobar8Ultra and, having a few other models, anything from Tripp Lite!
Date published: 2013-09-05T00:00:00-04:00
Rated

5

out of

5
by
Hank
from
An Excellent Surge Protector
After many hours of research, Tripp Lite's Isobar, 8 outlet, metal, model is my top pick.Its most salient characteristics are:a clamping voltage of 140;a let-through rating of a 330 volts;and a "ring wave let-through" of less than 35 volts.. . . and, it has a 3840 Joule suppression rating.All of these figures are excellent.Many manufacturers promote surge protectors that accommodate cables. You don't need or even want this. A protector will distort the signal that the cables provide and also slow it down. Furthermore, those cables are already grounded to the outside.Ryan, in Tripp Lite's Support Center, is great: very informative and otherwise helpful.
Date published: 2016-09-19T00:00:00-04:00
Rated

5

out of

5
by
Gabby
from
WELL MADE BUT POOR RECEPTICLE LAYOUT
Tripplite has always been my number one choice for surge protectors because of the high quality of workmanship and materials used in these products.The same is true f0r this surge protector.Nevertheless, I do not recommend this particular product because both rows of outlets face the same direction which prevents the upper row from being used for large plugs if the corresponding area in the lower row has plugs in it.
Date published: 2014-10-15T00:00:00-04:00
Rated

5

out of

5
by
msjanusz
from
Great Surge Protector
I like the 8 outlets, and the fact it is not all plastic. I purchased this for my bedroom for my sleep number bed. I live in central Florida, and we have many lightning storms. I needed my bed protected. With the high joules I know I am safe.
Date published: 2014-10-02T00:00:00-04:00