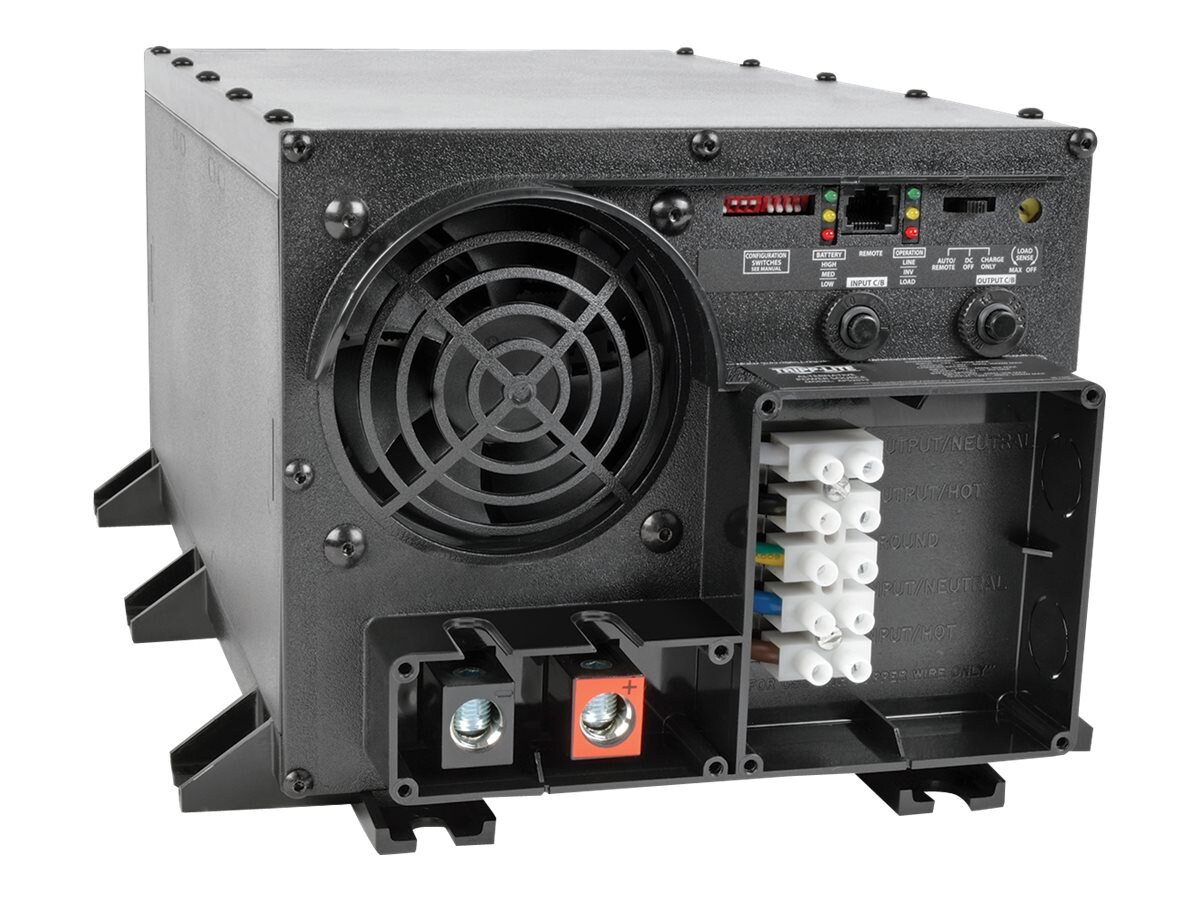 Quick tech specs
Portable 2000W power source for power applications such as power tools and computers as a vehicle inverter/ standalone AC power source or a UPS
Delivers clean 120V AC power from AC or DC power source
Auto-transfer switching option for UPS operation
Uninterruptible Power Supply/ PowerVerter/ power inverter/ battery backup
Ideal for RVs/ fleet vehicles and emergency vehicles
2000W continuous output power; 4000W peak power
Protects against blackouts/ surges and EMI/RFI line noise
View All
Know your gear
The APS2012 2000W PowerVerter APS 12V DC 120V AC Inverter/Charger is a reliable power source for a wide variety of equipment ranging from power tools and pumps to portable lighting and computer equipment in heavy-load conditions. With no fumes, fuel or excess noise, it's an excellent alternative to generator power. The DC-to-AC inverter features an automatic line-to-battery transfer switch and integrated charging system that allow it to work as a vehicle inverter, standalone AC power source or extended-run UPS. It delivers 2000W of continuous power, 3000W up to one hour, or 4000W of peak power up to 10 seconds during equipment startup or cycling. An automatic overload detector, cooling fan and resettable AC circuit breakers protect the unit from damage. Designed for easy installation in RVs, commercial and fleet vehicles, emergency vehicles and construction equipment, the APS2012 converts stored power from any 12V battery or automotive DC source to safe, stable, computer-grade AC power for unlimited runtime. When hardwired to an external 120V AC source, the unit keeps the user-supplied battery charged via a three-stage 25/100A selectable charging system while simultaneously delivering AC power to connected equipment. When used as a UPS, the APS2012 responds to blackouts and brownouts with an automatic, instantaneous transfer to battery-derived AC output. LEDs on the unit indicate load level, battery charge level, shutdown status and system fault status.


Tripp Lite Inverter / Charger 2000W 12V DC to 120V AC 25A/100A Hardwire
is rated
5.00
out of
5
by
3
.
Rated

5

out of

5
by
The motorhome mechanic.
from
High quality item.
Very well built, soild Inverter with many extras. Replaced older Inverter in class a motorhome. Nice upgrade with control over charge rates. Install the Triplite remote for more control.
Date published: 2017-11-18T00:00:00-05:00
Rated

5

out of

5
by
Free
from
My 4th one died yesterday filling my RV with smoke
Have had 4 so far one replaced under warrantySorry, Giving up
Date published: 2018-06-06T00:00:00-04:00
Rated

5

out of

5
by
PalermoPaul
from
Great Features at reasonable cost
I live off grid and use another system for my house. Recently a string of my 24v batteries went bad but I could salvage enough of them to run a 12v system for my shop so I started looking into 12v inverter/chargers. I have to admit I bumped into this model by accident when I found an ad from someone who bought a 12v inverter when he needed a 24v and was selling this unit brand new, unused, still unopened in the box. I checked this unit out both here on this site, with others, other sites, and 1st hand. Let me tell you that for the price, you will not find a unit with as many functions and capabilities as this machine has. It has some functions I wish my larger inverters had. It is easy to set up and to calibrate. I haven't noticed any lag time when starting up any machines or switching to charging mode. It is relatively quiet. I do have to remind myself that it is only 2000 watts but that's my problem, not theirs.
Date published: 2011-12-08T00:00:00-05:00
Rated

5

out of

5
by
PalermoPaul
from
Great, Efficent Product
I like the APS2012 because it has many handy features, is easy to hook up, operate, and understand. I have a 24V system where a string of batteries had one bad cell. I decided to use the rest with a 12V configuration and this unit fit my bill for running my shop. Granted, I still need my generator for certain tools but this handles everything else with ease and efficency.
Date published: 2013-09-05T00:00:00-04:00
Rated

5

out of

5
by
Sailboat Blown Away
from
Circuit breaker trips frequently
I replaced my original TL inverter which failed after 9 years with the exact same model. Unfortunately the built/resetable circut breaker trips frequently and the unit will not carry the same load as my old TL inverter. The equipment and line loads have not changed. I also have TL remote panel installed and the Red overload warning light does not illuminate prior to the breaker tripping. I have contacted TL Customer Service on two occasions about this problem hoping to get a more knowledgeable person the second time. Unfortunately on both attempts their Customer Service representatives seemed lacking in product knowledge and we're not able to help me.
Date published: 2016-02-23T00:00:00-05:00
Rated

5

out of

5
by
The engineer
from
I am an electrical engineer, I use tripplite products
I am an electrical engineer, I use a tripplite and I advise all my customers to buy tripplite productsIt is very powerful.
Date published: 2017-09-18T00:00:00-04:00
Rated

5

out of

5
by
PATSY
from
MY HAPPY STORY!
Imagine you have a nice generator in the house. The power goes out and you start looking for that flashlight to go out and start the generator. Is it raining, Snowing, I wonder how long the power will be out? ANSWER: I installed this easy to use product and now when the power goes out I have my main areas all on backup, front porch lights, garage, basement, upstairs and downstairs hallways, even smoke detectors still going. NOW: I forget the flashlight, take my time when the power goes out, and have plenty of light to travel the house safely. I can read a book, go to bed or start the generator when I feel like it. I have MANY hours or backup time!ALSO, if you need any tech support they are the best!
Date published: 2013-10-21T00:00:00-04:00