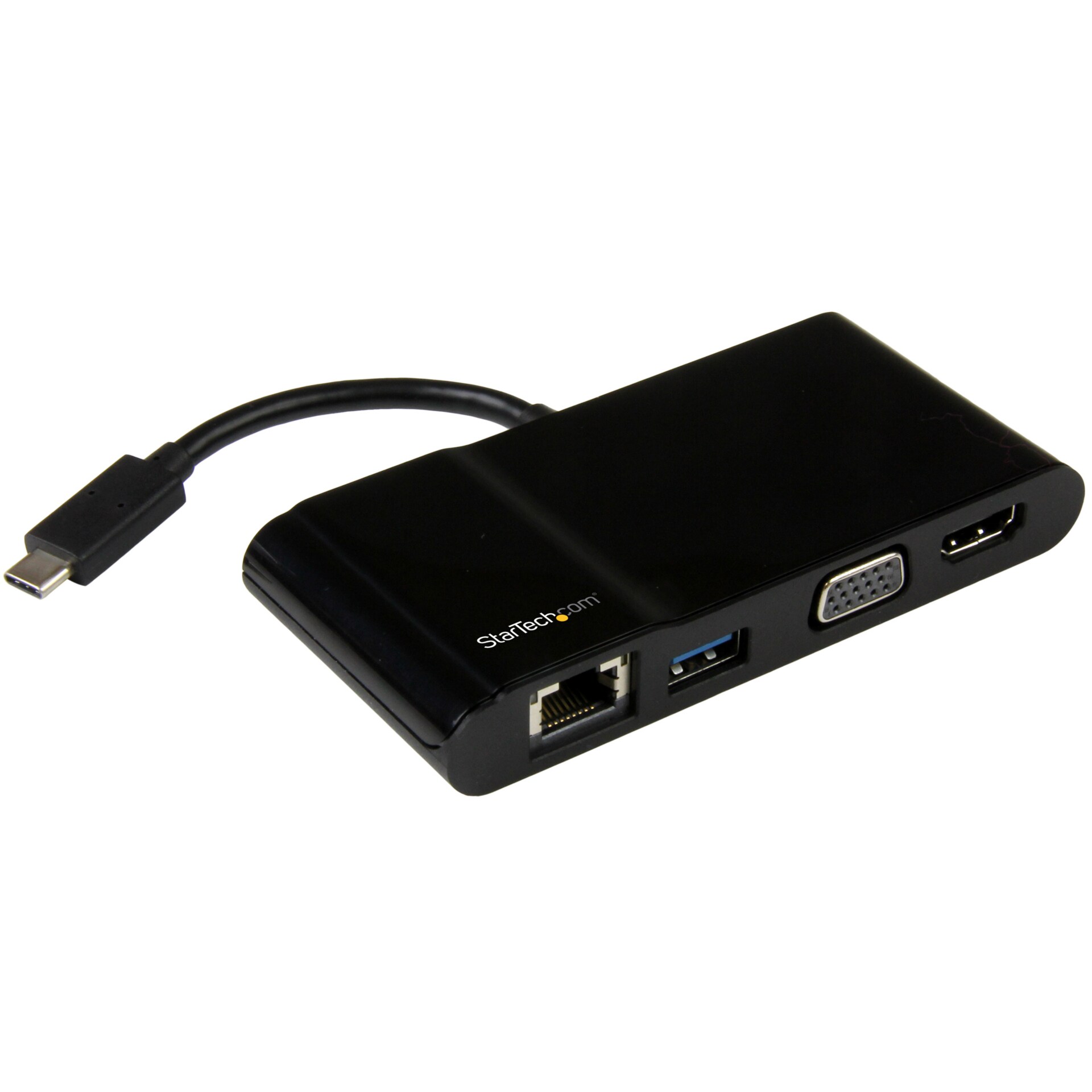 Quick tech specs
Latest version DKT31CHVL offers upgraded functionality to USB Gen 2 10Gbps and a longer 11cm host cable
USB C TB3 portable travel mini dock works with USB-C/Thunderbolt 3 laptops like HP Spectre + EliteBook/Dell XPS/Lenovo Yoga/MacBook Pro and Air/Chromebooks
USB bus-powered from laptop with no external power adapter required
4-in-1 USB C multiport adapter to 4K 30Hz HDMI or VGA 1080p video display/USB-A 3.1 Gen 1 5Gbps/Gigabit Ethernet (GbE)
Windows macOS Ubuntu Chrome OS
View All
Know your gear
This USB C multiport adapter for your laptop enables you to create a digital / AV workstation virtually anywhere you go. It's a versatile way to connect additional devices to your port-limited USB-C laptop such as your MacBook Pro or Dell XPS.
Take Advantage of Your USB-C Port
This multiport adapter hub features a USB Type C connector. To take full advantage of USB C and DP Alt Mode, the adapter converts the video and data capabilities of your laptop's USB-C port into four individual ports. You can use the adapter with your existing USB peripherals, and with its built-in cable, there's no need to carry around a separate host cable. Since the adapter uses USBC, you can connect it to your Thunderbolt 3 equipped laptop.
Designed for Portability
This USB Type C video adapter consolidates multiple ports into one portable travel adapter, so you can leave your individual single-function adapters at home or at the office. Plus, the adapter is bus powered, so there's no need to carry around a separate power adapter, making it a completely portable docking station for your laptop.
All the Ports You Need
This adapter features HDMI (with audio) and VGA ports, to easily connect a 4K HDMI or VGA monitor. The adapter features a Gigabit Ethernet port for wired network access and a USB 3.0 port to connect a USB device. Installation is fast and simple, with native support in most operating systems.
This USB C multiport adapter is backed by a StarTech.com 3-year warranty and free lifetime technical support.
Contact Sales Assistance
(800) 800-4239
,
Monday-Friday 7am-7:30pm CT
StarTech.com USB-C Multiport Adapter - 4K HDMI/VGA - Alternative DKT31CHVL
is rated
3.00
out of
5
by
17
.
Rated

5

out of

5
by
Chris
from
Dual display
The docking station only allows for either HDMI or VGA to be plugged in. This wasn't a true issue in my case, as I am just having the user plug the dock and the HDMI cable instead of just the dock... Still, buyer beware. Unless you plan on 'creating' your own hdmi/vga connectors, you're going to have a bad time. Perfect if you're just trying to utilize one of the video ports.
Date published: 2017-10-17T00:00:00-04:00
Rated

5

out of

5
by
aromasman
from
Ethernet port doesn't work
It has VGA, HDMI, USB, Ethernet port all in one which is a bargain for the price. Unfortunately, the Ethernet port never worked. My Mac OS is 10.13.6 and the AX88179 USB3.0 to Ethernet driver was installed successfully. However, it could not get DHCP address. I plugged my computer to my colleague's one (which is the same model but bought last year) and it could get DHCP address successfully. Seems to be a defect unit. Other than that, the VGA and the USB port worked nicely. So I am using WiFi instead of Ethernet now.
Date published: 2018-10-31T00:00:00-04:00
Rated

5

out of

5
by
brisa
from
Almost perfect
I bougth this adapter one year ago, and the only complaint I have is that HDMI and VGA outputs cannot be active at the same time.
Date published: 2018-03-18T00:00:00-04:00
Rated

5

out of

5
by
IrfanM
from
Great product!
Working as designed. Helping a lot especially in the conference rooms /meeting rooms. Very handy!
Date published: 2018-12-12T00:00:00-05:00
Rated

5

out of

5
by
GoGo
from
Doesnt Work
Lenovo Yoga X1 gen3 netowrk will not get an IP address other startech USB network adapters do work.
Date published: 2018-09-20T00:00:00-04:00
Rated

5

out of

5
by
Morty
from
One of my favourite StarTech products...
This dongle is just perfect and I'll definitely be buying some more. We've been modernizing our laptops at the company and they're all coming with USB-C Thunderbolt ports but missing all the good stuff like Ethernet, HDMI, VGA (we still run a lot of VGA projectors in the conference rooms). StarTech took the 4 most used and most missed ports and through them into a dongle for 1/4th the price of a docking station. The quality has been fantastic too. My only gripe would be that HMDI takes about 10-12 seconds to start working after plugging it in.
Date published: 2017-08-03T00:00:00-04:00
Rated

5

out of

5
by
Hugh Gong
from
Not managed to make it work yet
I just brought this for a new Dell XPS 13 laptop (Windows 10). Nothing happens when plugged in the laptop USB C port. I have updated all the device drivers.
Date published: 2017-09-13T00:00:00-04:00
Rated

5

out of

5
by
mr1234
from
One adapter with all the basic connectors
This is a follow up for my previous review where I described the issue I experienced. I purchased 4 adapters to use them at the office on multiple MacBook Pro devices. I had a small issue with the network port that did not worked. Installing the driver solved my problem. I did not give it a perfect score because you need to install a driver in order to make everything work. If this was mentioned as a note in the technical details would have made the experience smoother. Other than that I am happy with this product. I recommend it.
Date published: 2017-08-10T00:00:00-04:00
Rated

5

out of

5
by
YoMike
from
Not the answer!
I was looking for a multiport adapter that all these connectors. However, the GigE port have never worked, and the HDMI video port quit working after two weeks of use. I'll be sending back soon.
Date published: 2017-10-12T00:00:00-04:00
Rated

5

out of

5
by
albaum
from
HDMI not working properly on mac
I am trying to connect a Samsung 4K monitor, and it just does not work. O tried all possible resolutions, the monitor appears in the preference pane, but the image sent by via the startech device is not visible / compatible with the monitor. Useless...
Date published: 2017-06-15T00:00:00-04:00
Rated

5

out of

5
by
Starr
from
Great Mutliport Adapter
This is a great USB-C Multiport Adapter for laptops. It is so small it will fit in your pocket yet it provides very high end VGA & HDMI graphic ports, USB 3.0 port and Gigabit Ethernet port. It is as simple as Plug and Play to use.
Date published: 2017-07-27T00:00:00-04:00
Rated

5

out of

5
by
jimh123
from
USB-C Multiport Video Adapter Made Easy
I have been in the AV/IT Integration space for over 30 years. I found this unit easy to setup and use on my Microsoft and Android devices. This unit has the ability to provides a 4-in-1 multiport video adapter to 4K Ultra HD HDMI or VGA video output, a USB 3.0 port, and a Gigabit Ethernet port. I used this on both my Android and Windows devices and it worked seamlessly with my Samsung Displays. What is Included: 1 - USB-C Multipport adapter 1- Instruction Manual Note: "I received this product in exchange for an unbiased review."
Date published: 2017-07-24T00:00:00-04:00
Rated

5

out of

5
by
macphoto1970_113
from
Nice adapter with good video options
This is a nice adapter to have for most ultra compact systems today with USB-c. This gives you HDMI and VGA which i found worked pretty well. The ethernet port is a nice option to have as I like the hard wired options whenever possible. My only issue is when the system goes to sleep a few times it would not show back up until I disconnected the device and then plugged back in. Not much of an issue with the laptop...not sure if it would be to convenient if it was at the back of a desktop. Overall a good adapter that works well. I received this product in exchange for an unbiased review
Date published: 2018-12-15T00:00:00-05:00
Rated

5

out of

5
by
khumes
from
Very useful
Easy to install with its plug and pray drivers. I had no issues installing it. Its constructed well. One negative thing is I wish the cable was significantly longer.
Date published: 2017-08-16T00:00:00-04:00
Rated

5

out of

5
by
Abhishek Tripathi
from
HDMI and VGA Port
May I know that at the same time HDMI and VGA port will be able to support for video output?
Date published: 2019-02-09T00:00:00-05:00
Rated

5

out of

5
by
karanbazaz
from
Design Flaw would not Suggest
The VGA and HDMI port are side by side. It not possible to insert VGA and HDMI together since there is no space to insert the other cable because of width of the VGA cables. Would suggest to reconsider the design by placing vga to the left end
Date published: 2019-06-06T00:00:00-04:00
Rated

5

out of

5
by
alejandro
from
it works properly with Big Sur with new drivers
Thanks to support, thanks to Renato, a great job helping me with new drivers
Date published: 2021-06-02T00:00:00-04:00