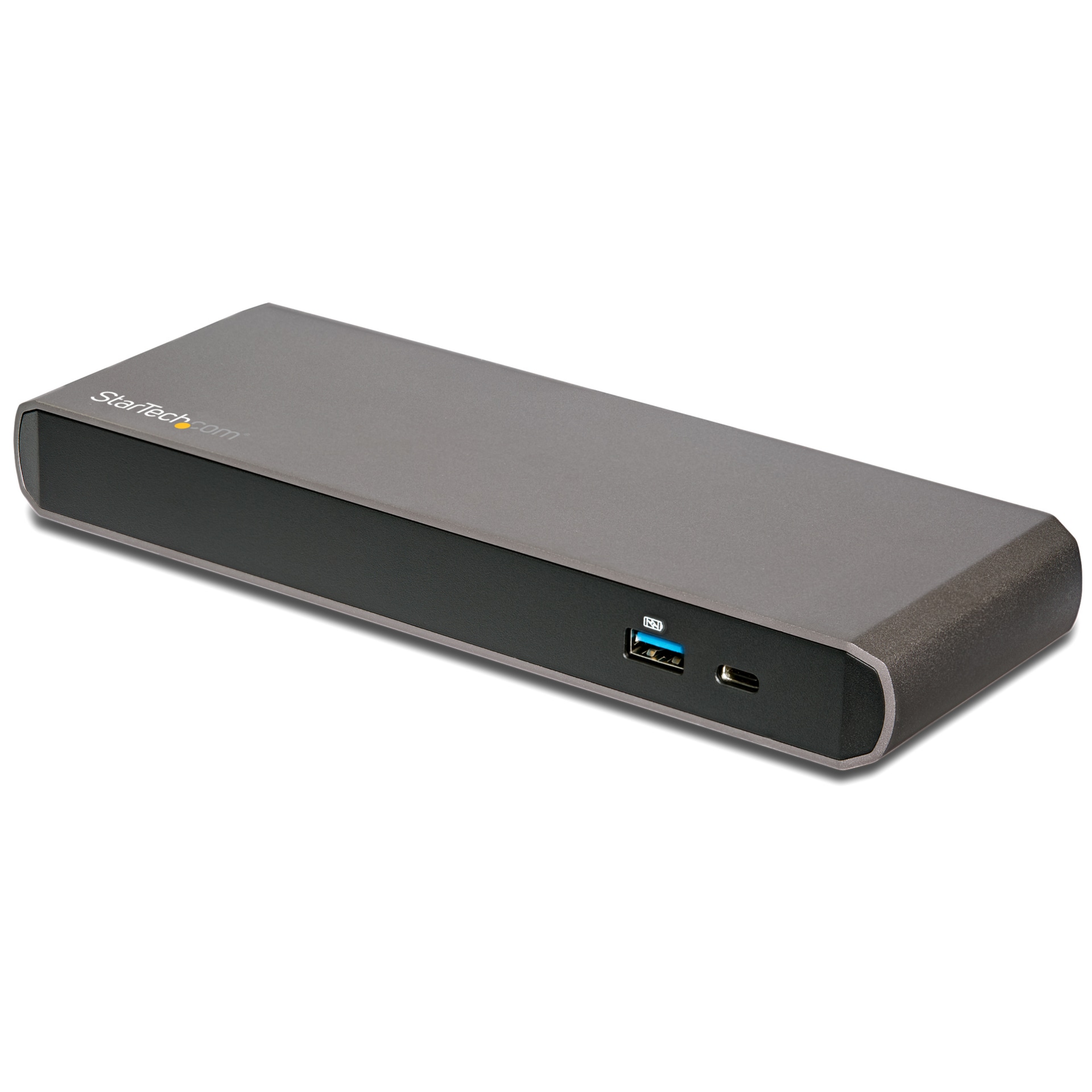 Quick tech specs
Certified Thunderbolt 3 docking station w/ dual 4K 60Hz DisplayPort + TB3/2x USB-A (1 Fast-Charge) + 1x USB-C/GbE/audio
Driverless/TB3 host cable/USB-C to DP cable for 2nd DP monitor/MAC Address Changer Utility
Extended dual displays on MacBooks w/ Intel processor and single display w/ Apple M1 chip
Thunderbolt 3 dock w/ 85W Power Delivery to power/charge MacBook Pro HP Lenovo Dell laptops/ultrabook w/ macOS Windows
TB3 downstream port to daisychain up to 5 TB3 devices/USB-C devices
View All
Know your gear
Create a Dual-4K Workstation


Great for video editing and other Ultra HD tasks, this dual-4K monitor docking station supports 40Gbps speeds and 4K resolution on two monitors. Run resource-demanding applications on two independent displays, without draining system resources.
Connect your laptop to:
1 x 4K monitor via the DP Port
1 x 4K monitor via the TB3 USB-C Port (1.8 m cable included)
OR
1 x 5K monitor via the DP and TB3 USB-C port
Easy Installation and Deployment


Simply connect the universal docking station to your laptop with included TB3 cable and start working immediately. No time-consuming driver installations are required. Set up a second monitor using the included USB-C to DisplayPort cable adapter, eliminating the need for extra adapters.
Connect your Devices


With three USB 3.0 ports, the Thunderbolt 3 dock gives you plenty of ports for the latest and legacy devices. Connect USB devices like flash drives using the two Type-A ports. Keep your mobile device charged with the dock's Fast-Charge and sync port. Connect a USB-C device with the USB-C port (5Gbps - data only).
Plenty of Charging Power


The Thunderbolt 3 port replicator features a 170W power adapter supporting Power Delivery to power and charge (up to 85W) your laptop, while powering all your devices connected to the dock. This eliminates the need to use two separate power adapters for your laptop and dock.
TB3DK2DPPD features a rugged aluminum casing and is backed by a StarTech.com 3-year warranty and free lifetime technical support.
StarTech.com Thunderbolt 3 Docking Station
is rated
2.80
out of
5
by
11
.
Rated

5

out of

5
by
null
from
Dell Latitude 5400 connection
Connected to thunderbolt port my company issued Dell Laptop (Latitude 5400) without issue. I am running 2 1080P 27" monitors. Simple to set up. All ports work.
Date published: 2020-07-15T16:26:04-04:00
Rated

5

out of

5
by
MellowYellow
from
AMAZING DOCK
Love this dock. It works very well with in Windows and macOS. Dual monitors works flawlessly. Great speeds with ethernet port. It just works!
Date published: 2020-03-31T00:00:00-04:00
Rated

5

out of

5
by
Bo34
from
Squealing noise
The dock makes a constant squealing noise. Its's extremely irritating, looking at other reviews it seems to be an issue with the power supply. Also the included thunderbolt 3 cable is only a foot long.
Date published: 2020-08-13T00:00:00-04:00
Rated

5

out of

5
by
Mel123
from
When it works, its fine. But rarely works.
I've used this docking station for almost two years now. When it does work, its fine. But I get a plethora of graphical issues if I ever disconnect and reconnect my laptop (even though its the main function of the device). It has issues constantly not recognizing monitors, giving me black screens. pixel jarring, I've had to work entire days with a single monitor because nothing I tried got it to recognize the second one (restarting, switching out cables, updating drivers, using a different workstation, NOTHING works). The PC constantly gives me popups that the "USB device not recognized" even thought it was recognized 10 minutes before. Honestly, I'd avoid this docking station if I were you.
Date published: 2022-10-04T00:00:00-04:00
Rated

5

out of

5
by
null
from
A sleek, beautiful and powerful HP Dock.
I use this HP Thunderbolt 3 Dock with Dual Monitor 4K DisplayPort for my EliteBook 850 G7. This is a sleek, beautiful and powerful dock. Its support for USB Type-C and its performance was consistent and smooth, even at 4K.
Date published: 2021-06-03T19:35:22-04:00
Rated

5

out of

5
by
mcguptill
from
the 2 usb ports seem to stop working. Very annoyin
I bought this to help with all the cables from my laptop - it's made it worse. USB ports keep dropping off and keyboard/headphones charger with them. It's just a bigger, more cumbersome laptop charger for $200. I've been searching 10 minutes for customer support and none seems to be found. Awful experience.
Date published: 2021-07-14T00:00:00-04:00
Rated

5

out of

5
by
Kimberly
from
Displayport Does Not Stay Active
I was provided this dock by my company to handle the external monitors they provided. I am unable to use this with a DisplayPort cable from my monitor, the image becomes unstable. I am able to utilize an HDMI cable with an adapter but each day I have to unplug and replug the adapter. I have tried multiple different active adapters and they all have the same issue. So the dock works, but there are better docks out there for the same price point that function flawlessly.
Date published: 2022-04-18T00:00:00-04:00
Rated

5

out of

5
by
Antony1995
from
Convenient and Easy to Use but Some Issues
I have had this for about six months. This makes it very easy to support my macBook Pro. I now have a single USB-C connection for my macBook that does it all; charges MacBook, drives 2 displays, provides wired network, connects WebCam, supports lightening cable for charging touchpad/keyboard/iPhone/iPadI via USB-A connection. This makes it really easy to unplug laptop and take it traveling and when I return literally takes seconds to plug into port and be back up and running with wired network and 2 external monitors. Need to be careful with which ports are used, not all ports support charging or pass through displays. I have had problems with the network adapter. At times it becomes unstable. I tested it by firing continuous requests to another Mac on the same wired network and saw repeated brownouts lasting for seconds at a time. Those problems do not occur when using wired ethernet adapter directly with MacBook. Turning it off and turning it on again (the hub not the MacBook) seems to help.
Date published: 2021-12-08T00:00:00-05:00
Rated

5

out of

5
by
tvrogers28
from
When it's working, it's great
I have had this dock for about 5 months. I have a 13" Mac Pro connected to 2 additional monitors. Most of the time, I am able to plug my laptop in and everything works as expected. About once a week, I have to reset the display orientations because they get mixed up - it would be nice if the settings remained the same each time I plug it back in. I wouldn't have taken the time to review that bug if that was my only issue. About once a month, I come it, plug my laptop in, and only 1 of the monitors will work. It's never the same monitor that works, each time I connect and disconnect, it's a gamble on which one will connect. I have tried EVERYTHING, from resetting settings, changing wires, using every sort of monitor connection, and nothing has ever resolved it. Randomly. the second monitor will just start working again. Very frustrating, spending hours trying to get a monitor to work instead of getting my actual work done.
Date published: 2020-01-14T00:00:00-05:00
Rated

5

out of

5
by
VinceE
from
Good in theory, torture in practice
This dock is more or less working as a thunderbolt dock - my MacBook is connected to external monitor (5k @ 60Hz), USB stuff and charging. However - it creates a squealing noise (most likely from the power supply) that is absolute torture that singlehandedly makes $5000 of laptop, monitor, and accessories awful to be around. In this state, this dock literally has negative value.
Date published: 2020-03-25T00:00:00-04:00
Rated

5

out of

5
by
theo692
from
Works great, but…
I'm a huge fan of this dock, and have purchased two for my WFH set up. I use an Apple MBP with the USB-C ports, driving a 32-inch ViewSonic monitor. Brilliant all around. The problem is that the dock seems to fail when it gets hot -- around 2pm each day. I thought it was related to my laptop, but I have swapped out different laptops and have the same issue. Perhaps something faulty with these? I looked for firmware updates, but there was nothing listed for Macs. When it works, it is magic and wonderful, but having to unplug it from the external monitor (and keyboard, etc.) several times each day reduces its utility by a lot.
Date published: 2020-07-13T00:00:00-04:00