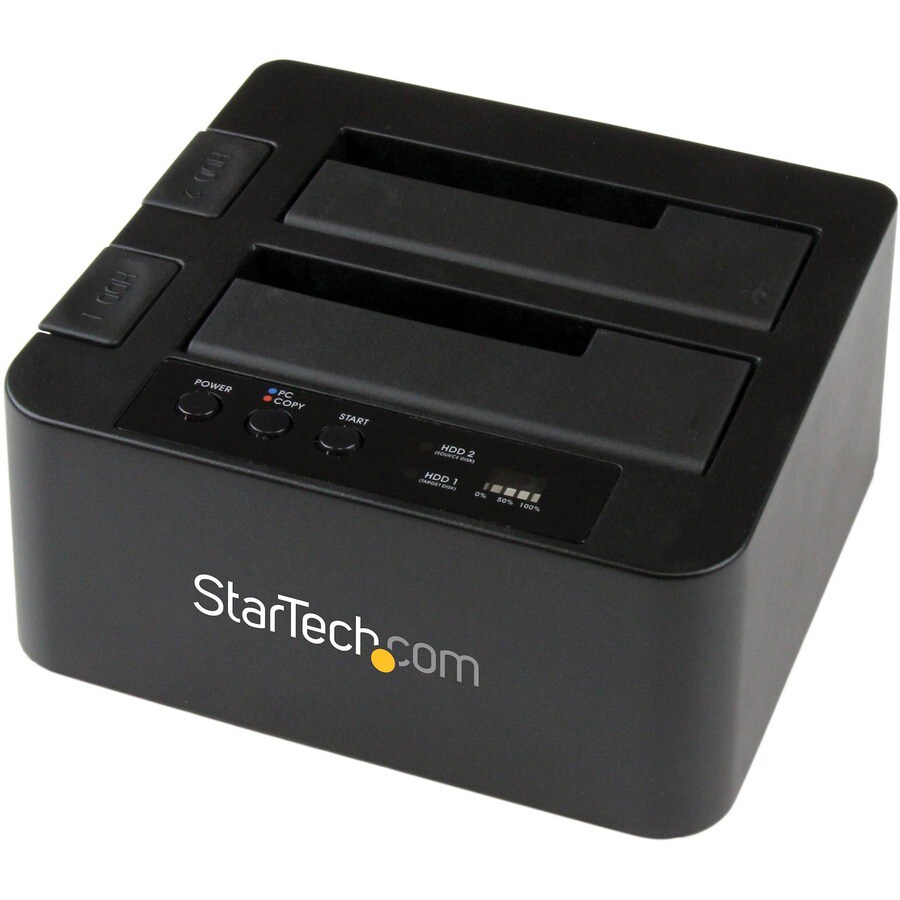 Quick tech specs
Dual bay external hard drive duplicator works as standalone drive cloner / copier (no PC required) or docking station
Sector-by-sector SSD / HDD duplication for whole disk copy up to 22 GB/min
SATA III (6 Gbps) | 4Kn | All File Formats | No device capacity limit | USB 3.2 Gen 1 (5Gbps) or eSATA | OS Independent
Disk Mount / Backup / Recovery / Cloning tool for 2,5" / 3,5" SATA drives
Top loading with disk eject buttons
Hardware includes 3ft USB-C/A Cables and Universal Power Adapter
View All
Know your gear
Clone a 2.5in/3.5in SATA drive without a host computer connection, or dock the drives over USB 3.0 or eSATA for easy access. The SDOCK2U33RE Dual 2.5/3.5" SATA HDD/SSD duplicator dock lets you duplicate/clone an existing hard drive without the use of a host computer system - or dock and swap drives from your desktop or laptop computer simultaneously, using a single USB or eSATA port.

The SDOCK2U33RE offers convenient dual-function performance. As a hard drive duplicator, the SDOCK2U33RE lets you create an exact sector-by-sector clone from one hard drive to another, including partitions and boot sector information - ensuring data integrity and consistency for sensitive operations, such as data recovery. As an external hard drive dock the SDOCK2U33RE lets you connect your drives through either eSATA or USB, with each drive slot individually supporting high capacity 2.5/3.5" hard drives or solid state drives, tested up to 4 TB.

With support for SATA III (6 Gbps) you can maximize efficiency with duplication speeds up to 22 GB per minute, and eSATA docking speeds up to 6 Gbps. The Dock can also be connected through USB 3.0 with UASP for transfer speeds up 5 Gbps (70% faster than conventional USB 3.0).

With push button operation and plug-and play installation, the duplicator dock has been specially designed for hassle-free operation. The SDOCK2U33RE lets you quickly dock your hard drives or start duplicating hard drives with the push of a button. Plus, the built-in LED progress bar saves you time by letting you easily monitor the entire duplication process, so you'll know exactly when it's time to start your next operation.

For added compatibility with different drive types in duplication and docking applications, the SDOCK2U33RE supports the use of various drive adapters. The below list of StarTech.com adapters have been specifically tested, to ensure compatibility with this drive duplicator: 2.5/3.5in IDE drives - SAT2IDEADP; mSATA drives - SAT2MSAT25; M.2 (NGFF) drives - SAT32M225.

UASP is supported in Windows 8, Mac OSX (10.8 or above), and Linux. In testing, UASP performs with a 70% faster read speed and 40% faster write speed over traditional USB 3.0 at peak performance.

At the same peak in testing UASP also shows an 80% reduction in required processor resources.

Testing results were obtained using an Intel Ivy Bridge system, a UASP-enabled StarTech.com Enclosure, and a SATA III solid state drive.


StarTech.com Dual Bay Hard Drive Duplicator Dock, HDD / SSD Cloner Copier
is rated
3.40
out of
5
by
19
.
Rated

5

out of

5
by
Konstantin
from
Nice stuff but little bit slow
Its nice if you works with HDDs and SSDs. Just plug in and done. You can see all the data of multiple HDDs and copy them between them. I'm satisfied. But about duplication, it is a little slower that i was thinking. Did clone HDD to another one of 500 GBs and its took about 2 with half hours... If i was using some desktop with 2 disks, both connected over SATA III, it was going be done in 30 minutes. So, its good for duplication when you what to make 2 clicks and start duplicate and going to deal with another things, but not for extreme fast cloning. (If you planning to deploy large environments, or class room).
Date published: 2016-05-31T00:00:00-04:00
Rated

5

out of

5
by
ABThompsons
from
Good product - works as advertised
This product includes the docking station, USB 3.0 cable, eSATA cable, and power adapters The encasement is bulking looking and not a modern looking design. The unit has 2 drive bays which can be used to clone a 2.5 in. or 3.5 in. hard drive without a host computer. Note that it duplicates the entire drive and you cannot be selective by partitions. The two bays are labeled HDD1 and HDD2. I think it would have been be safer to label the bays source and destination so there is no confusion when cloning drives. There is an indicator on the unit which shows the percentage completed when cloning drives. Approximate time to clone a 500GB HD was just a little over 1 hour. When using the unit as a docking station, I could only get it to recognize one drive at a time even though following the instructions precisely. As advertised, this unit easily clones drives and can be used as a docking station for an external hard drive. I received this product in exchange for an unbiased review.
Date published: 2017-01-24T00:00:00-05:00
Rated

5

out of

5
by
JoeTroi
from
Dead out of box. Let's see what their support does
I was excited to get a new one. Had the older model for years but this one arrived dead. Could be the power adapter or the mb. Idk. Going to see what hoops I have to go thru with their support. If they send out a new one without me having to send this back first, then I'll change my review.
Date published: 2019-01-06T00:00:00-05:00
Rated

5

out of

5
by
NickD_CA2
from
Essential tool for any IT person
I have been using this product for a few weeks now to duplicate drives and connect drives to my computer via USB. So far everything has been working well. I have used this device with many different sizes, types and brand of drives. The duplicator came with USB and eSATA cables for the computer as well as power adapter with ends for multiple countries. The cables are only about 1 meter, which I wish were longer, but I could purchase new ones if it becomes an issue. I have purchased the SAT2IDEADP separately so that I could also connect some old IDE drives (works flawlessly with this). I keep the quick guide handy to reminded me what each of the blinking lights means and for double checking before starting copy operations. You can connect two drives at the same time while connected to the computer using USB and both disks show up on the computer. This allows for picking and choosing which data to copy between two disks as well as multitasking between different tasks. The data transfer is very fast over USB 3.0 and keeps up with the expected disk speed. I have not tested using eSATA as I don't have this port on any of my devices. In Windows 10 with USB connected, there is no setup required. Just plug it in, turn it on and when a disk is connected it immediately pops up in Windows ready for use. Disk duplication is pretty fast (not fantastic but close), but I like that my computer isn't needed and I can leave it to run overnight or while I do other tasks. This is an essential tool for any person task with supporting desktop or laptop computers. I use this device for disk backups, file recovery, drive migrations, disk upgrades, off-line disk access, wiping disks and many other troubleshooting tasks. One wish (not a deal breaker): After I duplicate a drive I have to wipe the original. This requires a connected computer with appropriate software and hours continuous operation. If this option were available it would be beyond excellent. The device is very solid and doesn't move around the desk when the disks are being used. The case is made of plastic but the internals and eject mechanisms are sturdy metal. I expect this product will last a long time and looks very professional when on my desk. So far I am very happy with this product and will continue to use it often. I received this product in exchange for an unbiased review.
Date published: 2017-02-05T00:00:00-05:00
Rated

5

out of

5
by
AnkorJuglor
from
Does what they say!
I bought this little box some time ago now when I needed to replace a HDD which had become too cluttered with all my photos. I bought at the same time a Seagate Hybrid Hdd/SSD of 1TB. Stuck both drives in the unit as instructed, switched on and in no time at all I had cloned the 1TB Hybrid with all my data, put it into my laptop and was back on with my toes hardly touching the ground!!!
Date published: 2016-11-29T00:00:00-05:00
Rated

5

out of

5
by
Starr
from
Simple and Easy
If you are looking for a solution that is very simple and easy to implement then this SATA Duplicator Dock is what you need. I had a laptop 2.5in hard drive that had some back sectors on it so I needed a way to duplicate the data to a new drive. I had never used this device before but it was as simple as taking it out of the box, plugging in the power cord, inserting the 2 drives and then pushing Power, Copy, Start. With a 22GB per minute copy throughput this did not take long to complete. Once finished I installed the new hard drive into the laptop and it booted up into the operating system and has worked since. I also tested out the USB docking feature by plugging it into my MacBook Pro and all of the partitions on the old hard drive were available including the laptop recovery image partition. And once again it was as simple as pushing the Power button because this unit defaults to the PC docking mode.
Date published: 2017-01-19T00:00:00-05:00
Rated

5

out of

5
by
tekeek
from
Will not clone correctly
Our company has purchased about a dozen and neither will clone our drives to where they will boot and if they do it BSOD after a bit or system errors start popping up and also Outlook breaks in some cases. We turned around and used an older and a newer Kanuru to clone those same drives and they work flawlessly other than re-activate Office and that was in both cases. Mgmt is working with support to return devices.
Date published: 2019-02-20T00:00:00-05:00
Rated

5

out of

5
by
sgto416
from
Duplicates hard drives in no time!
At work we have had some people using laptops that were using 5400 and 7200RPM hard drives and with how economical solid state drives are these days the upgrade for the productivity gains of endusers just makes sense! Depending on how much data is on a hard drive I have cloned drives in as little of 12 minutes and some have taken 25 minutes. The SDOCK2U33RE eSATA / USB 3.0 Hard Drive Duplicator Dock is easy to use and a must for all IT departments! I received this product in exchange for an unbiased review.
Date published: 2017-09-14T00:00:00-04:00
Rated

5

out of

5
by
meagant
from
Cheap, doesn't work
Just got this today, pulled it out the box, plugged in a hard drive, and noticed the following: 1. You CAN'T TURN THIS OFF with the power button. 2. The copy light stays on no matter what you do! The only way I can turn this thing off is pull the power, and I CAN'T turn off the blue copy button, which is stupid because it would be very easy to have two drives in the unit that you don't want to copy and by accident hit the third button and end up erasing a drive you never had any intention to erase. BAD DESIGN, POOR EXECUTION
Date published: 2015-08-29T00:00:00-04:00
Rated

5

out of

5
by
James H
from
SATA Duplicator Dock Made Easy
I have been in the technology business for over 35 years and for the past 20+ years I have been asked to provide unbiased reviews of various products from both the AV and IT world. In review of this product I have found that it works with both 2.5" and 3.5" SATA Drives as well as HDD and SSD. The unit works with Windows 2000/XP/Server 2003/Vista/Server 2008 R2/7/8/8.1 both 32/64 bit as well as Apple Mac OS 9.x/10 Chrome OS and Linux. The ease of use was well thought through, simply plug in the drives, a couple of clicks and the unit does the rest. The overall speed is just a bit slower than expected but in the balancing act of speed, ease of use and cost, I give this product an excellent review in walking that line. In the box: -SATA HDD Duplicator Dock -USB 3.0 Cable -eSATA Cable -Universal Power Adapter (NA/UK/EU) -Instruction Manual I received this product in exchange for an unbiased review.
Date published: 2017-01-03T00:00:00-05:00
Rated

5

out of

5
by
lonerock
from
Sanity Saver
As an old IT retired guy I had my PC loaded with windows 10 and years of stuff I wanted to keep and I had Win 10 backup with .Iso file . A malware attack and my data is toast so I think no problem, I have a backup on an external drive with Win 10 .iso. I tried to use the Win 10 iso fiie and could not get the thing to work it continues to error out about 20 min. into the process. I ask for help from the young guys I left and find that they had the same problem. Now back at Win 8.1 until win 10 backup is more solid. the young guys recommended a Sdock2U33RE so far GREAT. bmiller@jocoed.net
Date published: 2016-02-18T00:00:00-05:00
Rated

5

out of

5
by
Andrew11
from
Does exactly what it says
This is a great device for cloning HDDs/SSDs for upgrades. Take the time to read the manual; there aren't a lot of buttons and it takes a bit of planning your first time out. I took some old data drives to try out first, just to get the hang of the process. I've now done HDD to HDD upgrades, and HDD to SSD without issue. This will undoubtedly find a place in my IT toolbox from now on. I received this product in exchange for an unbiased review
Date published: 2017-02-01T00:00:00-05:00
Rated

5

out of

5
by
BobMont
from
Stopped Working!
I bought this in July and it worked fine until today. It no longer works. The Blue and Red lights come on but when I press the "Start" button nothing happens. Tried it several times with same result. It is not working!
Date published: 2018-12-22T00:00:00-05:00
Rated

5

out of

5
by
Tazbier3
from
Easy to use Duplicator Dock
When typing in the part number to review the dock I also saw the other options Startech makes like the 4 bay Hard Drive docking station. The information panel on the Drive is easy to use and well thought out. Showing source and target and what percent is done. On the outside of the white box packaging, I saw a label VI so my guess is this is the 6th generation of the Duplicator and improvements have been made each time the Duplicator was redesigned and engineered. The rubber feet on the bottom are a nice addition so it will not slide even on a slightly inclined surface.
Date published: 2016-12-30T00:00:00-05:00
Rated

5

out of

5
by
Luis
from
Good for the price
I got this From Startech to test and I'm impressed with the product based on the price. It took a while to get it working but after I followed all the instructions,I got it going and the only thing I didn't like was the time it takes to clone 1TB hard drive if I compare to Startech UNIDUPDOCK which is a little bit more money and faster. If you are looking for a duplicator and doesn't need a fast job then this is the product you want. Disclaimer "I received this product in exchange for an unbiased review"
Date published: 2017-02-27T00:00:00-05:00
Rated

5

out of

5
by
Brian_S
from
does not work.
copied seveal small boot SSD drives to larger ones. Data copied , but were not bootable. The M.2 Adapter would not read any of my M.2 sticks. I will be boxing it all up to return it.
Date published: 2017-01-13T00:00:00-05:00
Rated

5

out of

5
by
Humby_G
from
Super fast and Easy to Use
We bought this unit to clone our office PC hard drives before they start to crash and some that started to act up. After cloning a number of drives, we have had no issues. Cloned WinXP, then Win 7 and Win8 and now a few Win10 systems. Keep up the good work.
Date published: 2019-10-11T00:00:00-04:00
Rated

5

out of

5
by
jackie28
from
Documentation needs updating
I'm trying to clone a drive. HDD2 shows Blue and a flashing Red. HDD1 shows flashing Red only, no Blue. Manual doesn't say what this means... Serves purpose as dock, not as clone.
Date published: 2019-11-15T00:00:00-05:00
Rated

5

out of

5
by
DerekC
from
Waste of time and money
I bought this for the purpose of cloning hard disk. i.e. migration from tradition hard disk to SSD thinking that hardware cloning probably faster and more reliable than using opensource software like Clonesilla. And I am so wrong. The same drive pair with Clonesilla, it took about 15 minutes or less to complete the cloning whereas with this hardware, eventually I had to unplug its power to interrupt cloning after 3 hours which still sits on 50%. As a test afterwards, I tried clone the two replace hard disk using the device and it stuck on 50% even after 15 hours.
Date published: 2021-08-29T00:00:00-04:00