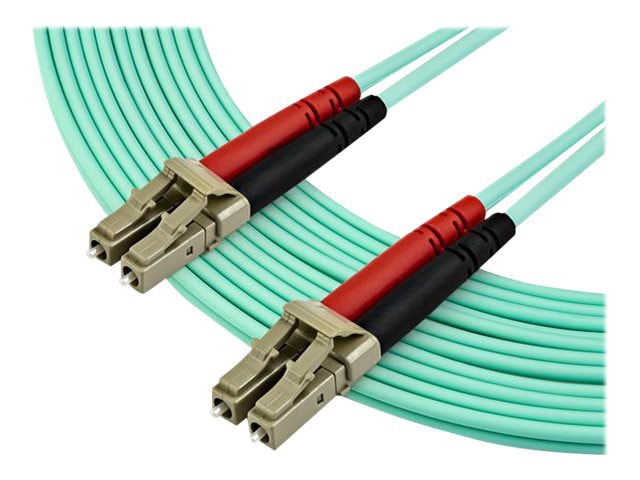 Quick tech specs
7m (22ft) OM4 LC/LC UPC OM4 LOMMF cable supporting 1/10/40/100 Gbps duplex connections
50/125µm fiber core/cladding w/Aramid sheath | Optimized for ≥2000MHz·km at 850nm w/ VCSEL source
Cable individually tested for signal integrity | Ideal for high-bandwidth multimode transmissions between servers and Storage Area Networks (SANs)
Cord O.D.: 2.9mm | Jacket Material: LSZH | Temperature Range: -20 to 60°C (-4 to 140°F)
View All
Know your gear
This?LC to LC Multimode Duplex Fiber Optic Patch cable?offers reliable connections for?40GBase-SR4, 100GBase-SR10, SFP+ and QSFP+ transceivers in your 40 and 100 Gigabit networks.
Built for Performance


With laser-optimized multimode fiber (LOMMF), the patch cable is ideal for 850nm and 1350nm Vertical Cavity Surface Emitting Laser (VCSEL) and LED sources.?The high-speed connectivity on the aqua?fiber-optic cable provides a high-bandwidth solution for your data centers or high-density applications.
Maximum Compatibility


This aqua fiber optic cable is backward?compatible with your existing 50/125 equipment, ensuring a reliable connection with legacy?LANs.
High Quality Construction


Housed in a LSZH (Low-Smoke, Zero-Halogen) flame retardant jacket, this MM fiber optic cable?ensures?minimal smoke, toxicity and corrosion when exposed to high sources of heat,?or in?the event of a fire.?It's?the best choice for a wide range of environments, including industrial settings, central offices and schools, as well as residential settings where building codes are a consideration.
?
Each OM4 fiber cable is also individually tested and certified to be within acceptable optical insertion loss limits for guaranteed compatibility and 100% reliability.
This fiber optic patch cord is backed by a StarTech.com lifetime warranty and free lifetime technical support.