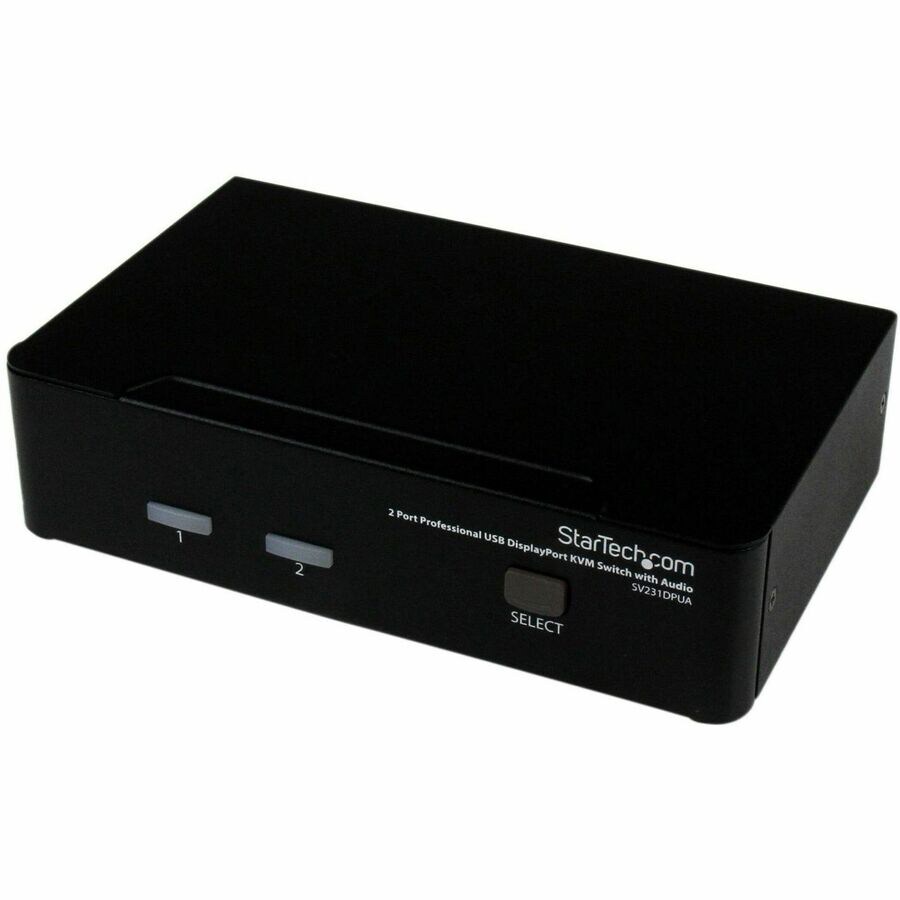 Quick tech specs
Control two computers from a single console,with high-resolution DisplayPort video
Supports a max. resolution of 3840 x 2400 at lower refresh rates
Supports 3.5mm Stereo analog audio
Native resolution: 2560 x 1600 @ 60Hz,beyond 1080p
VESA and CEA compliant
Supports 7.1 Channel High Definition Digital Audio through the DP connection -
View All
Know your gear
Easily switch high resolution HD video, keyboard, mouse, and audio with this DisplayPort USB KVM Switch. This 2-Port USB DisplayPort KVM Switch combines the next generation of digital display interface standards with seamless KVM control of connected PC or Mac computers.

Delivering high definition multi-computer control for demanding high-resolution multimedia applications, this robust KVM switch supports DisplayPort connections with a native resolution of 2560 x 1600 (@60 Hz, 30 bpp), as well as 7.1 HD digital audio (when connected to supporting displays and sources).

In addition to offering 7.1 HD digital audio via the DisplayPort connection this two port KVM provides 3.5mm stereo analog audio and microphone switching between the two connected hosts.

Suitable for applications that require high quality static imaging, such as medical/health care applications (MRI, X-ray diagnostics etc.), the KVM switch supports a maximum resolution of 3840 x 2400 at a reduced refresh rate.

Adding cost-effective performance to cutting-edge multimedia capability, this versatile KVM switch features three Plug-and-Play USB console ports, including two dedicated peripheral (mouse and keyboard) ports and one USB 2.0 hub port - enabling users to share a USB mouse and keyboard, and one USB 2.0 peripheral between the two connected computers.

A simple, yet comprehensive control solution, the 2-port KVM switch features both front-panel push-button and convenient hotkey switching and offers a small form factor design with connection ports situated on the rear panel, allowing you to eliminate workspace disruptions.