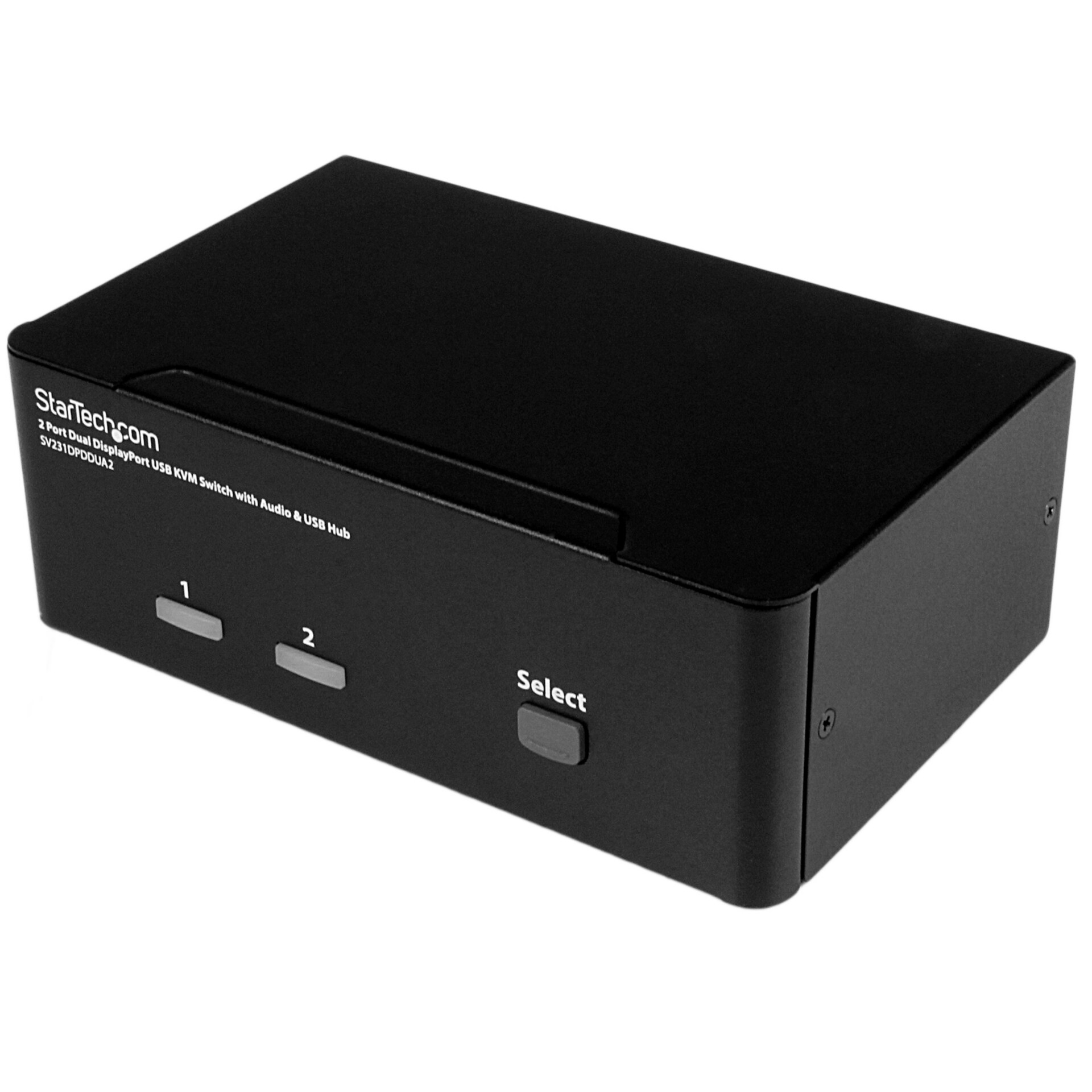 Quick tech specs
Access two dual-monitor computers and two shared USB peripherals from a single workstation
Maximum productivity with dual-display multi-computer access
2 port DisplayPort KVM/2 port dual monitor KVM switch/Display port KVM/DisplayPort 1.2 KVM/Dual monitor DisplayPort KVM/2 monitor KVM switch/4K60
Works with 4K monitors such as Asus PB278Q and 4K computers such as HP EliteBook 840 G2 HP ProBook 650 G1
Astonishing picture quality with support for Ultra HD 4K resolutions at 60Hz
View All
Know your gear
This 2-Port DisplayPort KVM switch features audio and USB peripheral support along with dual-monitor capability which makes it easy to create a multimedia workstation that can switch between two dual-head or twin DisplayPort systems.
Maximize Productivity

With support for two DisplayPort 1.2 video inputs and two different computers, this KVM switch helps maximize productivity. You can access multiple computers, giving you the freedom to multitask and increase your productivity.
You can also use low-cost adapters to achieve a dual-display setup using your computer's secondary HDMI or DVI port.
Astonishing Picture Quality

This dual DisplayPort KVM switch supports resolutions up to Ultra HD 4K at 60Hz, and can drive two large DP monitors with ease. This makes it the ideal solution for creating workstations where high-quality imaging is critical, such as graphic design.
Complete Multimedia Control

This KVM switch features auxiliary 3.5 mm audio ports that let you share independent analog audio, from each of your connected computers, with your desktop speaker set. With independent audio support, along with dual 4K DP video, you get full multimedia control between different computers which makes this the perfect KVM switch for creative professional applications such as video and sound design or editing.
Convenient Peripheral Sharing

This KVM switch offers a built-in 2-port USB hub that's separate from your HID keyboard and mouse. This enables you to share USB peripherals between each connected computer and avoid the expense of separate equipment. The USB hub automatically switches your connected USB devices to the selected computer, saving you the hassle and cost of outfitting each of your computers with their own peripherals.
SV231DPDDUA2 is backed by a StarTech.com 2-year warranty and free lifetime technical support.
StarTech.com 2 Port DisplayPort Dual-Monitor KVM Switch - 4K 60Hz
is rated
4.20
out of
5
by
9
.
Rated

5

out of

5
by
Jimhuber1
from
An Excellent 2-Port KVM Switch
I have been in the technology business for over 35 years and for the past 20+ years I have been asked to provide unbiased reviews of various products from both the AV and IT world. In review of this product I have found that this product provides true 4K video from the dual display port. Unlike others I have tested, there is no tearing or pixelation during fast motion video partly due to the 60Hz refresh rate where others in this same class only allow 30Hz. The auxiliary 3.5 mm audio ports allows you to share analog audio, from each of your connected computers, with your independent speaker system. When performing audio or video editing, this unit is a must have, as the performance is excellent. In the box: -KVM Switch -Universal Power Adapter (NA, EU, UK, ANZ) -Instruction Manual In summation, solid product, intuitive and easy to use. I received this product in exchange for an unbiased review.
Date published: 2017-05-07T00:00:00-04:00
Rated

5

out of

5
by
scottgosse416
from
No issues and a great display!
Finally a displayport KVM supporting dual display for my workstation! The SV231DPDDUA2 was a great addition to my workbench as I was able to utilize a two monitor setup as opposed to being limited to a single display with conventional KVMs. I can also share USB peripherals as well as mic and sound inputs. Works great for my immediate needs. Will there be a four port model? * I received this product for free in exchange for an honest and unbiased review.
Date published: 2017-05-17T00:00:00-04:00
Rated

5

out of

5
by
DPoz
from
Dual monitor support is great to have
I have a two monitor workspace set up and I have both a workstation and server running off them through a KVM that does not support dual monitors. I was only able to run my workstation using two monitors by running one monitor to the KVM unit and one directly to the other monitor. When I switched over to the server, I was only able to use the one monitor. This KVM unit solved that problem by having dual monitor support built in. Now I am able to switch back and forth between my workstation and server utilizing both monitors for maximum display. This KVM unit can handle 4K resolution and the picture is clear and sharp. It also offers support for switching the sound and mic as well using the 3 mm jacks. The only thing I wish it had was other display port connections other than just HDMI but that issue can be resolved with adapters which I assume would work but not tested. Overall, a great solid unit that works as described.
Date published: 2017-05-01T00:00:00-04:00
Rated

5

out of

5
by
Nick426
from
High quality 4k KVM!
Video and audio quality through the switch are up to par. Switching is smooth and quick (faster than my old HDMI switch!), and the box is nice and compact. Be SURE to READ the instruction booklet before you buy this (pay attention to the keyboard port and note about gaming keyboards/mice!). I used a Macbook, Linux box, and Windows box in my testing. Only gripes: A) USB 2.0? Why go backwards? (this is the only 'star' reduction gripe) B) No Mac hotkey support? C) Independent Audio Switching can only be enabled via hotkey (no Mac). I received this product in exchange for an unbiased review.
Date published: 2017-05-16T00:00:00-04:00
Rated

5

out of

5
by
adamchicago
from
Wish It Had Faster Refresh For 2K/Lower Resolution
Need to share two monitors with a fast 144hz refresh gaming PC and a standard work laptop in this new era of work-from-home...wish this KVM Switch had a higher refresh rate, if not at 4K at least for 2K and lower resolutions...will keep looking.
Date published: 2021-04-22T00:00:00-04:00
Rated

5

out of

5
by
Leon
from
doesnt work with any mouse and keyboard
works great with 2 screens attached. but no matter what keyboard and mouse I connect to it, it just doesn't work. they sometimes work for a few seconds and then stop
Date published: 2022-04-20T00:00:00-04:00
Rated

5

out of

5
by
chandlersmirks
from
Great product but only USB 2.0
This is a very reliable KVM. However, given that I use high speed gaming mice, and a capture card, I need USB 3.0. The USB bandwidth offered on the KVM is limited to only a basic wired mouse and keyboard.
Date published: 2020-04-10T00:00:00-04:00
Rated

5

out of

5
by
MFrank
from
Works well, great warranty support
I've had this over a year. works very reliably, does what it needs to do. Occasionally one of my computers does not recognize the mouse and keyboard, switching back and forth rectifies that quickly. Had a thunderstorm induced power event after a year of operation. Tech support helped my diagnose, and replaced quickly under warranty, no muss, no fuss.
Date published: 2021-01-09T00:00:00-05:00
Rated

5

out of

5
by
SenatorKelley
from
Works great with Windows10, not Windows 11
Constant instability issues with any device connected through the KVM in Windows 11. Works flawlessly with Windows 10. I'm connected with 2 Dell Daisy chained monitors and a Dell 32" curved display. My main machine is an AMD custom built, while the other device is a Dell laptop with a Thunderbolt display. Window 11 issues: laggy, and slow connections with (unrecognized USB driver warnings) with the KVM, and games would stall for 1 min. If I removed the KVM from the machine they boot and run fine. I downgraded back to Win10 as its very inconvenient to switch 3 cables back and forth all day. I really hoped starteck had a firmware upgrade for this, but nothing. This is really the only dual port 60hz 4k KVM on the market and no other choices.
Date published: 2022-10-17T00:00:00-04:00