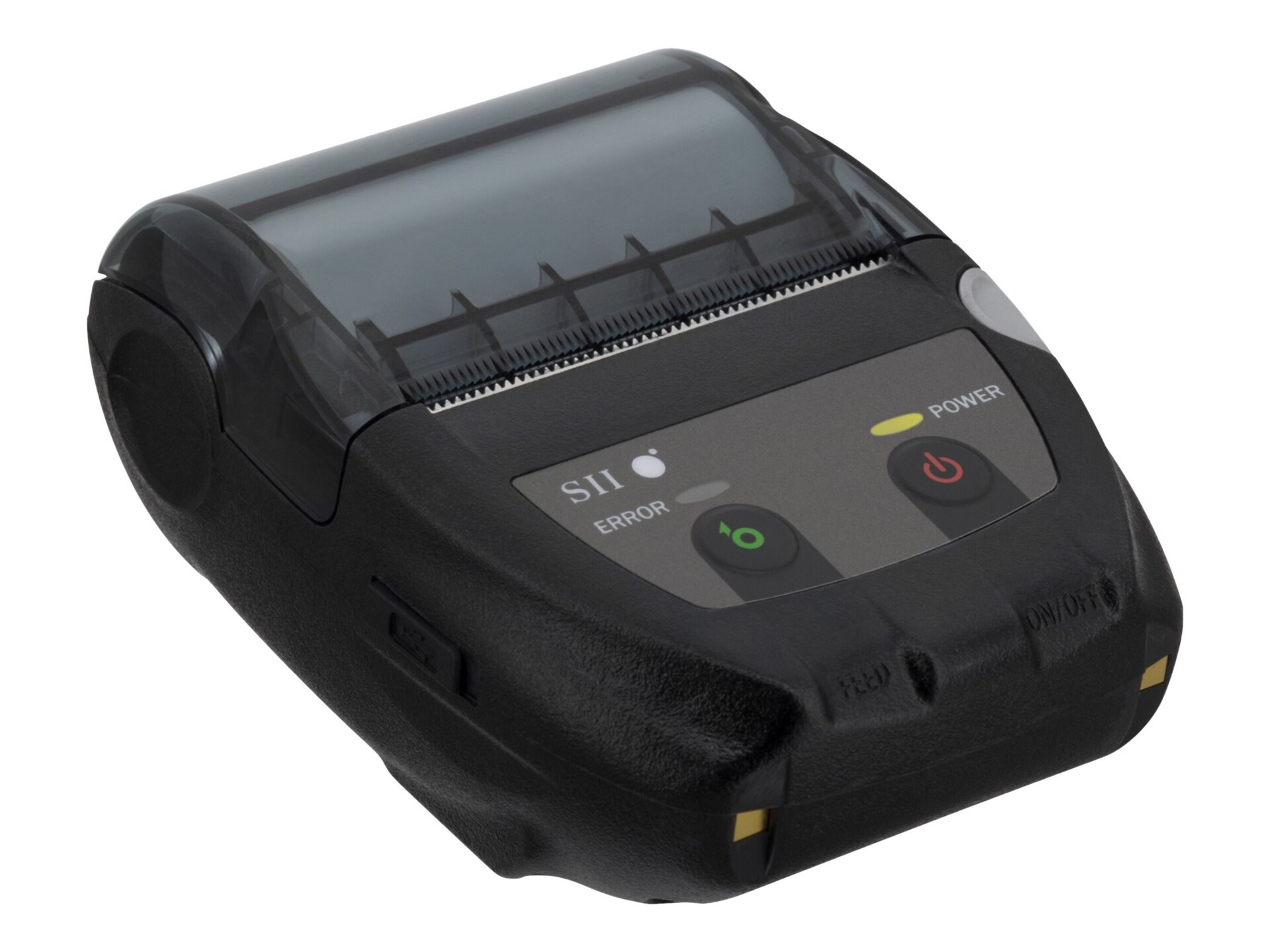 Quick tech specs
B20
thermal line
USB
tear bar
Label printer
- up to 189 inch/min
Bluetooth
View All
Know your gear
Seiko has once again stepped up to meet these trends with the design of an accompanying 2" mobile printer series known as the MP-B20. Similar to the MP-A40 flagship model, the printer offers its own unique set of features such as stability following 5-foot drops, a 2-inch paper width, and high-resolution receipts that print at more than 3 inches per second. Designed to be used in a variety of vertical markets, such as retail, hospitality, healthcare, and warehousing and logistics, one of the printer's main features is its compatibility with mobile payment and mobile POS applications-specifically "Pay at the Table," and direct receipt delivery.

Compact and Lightweight

With a 2-inch paper width, which far outshines any of its competing mobile receipt printers currently on the market, the MP-B20 Series printers weigh less than 1 pound with a battery pack. What's more, is that the printer's ability to withstand drops of up to 5 feet, is a perfect fit for a diverse mix of vertical markets; from hospitality and retail where space and convenience are of paramount importance, to other areas such as healthcare and warehousing/logistics, where ruggedness and environment play an important role.

Sleek and Stylish Design

The MP-B20 Series Printer features a contemporary yet functional design, while still offering the ability to print high-resolution receipts at more than 3 inches per second-one of the highest print speeds on the market. This is especially helpful in vertical markets where efficiency and speed are key and which require items such as barcoding, for instance in a medical and/or hospital setting. Other verticals can benefit from the printer's rapid speed, such as a line-busting scenario at a retail store, or a pay-at-the-table situation in a restaurant.

Technology Options

The MP-B20 Series Bluetooth Mobile Printers offer compatibility with the latest operating systems including Windows, 7, 8, 8.1, and 10. There is also SDK availability for Android and iOS print class libraries for added mobility. The printer also features a USB-style charger, as well as a compact and portable cradle for quick and easy charging options.

Key Vertical Markets:

Retail Mobile Printer

Hospitality Mobile Printer

Healthcare Mobile Printer

Field Service Mobile Printer

Key Applications:

Line Busting Mobile Printer

Receipt Mobile Printer

Field Service Mobile Printers.