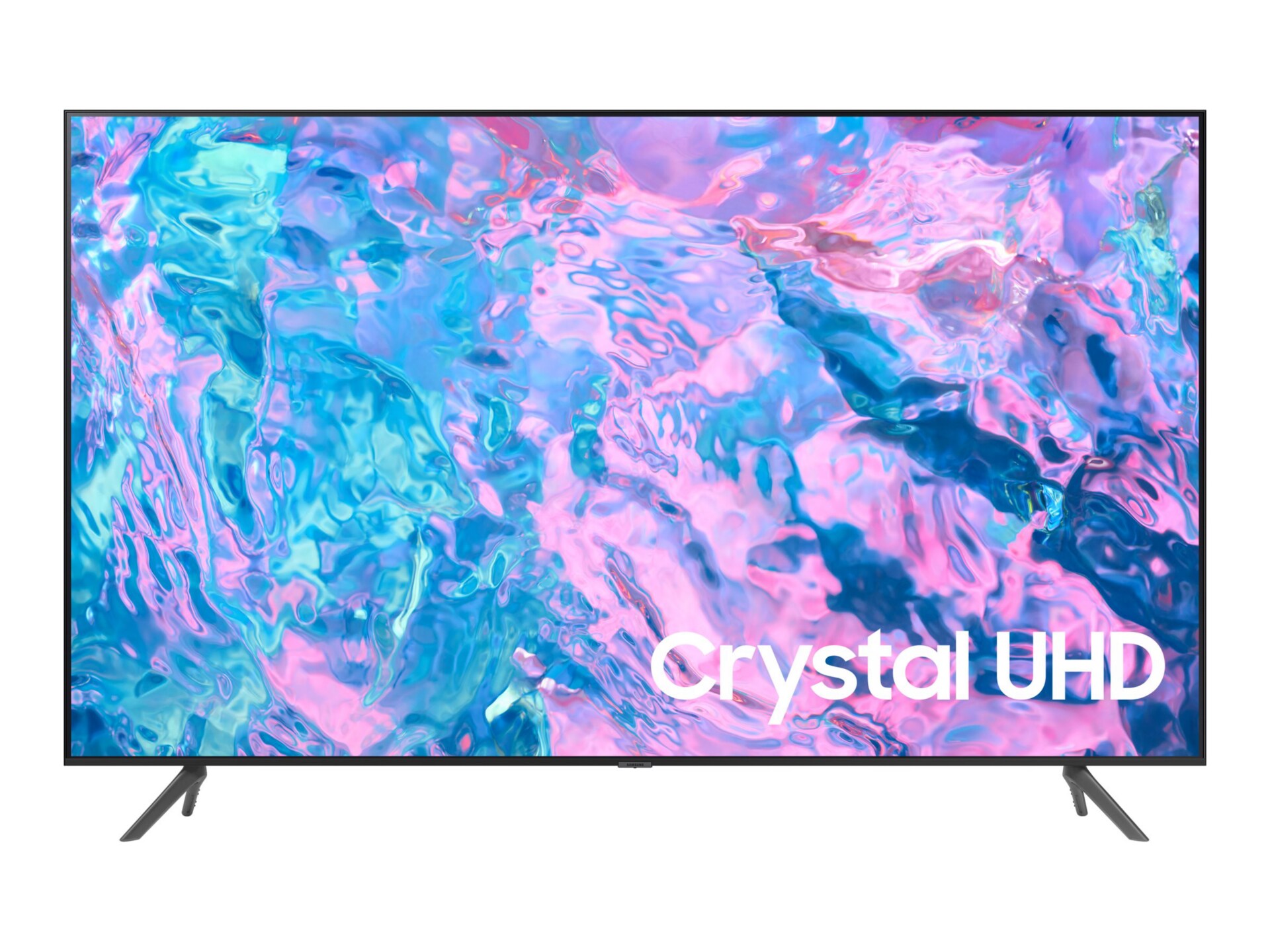 Quick tech specs
75" Diagonal Class (74.5" viewable)
Crystal UHD
Tizen OS
HDR
CU7000 Series LED-backlit LCD TV
Smart TV
4K UHD (2160p) 3840 x 2160
titan gray
View All
Know your gear
See a wider spectrum of colors than traditional RGB models with PurColor.

•Go from good to great. Watch the content you love upgraded to dazzling 4K UHD resolution with Crystal Processor.

•Experience smooth motion and improved clarity with Motion Xcelerator.
Samsung UN75CU7000F CU7000 Series - 75" Class (74.5" viewable) LED-backlit
is rated
4.10
out of
5
by
37
.
Rated

5

out of

5
by
George
from
Disappointed
I bought this 75" smart tv and quite frankly a little disappointed. Using Google Meet but find out that quite a number of cameras are not compatible. Had to resort to tablet. Created several "bookmarks" but could not make it easy to use them. Wanted to be able to have bookmarks come up as first option when turning on tv. important apps were not available such as Alexa. A little disappointed with only one usb port.
Date published: 2023-08-19T00:00:00-04:00
Rated

5

out of

5
by
Adam
from
Great value! Lots of adjustment options
This tv is really nice for the price. It's not QLED but it seems really close if anyone cares. Samsung has definitely put their customers in mind. You can fine tune the color settings if you have a meter making the TV even more incredible. The sound is also great. I would have never thought I would be able to use a equalizer throught the TV to get nice deep sounds. Sound bars might be a thing of the past. This TV is a huge upgrade from Vizio as I am a Vizio customer. Not anymore. Samsung is definitely not letting Apple run the TV market if Apple decides to make tv's. Overall, I am happy with my purchase and will continue to buy samsung as long as the quality for the price is this good.
Date published: 2023-06-16T00:00:00-04:00
Rated

5

out of

5
by
COODY
from
10 out of 10
This is the best TV I have bought so far I love my 75 Samsung, I would recommend this product ??.
Date published: 2023-10-21T00:00:00-04:00
Rated

5

out of

5
by
SQshopper
from
Not smart
I loved this TV at first. Picture is great, however I can rarely use it as it refuses to acknowledge the internet. It's the least smart TV I have seen. It frequently says no internet is available despite every other device in the house being fine including the Xbox attached to it. Almost every time I want to use it I have to reenter the password even though it's saved and even then it's 50/50 on it working
Date published: 2023-10-24T00:00:00-04:00
Rated

5

out of

5
by
Jules
from
Love it!
It's a great tv. Beautiful picture! Highly recommend!
Date published: 2023-10-26T00:00:00-04:00
Rated

5

out of

5
by
Greg420
from
Great TV
Love the picture don't recommend the TV to everyone best TV I've had
Date published: 2023-10-26T00:00:00-04:00
Rated

5

out of

5
by
Nharris
from
stay away from Samsung
Stay away from this company by all means. Bought a new TV from Walmart while we were out of town, came back home installed the tv and out if the box the tv would not respond to the remote. I called customer service and they sent a remote but i told them if a universal remote wouldn't work then its not a remote problem. They sent out some techs and it wasn't the remote nor the IR sensors on the TV the TV has a wiring problem. they are going to have to order the part and return to fix it. i called customer service and asked could they just replace this Tv because its brand new, they said no they could repair it. i asked could the warranty be extending due to the fact that they are already repairing it right out of the box, again they said no. Any company who wont stand by their product right out of the box doesn't need any more of my business moving forward. if this unit already has an issue like this what will happen in a year when the warranty is gone?
Date published: 2023-11-02T00:00:00-04:00
Rated

5

out of

5
by
Grimnir
from
Amazing clarity and the speed of the UI is great.
Great for watching movies! It feels like having a theater in your living room, almost too large for a regular bedroo., it almost takes up the wall. The UI is great, the features are quick and almost no lag. The detail of the shows/movies is amazing. Much better than my last TV, (which was also samsung) I love the upgraded features and the great view. It even comes with ambient modes where it just displays a peaceful landscape. Great for relaxation. The video games are crisp and detail rich. You'll notice things that you couldn't with older tv's. All in all you will not be disappointed. I know I'm not. I'll always stick with samsung.
Date published: 2023-10-08T00:00:00-04:00
Rated

5

out of

5
by
rilez
from
no mirracast
bought this yesterday thinking is supported mirracast like the older models and it will not connect to my pc
Date published: 2023-10-16T00:00:00-04:00
Rated

5

out of

5
by
Jellifysh
from
Wonderful Smart TV
Have used this TV for mostly streaming and it works so well! Seamlessly switches between apps and haven't had any issues with lagging or crashing. Have done some light gaming and the gaming features are awesome. Extremely happy with my purchase.
Date published: 2023-10-17T00:00:00-04:00
Rated

5

out of

5
by
Ashleydawn
from
Fantastic
Awesome now I need one for each bedroom you'll love this tv
Date published: 2023-10-17T00:00:00-04:00
Rated

5

out of

5
by
BTandCSforlife
from
Clearly a great viewing experience.
I mostly use this TV for viewing cable programs. The picture quality is unbelievable. It's great. My wife and I just bought three Samsung TVs two years ago and, not that they aren't great, but the picture on this TV is noticeably better. The picture is clear and vibrant and the colors are perfect. Oh, yeah, and the price was much more reasonable than the other brands we looked at. I am now a Samsung TV owner for life.
Date published: 2023-10-17T00:00:00-04:00
Rated

5

out of

5
by
Joethizz
from
Great samsung tv
This Tv is one of the better Tv's Ive bought As a customer, I am absolutely thrilled with the Samsung CU700D Crystal UHD Smart TV (2023). This TV offers an incredible viewing experience that is worth every penny. First and foremost, the picture quality is outstanding. The Crystal UHD display delivers vivid colors, sharp details, and excellent contrast. Whether I'm watching movies, sports, or my favorite TV shows, the visuals are truly immersive and lifelike. The HDR technology enhances the overall picture quality, providing a dynamic range that adds depth to every scene. The audio performance is equally impressive. The built-in speakers produce clear and powerful sound, creating a cinematic experience right in my living room. The sound quality is rich, with distinct dialogues and immersive surround effects. I no longer need to invest in external speakers or sound systems to enjoy a truly immersive audio experience. It's a great tv you def should buy it
Date published: 2023-10-17T00:00:00-04:00
Rated

5

out of

5
by
CG07SUT
from
Good budget 75"
This tv is in the family room, chose the 75" Size due to the size of the room. The picture is nice, the fair review is due to the slow processor speed. The unit is slow to start and slow to change between apps or when loading a different app. Cannot speak to the sound as we use a sound bar system in lieu of the tv's built in speaker.
Date published: 2023-10-18T00:00:00-04:00
Rated

5

out of

5
by
Huckfin
from
Amazing Picture
First and foremost, the picture on this TV is amazing, crystal clear and worth the money. It's easy to set up, easy to mount and easy to use. The interface is great, hooking up the Xbox was seamless, and even playing XBOX directly on the TV using a controller is an awesome addition. I would highly recommend this TV!
Date published: 2023-10-18T00:00:00-04:00
Rated

5

out of

5
by
Bearing87
from
Missing Remote Sensor
I bought this 75" TV yesterday to replace my 50" that I bought 3 years ago. My 50" suffered the "black screen of death". I was excited to get the TV home and setup. It took about an hour to setup and reposition my wall mount. After getting some help to pick up the TV and put into place we tried to turn it on but did not have any luck. We replaced the batteries but did not have any luck. I tried to find the button to power on the TV but it was not there. The whole remote sensor located on the bottom middle of the TV was missing. We looked to make sure it was not sitting in the box but it was not. The Box was in perfect condition and even still had the three plastic banding straps just like the other TV's. Now I have to re-box this TV and travel to another location to get one because the store I purchased from last night does not have any more in stock of that size.
Date published: 2023-08-03T00:00:00-04:00
Rated

5

out of

5
by
Soundguy
from
The Picture quality
I did not stop watching untill next day ,I always watch old movies in blue ray and this Tv brings out all deep colors..my samsung soundbar with atmos compliments it well.The home delivery service was spot on and white glove.Always loyal to this brand.
Date published: 2023-08-07T00:00:00-04:00
Rated

5

out of

5
by
Copperfield
from
Nice picture but could use a bit more power
I use the tv almost exclusively for streaming and it is nice but it doesn't take much to have to clean and clear the cache often to keep the processor from redlining. Especially if there are people in the household who refuse to properly exit an app rather than leaving it running in the background. Eventually it will cause lag in the remote control and seems to burn through batteries in the remote more quickly than any other remote I've ever used.
Date published: 2023-08-07T00:00:00-04:00
Rated

5

out of

5
by
KrisTessa
from
I love my Tv!!!!!!
My Samsung smart tv is not only a smart tv but the smartest purchase I've made in a long time!!! Not only is it a gorgeous Tv appearance wise, but the picture is stunning!!! The apps make it easy for viewing tv and keeping the apps that you have at your fingertips with your phone right on your big screen!!!
Date published: 2023-08-08T00:00:00-04:00
Rated

5

out of

5
by
jpl51
from
Disappointing sound.
PIX Great! Sound Mediocre. Needed a soud bar just to listen to charcters diolouge.
Date published: 2023-07-28T00:00:00-04:00
Rated

5

out of

5
by
BrokenATM
from
Not So Smart TV
Come on Samsung, really!!?? I've had this TV for about a month now, and though I love the picture quality, I feel as though I've been lied to. I get it, it runs Tizen, but I don't understand why it runs a restricted version of the Tizen store. I've searched YouTube, and saw that even models from 2018 have access to apps such as Steam Link and other apps that should be on this expensively priced TV. It's a 75 inch TV, and anything over $700 should not have a restricted App Store. You guys need to update this and fix it. I will tell these stores that stock this to let customers know that you guys have somehow found a way to restrict your own App Store on this model. I know the difference between your operating system and those of the likes of Google and such. That being said, it is a disservice to customers to call this TV a "smart" TV while restricting apps that people can find on cheaper Samsung Tizen operating system televisions.
Date published: 2023-08-14T00:00:00-04:00
Rated

5

out of

5
by
SalsaKim
from
Good Bang for the Buck!
I wanted to buy an impressive 75" tv for my husband's man cave....but I didn't want to break the bank as we already have 4 other tv's (all Samsung of course) in the house. My husband was very surprised as he told me not to get a giant tv....but what is a man cave without a giant tv. The Samsung Crystal UHD is perfect. Great picture quality. Definitely a good purchase.
Date published: 2023-08-10T00:00:00-04:00
Rated

5

out of

5
by
Deb1957
from
It feels like you are in the picture
I love this tv. It is so realistic. You can literally see the individual hairs in the animals. It's crystal clear, great sound and a lot of free channels. It was super easy to set up as well. It is a great price for a top of the live 75" tv. I would buy no other brand.
Date published: 2023-07-06T00:00:00-04:00
Rated

5

out of

5
by
Epinion
from
This 75 inch is awesome.
This is the 6th Samsung TV we have and we are so pleased. Picture is great and the UI very easy to use and the selection of apps are extensive. We can also use our Samsung cell phones to cast any content and the resolution is as if it is native to the TV. More than satisfied with this product.
Date published: 2023-07-04T00:00:00-04:00
Rated

5

out of

5
by
Big75Samsung
from
Great sound and Samsung quality
This TV does not require a sound bar. I was expecting to get one, but it really doesn't need it. Picture quality is really good as well. We really couldn't ask for a better TV , and for the money as well. Samsung has never let us down, we've had 3 or 4 over the years and that's why we chose Samsung for our first super large 75 inch TV. We would highly recommend this TV.
Date published: 2023-07-05T00:00:00-04:00
Rated

5

out of

5
by
GooberGreene
from
It is a great tv. The speakers work loud and clear
The TV is great. Quality and clarity and crisp sound. No need for a sound bar. If your internet is fast, you will have an excellent experience with your Samsung TV. I have not had any issue with my tv and look forward to getting another real soon.
Date published: 2023-07-10T00:00:00-04:00
Rated

5

out of

5
by
Idecline
from
Easy setup, nice features, free Samsung TV!
The TV is a piece of cake to set up. Nice display, good viewing angle. I love it. The UI is a little clunky, BUT, a GREAT FEATURE is the Samsung TV - lots of channels streaming content. Whole channels devoted to military history, documentaries, movies, horror, k-dramas, etc. It fills the niche that an antenna or cable would; and it's included free! I love it!
Date published: 2023-07-07T00:00:00-04:00
Rated

5

out of

5
by
BlueEyes
from
Disappointed is an Understatement!
Colors are less than vibrant… appearance is washed out. Audio and video sync is also an issue. I have logged four hours (two calls) with six customer service agents with no resolution. Last call was conveniently disconnected. Highly disappointed with my experience and product quality. I own/have owned two previous Samsung Smart TVs with no issues, which led me to this purchase.
Date published: 2023-06-05T00:00:00-04:00
Rated

5

out of

5
by
Papichurro
from
This TV was AFFORDABLE for how amazing it is
I love this TV I use it at home and it looks amazing, it's so affordable and beautiful, it's the largest TV in the home and watching anything on it is such a great experience, I definitely recommend it!
Date published: 2023-05-08T00:00:00-04:00
Rated

5

out of

5
by
NarayanMohta
from
Great product UN75TU700DFXzA
Great product at good price. Always being Samsung customer. Both 2 tv and 2 Jet 75 Vaccum and 3 tablets. Good product with good price Will always stick to Samsung with their great service, just now as loyal customer they have free battery for vaccum
Date published: 2023-05-31T00:00:00-04:00
Rated

5

out of

5
by
Matt
from
Don't buy
I bought this in July, thought it was slow... now it has nothing!! What a junk
Date published: 2023-09-06T00:00:00-04:00
Rated

5

out of

5
by
Kuhansay
from
Quick fast and smooth
Bought this TV because my previous TV broke during our move. Kinda tight on budget I bought this open box and I have zero regrets. I don't plan on upgrading ANYTIME soon. Wife and I love this TV, glad we stuck with Samsung and it's been worth every penny/minute!
Date published: 2023-09-13T00:00:00-04:00
Rated

5

out of

5
by
Samsungpal
from
Clear picture lots of channels
The size of my new Tv is larger than expected. The colors are true and bright. I was a plasma guy and I am extremely impressed with these ultra high def LED's. Samsung works well with my cable Provider spectrum including the remote.
Date published: 2023-09-13T00:00:00-04:00
Rated

5

out of

5
by
jano28pp
from
The clarity and pixels are beautiful
I use this to stream 4k movies and sports. The picture quality is unmatched in any tv available today Samsung has the best screens for all products and has continued to be the top company in regards to asteics and the performance of their TVs and devices. Best TV out there!
Date published: 2023-09-18T00:00:00-04:00
Rated

5

out of

5
by
Justintime
from
A great TV for the price.
This TV looks great at 4k. It could use a better cpu but it works fine. The remote is kind of neat because it's tiny and the TV is huge. I also liked the home automation integration. If I leave my samsung fridge open it pops up on the TV and my phone.
Date published: 2023-09-22T00:00:00-04:00
Rated

5

out of

5
by
Alcachofan
from
Great TV for a bargain price
Bought 2 weeks ago and the TV is an excellent product for the money
Date published: 2023-09-28T00:00:00-04:00
Rated

5

out of

5
by
QueenReddz
from
Great features
I've has it for about a month now and I just love it
Date published: 2023-11-11T00:00:00-05:00