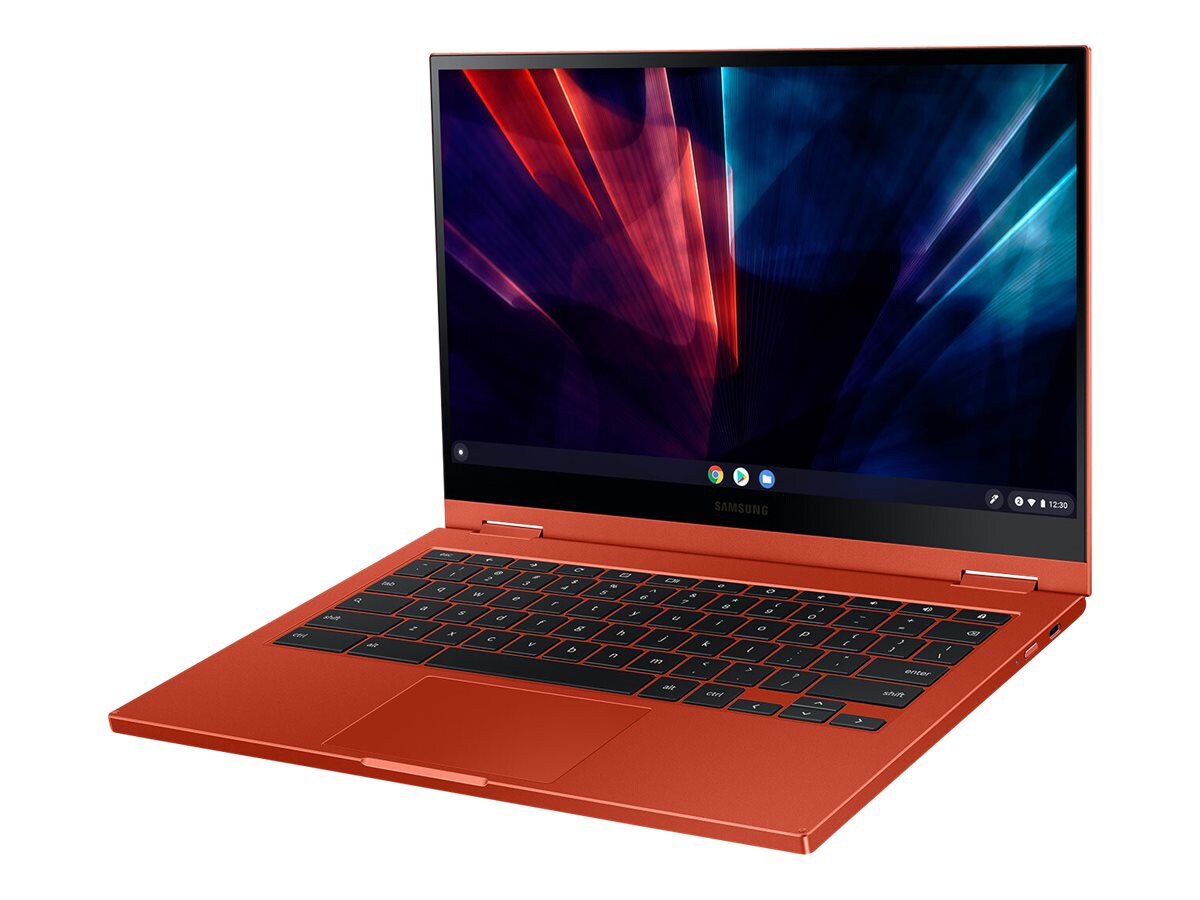 Quick tech specs
Intel Core i3 10110U / 2.1 GHz
UHD Graphics
128 GB SSD
Wi-Fi 6
Chrome OS
8 GB RAM
13.3" touchscreen 1920 x 1080 (Full HD)
fiesta red
View All
Know your gear
Work-life balance has never been better, thanks to the world's first QLED Chromebook. Dive into your favorite pastimes or present your next big idea with a larger-than-life, vibrant color display. With the power and speed of 10th Gen Intel Core processing, the Galaxy Chromebook 2 is ready to take your goals to the next level whether you are an early morning go-getter or a late-night studier. Plus, thanks to a sleek, compact design, and a battery that works around the clock-it's simple to see Galaxy Chromebook 2 has everything you need to do more in the moment, and still stay connected to what matters most.
Samsung Galaxy Chromebook 2 - 13.3" - Core i3 10110U - 8 GB RAM - 128 GB SS
is rated
4.10
out of
5
by
71
.
Rated

5

out of

5
by
David
from
Flicker screen
16 months later the screen start to flicker. Reached out to support team for a couple of times and get kicked around different support team for 1+ hours, the conclusion is that there's nothing they can do.
Date published: 2023-08-25T00:00:00-04:00
Rated

5

out of

5
by
Medoxcis
from
dead touchscreen after update no solution
just bought the guy. loved it then after chromebook update it bricked its self. no touchscreen. I couldnt draw or animate with my usi pen or finger the whole touchscreen was done, no help from samsung do not buy.
Date published: 2022-11-25T00:00:00-05:00
Rated

5

out of

5
by
Prime Med
from
worst Purchace ive made all year. Do not buy.
Brand new strait from best buy. loved it for a day then chromebook had an update and it broke the touchscreen somehow. so sad, I tried reaching out to best buy they had no solution then i called samsung no solution. and now i got a $700 cool color brick in my house. cant draw with my new usi pen too. sad samsung cant get a simple driver to work and no way to contact then clearly.
Date published: 2022-11-25T00:00:00-05:00
Rated

5

out of

5
by
Da Review Bomb
from
Trash pure garbage
Really no touchscreen after update????? what in samsung where they thinking send this trash out if they cant get the touchscreen working after one update.
Date published: 2022-11-25T00:00:00-05:00
Rated

5

out of

5
by
Lord Ivie
from
Touchscreen dead
Touchscreen does not work after only a day? Wow i dont know what to do. called and talked to every customer server possible spent over 30 hours on hold and talking to customer to try and get it fixed and still nothing. It a sad day for me. I guess other also had the same problem. you can read more in the review. i saw lots that had the same problem with no solution.
Date published: 2022-11-25T00:00:00-05:00
Rated

5

out of

5
by
Russel
from
DO NOT BUY
do not buy. touchscreen none funtional after updated google chromebook. samsung has no solution. just do not buy.
Date published: 2022-11-25T00:00:00-05:00
Rated

5

out of

5
by
Rohsue 9
from
I had a older version and it lasted for years
I have a older version and it's still working it's amazing I would love to upgrade
Date published: 2022-12-25T00:00:00-05:00
Rated

5

out of

5
by
Ayaan
from
Great Galaxy for kids
It's nice for kids work and easy to work My kids love this PC
Date published: 2022-12-03T00:00:00-05:00
Rated

5

out of

5
by
DatTubaMan
from
Poor QC
Just purchased this Chromebook 2, less than 4 hours of using if it the touchscreen stopped working. Went to support and was walked through resetting it, doing a factory reset and power wash. The touch screen still doesn't work.
Date published: 2022-11-13T00:00:00-05:00
Rated

5

out of

5
by
disappointed4thelasttime
from
so so performance from standard model. crap sound.
I've had this chromebook for several months now and I have to say it will do basic computing but DO NOT GET THE CHEAPER MODEL. 4gb of RAM is barely enough to run basic tasks and the processor gets overwhelmed very and I do mean very easily. I'm not sure why they would brag on these sad little quiet speakers? My nephew's $150 HP Chromebooks speakers blow this chromebook away hands down. be prepared to buy a good Bluetooth speaker so you can hear even basic audio with any amount of clarity. It isn't all bad though the screen is pretty nice and gets decently bright and it does get pretty decent battery life as long as you keep your work load lite.
Date published: 2022-10-28T00:00:00-04:00
Rated

5

out of

5
by
Shefishesforbass
from
Awesome Chromebook
Quick to set up, fast and long battery life. Had mine several months now and it does not disappoint.
Date published: 2021-09-01T00:00:00-04:00
Rated

5

out of

5
by
Mike
from
Super portable
You can take this baby anywhere. It's lite,sleek and super easy to use..
Date published: 2021-09-01T00:00:00-04:00
Rated

5

out of

5
by
Blu5NYC
from
Solid Laptop
I'm really happy with this purchase. After more than a month of use the heavier materials used to make the case are proving far superior to the previous Samsung Chromebook 2 that I had.
Date published: 2021-09-01T00:00:00-04:00
Rated

5

out of

5
by
Landrewc
from
Easy to use
I like how simple it is. I don't like how hot it gets and that I can't run Steam on it.
Date published: 2021-09-01T00:00:00-04:00
Rated

5

out of

5
by
Nanac707
from
Sleek design
No complaints, it lives up to its claims, and very convenient to use.
Date published: 2021-09-01T00:00:00-04:00
Rated

5

out of

5
by
Andrew
from
Really good laptop
I've had this laptop for about a year and it's still going strong. It's fast, the screen it beautiful, and got a great battery. And the laptop itself looks amazing.
Date published: 2021-09-01T00:00:00-04:00
Rated

5

out of

5
by
OldShoolGirl
from
The Touch Screen is awesome
I bought this like 2 months ago and it is the second Chromebook I purchased in the last year and a half the first one had a bigger screen but wasn't touch screen and you couldn't open it 360 degrees. I got bored quickly with it and gave it to my brother. I bought the Galaxy Chromebook 2 and it is awesome, I'm still learning how to use it but I am on it every day. I use it for games, watching prime video and for research. The picture on it is amazing. In fact it has inspired me to sign up for college classes. I'm 54 and am going back to school, so excited. I have no complaints what so ever, I absolutely love my new Chromebook 2.
Date published: 2021-09-02T00:00:00-04:00
Rated

5

out of

5
by
ICeCrYp
from
Not what I expected
I got the note because I needed to replace my laptop. The pros its beautiful honestly one of the best looking screens I've seen and the red casing is amazing it's very fast and quick set up. And I'm sure it would be great for someone that just needs access to apps just on a bigger screen and with a keyboard. The cons no usb port. Can't double click links, can't right click. Basically you need a mouse with it. I'm no computer wiz or anything. So maybe that's the issue. It just seems like my cell phone with a keyboard. I bought it so I can update my GPS and stuff cause my laptop is to out of date to do it. But no USB so can't do that. Guess I should have just bought a new GPS instead. But I'm giving the note to my son for school I'm sure it will be perfect for him.
Date published: 2021-09-01T00:00:00-04:00
Rated

5

out of

5
by
CMIRACLE
from
Great features!
I bought this a couple months ago and having been loving it ever since I took it out of the box!
Date published: 2021-09-01T00:00:00-04:00
Rated

5

out of

5
by
bigmacdu
from
Great performing Chromebook
Exceeds all of my needs, with great battery life, and light wight.
Date published: 2021-09-02T00:00:00-04:00
Rated

5

out of

5
by
Margie
from
excellent
I loved this laptop so easy to use. fast, and lightweight.
Date published: 2021-09-01T00:00:00-04:00
Rated

5

out of

5
by
Roxys Husband
from
Phenomenal
This is the perfect Chromebook. I use it for work 5 days a week and for play everyday. It's fast, sleek, and more than gets the job done. I actually traded in my Tab S7+ for this.
Date published: 2021-09-01T00:00:00-04:00
Rated

5

out of

5
by
Stormer
from
Worth it.
I was sick of windows so I invested in the Galaxy Chromebook 2. It is a great little machine. Has a really nice charging cord. It takes a little getting used to the IOS system. It has different keyboard shortcuts is all. But I wish I would have purchased the earlier model because it comes with a pen. With the new one, you have to purchase a pen separately. The pen I bought sucks and it is really hard to use with drawing apps.
Date published: 2021-09-01T00:00:00-04:00
Rated

5

out of

5
by
Mike
from
Great premium Chromebook.
I got this crumbling in June, for my son's birthday, he absolutely love it (it's his favorite color red). Great screen fast, good battery life (always could be better) beautiful screen. Overall very satisfied. Definitely will recommend it.
Date published: 2021-09-01T00:00:00-04:00
Rated

5

out of

5
by
Lupi
from
Great Chromebook
Bang for your buck this is one of the best on the market.
Date published: 2021-09-01T00:00:00-04:00
Rated

5

out of

5
by
Crazychef
from
I love my new Chromebook 2
It is amazing and so easy to use there are so many new features I haven't even used them all.
Date published: 2021-09-01T00:00:00-04:00
Rated

5

out of

5
by
Steve
from
Awesome Display...
I bought this computer last February for school and couldn't be happier with all it top notch features.
Date published: 2021-09-02T00:00:00-04:00
Rated

5

out of

5
by
Quantum
from
Not compatible with anything
the main complaint is thats its a chrome book. i got this because i love samsung products and man it's been a nightmare filled with mingrains trying to use it, chrome os being the biggest opstical nothing is compatible with it. i thought i'd try chromebooks and see if all the hate is warranted and it is the version 2 of samsung laptop has no penwhich in my opinion was one of the better features of the first version, no usb ports so for school and work without spending money of a adapter is useless battery life is pretty poor shortcuts of widely used functions is a waste if time example being getting rid of left click for double taping mouse pad. as it is one of the more expensive chromebooks too i can't see why anyone would want to have this even remotely associated with themselves.
Date published: 2022-02-06T00:00:00-05:00
Rated

5

out of

5
by
Cory
from
My main laoyoo
Absolutely love my Galaxy Chromebook 2. Fast, responsive and well built. Fantastic keyboard and screen. Can't recommend highly enough!
Date published: 2021-09-01T00:00:00-04:00
Rated

5

out of

5
by
Alicia
from
TERRIBLE PRODUCT
i was so happy to get my chromebook and it became my working world until i dropped it and tried to have it repaired. i've bought nothing but samsung products and this is by far the worst decision i've made. to fix the screen cost me just as much as it did to buy the chromebook. this is appalling because it seems to be a ploy to get someone to buy another chromebook. honestly i know i shoulve gotten protection but i also believe a product shouldn't be such a risky investment. at the time i needed the chromebook for school and work and couldnt afford the protection however i still don't believe a product shouldnt cause this much grief.
Date published: 2022-06-28T00:00:00-04:00
Rated

5

out of

5
by
GORDOLR
from
easy to use
i bought it like 3 months ago and im happy with it its really easy to use both ways
Date published: 2021-09-01T00:00:00-04:00
Rated

5

out of

5
by
NateDub
from
LOOKS FEELS AND ACTS LIKE A CHAMP
A chromebook Cadillac. Stop at this gem if you're looking for one that does everything well.
Date published: 2021-09-02T00:00:00-04:00
Rated

5

out of

5
by
Kim819
from
Slim design
The slim design allows me to carry Everywhere I go.
Date published: 2021-09-01T00:00:00-04:00
Rated

5

out of

5
by
Coldsteel
from
Super fast
Love how fast start up is when I need to look something up fast great for shopping to easy to navigate pages with gestures on touch pad
Date published: 2021-09-09T00:00:00-04:00
Rated

5

out of

5
by
Kriswe59
from
Awesome features
I bought my chrome book a few months ago at first I didn't think I was going to like it because I was used to an Apple iPad Pro I now have found out I can't live without it
Date published: 2021-09-02T00:00:00-04:00
Rated

5

out of

5
by
Michael Vincent
from
Great computer and platform
Another option to PC or Mac? Yes! And it's great. No crashes, loading issues, continuous updates interrupting your work. It just works and so can I.
Date published: 2021-09-02T00:00:00-04:00
Rated

5

out of

5
by
Tiggles
from
Missing a lot of Samsung features I expected
Missing a lot of Samsung features I expected. I just recently decided to move from being a multi decade apple user for everything. I first started with a Samsung phone a few months ago, then a Samsung tablet. I liked the functionality of Samsung flow. It was similar to apples ecosystem. I bought this chromebook expecting it to have it installed or atleast available, but no. It "connects to my phone" but not anything like the functionality of Samsung flow. Overall it is fast and does most things, but my Samsung phone connects to windows better.
Date published: 2021-09-01T00:00:00-04:00
Rated

5

out of

5
by
Jackhammer
from
Love it!
This battery life is awesome and love the look of the screen and touch sensitivity is great.
Date published: 2021-09-01T00:00:00-04:00
Rated

5

out of

5
by
StompthatFire
from
Seamless Transition
I bought two of these and I very pleased with both so far. The 360 degree platform with included hardware/software, along with most of my apps from PlayStore make this a go to device. Easy to use and set up. Performance is fast! Also, has great picture for entertainment purposes.
Date published: 2021-09-01T00:00:00-04:00
Rated

5

out of

5
by
Crazybird lady
from
Possibly the MOST USER FRIENDLY Computer pad eve
When I bought my S6 Galaxy pad I was the most unknowing, unexperienced I pad user ever to touch any kind of computer or keyboard in history.. Reality is a hard thing to accept, but the young gentleman who assisted me was amazing. He calmly explained how the S6 pad was almost totally like using my galaxy phone ,and it is amazing I haven't had ant issues that I have had to really stress over. I haven't even used any of the available tech. Assistance that is so welcoming ,and knowledgeable for any technical problems. The problems with my S6, is .. me. But even learning how to do the simple things my S6 pad has actually helped me, and walked me through the process, and never locked up or left me in, or on anything I could not get myself through. Possibly one of the most user friendly experiences of my life. Now I can even download and send information and even resumes through email... it's just the most incredible and enjoyable thing I've ever tried to operate. Very nice and even pleasant computer for us older , not computer savvy folk GIVE IT A TRY FOR YOURSELF, YOU CAN DO IT TOO.
Date published: 2021-09-01T00:00:00-04:00
Rated

5

out of

5
by
DrFab
from
Great computer!
Really, easy to use, fast, good performance, really good graphics, battery Last almost 2 days without charging it, chrome os still has some flaws.
Date published: 2021-09-01T00:00:00-04:00
Rated

5

out of

5
by
Moni
from
Galaxy Chromebook
The chromebook is awesome! The only issue I would say is that there is not a pen available to purchase for this chromebook which was a bit fustrating.
Date published: 2021-09-01T00:00:00-04:00
Rated

5

out of

5
by
Jodes
from
Beautifully Crafted
I cant be any happier with my first purchase of a chromebook 2. It is so versatile and easy to use with many options with just a simple push of a button. I highly recommend anyone looking to purchase a laptop to check the chromebook 2. It truly is amazing!
Date published: 2021-09-01T00:00:00-04:00
Rated

5

out of

5
by
Alex
from
Chromebook is not even worth the price
i mean, the qled display is eye catching, the i3 is not even worth the price you are paying. but it is a chromebook, so you are pretty much only limited to web browsing. so why pay this much when you can get something much better (like a windows) and you can do so much more with less hassle. but if wasting your money on useless things that's fine. but again, everyone has different needs. but just get a windows. they are so much better and can do much more. and the less expensive ones can do so much more and have much better peformance.
Date published: 2021-12-09T00:00:00-05:00
Rated

5

out of

5
by
MD2020
from
Hits the sweet spot!
I've had it for 2 months. I've been using chromebooks for greater than 5 years. This upgrade was from an Asus C302 which was great. This is superior in every way -brilliant screen, fast and light. The red color makes me smile :).
Date published: 2021-09-07T00:00:00-04:00
Rated

5

out of

5
by
Cain
from
Love it!
Never had one.. But my cousin has one.. Nd I love it!
Date published: 2022-12-20T00:00:00-05:00
Rated

5

out of

5
by
Penny
from
It's a good one!
I had mine for awhile and love it.its fast and gets the job done.
Date published: 2022-12-30T00:00:00-05:00
Rated

5

out of

5
by
Mister Sterling
from
Premium Done Right
the galaxy chromebook 2 is a fine choice, but you have to adhere / agree to a few points: 1. you have to own it to the end of life (july 2028) for maximum value for the dollar 2. it's not powerful enough to run windows apps, so you have to stick to chrome and linux only. this is fine for most users./ 3. you have to admit that there are chromebooks with the same specs for less (like the lenovo flex 5 with 8gb of ram). so you have to admit, if you get this, you are partially getting it for the great looks and the excellent display.
Date published: 2021-03-12T00:00:00-05:00
Rated

5

out of

5
by
Chuxta
from
Great quality!
Have been using this for a month now and helps doing my daily tasks with ease. The quality by Samsung is amazing and performance is great. Not only can I perform my daily tasks but can stream using music or video streaming services! The touch screen is great for when I don't want to use the mouse but when I do use the keyboard and mouse it is very responsive and accurate. This would be great for any student or daily task use for a budget!
Date published: 2021-03-03T00:00:00-05:00
Rated

5

out of

5
by
Danny C
from
Great value, very functional and aesthetic laptop
The galaxy chromebook is extremely easy to setup and integrate to your google account. The laptop has a sleek design and is very portable, as it is quite light. Getting used to the commands takes some work if you are used to standard windows but it is quite easy to use regardless. The pixel quality is quite great, very good for videos and photos and fantastic for casual laptop users (have not used it as my primary work computer with demanding apps). The laptop is quite quick, as I experienced no lag or delayed loading of apps or browser. The mouse click is a little heavier than I'm used to but I didn't find it to be an issue. I really enjoyed using the laptop given the functionality it enables (email, browsing, photos, etc.) while being extremely light and portable.
Date published: 2021-03-03T00:00:00-05:00
Rated

5

out of

5
by
Jay1317
from
Great overall laptop !
Got this laptop for my son after hearing all the complaints about our semi new laptop being so slow . It's a very nice looking laptop , looks fabulous and is very light . After using our semi new laptop I see a big difference between speed . This chromebook blow my other laptop out of the water in speed . It also starts up a lot faster than my other one . Love the touchscreen , very responsive, very easy to use . This is a great laptop for an everyday , going to school laptop. My family loves everything about it and the the look and feel of it are absolutely beautiful . We get lots of compliments on the red color . I would definitely get it again with out thinking twice . Great job Samsung !
Date published: 2021-03-02T00:00:00-05:00
Rated

5

out of

5
by
arno_austin
from
Impressed!
I received few days ago the Galaxy chromebook2 13.3 and my first impression once unpack was great. The look is awesome, the finish is neat, no plastic, all metal which should help the heat dissipation, very thin, easy to handle, easy to flip. The keyboard is also great, most of the same size computers embeds smaller keys. It makes it easier to type. The feeling when typing is also nice, easy to know when the key was active. This is the first time I am really using a chromebook. I really like the fact I can get all my apps like on my phone. The fast charging is definitely a plus, and more than 10h battery is awesome. Once flipped, you can use it as a real tablet, the touch screen reacts nicely. One little thing I noticed is that when holding and touching the side of the frame, the device can become unresponsive because it has detected your unwated side touch, but once you know it, no more problem. The size is perfect to use it like a computer type or tablet. The QLED screen is awesome, resolution and colors are perfect. Unfortunately I could not test the compatibility with Wi-Fi 6, I am not equipped with the new WI-Fi standard. The first time connection was very easy and simple, same as for a phone. The memory size for this device is 128GB which is enough in my opinion. The memory size can always be extended by connecting a SD card or a Hard Disk Drive. The two USB-C make that handy, you can charge and get access to your data at the same time. Having USB-C only connector, may force you to buy USB-C-USB-3 adaptor like me but the adaptor is cheat and it also helps to keep the chromebook very thin. In conclusion, I definitely recommend this chromebook.
Date published: 2021-02-22T00:00:00-05:00
Rated

5

out of

5
by
Bikedad
from
Amazing screen and battery life!
The only prior experience I've had with chromebooks was with the cheap ones that my children use for school, and I was not impressed. This Samsung is in a whole different league. The screen is exceptionally bright and crisp, there is no lag or hesitation when opening windows, etc., and the battery life claims of 10+ hours seem to be true (tested while watching YouTube videos). I'm very impressed with this computer and would definitely recommend.
Date published: 2021-02-25T00:00:00-05:00
Rated

5

out of

5
by
Mike HB
from
Love it
I love this laptop. It is very thin and lightweight. I was a bit unsure about the fiesta red color, but it looks surprisingly elegant in person and am very happy with it. I was also a bit nervous about Chrome OS because I have only used windows and macOS in the past, but it is actually very intuitive and easy to navigate. Applications launch in a snap. It is extremely quick. And the QLED screen is a standout feature--the image quality is stunning.
Date published: 2021-02-26T00:00:00-05:00
Rated

5

out of

5
by
Mosquito101
from
Exceeded expectations
I've stayed away from chromebooks because I just didn't think I would be able to do the same stuff I was able to do on my other computers. I know I would be able to download apps for streaming and social media but I could just use my tablet for that. But I recently had to upgrade my computer and because of that also had to upgrade office to 365. Now on this tablet I am able to do all my office work on it. And it flawlessly links to all my cloud based saves. I was up and running in less than 10 minutes. And the screen resolution on this is stunning. It's like having the latest and greatest TV with a keyboard. The one thing I wish this had was a dedicated stylus for taking hand written notes. But instead of I have to use a generic one and it's clunky to use at times. Ends up being easier to just use your finger. I plan on putting in a memory card to expand the memory but it's not a must have. Oh and if it's charged in the morning, the battery lasts all day without a recharge. And the red color is a HUGE bonus for me. Love it.
Date published: 2021-02-18T00:00:00-05:00
Rated

5

out of

5
by
Kay93
from
Amazing
I received this item so happy I did. Galaxy Chromebook 2 Intel core i3 processor, 128gb , 8gb ram came very well packaged, so easy to step up and use. You can do so much on it , picture is absolutely the best. Stays charged very long time even on long work day's. It's very light weight. The color is very eye catching. Screen is prefect size, sound is amazing. I love it. I recommend this item you won't be disappointed.
Date published: 2021-02-22T00:00:00-05:00
Rated

5

out of

5
by
jerryn123
from
Excellent Chromebook
The Samsung Galaxy Chromebook 2 is a great chromebook for web browsing, video watching and light office work. First off, the fiesta red is a beautiful color and it really pops. However, the shell is made out of plastic and it does leave some fingerprints which can't be avoided. It has a 13.3 QLED display that is magnificent when it comes to viewing video. The Intel Core i3-10110U is fast and snappy and I haven't noticed any lag. It has 8gb in memory and a 128gb hard drive which are both sufficient. Chromebooks in general don't come with a lot of bloatware so there is plenty of memory to go around. For extra storage and connectivity, it features 2x USB-C and microSD reader. This chromebook weighs in at 2.7 pounds and the dimensions are 12 x 8 x 0.6 inches. The battery life is pretty good at 13 hours and definitely a lot better than the first galaxy chromebook. It also has a 720p webcam and usually most chromebook and laptop webcams are 720p. It is quite small and unnoticeable. The keyboard types pretty well. I didn't notice any lag and it has a great feel to it. There is a backlit that automatically comes on when it gets dark, I am unsure if there is a way to get manual turn it on/off. The trackpad is good, responsive and a lot of surface area. The hinges look sturdy as it allows to be fold over to be a personalized tablet to play videos and to web browse on. The touch screen is responsive, quick and smooth. I can get to the Chrome browser with less than 5 taps or clicks. This is Samsung second attempt on the Galaxy Chromebook where the first Galaxy pack in better specs are with an AMOLED screen. It did only have half the battery life compare to the Galaxy Chromebook 2. The first Galaxy Chromebook did come with an extra webcam, better chip, more memory, stylus pen and the casing is aluminum. The biggest grip was the $999 price tag. The Galaxy Chromebook 2 sells for $699 and in order to get this price lower, Samsung cut down on some of its features. I think it is fair as I would of prefer the same chip and same memory but the extra webcam and stylus wasn't necessarily. I still think that the $699 is a bit steep for what I am getting as I feel no Chromebook should be more than $500. In Conclusion, this is a great Chromebook for those who are in the market for one. The price tag is a bit steep but if you plan to spend a lot of time on it, it is well worth it. The appearance really pops with the red color and it has a beautiful aesthetic look to it. It is fast, quick and snappy and I can see this as a true work course. I can open multiple tabs and it just runs really good. The screen is also a highlight worth mentioning again as it is the first Chromebook or laptop to feature a QLED screen that really shines!
Date published: 2021-03-01T00:00:00-05:00
Rated

5

out of

5
by
Jenjen3
from
Chromebook 2 is fantastic!
The Galaxy Chromebook 2 was completely set up 15 minutes after I had opened the box. The fiery red is a metallic color. I like it. The picture quality was really beautiful. Very high definition. It's a 4K touchscreen. Perfect to use with USI pressure sensitive pen ( not included) . If you are an artist, this is a chromebook to be considered. Speaker quality was loud, a big plus. Its size makes it very easy to transport. Comes with i3 Core processor, and 128 GB, and 8 GB RAM. Also has a slot for micro card for extra memory and has a fingerprint reader. I would highly recommend this Chromebook.
Date published: 2021-02-24T00:00:00-05:00
Rated

5

out of

5
by
Albendiz
from
Fantastic Chromebook at a reasonable price point
When Samsung released their first Galaxy Chromebook, it put out a technologically amazing product with a top-tier display, technical specifications, and world-class design. Unfortunately, all that awesome technology also made the price point for the first Galaxy Chromebook *way* higher than what most folks in the market for a Chromebook were looking to pay. In many ways it was a nearly perfect machine, but it wasn't perfect for its core audience. With the new Galaxy Chromebook 2, Samsung has dialed back some of the technical specifications while keeping the design principles throughout the product, and came up with a *much* more value-oriented proposition. Despite it's obvious value focus, the display is still quite stunning, the performance is very zippy, and the keyboard and touch controls are extremely responsive. Also, I'm not much of an audiophile, but I could swear the sound quality of the built in speakers are better than what I recall it being with the first Galaxy Chromebook. If you're in the market for a Chromebook, this little wonder is absolutely unbeatable for the price, and the level of detail and care in every aspect of its design is simply jaw-dropping. Word to the wise - don't be boring, get the Fiesta Red version!
Date published: 2021-03-02T00:00:00-05:00
Rated

5

out of

5
by
Jrt0327
from
Awesome laptop
I will preface this review with the fact that this is my first chrome book. My ecosystem is google but i have never owned a chromebook up until now. I will also mention this review is not about the OS (Chrome OS) but about the device itself. Samsung hit the mark with the style and design of this chromebook. They packed so much into such a small package. I really have been putting this chromebook to the test. When I say "the test '' keep in mind that I am new to what I can and can't do with a chromebook but I am doing my best to make it my daily personal driver. So far, it has been quite useful. The size and portability as well as form factor (tablet mode) has made this a very versatile machine for me. -The ultra thin, premium aluminum design makes this chromebook light and portable. I pick it up and take it pretty much everywhere I go. Not to mention it's absolutely gorgeous. -The screen is absolutely amazing. It is crisp, clear, 4k and absolutely stunning. I frequently watch movies and youtube clips on it and really enjoy the beauty of the screen. I believe this is one of the best features of this chromebook. -The pen is a great addition to this chromebook. I use it to doodle and draw when I get bored and I have come up with some very interesting drawings. It is a very versatile pen and has allowed me to create some pretty cool drawings.
Date published: 2021-02-21T00:00:00-05:00
Rated

5

out of

5
by
gfvsjr
from
Top Notch Chromebook
Needed to replace / upgrade my school chromebook from several years ago and this one fit the bill. Upgraded specs and features and the fact that it is a touch screen is a bonus. Love the battery life and great performance this offers. If you are a fan of chromebook devices you won't be disappointed!
Date published: 2021-02-22T00:00:00-05:00
Rated

5

out of

5
by
Cheeks76
from
Perfect Chromebook
This Chromebook is perfect! It's so thin and lightweight. The core processor makes it so fast better than I've ever had before. The touch screen is a pretty cool feature. I bought a pen for it, but was able to use the one from my phone until my pen arrives. The keys light up and are bigger than my other Chromebook. The colors that come through the screen Wow is all I have to say about that JUST WOW! Who knew a Chromebook could be this awesome. I totally recommend this Chromebook if your looking for one.
Date published: 2021-02-18T00:00:00-05:00
Rated

5

out of

5
by
JC56
from
Amazing!
I've been using a Mac for work the last few years, after being PC the majority of my life. I wanted to go back to what I was used to and decided to dip my toes in the world of a Chromebook. My phone of choice has been Samsung Galaxy for the last few years, so I am familiar with Samsung and the Chromebook seemed like a logical fit. Plus, I've heard wonderful things about Chromebooks and they always looked sleek. Those descriptions are massive understatements! The screen is GORGEOUS and blew me away. Sound is way better than what I'm used to from a stock laptop as well. I love that this has a touchscreen, and that it can also be used as a tablet. This computer is simply amazing and I'm questioning why I didn't get one sooner!
Date published: 2021-02-25T00:00:00-05:00
Rated

5

out of

5
by
Russv3
from
An amazing product!
This is the first time I have ever used a chromebook, and I am so amazed of the quality! The chromebook 2 is ultra thin and lightweight which makes it easy to carry around for every day use. The screen display is absolutely beautiful and crystal clear. It is super fast and has options to add many applications. The keyboard is nice and has big keys that are easy on the fingers to press. I'm very impressed with the battery life. This device is nice because it is also touch screen and the screen bends back and can turn into a tablet. The only thing about the chromebook I wish was different was being able to have Lightroom application my wife is a photographer and this would have been great for her to use for her photography, also there isn't a USB port which is no big deal because I found out I can purchase an adapter for it. Overall the Chromebook 2 is pretty awesome. I would definitely recommend this to everyone in the market for a new laptop.
Date published: 2021-02-14T00:00:00-05:00
Rated

5

out of

5
by
Scott81
from
Lightweight, fast, and long battery!
Overall, I think this is a great little computer. It's lightweight, has a great picture quality, coloring, and is extremely fast. The battery lasts a long time and I love the touchscreen! The keys are back-lit which is a really neat feature. I did have some problems with the set up. It kept freezing and not responding. We had to restart the computer a few different times in order to complete the set up. That was a bit disappointing when it was brand new! The red color, is a bit too "orangish" for my taste... I wish it was a little more candy apple red, but that's just a personal opinion. The last thing I'm disappointed by is the sound quality of the speakers. They're similar to other computers, however, after reading about how good they were supposed to be, I was pretty disappointed. The speakers are in no way impressive in my opinion. I'm still getting used to the mouse functions. It doesn't have a left click/right click button like most do. You have to learn the functions of the mouse and how to do things like "select", "copy", etc... as it's different than a standard laptop mouse. Overall, I would give the Chromebook 4 out of 5 stars. I'm happy with it, but I do feel it could use some improvements.
Date published: 2021-02-17T00:00:00-05:00
Rated

5

out of

5
by
Junkyardawg
from
Chromebook 2 Review from an "everyman"
Alright alright alright! I just got this beauty and am trying to hit all the points for the fine folks looking at investing in a new laptop. I've used both the Chromebook (1) and now Chromebook 2 so I'll include some comparisons to reference. Before we get straight to the specs and review, it should be noted what the Chrome OS does and how it operates. Essentially, instead of having hardware on your computer that require updates and create unnecessary weight, everything comes from the cloud. It uses web apps and is unbelievably fast because they've trimmed all the unnecessary features. This makes a lot of sense for me and my uses. If you aren't sure, go check one out and play around with it, you'll be glad you did! Cost - way affordable, relatively speaking. Aesthetically, it couldn't be better, I'll let the pictures speak for themselves. I'm not embarrassed to say this is important to me, I felt like it was getting looks as I popped it out at my local coffee shop. Screen-13.3' 1920x1080 touchscreen fast and responsive.. I don't know if I'm crediting the screen itself or the processor. Tablet mode is fun and its light enough to carry around, note- the keyboard deactivates when using as a tablet or stand alone display for movies, etc. The tech behind the screen is Samsungs QLED. They swapped out too much screen (chromebook1 = 4K LED = overkill) for all you'd ever need on this one. I used it inside and out, there is a glare if you're working outside a lot but that can be addressed with a screen cover. Technically speaking, the original screen has better specs, but the trade-off for much better battery life (biggest knock on original) was a no-brainer, I literally can't see a difference in quality of picture. Battery life - I don't know how my workload compares but I timed this and got 13.8 hours with no re-charge. Mostly streaming youtube videos, video calls, working w/ outlook & excel mostly. Weight - 2.1 lbs - I've seen some people comment on that being heavy - it isn't to me but I'm a little bigger than most? Keyboard - Larger than normal hands here but zero issues on this keyboard, felt like a normal laptop! Also, keys are backlit for night use. Sound! An unexpected feature.. I work at home and have noisy kids and need to be able to hear when I'm on video calls or working out remotely, they amped it up.
Date published: 2021-02-25T00:00:00-05:00
Rated

5

out of

5
by
1Doug1
from
Excellent Chromebook!
I got this for my wife and she is very happy! The red color is really stylish and stands out.The initial set up is super easy (just make sure you fully charge it first) and it is not difficult to use, even for those that are not familiar with Chromebook. If you like Google, you will not be disappointed! Big plus of this machine is that the screen can be pushed all the way down and create a tablet. It is lightweight and can be used for all the daily tasks, some games, school and even work. We like the touch screen (very responsive), the colors on the screen are really bright. Nothing is blurry! And the battery can last for a few days. The instructions mentioned battery power to be about 13 or 14 hours but we have never used it for that many hours and with the down time, it can last a few days. It also has a really good sound so you can stream online videos. Please note, that you will enjoy this Chromebook the most, if you are connected to the internet. I am very impressed with this Samsung Chromebook!
Date published: 2021-03-08T00:00:00-05:00
Rated

5

out of

5
by
Matt515
from
Powerful little thing
I got this for my wife. She's a landscape designer and does all her designs in CAD and Sketch Up. This computer by no means is the one she uses to design full time; she still has a big powerful desktop she uses for the bulk of her work. However, I got her this so she could work on those projects remotely or in other places than her office if she needs to, and it works great. The chrome book has enough power to run the design programs mentioned above so if we decide to go to the lake for the weekend or if she just wants to work in a coffee shop for a bit, she can. Additionally, she can and has also given her presentations to clients on this chrome book. The touchscreen lets her "tour" her design which her clients seem to like. As she typically gives the presentations at her clients' homes, it also gives her the ability to make changes to the design on the fly based on the clients request. Speed is good, processing power is good, and battery life is good (according to her). Screen resolution is incredible. She's definitely enjoying having another handy tool for her business. Plus, aesthetically speaking, the red casing is eye catching. It's a really beautifully designed machine, inside and out.
Date published: 2021-03-15T00:00:00-04:00
Rated

5

out of

5
by
JimboBimbo
from
Ease and convenience
i bought this eagerly, loved it but couldn't figure how to use it. i rediscovered the google play store and am all set now. it's cute, sturdy and a joy to use, impeccable performance!
Date published: 2021-06-06T00:00:00-04:00
Rated

5

out of

5
by
whocares
from
Medicre
disappointing i purchased this replacement for my normal activities with the i 3 processor. do not recommend. im not aware the extra processing power goes, but not to anything remotely dealing withe performance
Date published: 2021-06-12T00:00:00-04:00
Rated

5

out of

5
by
BBAILEY
from
Great Features....
I BOUGHT THIS A MONTH AGO AND AM SO HAPPY I DID....
Date published: 2023-03-25T00:00:00-04:00