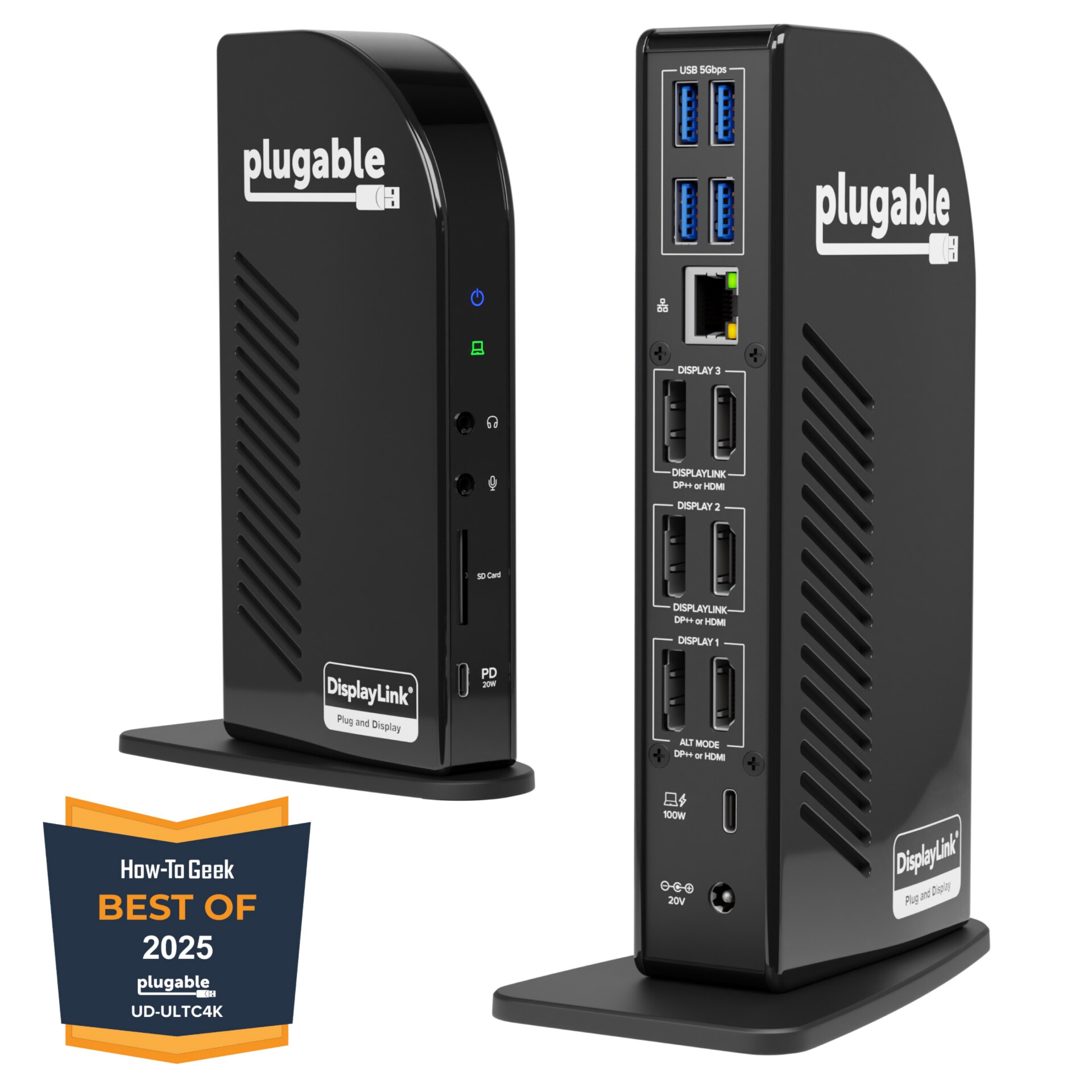 Quick tech specs
This 13 port USB-C docking station with Power Delivery extends across three screens via a single 10Gbps USB-C cord
Extend your desktop across three 4K monitors @ 60Hz with USB4 / Thunderbolt 4 hosts via Alt Mode
Compatible with Windows 10 or later,ChromeOS 100.x or later,and macOS 11+ systems with Thunderbolt 4,Thunderbolt 3,USB4,and USB-C
Featuring 3x DisplayPort ports,and 3x HDMI ports
Charge your laptop with up to 100W (96W certified) directly through the DisplayLink docking station
View All
Know your gear
The Plugable UD-ULTC4K USB-C triple monitor docking station provides up to three additional display outputs via a combination of USB-C DisplayPort Alternate Mode ("Alt Mode") and DisplayLink USB graphics. Up to 60W via USB-C Power Delivery ("PD") to charge your host computer, Gigabit Ethernet, audio, and expanded USB device connectivity. All through a single USB-C cable. See important notes regarding Alt Mode and PD compatibility below.

Graphics Performance Main HDMI port utilizes USB-C Alt Mode, a direct "pipeline" to the host graphics processor (GPU). Connected monitor will perform as if natively attached. The 2nd-3rd outputs are powered by DisplayLink DL-6950 which leverages the host GPU+CPU. Not recommended for gaming.

Alt Mode and PD Compatibility The included power supply can charge compatible host systems with up to 60 watts of PD power, & charging speed is host dependent. DisplayLink Graphics Compatibility Windows drivers be installed by Windows Update (with existing Internet connection) or downloaded from plugable.com. DisplayLink graphics require Intel / AMD / NVIDIA GPU & driver. USB graphics require dual-core 2GHz+ CPU. Cannot be mixed with non-DisplayLink USB graphics adapters and drivers (e.g. MCT, j5, etc). HDCP/Blu-ray playback not supported.

Incompatible Systems Most current phones & tablets with USB-C ports do not support Alt Mode video output. ASMedia USB 3.1 controllers do not support Alt Mode at this time.

In the Box UD-ULTC4K dock with stand, 1m USB-C cable, and 100W (20V, 5A) power adapter with US power plug.
Plugable USB-C 4K Triple Display Docking Station 100W Power
is rated
4.90
out of
5
by
21
.
Rated

5

out of

5
by
Happy Maw
from
Super!
Oh wow! If you work at home or the office and need to spread out and use multiple monitors this is the trick! It is so powerful and charges the laptop. The picture is pristine on the monitors too! I love it!
Date published: 2023-10-17T00:00:00-04:00
Rated

5

out of

5
by
Phoenix74
from
Love this thing
This thing is amazing. It can hold several things plugged into it without pulling too much power. Normally with power banks like this, they'll short circuit the breakers in your home but it doesn't. This one holds great power without knocking anything out. You can have several monitors plugged in at a time along with a phone charger if you'd like.
Date published: 2023-10-24T00:00:00-04:00
Rated

5

out of

5
by
JennaF10
from
Amazing upgrade
This USB docking station is amazing. Very easy to set up, and doesn't take up a lot of space on your working area. This is a must have product if you need multiple monitors whether it is for work or leisure.
Date published: 2023-10-19T00:00:00-04:00
Rated

5

out of

5
by
jayotte
from
Works great!
I was interested in this USB C dock for my work laptop in order to improve my workstation. After doing some research I determined that this dock would be perfectly fine for productivity but not necessarily gaming. My laptop had one monitor connected to it but I wanted a second. This dock has allowed me to relocate my laptop as well as pack up its 65 watt charger (since the USB C connection delivers up to 100W). I'm pleased with the results. I'm using the following hardware with no issues. Two 1080p 60Hz monitors using Displayport, UBC wireless headset, USB wireless keyboard+mouse, SD card from my camera, and Ethernet. I also use the 20W USB C to charge my rechargable keyboard and mouse as needed. Since the USB C connection is only 10 gigabits (compared to 40 gigabit Thunderbolt) I don't feel comfortable adding too many high bandwidth devices. I suggest avoiding using multiple high resolution/high refresh rate monitors so to avoid maxing the cable's capacity. I also can't speak to the third monitor support. This dock has been a great addition to my workstation and has worked seemlessly while avoiding overtaxing the 10 gigabit laptop connection. I'd recommend it for any non-4K productivity workstation.
Date published: 2023-11-06T00:00:00-05:00
Rated

5

out of

5
by
MasterSuperman
from
Take Your Monitor to a New Level
The Plugable DisplayLink Triple 4K Display Docking Station is a great choice for anyone looking to expand their workspace and add more screens to their setup. It's compatible with Windows, Mac, and ChromeOS, and it can support up to three 4K monitors at 60Hz. The dock is easy to set up and use. Just connect it to your laptop or desktop computer with the included USB-C cable, and then connect your monitors to the dock's HDMI or DisplayPort ports. The dock also includes a number of other useful ports, such as Gigabit Ethernet, USB-A ports, and an SD card reader. I've been using the Plugable DisplayLink Triple 4K Display Docking Station for a few days now, and I've been very impressed with its performance. The video quality is excellent, and the dock has been able to handle everything I've thrown at it, from video editing to gaming. One of the things I like most about the dock is that it's very versatile. I can use it to connect three 4K monitors, or I can use it to connect a mix of 4K and 1080p monitors. The dock also supports MST (Multi-Stream Transport), which means I can daisy-chain my monitors together to create a single, large display. It includes an in and out 3.5mm Stereo Headphone port. Overall, I'm very happy with the Plugable DisplayLink Triple 4K Display Docking Station. It's a great choice for anyone looking to add more screens to their setup and expand their workspace. If you're looking for a high-quality docking station that can support multiple 4K monitors, I highly recommend the Plugable DisplayLink Triple 4K Display Docking Station.
Date published: 2023-10-29T00:00:00-04:00
Rated

5

out of

5
by
MiamiLadyLiving
from
Wonderful
This product has let me organize my devices and their connections. It is very easy to use and works great. It frees up space in your entertainment center for other things. I couldn't be happier with it!
Date published: 2023-10-17T00:00:00-04:00
Rated

5

out of

5
by
gia_005
from
Works Great!
I received Plugable 4K USB C Docking Station Triple Monitor with 100W Charging. The set up was really easy. I actually set it up with my Mac computer. It is small and sleek, i put it right on my desk. It works awesome and has so many great features. I love all the different ports. I am going to get great use out of this docking station.
Date published: 2023-10-27T00:00:00-04:00
Rated

5

out of

5
by
OR2023
from
Convenient
This Plugable Technologies is a USB Type-C 4K display docking station. Ports and connectors; to the computer, USB-C 10 Gbps with up to 100W PD charging. front USB ports; USB-C 10 Gbps with 20W PD charging. Rear USB port; 4 x USB 3.0 5 Gbps. It has 3 video outputs, Audio, a card reader and a power adapter that is 20V, 6.75-7.5A input. Comes with UD-ULTC4K docking station, USB-C 10 Gbps cable, Power Adapter (UL certified) with detachable power cable, and quick installation guide. All you need to do is download and install the driver, connect power, connect dock to host and connect peripherals. So simple. Made in Taiwan.
Date published: 2023-10-16T00:00:00-04:00
Rated

5

out of

5
by
Dolly206k
from
Great
I am very very happy with the quality of the plugad usb. Usability is very easy. I like the way it is. I used many usb but this one stands out for the quality and make of the product. I highly recommend this product.
Date published: 2023-11-14T00:00:00-05:00
Rated

5

out of

5
by
Pixxiestix
from
Works good. Software can be a hassle.
This works with my M1 MacBook Pro. It runs 2 4K monitors and my iPad Pro with no issues. The software was a simple install however I had to do some research to get it configured to my needs. I do like that you can configure the DisplayManager application to run on every login automatically in the DisplayManager settings to save time after restarts.
Date published: 2023-10-31T00:00:00-04:00
Rated

5

out of

5
by
Mend6
from
Great features
Works perfectly and save space great features easy to setup and durability material and size very helpful very recommended it and easy to used to the new technologies very recommended! To setup for small office
Date published: 2023-10-16T00:00:00-04:00
Rated

5

out of

5
by
Emry
from
Great for my Setup!
This has been a great docking station for my computer set up! I do a lot of video editing and graphic design work and it holds up super well - no issues. I love the variety of features, it works for me currently but my husband is actually wanting one for his gaming set up as well because it's been so great. Definitely easy to install and hook up everything, I recommend it for sure!
Date published: 2023-10-23T00:00:00-04:00
Rated

5

out of

5
by
Dock
from
Dock
This is a great docking station. I use this with my laptop to have all in one dock. I connect an extra display and also a network cable. It works great. I also use this with my IPad to do the same thing and I have no problems.
Date published: 2023-11-14T00:00:00-05:00
Rated

5

out of

5
by
JessieJ
from
Perfect charging station
This docking station is just what I needed. It works great to charge multiple devices in my home at the same time. I like the function of being able to plug my laptop in and display the screen on another larger monitor that I have, as my laptop screen is small and not the best for streaming videos etc. The set up of this docking station was super easy, you can use it immediately after plugging it into the wall. I love that the front has an USB Type-C cable so I can plug my phone directly into charge while the docking station is also in use. It even came with an extra Type-C cable which was a bonus!
Date published: 2018-10-13T00:00:00-04:00
Rated

5

out of

5
by
jdp58
from
Easy to set up
I purchased this unit earlier this month and set it up in minutes. Very easy to set up, very convenient to use. I really enjoy the multiple port access. I can connect my monitors and outside keyboard without issue. The instructions are perfect and I loved the attitude displayed in the instructions.
Date published: 2018-10-18T00:00:00-04:00
Rated

5

out of

5
by
Snoopy
from
Quality Product
I received my Plugable USB Type-C Tripple 4K Display Docking Station from tryitsampling and I am thrilled beyond imagination. To be able to combine my tv and computer through this with such great clarity is amazing, so far. I can't wait to see what else I can find to connect!
Date published: 2018-10-25T00:00:00-04:00
Rated

5

out of

5
by
Vigorousrae
from
Awesome
This is awesome connected 2 different screens to hp desktop. After a while of troubleshooting and figuring it it worked amazing. Super happy about this. Now waiting to wee what else i can do and figure out what else i can attach
Date published: 2018-11-27T00:00:00-05:00
Rated

5

out of

5
by
locdlioness
from
Excellent product!!
Easy to set up! I can use my Android phone like a keyboard with it. It is very lightweight & easy to maintain. Especially as a homeschooling parent who uses the computer a lot, this is a pure gem! Runs quietly too!
Date published: 2018-10-17T00:00:00-04:00
Rated

5

out of

5
by
Kmsb1229
from
GREAT FEATURES!
This is definitely a must have! It was easy to install and setup. The fact that there are 3 4k capable outputs is awesome! It offers charging capabilities as well which we all know is a great feature to have. I also love the headphone jack on the docking station. This dock station has so many great features. I'm glad I've finally have something to meet all my needs and then some!
Date published: 2018-10-22T00:00:00-04:00
Rated

5

out of

5
by
rachee
from
excellent!
This is the best docking station I've had, I knew this one wouldn't let me down. I am using this with the HP Spectre x360 15t. It powers the laptop and connects everything all through a single tiny USB 3.1 Type-C plug. For displays, I am using two LG 24UD58-B 24-Inch 4K UHD IPS monitors. They are connected using the DisplayPort cables.
Date published: 2018-10-14T00:00:00-04:00
Rated

5

out of

5
by
Glitteryjes28
from
Works perfectly
The plugable usb type-c triple c docking stations works perfectly for my needs. Set up was easy and it fits next to my pc, I'm able to use all of my devices at once and keep it organized. I haven't had any issues
Date published: 2018-10-18T00:00:00-04:00