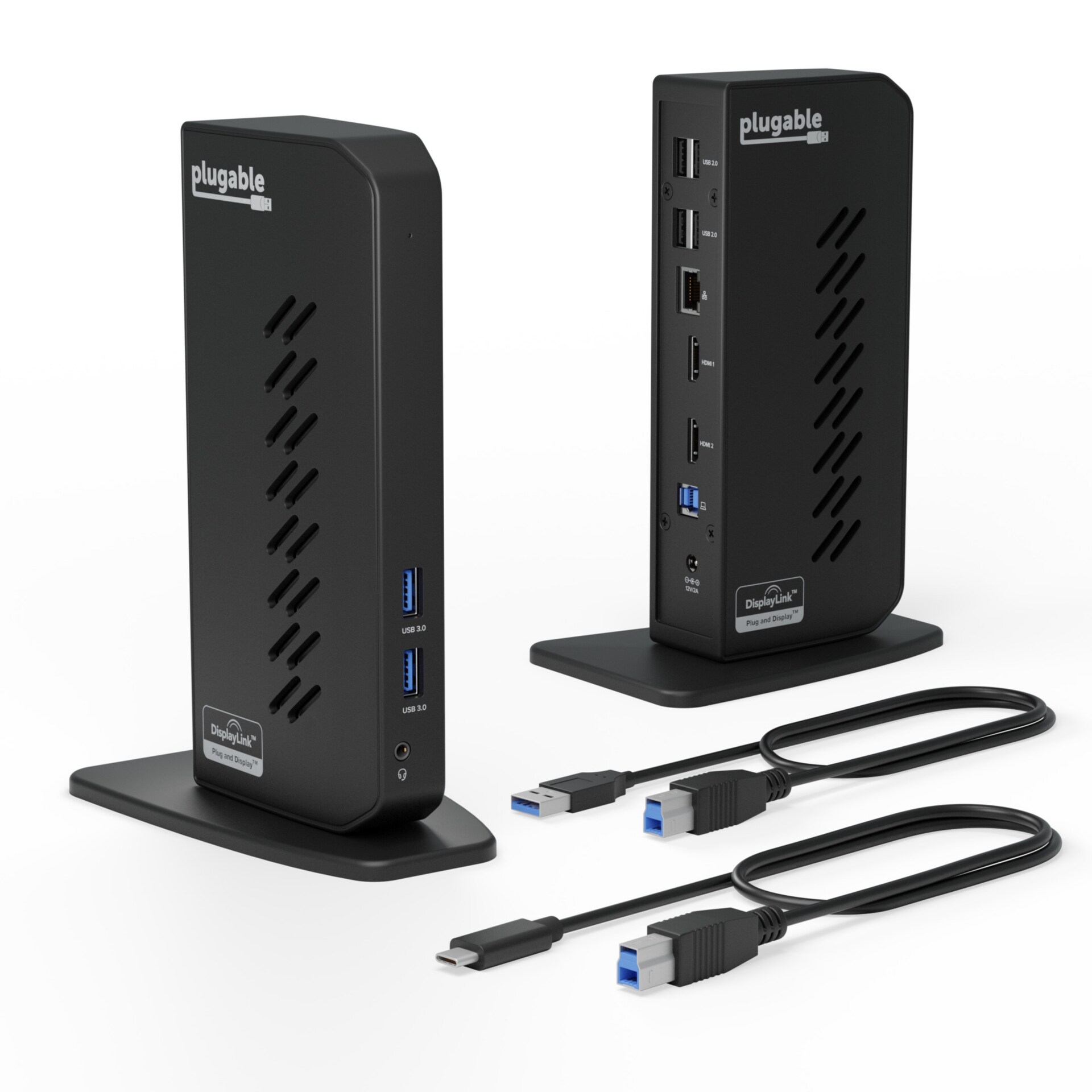 Quick tech specs
This USB Laptop Dock provides dual HDMI video outputs,wired Gigabit Ethernet,3.5mm combination audio jack,two USB 3.0 ports,and four USB 2.0 ports. Includes both USB 3.0 and USB-C cables for flexible host connectivity
Docking station is compatible with Windows 11,10,8.x,and 7 systems,ChromeOS 100+,and macOS 10.14+
2 year limited parts and labor warranty
Equipped with 2 HDMI ports easily connect two HDMI monitors up to 1920x1200
Backed by Plugable's Seattle-based support team
View All
Know your gear
The Plugable UD-3900Z dock is a one-stop upgrade for your Windows tablet, laptop, or desktop. Connect up to 10 accessories through a single USB cable. Includes the latest drivers and firmware for compatibility with Windows 10 and earlier. Fully backward compatible with USB 2.0 PCs and devices. Features two HDMI ports for mirroring/extending your Windows desktop to external monitors, a Gigabit Ethernet port (10/100/1000 supported, full-duplex required), audio input/output, two USB 3.0 ports, and four USB 2.0 ports.

Compatibility Windows 10, 8.1, 8, and 7 drivers can be automatically installed by Windows Update (with an existing Internet connection) or can be downloaded from our website. Requires Intel / AMD / NVIDIA main GPU and driver. USB graphics require dual-core 2GHz+ CPU for best performance.Up-to-date USB drivers on host system recommended. Cannot be mixed with non-DisplayLink USB graphics adapters and drivers (e.g. MCT, j5, or SMSC). HDCP/Blu-ray playback not supported. Not recommended for gaming. Linux/Unix are not supported.

Power Includes 24W power supply. Dock does not provide power to attached computer.

In the Box UD-3900Z dock, 24W power adapter (US AC Wall Outlet Plug, 100-240V 50/60Hz), USB 3.0 Type-A to Type-B cable (USB 2.0 compatible) and USB 3.1 Type-C to Type-B cable, quick-install guide.
Plugable USB 3.0 and USB-C Universal Laptop Docking Station-Windows and Mac
is rated
4.90
out of
5
by
14
.
Rated

5

out of

5
by
Nicole Ragle
from
Plugable Universal Labtop Docking Station
I recommend the Plugable USB 3.0 and USB-C Universal Labtop Docking Station for Web and productivity software for Office or at Home use. The Docking Station comes with both USB 3.0 and USB-C cables for flexible host connectivity cords. Docking System provides SuperSpeed USB 3.0 (5Gbps) link between laptops dual HDMI video audio, network, outputs, wired Gigabit Ethernet, 3.5mm combination audio jack. While featuring two USB 3.0 ports, and four USB 2.0 ports. This particular Universal Labtop Docking System is does not support Gaming Systems or Linus compatible or charge Host PC! However, it is compatible with Windows 11, 10, 8.x, and 7 systems, ChromeOS 100+, and macOS 10.14+. Plug and play driver installation through Windows Update; manual driver installation on Mac. Station is compatible with Dual HD Monitors that are equipped with 2 HDMI's, ports easily and connects to two HDMI monitors. Each supporting resolutions up to 1920x1200. While also supporting Lower resolutions such 1080p (1920x1080). - DisplayPort connections are not supported. - Does not support HDCP, will not playback encrypted or copy-protected content. - Cannot be mixed with non-DisplayLink USB adapters. All of Plugable's products are backed with a 2-year limited warranty for parts, labor and Seattle-based email support.
Date published: 2023-10-29T00:00:00-04:00
Rated

5

out of

5
by
Jakep90
from
Easy to setup
After using this for a couple weeks now I can saw I am happy with the quality. It was easy to plug and use right out of the box. The versatility and connectivity of this universal dock has cut down on a lot of unnecessary cables and devices. I would recommend this universal dock to others.
Date published: 2023-11-09T00:00:00-05:00
Rated

5

out of

5
by
carincomtoi
from
Perfect answer to maximizing my home office
This docking station has been a god send. The docking station is both convenient and practical. My husband uses this in his home office and it is wonderful. He has a Mac Book and as such can only plug and play a couple of items, this docking station however allows for him to use all of the tools he needs without having to sacrifice one or two tools for another. No more unplugging something to use something else. The plug and play capability straight out of the box means that it is a tool that ANYONE can use. Additionally, we kind of hate clutters of wires and this keeps everything neat and tidy in this aspect. We have a 3D printer and a secondary monitor as well as a few other items that need to be plugged in and this allows for all of these tools to just remain "plugged" in and there is no longer a need to unplug one to plug in another. All in all I give this a 10/10.
Date published: 2023-10-27T00:00:00-04:00
Rated

5

out of

5
by
Laoto89
from
Makes things convenient
This docking station is easy to use and makes adding all my devices convenient. I particularly like the USB c addition as my previous station did not have that. Fits nicely in a compact area and is easy to set up and use.
Date published: 2023-11-01T00:00:00-04:00
Rated

5

out of

5
by
Marty53
from
Super powerful
I'm thoroughly impressed by the quality and speed of this unit. It was just what I needed for connecting my monitors and ensuring that I had just about every single component linked to my laptop. This makes working remotely super easy, and I'm glad that I landed on this unit. I've been sharing this with all of my coworkers - Super reliable!
Date published: 2023-11-16T00:00:00-05:00
Rated

5

out of

5
by
Kas223
from
Quick set up
This has made my workspace so much better! I am more efficient and all my programs run smoothly. This was a very easy set up as well. I have plenty of ports for whatever I need. I would highly recommend this.
Date published: 2023-10-19T00:00:00-04:00
Rated

5

out of

5
by
RachelM
from
Love this docking station!
I have been working from home and have been needing to make things more efficient and this has been exceeded my expectations for what I've needed. It was incredibly easy and simple to set up the dual monitor setup.
Date published: 2023-11-08T00:00:00-05:00
Rated

5

out of

5
by
JeKo
from
Does as it's supposed to
This works well. I have a hybrid remote/local job so this tower was pretty ideal for organizing cords in my makeshift office. I find it more convenient than anything else in that sense. I have two monitors and their accessories connected to this. I can't speak for large amounts of power going through it, but it works great for me and serves its purpose.
Date published: 2023-10-19T00:00:00-04:00
Rated

5

out of

5
by
Gjames12
from
Great pluggable for my PC
I initially thought I would need to install drivers, but to my pleasant surprise, it worked seamlessly right out of the box. I connected it to my monitors and laptop, and it performed flawlessly. The monitors displayed at the perfect resolution I'm accustomed to. I'm absolutely thrilled with the outcome. I hope it lasts a long time.
Date published: 2023-11-14T00:00:00-05:00
Rated

5

out of

5
by
lizzy_23
from
Plug and play
We got this for my husband to use for his home office so he doesent have to take his docking station back and forth from work. It was very easy to setup, basically just plug and play. We are using the HDMI connections to his other monitors. One thing we were not aware of was that this docking station does not also charge the computer. He also has to plug in his charger instead of the docking station doing that as well. Not a huge deal but something to be aware of.
Date published: 2023-10-20T00:00:00-04:00
Rated

5

out of

5
by
Brit34
from
Easy to use
I got this to use with my daughter's laptop it's very easy to use the HDMI features are awesome the fact I can hook it up to USB to c or even micro mini b and it's so versatile makes it so much easier to import files from other devices. Very great quality..
Date published: 2023-11-09T00:00:00-05:00
Rated

5

out of

5
by
Charmion
from
Works great!
I work remotely and working is much more efficient with two monitors. This docking station was the perfect solution right out of the box. It is quick and easy to set up and has no issues running two monitors. For me, this is a must-have for my home office. I would recommend this docking station.
Date published: 2023-10-28T00:00:00-04:00
Rated

5

out of

5
by
AReviewer
from
Works Perfect
The Plugable USB 3.0, USB-C Universal Dock is a really great product to have. It has helped to make my life a lot easier. No more worrying about where to plug things and how to hook them up. Everything fits and works! The universal dock makes hooking up multiple monitors a breeze. I have three monitors hooked up to it as well as my mouse and keyboard. Setup took maybe 5 minutes for me.
Date published: 2023-10-16T00:00:00-04:00
Rated

5

out of

5
by
Trudymc7
from
Convenience and compatibility
The USB 3.0 universal dock makes it convenient to have all your usb plugs in one area. Having all the connectivity ports together, makes it easier to do more work in less time. Compatible with MAC and chrome.
Date published: 2023-11-22T00:00:00-05:00