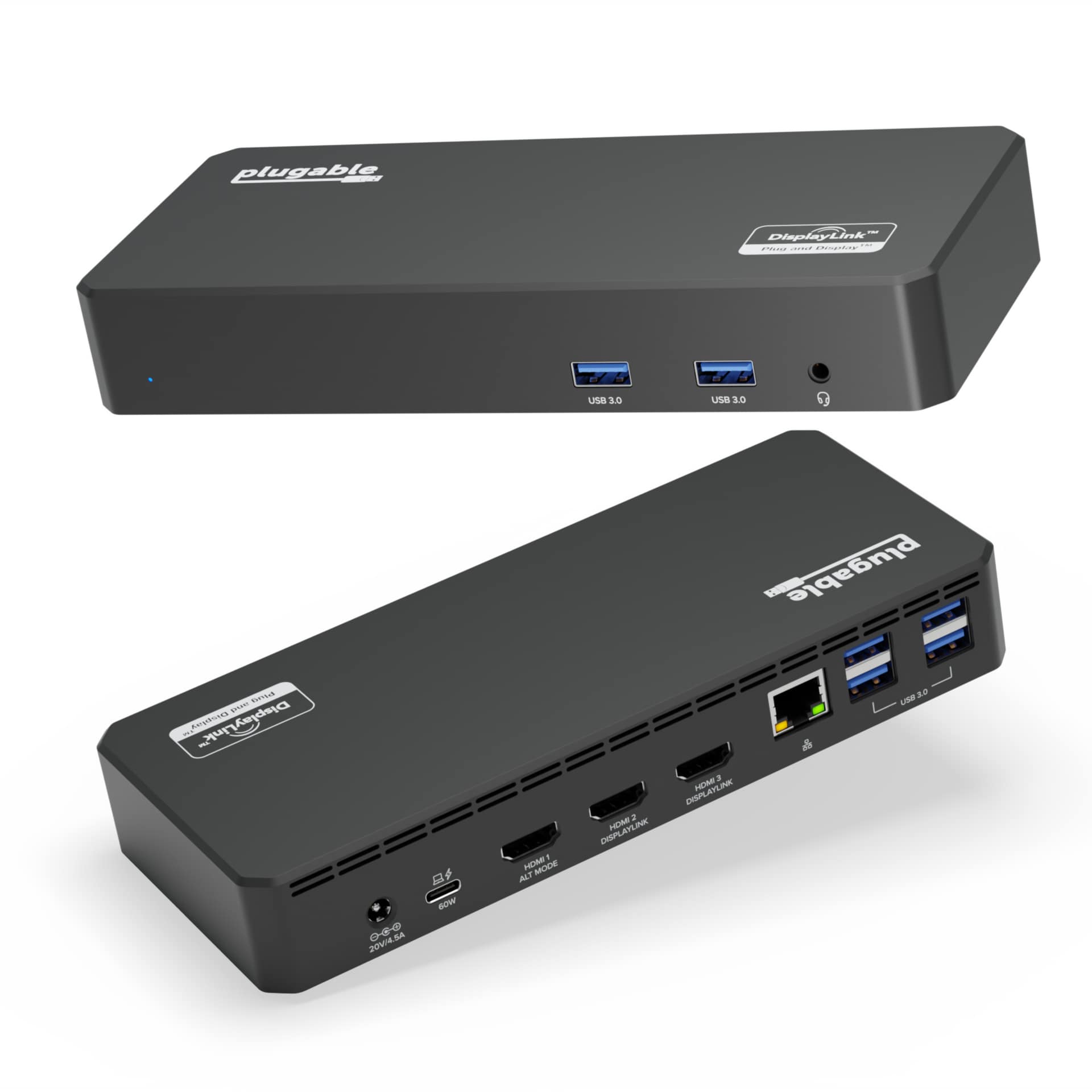 Quick tech specs
With a compatible USB-C or Thunderbolt 3 Windows,Mac,or ChromeOS laptop this laptop docking station can charge your device,connect up to 3 HDMI monitors,add Gigabit Ethernet,3.5mm TRRS headset jack,6x USB 3.0 portsTriple Monitor Display
Backed by Plugable's Seattle-based support team
3 HDMI video outputs including 1x HDMI output capable of 4K 30Hz,2x HDMI outputs capable of 1080p 60Hz using DisplayLink USB Graphics Technology
2 year limited parts and labor warranty
View All
Know your gear
The Plugable UD-3900PDZ USB-C Docking Station supports up to three HDMI displays via a combination of USB-C DisplayPort Alternate Mode ("Alt Mode") and DisplayLink USB graphics. Host charging to 60W via USB-C Power Delivery ("PD"), Gigabit Ethernet, audio, and 6x USB device connectivity. All through a single USB-C cable. See important notes regarding Alt Mode and PD compatibility below.

Graphics Performance HDMI 1 utilizes USB-C Alt Mode which has a direct "pipeline" to the host graphics processor (GPU), and connected monitor will perform as if connected directly to the computer. The 2nd and 3rd HDMI ports are utilize DisplayLink DL-3900 USB graphics which leverages the host GPU & CPU; these outputs are ideal for office and web browsing work but may not perform well for 2D or 3D graphics applicatrions, full screen video, or video editing software and are not recommended for gaming.

Alt Mode and PD Compatibility Alt Mode video supported on select systems including Dell XPS 9350, 9360, 9370, 9380, 9550, 9560, 9570, 9580, Dell Precision 5510, HP Spectre 13"" x360 13t and many more. This dock can replace a USB-C power supply rated up to 60W on compatible host systems with USB-C Power Delivery (PD). DisplayLink graphics require Intel/AMD/NVIDIA GPU and driver. Cannot be mixed with non-DisplayLink USB graphics adapters and drivers (e.g. MCT, j5, or SMSC). HDCP/Blu-ray playback not supported.

Incompatible Systems Not compatible: macOS, ChromeOS, Linux, or Android. Not compatible with phones or iPad or Android tablets. ASMedia USB 3.1 controllers do not support Alt Mode at this time. Not recomended for use with Desktop computers.

In the Box UD-3900PDZ dock with stand, 1m USB-C cable, and 90W (20V, 4.5A) power adapter with US power plug.
Plugable Plugable USB C Triple Display Docking Station w/ Laptop Charging
is rated
4.80
out of
5
by
11
.
Rated

5

out of

5
by
bm86
from
Awesome For Home Office
This is perfect for my home office setup. This display dock allows me the ability to connect 3 monitors to my laptop at one time. On top of that this dock uses the latest USB C technology which is extremely fast! I love the ability to have extra USB 3.0 ports and earphone ports on the front of the dock. I am currently using this with a HP laptop, but it looks like it is universal and can be used with any brand. Definitely a great alternative to the expensive OEM docking stations!
Date published: 2023-04-12T00:00:00-04:00
Rated

5

out of

5
by
Nish
from
Great Dock!
This display dock is fantastic. It's unquestionably the greatest I've ever used. The setup is quite simple, and there are no flickering problems with the images. For anyone who needs to connect extra screens to their computer, the triple display dock is a great addition. I love that it helps me get the most out of my laptop because of its simplicity, compatibility, and productivity-boosting capabilities. I definitely recommend!
Date published: 2023-04-10T00:00:00-04:00
Rated

5

out of

5
by
aa_ron
from
Easy setup great features
The Plugable USB C Triple Display Dock with PD has been a lifesaver for me in terms of productivity. As a MacBook user, I was initially hesitant about compatibility as these struggle with multiple screens, but after installing the driver, setting up my two external monitors was a breeze. I was impressed with how easy it was to connect my MacBook Pro to the dock and get it up and running. The screen load time is also incredibly quick, which is a huge plus, I hate waiting for screens to be recognized and connect. Since using the dock, I've noticed a significant improvement in my workflow. I can easily switch between applications on my laptop and external displays, which has made multitasking much more efficient. The dock's multiple ports also make it easy to connect all of my peripherals and devices, eliminating the need for additional adapters or cables. Overall, I highly recommend the Plugable Dock to anyone looking for a reliable and efficient docking station. The ease of setup and quick screen load times have made it invaluable, and I'm sure it will do the same for anyone who needs to connect multiple displays and devices to their laptop or desktop computer.
Date published: 2023-05-03T00:00:00-04:00
Rated

5

out of

5
by
Csell07
from
Great for multiple displays
Working from home has spoiled me to need multiple monitors. When I returned to the office, I needed a docking solution that let me hook my personal laptop to 2 monitors. This worked flawlessly and let me connect easily with one USB-C connection to my Lenovo laptop.
Date published: 2023-05-05T00:00:00-04:00
Rated

5

out of

5
by
JennyT
from
Crystal clear screens
First off, you have to set it up first with DisplayLink Manager after that you're ready to go. They picture on my three screens are crystal clear. This is a game changer. I get so much more done, all while my laptop is charging. I would recommend this product.
Date published: 2023-05-03T00:00:00-04:00
Rated

5

out of

5
by
Dockingmaster
from
Works great!
Great little docking station and it works really well with each of my three monitors that I have for work. I have to have all these monitors and this docking station provides a hdmi accessible spot for all of them. Good stuff!
Date published: 2023-05-05T00:00:00-04:00
Rated

5

out of

5
by
austin_c
from
All of the screens you could ever need.
The Plugable USB C Docking Station? For work it has been an absolute game changer. It's like the Swiss Army Knife of tech – does loads of stuff and does it well. It's your go-to if you're all about multitasking. You can plug in three monitors and suddenly, you've got tons of screen space. Great for folks into design, finance, you name it. I also appreciate not having to use another cable to charge my laptop in the process. The power delivery does it's job. It's a solid piece of tech and if you're looking for multiple screens from your USB - C device, it gets my recommendation.
Date published: 2023-05-10T00:00:00-04:00
Rated

5

out of

5
by
Kmed5
from
Love this
This is one product that is a must have. We use this to connect multiple monitors to a laptop. We currently have a triple setup that works great for our needs. It's easy to use and setup and hasn't given me any issues so far.
Date published: 2023-05-08T00:00:00-04:00
Rated

5

out of

5
by
Gretchen
from
Pluggable USB c triple display dock
I am very impressed with the plugable USB c triple display dock. It is a bit antiquated but it does the job. It pairs easily. The resolution could be a little better. It is designed from about 8 years ago.
Date published: 2023-05-20T00:00:00-04:00
Rated

5

out of

5
by
Jgoo
from
Great Solution!
This is a great dock for anyone looking to have a multiple display setup. I set it up with my 2019 MacBook Pro and it worked perfectly right out of the gate. Super easy to use and setup. The picture on both monitors is clean and responsive. I would highly recommend.
Date published: 2023-04-21T00:00:00-04:00
Rated

5

out of

5
by
ASyc27
from
Works great! Great Value!
The Plugable USB C Triple Display Dock is a sleek and versatile accessory that allows you to connect multiple displays and peripherals to your computer. With three display outputs, including two HDMI ports and a DisplayPort, you can easily connect up to three external displays to your computer. In addition to the display outputs, the dock has several USB ports, including a USB-C port with Power Delivery for charging your laptop while using the dock, as well as three USB 3.0 ports for fast data transfer. The dock also includes a Gigabit Ethernet port for fast and reliable network connectivity. Setting up the dock is simple and straightforward, and it's compatible with both Windows and macOS. Overall, the Plugable USB C Triple Display Dock is an excellent investment for anyone who needs to connect multiple displays and devices to their computer. Whether you're a graphic designer, video editor, or just need to expand your computer's connectivity options, this dock is a reliable and efficient solution.
Date published: 2023-04-26T00:00:00-04:00