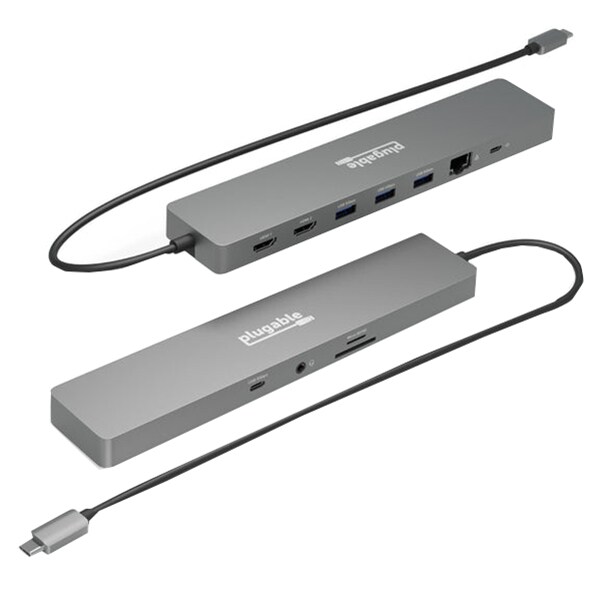 Quick tech specs
This USB-C hub offers a wide range of connectivity options in a single device to connect multiple peripherals and devices simultaneously,essential- ly everything for work at your desk or on the road
2x HDMI ports for easy screen expansion
Plugable product is backed by a 2-year limited parts and labor warranty
2x 4K 60Hz HDMI ports,100W pass-through charging,1x USB-C,3x USB 3.0,SD and MicroSD slots
Compatible with Windows 10 and newer,macOS 11+,and ChromeOS
View All
Know your gear
Is it a hub or something more? The 11-in-1 Hub from Plugable is packed with the features you'd expect from a docking station. Features like 100 W USB-C pass-through charging, dual 4K 60 Hz-capable HDMI ports, 3x USB 3.0 (5 Gpbs) ports, a USB-C (5 Gpbs) port, SD and microSD card slots, and a 3.5 mm audio port. Heck, it even has Gigabit Ethernet (1 Gbps) because you can't always count on the Wi-Fi around here.

Despite being flush with features, it's still small enough to toss in your bag and take it to-go. Perfect for commuting to and from a hybrid office.
Plugable Plugable 11-in-1 USB-C Hub 100W Pass-through,Dual HDMI, Driverless
is rated
4.60
out of
5
by
10
.
Rated

5

out of

5
by
jmb1322
from
Great, Versatile Hub
Although this hub is lighter than I expected, it still appears to be of good quality. It comes with the integrated USB-C cable to connect to your PC/laptop and is a bit longer than previous ones I have used. The base has rubber grips which aid with stability and lack of movement. All the appropriate ports are on the back (HDMI x 2, USB, lan, etc.).The two HDMI ports worked fine with my Windows laptop, allowing me to be able to use three screens. With my MacBook, due to its limitations, only one screen can be used to extend the desktop. The other ports however can be used fully, with up to 5 Gbps transfer depending on the different USB ports and external hard drives attached. Overall, this is a sleek, quality, and portable USB dock that has plenty of options and flexibility to it.
Date published: 2023-04-07T00:00:00-04:00
Rated

5

out of

5
by
Zoney
from
Works great
I used this for work so that I could have one display be a spreadsheet and the other be my email/internet browsing and it worked great for that. I also like how it has a slot for SD cards because no laptops or desktops come with a slot for them anymore.
Date published: 2023-04-06T00:00:00-04:00
Rated

5

out of

5
by
mflor3
from
Good USB-C Hub
The USB-C11 hub has been a useful tool to allow for a nice work from home setup. I needed a new hub since my previous one was giving me issues with delayed response time with my keyboard and wireless mouse connectivity and intermittent failure with the HDMI ports. I have not experienced with this product and has been reliable. I like that you can charge your computer straight from the hub and the cable is longer than other hubs I've used in the past which comes in handy. It has a sleek and lightweight look and blends well with my computer.
Date published: 2023-03-30T00:00:00-04:00
Rated

5

out of

5
by
ADeJohn917
from
Good product
Works well, it's easy to use. The plugs are a good quality as well as the plastic part of it. You don't need to worry about it breaking if it's dropped or just everyday wear and tear. Overall I'd say this is definitely one of the better quality hubs.
Date published: 2023-03-23T00:00:00-04:00
Rated

5

out of

5
by
Jeanie95
from
Very Happy With This Product
You almost never know what you are going to get with products in this day and age, but I am very happy with this product. It is exactly wha I needed to make office work with my laptop a whole lot easier and it actually looks really good. I like that it is slim and not big and clunky at all.
Date published: 2023-03-31T00:00:00-04:00
Rated

5

out of

5
by
Flutie63
from
11 in 1
This 11 in 1 is absolutely a handy thing to add to your computing needs. Can connect two monitors using the hdmi ports. 3 usb ports for charging phones or etc. the bonus for me is the card readers. Just plug in your card and access your photos or whatever you need to from your card. Shipping was fast and reliable.
Date published: 2023-03-23T00:00:00-04:00
Rated

5

out of

5
by
Sbusch857
from
Great Plugable Ethernet
I got this Pluggable 11-1 USB C Hub with Ethernet for my personal computer and it works pretty good. I've tried some other ones but didn't have much success with them like I did with this brand. Overall good product and I recommend it.
Date published: 2023-03-19T00:00:00-04:00
Rated

5

out of

5
by
glitterandcamo
from
Perfect for WFH
I work from home and need two computer monitors to keep up with productivity. This product comes in handy when using those two computer monitors, when I need to charge my mouse and keyboard, as well as connecting my mouse to its bluetooth usb. I have already recommended this game changer to two of my good work friends, which have now bought one. I definitely cannot go a full work day without this hub. It meets all expectations!
Date published: 2023-04-24T00:00:00-04:00
Rated

5

out of

5
by
ChitChatMom
from
Great USB C
I needed one of these in our house and have for awhile now, so I am glad I found one finally. This works great for things that need a USB C hub for it. And it has ethernet too which is always good to have at home too for different things.
Date published: 2023-03-18T00:00:00-04:00
Rated

5

out of

5
by
jofer49
from
Huge Convenience!
Plugable Technologies USB-C 11-in-1 Hub with Pass-Through Charging station makes using all your corded devices look tidy. The host interface USB-C 5Gbps can deliver up to 100W using Windows 10 and later or MacOS 11 and later laptop. There is great dual display at 4K 60Hz HDMI for two monitors, 3 USB 3.0, 1 USB-C, SD & MicroSD as well as Wired Gigabit Ethernet and a 3.5mm Audio Jack. All that and you will not believe how little space it actually takes up. It has a beautiful sleek design and professional color. Its the best I have used.
Date published: 2023-03-23T00:00:00-04:00