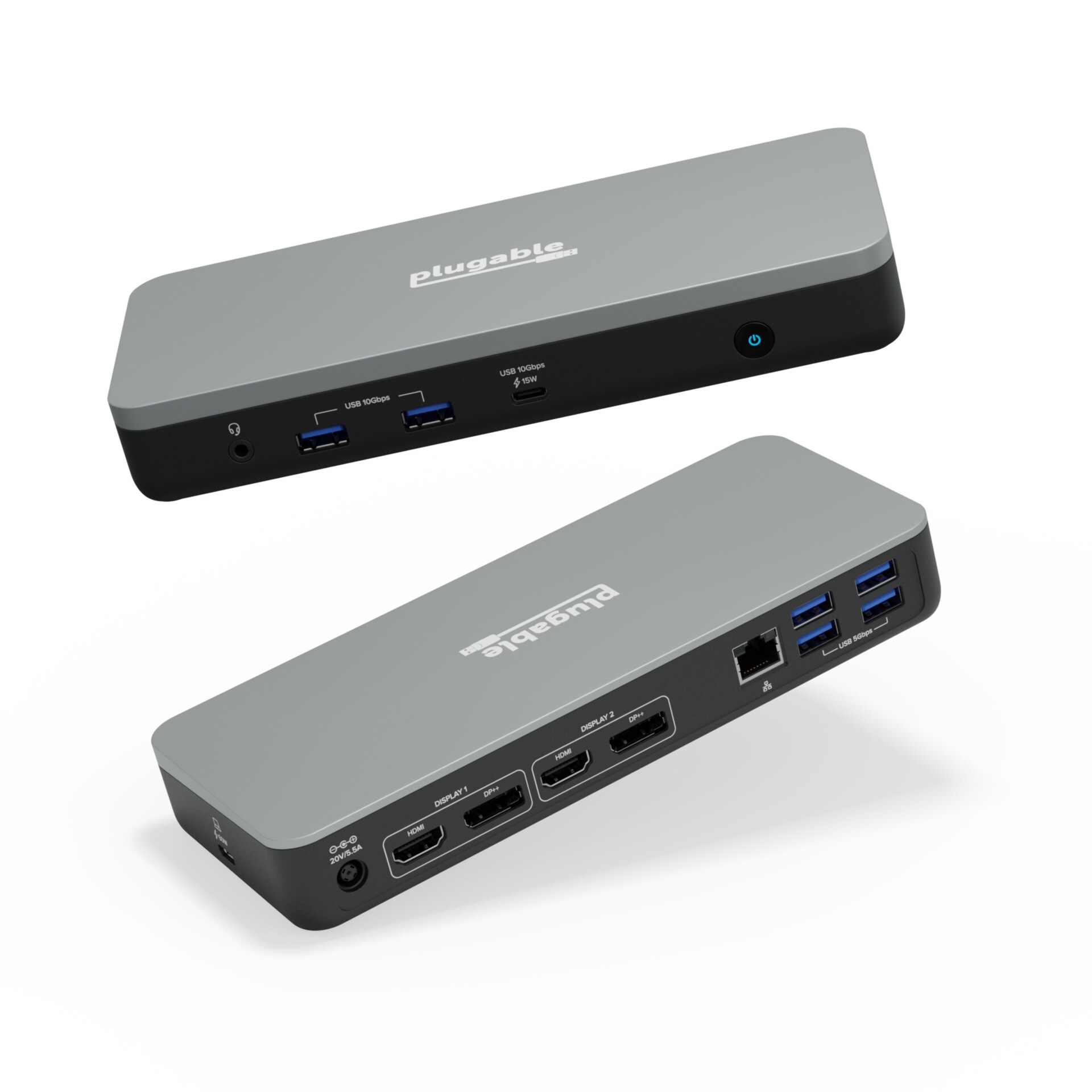 Quick tech specs
Designed specifically to work with Chromebook,this 12 port dock provides a seamless solution for connecting laptops to classrooms. The Google certification means enhanced security and functionality for users
Wired gigabit Ethernet port,1xUSB-C,6xUSB-A,com- bination audio port
60W Charging
Backed by Plugable's 2 year warranty
Supports up to two 4K 60Hz HDMI or DisplayPort monitors
Compatible w/ChromeOS,Windows 10 or newer
Supports secure,Google-managed firmware updates in ChromeOS
View All
Know your gear
Strong security, simplicity and cost efficiency has made the Chromebook a popular choice for students, teachers, and government employees. When you connect that to a docking station with two HDMI ports and two DisplayPort ports (standardize on one or a mix of both) for extending two displays and up to 4K 60 Hz resolution, 60 W host charging, Gigabit Ethernet, combination audio port, 4x USB 5 Gbps ports, 2x USB 10 Gbps ports, and 1x USB-C 10 Gbps port, you go from laptop to productivity powerhouse.
Plugable Dual 4K USBC Dock,Works w/ Chromebook Certified, Driverless
is rated
5.00
out of
5
by
10
.
Rated

5

out of

5
by
Sam412
from
Nice!
This is a great little docking station. It does the exact job I need it for and it is very small and compact which is nice for being able to use it basically anywhere I want to use it and have my entire desktop computer basically wherever I want to have it
Date published: 2023-03-31T00:00:00-04:00
Rated

5

out of

5
by
valvh
from
Works great
I got a Plugable USB-C Dual DisplayPort & HDMI Display Docking Station because I upgraded to a laptop with two monitors. This docking station was easy to set up. The quality of it seems to be nice and the docking station looks premium. It seems to be working flawlessly for what I need. I really like that it is light and works nicely with my Chromebook and 2 monitors. The packaging comes with UD-MSTHDC Docking Station, power adapter, USB-C and USB-C cable.
Date published: 2023-04-02T00:00:00-04:00
Rated

5

out of

5
by
ParisJ
from
Great Features
I really enjoyed using this device to connect my monitors and computers. The instructions were very easy and simple. I liked how I could accomplish tasks at a much faster rate. I really liked how I could charged two different devices at the same time.
Date published: 2023-04-06T00:00:00-04:00
Rated

5

out of

5
by
cake baker
from
Efficient
This docking station makes working from home a breeze. I am able to plug in all of my accessories into this one powerful docking station and I am good to go. Connectivity is easy and the design is sleek and small, so it doesn't take up much space on my desk. Definitely was an upgrade to all of my cording and wiring.
Date published: 2023-03-29T00:00:00-04:00
Rated

5

out of

5
by
HerminaV
from
Reliable and Portable
This hub is well made and highly functional. I'm using it in my private lab for few weeks now and absolutely no lag or issues. I was able to connect my laptop quickly & works great with two additional screens.it's portable so it's easy to carry around if you want to. It also comes with a usb-c to usb-c cable. I don't have to worry anymore about plugging and unplugging the several devices needed from my laptop because they are all plugged in to this dock and use everything simultaneously. Life is lot easier with this. I would recommend this to all if you're in market for this kind
Date published: 2023-04-03T00:00:00-04:00
Rated

5

out of

5
by
sassykygirl72
from
Great device
My niece uses this when she's doing homework. It's easy access for her to plug-in her chromebook, phone and other devices all at 1 time. She gets her homework done in half the time. It's very durable and great quality. I would definitely recommend this product to everyone.
Date published: 2023-03-24T00:00:00-04:00
Rated

5

out of

5
by
Holly
from
I did not know how badly this was needed
I did not know how badly this was needed in my life. I love that it is so small yet packs a nice punch of power. This is a good docking station that works FANTASTIC with my laptop. I think everyone should give it a try because it's something that you don't think you need, yet when you get it, you're using it non-stop! If something happens to this one, I will be repurchasing it. I already bought one for my tech husband, who also gives it an A+.
Date published: 2023-05-08T00:00:00-04:00
Rated

5

out of

5
by
ams5414
from
Added Productivity
I have multiple devices that I use at work but the one I really enjoy is my Chromebook however I found myself struggling with the tiny screen. This docking station has allowed me to plug in additional monitors and utilize the device to its maximum capacities. It's super easy to get everything plugged in and it works flawlessly.
Date published: 2023-04-22T00:00:00-04:00
Rated

5

out of

5
by
Smalltown6
from
A must have .
Love this laptop docking station. Quickly charges with 60w of power anytime.works with Chromebook,works like a charm. You get all the latest updates while your laptop is connected to the dock . Highly recommend!
Date published: 2023-04-13T00:00:00-04:00
Rated

5

out of

5
by
Mrsbasic222
from
Great for work or play
This Plugable 12-in-1 Dual 4K Display USB C Docking Station is truthfully a must have. It's perfect for gaming, stock trading, and even if you work from home. You can even use it as a charger and charge multiple chromebooks if you have kids that use them at school. I absolutely love this. I've found it to be easy to set up and have attached it to my workstation at home. Highly recommend! There are 4 usb ports on one side and 2 on the other. It has a headphone jack
Date published: 2023-03-22T00:00:00-04:00