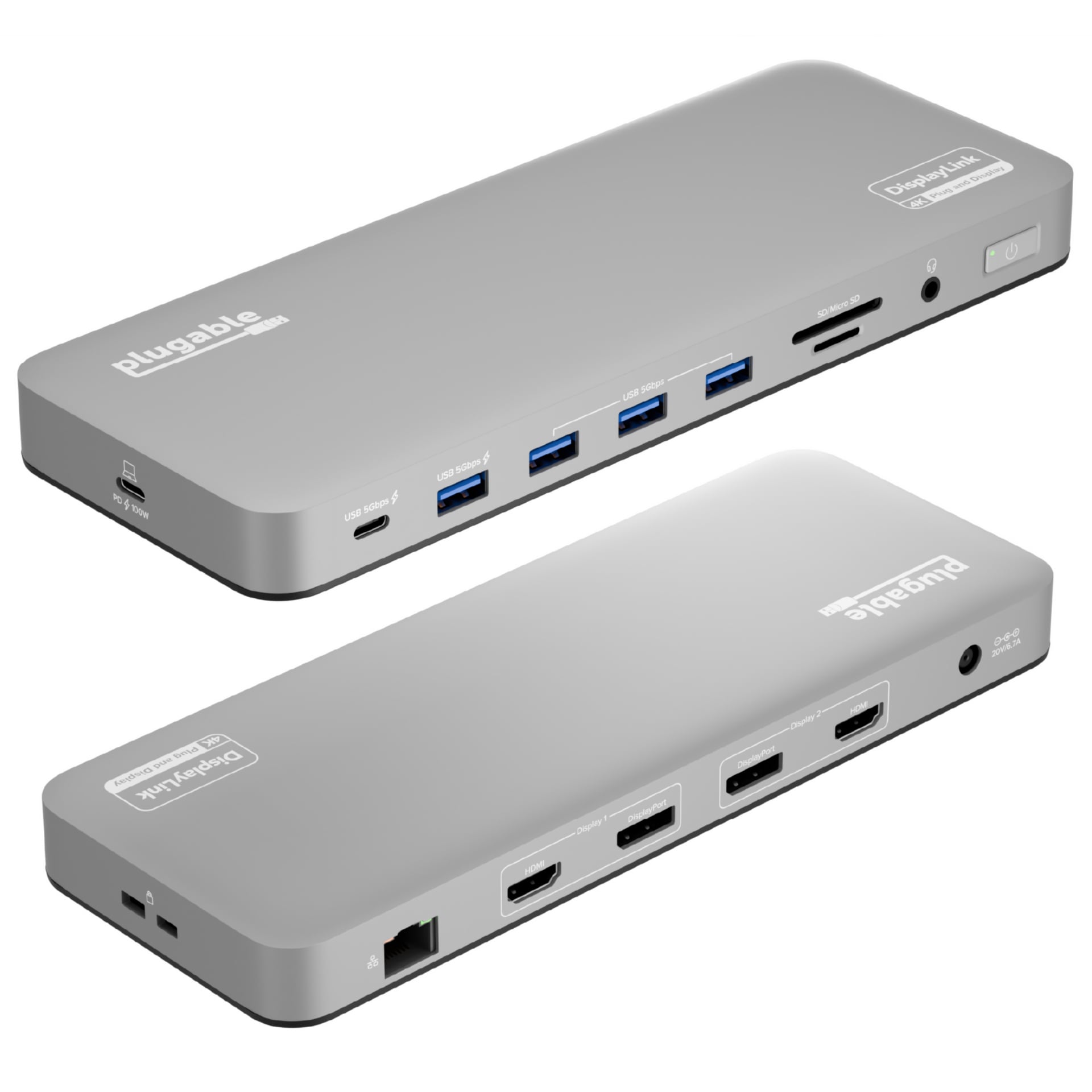 Quick tech specs
Fully Connected 13-port USB-C docking station with 2x 4K monitors in HDMI,DisplayPort or both
Compatibility with USB4,Thunderbolt 4/3 or full-featured USB-C port,and Windows 10,Windows 11,ChromeOS100x or later,and macOS 11+
Backed by Plugable's 2-year limited warranty
5x USB 30 ports,SD and microSD card readers,audio in and out ports,an Ethernet port,and 100W charging
Dual display docking station with 2x HDMI ports and 2x DisplayPort ports for ultra smooth video
View All
Know your gear
The Plugable UD-6950PDH utilizes DisplayLink technology to offer dual 4K 60Hz monitor support. And thanks to our Flexible Dual Display Outputs, the UD-6950PDH can be configured three ways: DisplayPort + DisplayPort, HDMI + HDMI, or DisplayPort + HDMI. An excellent option for adding two extra screens to your computer, even if it might otherwise only support one-like an M1 or M2 MacBook. Pair that with 100W charging to keep smartphone, tablet, or other devices powered, 5x USB 3.0 ports, SD and microSD card readers, audio in and out ports, and an Ethernet port, because you can't always count on WiFi in this place. All connected by a single 1m (3ft) USB-C cord back to your laptop.

HDMI, DisplayPort, or Both

This hub is designed for business, including a set of hybrid video port options that lets you configure your video connection to best suite your needs.

With 2x HDMI ports, and 2x DisplayPort ports powered by DisplayLink USB graphics, this Plugable docking station ensures both of your monitors will reach resolutions up to 4K 60Hz for a smooth frame rate. If you're going to use a high-resolution monitor, you're going to need a docking station with a high refresh rate to take advantage of all those pixels.

??

Just a heads up, this docking station requires a DisplayLink software download. This is typically automatic through Windows, but you will need to download the DisplayLink Manager App to get full functionality on macOS.

4K Is Just the Start

The first thing you'll notice when connecting to this laptop docking station is the crisp detail splashed across two 4K screens. But there's a lot more to discover.

The UD-6950PDH has 5x USB 3.0 ports with transfer speeds up to 5Gbps.This USB-C laptop docking station also has audio in and out ports for your headphones and mic, SD and Micro SD card readers, and an Ethernet port, because you can't always count on the WiFi in this place.

I Have the Power

Power Delivery-charging your laptop through a USB-C port-can get confusing. How much power is enough? How much is too much?

The UD-6950PDH for Notebook/Tablet PC/Desktop PC/Smartphone/Monitor has you covered. With 100W charging, it's ideal for power-demanding workstation setups-even under a heavy workload. And if your laptop needs less power, the dock communicates with your computer to negotiate the perfect charge level.
Plugable Dual 4K HDMI and DisplayPort USB-C Docking Station
is rated
4.80
out of
5
by
11
.
Rated

5

out of

5
by
Scroll427
from
Works great
This usb c hub is great for my work from home setup. It charges my laptop while connecting my monitors, headphones, Ethernet cable, keyboard, and mouse. It's been a blessing only having to plug in one cable. The quality of my monitors haven't changed and the charging seems just as fast as my normal charger. Overall a great laptop dock
Date published: 2023-04-10T00:00:00-04:00
Rated

5

out of

5
by
jrsltx
from
Great specs but not good for Macs
This doc has great specs and that is why I was so excited about it. However, I wouldn't recommend it for Mac users. You need to download drivers for the doc (which isn't bad but a bit of a pain). But my biggest issue is that the drivers give limited resolution options to 4k monitors. You either get tiny tiny text or what looks like 800x600. There isn't much in between. I like to have granular control over my tech and this doesn't give you that on the Mac version. I want to like this but I don't think it is great for Mac users. I bet there are more options for Windows users.
Date published: 2023-04-13T00:00:00-04:00
Rated

5

out of

5
by
Dips
from
Amazing Product!!
I had been searching for a good docking station from so long.I need it for my home office something to be able to connect multiple monitors to my laptop, with ports left for other peripherals. After getting this docking station,I literally Surprised how everything can work through one usb c connection. It Works right out of the box, easy to follow instructions, so far so good. This product is excellent, it's lightweight and very accessible.With dual 4K HDMI displays compatibility, I can easily connect multiple devices to my laptop and transfer data at lightning fast speeds. I love that I can set up to 2 monitors, which comes in handy for me to share different screens during zooms, plus I can hook up several USB connections.I don't use my laptop screen when connected to monitors, but if I want I can have all 3 (laptop + 2 monitors) in extended mode. I have 2 monitors, 1 usb for mouse & keyboard, 1 usb for my headphones and i can connect my speakers too. They are all performing great, so no doubt about multiple connections. The HDMI port provides crystal clear video quality and the USB ports allow me to connect all of my peripherals with ease. No functionality issues whatsoever. Simply Plug and play. Couldn't have been any easier. The setup for working from home is perfect for me now thanks to this little gem. Overall this USB C Docking Station is an incredibly versatile and useful device. With 5 USB ports, HDMI port, SD and MicroSD card reader port, a gigabit Ethernet and Audio input/output port,it has everything you need to connect your devices and transfer data quickly and easily. With the help of this hub i am able to run all my USB accessories, two monitors, and charge my laptop by only plugging one cable into the laptop. Whether I'm working from home or in the office, I don't have to worry about fumbling around with multiple cords and adapters. I simply plug everything into the dock and get to work. If you're looking for a way to expand your laptop's capabilities and simplify your setup, I highly recommend checking out this docking station. Completely satisfied with product!!
Date published: 2023-05-06T00:00:00-04:00
Rated

5

out of

5
by
Cspierdowis
from
So Functional
Wow, this literally does do much. It's your go-to station for your computer. You should not need anything else. My laptop has only one USB port, so I was very pleased to get this to test. This was a whole new animal for me, so it did take me a minute to figure out. Ironically it's plug and play. But, since it can do so much, it's more of getting used to your own laptop in its settings for multiple screens, etc.. now I can even set my projector up as an additional screen. I tested it on the ceiling first, lol, before pulling out my screen. I can use and charge my electronics via the C port. I can plug my headphones into it. I'm really impressed by this set up. It also did not get hot to the touch while using it so far.
Date published: 2023-04-23T00:00:00-04:00
Rated

5

out of

5
by
giovannimyles
from
Dual 4K is so nice
There are a lot of docks on the market but few support both dual 4K and enough watts to keep the laptop charged. This has a small footprint which I like but is really powerful. My new go to product. It has both HDMI and DP as well as ethernet.
Date published: 2023-04-10T00:00:00-04:00
Rated

5

out of

5
by
lizzyliz
from
Works great for dual monitors and laptop
The Plugable USB-C Dual 4K Display Dock 100W comes with everything needed to make your laptop display with other monitors. It gives full and good resolution. I installed the driver from the website and it was very smooth process. It has vents so doesn't really overheat. The dock does require its own power adapter which is what provides all the power to the ports and also includes laptop charging. Definitely great for those that need the extra monitors or great for remote work/travelling. Some of the specs are: ~5 USB 3.0 ports (3 in the front, 2 in the back), Dual display, both supporting HDMI or DP (up to 4K 60 hertz), Ethernet jack~Headphone/Speaker 3.5mm jack, Microphone jack, SD and micro SD card slots. The dock connects to your laptop via the USB C jack and supports up to 100W charging power to your laptop
Date published: 2023-04-28T00:00:00-04:00
Rated

5

out of

5
by
KenB903
from
Works Great
This is a must have for your laptop. It has more ports than I'll ever use, but nice to have that many. I use for my HD monitor and charging phone, micro slot, and HDMI. This is super handy and really makes connecting things to laptop simple. Seems well made and doesn't take up much space. This is a must have and a great addition. Haven't had any problems with connecting anything at this point. Good product.
Date published: 2023-05-04T00:00:00-04:00
Rated

5

out of

5
by
WKinCLT
from
Powerful docking station
This docking station is a real powerhouse. It offers 100 Watt charging, a slim profile, a small footprint, and a dual 4K display ability. This particular docking station has just about everything that you need within its housing. Here is a list of all the items that are included USB-C ports, 5 total USB ports, 2 HDMI ports, 2 display ports, headphone input, microphone input, SD, and microSD card, input port. This small but powerful docking station is the ideal setup for my home office needs consisting of 2 monitors, and 1 laptop.  All the power supply and connecting cables run through this docking station and it helps to keep my area clean and neat.  A must have for anyone who likes to multi task and have multiple screens.
Date published: 2023-04-24T00:00:00-04:00
Rated

5

out of

5
by
osufan59
from
Great
This Plugable Technologies - Plugable USB-C Dual 4K Display Dock 100W is really great. It makes connecting all my various devices and monitors or screens super easy. I can have everything together and still have plugs for charging or any other needs.
Date published: 2023-05-04T00:00:00-04:00
Rated

5

out of

5
by
Syed
from
Best for Dual Displays
I work from home and I need 2 huge monitors where one is for my Mac other is for my Windows, this product works for both and I can tell you the results are crisp and 4K, what does that mean, it means the monitor does not flicker and I get the clarity and ease of use, I am happy I ordered this product, I would order more products from pluggable technologies as I see this product is reliable.
Date published: 2023-05-04T00:00:00-04:00
Rated

5

out of

5
by
jhornblower17
from
Great upgrade for my home office
I work from home some days and I always get annoyed at all the setup and cords I have to plug in (power cord, monitors, keyboard, mouse) before I can start working. Now with this docking station I plug in one cord and I'm ready to go! And because it has dual monitor capabilities, I can now invest in a dual monitor setup. The only thing i wish it had was a USB-C port to charge my phone but I can get another USB-A cord pretty inexpensively Altogether this is a fantastic upgrade and a nice sleek product that takes up very little space.
Date published: 2023-04-16T00:00:00-04:00