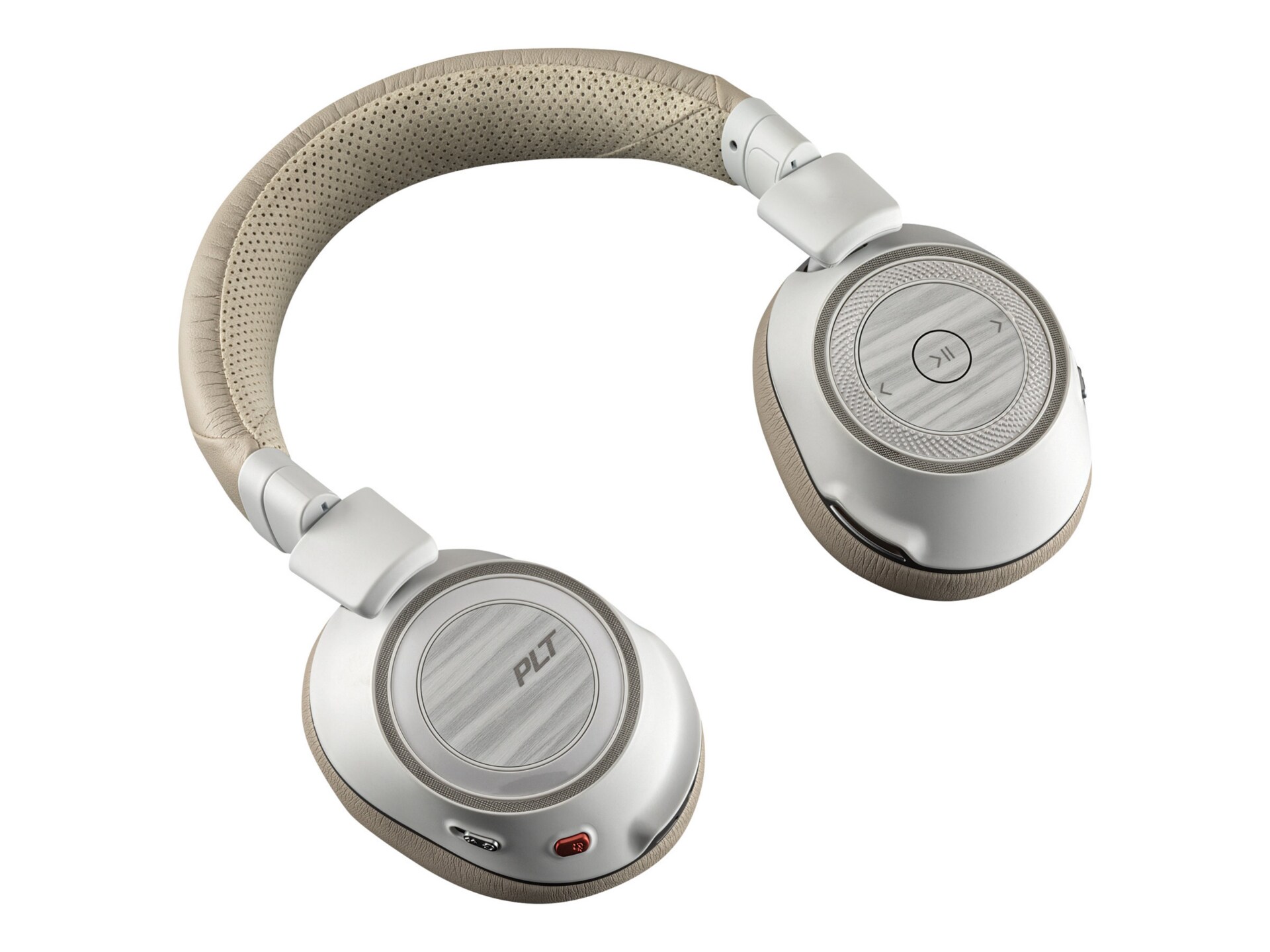 Quick tech specs
Headphones with mic
Bluetooth
NFC
3.5 mm jack
full size
wireless
active noise canceling
View All
Know your gear
Wherever work takes you, the Plantronics Voyager 8200 UC Bluetooth headset is ready to block background noise so you can concentrate on your work, your call or your playlist. Its contemporary, boomless design delivers comfort and style, while dual-paired microphones deliver Plantronics signature audio quality and clarity. Switch seamlessly from phone to laptop. By staying connected to two devices at once, you ll never miss a call. And with two levels of active noise canceling, 24 hours of listen-time and hi-fi stereo sound, Voyager 8200 UC helps you focus on the moment and leave distractions behind.
Compare the discontinued item to the replacement item:
Contact Sales Assistance
(800) 800-4239
,
Monday-Friday 7am-7:30pm CT
Plantronics Voyager 8200 UC - headphones with mic
is rated
4.46
out of
5
by
13
.
Rated

5

out of

5
by
wilburpoopoo
from
Excellent!
I bought this headset a few weeks ago. It's very comfortable, I love the dual earpiece feature and has great noise cancelling. I stood at the mailbox in a full wind and the person I called could still hear me with no issues. I chose this headset mostly for the dual earpiece and its ability to connect to two bluetooth devices simultaneously. I love that I can make wifi business calls on my laptop and instantly switch to my cell phone if I need to. It's worth every penny.
Date published: 2017-12-04T00:00:00-05:00
Rated

5

out of

5
by
pmac01
from
Great Product
Quality build, optimal feature set for business, great for travel.
Date published: 2018-04-01T00:00:00-04:00
Rated

5

out of

5
by
Scott90211
from
Perfect for working in less than ideal locations
I travel extensively for work and spend most of my time on the phone. Frequently, I'm in locations that are less than ideal with a fair amount of background noise.This headset has been fantastic. Not only can I easily hear what's being said on my call, I can speak without being concerned that the surrounding noice will be an issue. There are a number of headsets that are great for listening, but fail when it comes to having a microphone that allows for professional level communication.
Date published: 2019-02-26T00:00:00-05:00
Rated

5

out of

5
by
Pressclick
from
I'm trying to like them
I have owned this product for about a month now. The headset is very good. It has a nice solid feel to and seems to be very well built. All of the buttons and adjustment points have a good firmness and feel, so my suspicion is that it will last for a long time.Comfort is excellent. I have worn it for 4+ hours while barely noticing. Every once and a while I have to shift some it around to get off some pressure points, but I have never gotten a headache or anything like that after long usage. One minor comment on the ear cushions - they are almost too high quality. They are made out of some sort of super soft leathery material. I do like to walk outside during breaks while listening to audio books and can get a bit of a sweat going on a warm day. Hopefully that doesn't impact the cushions. Not sure if replacements are sold or not.In terms of noise cancellation, it also does a very good job. I have used a high end competitor product for many years, and I would say that these are about 70% as good without any weird air pressure sensations. They will definitely make a big difference for general office noise. However, I think I'm going to continue to take my old pair on flights where a little better ANC goes a long ways, and I had hoped this could be my only travel audio equipment going forward.Call quality is great. For me, the main appeal was to have a high end headset that I could use with my desk phone for calls and then switch back to music from my cell phone with minimal button pushing. I use the Plantronics MDA220 for the desk phone connection, and the headset works great for this use case especially as it can be paired with multiple devices at once. As one would expect, the call audio/microphone performance here is top shelf as is the case using them for cellphone calls.With all of that said, I do have a few complaints - one being fairly significant for me.The significant one is that the minimum cellphone call volume is too high. I am continually trying to set it lower and receiving the, 'volume minimum' audio alert. On many calls, I would turn it down 3 more notches if I could. Because the ANC is so good, I think having a lower minimum volume is even more important as you can hear the audio so well. My dad has severe hearing loss, and I already have mild tinnitus from I when was in the military which makes this a big deal for me. I usually set headset volumes down to where I have to semi-strain to hear it, and I even tried wearing earplugs with these; however, that made it too muffled. This is not an unheard of Plantronics issue as searching for it on the internet reveals a number of similar complaints.I really want to like this headset, but this could be a deal breaker for me. They are better with my desk phone because I can adjust the volume there separately and on the MDA220. Another user said they thought the volume was too high for music. The Plantronics app is pretty solid, so maybe a firmware/app update could allow minimum and maximum volume adjustment? It would be great if it could.In terms of buttons/switches, I think they could be laid out/designed better. The call connect/disconnect is basically the entire outside of the right earpiece; it's very big while the mute button is a tiny red button towards the bottom of the earpiece. I can mute/unmute as many as a dozen times during a 30 minute call while, of course, I only connect/disconnect at the beginning and end of calls. It would be awesome if these buttons were switched with the bigger one being the mute. I have to fish around for the mute button for a split second every time and have accidentally disconnected a couple of times in the process. I am sure that others will have different opinions on this, and this is probably a big ask - but switch configuration in the app would be a really cool feature.I'm not a big fan of the twisty volume thing. It's just a little futzy, and due to my issues with the mute button on the right side, I'm always afraid I'm going to bump something and get disconnected. My 5200 has nice, functional volume buttons that work just fine. This twisty thing seems over thought to me.All in all, it's a very good product. I keep thinking that really high end office call headsets will become the norm rather than the exception and am happy to see Plantronics pushing ahead here.
Date published: 2018-02-16T00:00:00-05:00
Rated

5

out of

5
by
TominChicago
from
Great mic for calls
I bought these because I spend a lot of time on conference calls and my co-workers always used to complain about the sound quality on any of the several pairs of ear buds I went through, so I was on the search for a great headset with a quality microphone. These work with my cell phone and my computer for both regular calls and skype/go2meeting/webex calls. My only complaint is that the 3.5mm aux port does not accept a 4-pole connector. Not a huge loss, but if battery were running low, it would be great to be able to connect this headset - including the mic - to a computer/phone headset jack without the need for bluetooth.
Date published: 2018-06-15T00:00:00-04:00
Rated

5

out of

5
by
ptpatrader
from
Terrible connectivity issues
If I turn off the PC or the headset, it can to take 2+ hours to get good connectivity with the USB device so the sound quality isnt terrible lo-fi. Its a frustrating device.I would not recommend it. My Bose Quiet Comfort's are so much easier and better quality. This headset is provided by my employer, which is the only reason I am using them.
Date published: 2018-08-13T00:00:00-04:00
Rated

5

out of

5
by
ITcrackerjack
from
Great Headset, Great Headphones, or Both?
For years, Plantronics has been know for making great headsets. Crystal clear microphone sound as well as light, comfortable, and good battery life. I've had my share of them. When you look at their marketing page for the 8200 UC, this is just another in a long line of quality headsets. But it doesn't tell the whole story.The Headset:As a headset, this does NOT disappoint. The microphone "beaming" is exactly what you'd expect from a great headset. Standing next to a fan or a weedwacker and the person on the other end can't even hear it. Haven't tried them in a busy room though.The Electronics:Being bluetooth enabled means you're not tethered. The range on these is the best I've seen in a bluetooth device. I easily went over 80' in my house (with 4 walls in between). I'm sure it could go further as I experienced no disconnect.ANC (active noise cancelling). This is my first foray into the realm of active noise cancelling so I have nothing to compare it to. However, I am very impressed with this implementation. The ear pads and construction already lend themselves to a decent amount of passing noise cancelling, but with the 2 levels of ANC, you can customize it to your preference. I tested it in from of a fan and it does eliminate the majority (70% maybe) of the sound from the fan (almost completely the low frequencies). As I've read elsewhere though, when turning on the ANC in a relatively quiet environment, there is the sensation of altitude pressure on the ears.The Headphones:I'll be honest, I had pretty low expectations for these headphones. I've got a pair of Yamaha Pro 400 headphones which sound fantastic and didn't think much else could match them for sound quality in the same price range. Plantronics is known for their headsets after all and is not really in the industry of hi-fi speakers. Well, I was surprised! As headphones, these sound absolutely amazing! As an audio fanatic (but not quite a audiophile), these are my new go-to headphones. They have a pleasantly flat frequency response with a touch of a warm tone. There is solid, well defined bass without being too pronounced (they're no Beats, which I very much dislike). The mids are strong and clear while the highs are very present, but less bright than some giving them that ever-so-slightly warm tone.Comfort:If this device didn't stand out already, this just adds to their shine. I've worn these for 3 hours at once and there was NO fatigue. The weight is slightly more than my Yamahas (which I'd expect having electronics in them). However, the head and ear padding is amongst the most comfortable I've ever worn.Configurability:When connected using the app (Android, iOS, Windows, Mac), you can configure a LOT of settings like call notifications, auto pausing, hearing protection, and MANY more. You can fine tune it to how your process works. The defaults are very good, however. [This review was collected as part of a promotion.]
Date published: 2017-09-26T00:00:00-04:00
Rated

5

out of

5
by
morleyds
from
Beautiful headset. Doesn't work with my Macbook
Just got this for work. Connects great and sounds great on my iPhone. It shows to be connected to my Macbook but it won't automatically switch over when audio is coming from laptop, and when it does it's intermittent broken static. Firmware is up to date. Not sure what to do with these.
Date published: 2018-11-05T00:00:00-05:00
Rated

5

out of

5
by
Jeffc23
from
Excellent Headphones - But Pricey
I work in an office, where I'm often on phone calls for 4-6 hours per day. I used to use a boom mic wireless headset, and decided to try these out. Boy am I glad I did! They provide excellent sound quality, and are able to drown out a good portion of the office ambient noise, helping me to stay focused on my tasks. I support and install Skype systems for work, so I'm familiar with many of the different headsets available on the market, and while this one is expensive, it is near the top compared to the competition. I love how comfortable these are for prolonged use, along with the battery life. I no longer have to worry about switching headsets in the middle of a call that's gone on too long. Music sounds very good, with no apparent audio quality degradation over the Bluetooth connection. I'm able to listen to music quieter than I used to with headphones without noise cancellation.All this said, they are going back. Unfortunately I can't quite justify the high cost at the moment. Once these are more competitive with the other market leaders I'll definitely be purchasing a pair!
Date published: 2018-06-15T00:00:00-04:00
Rated

5

out of

5
by
EvanCO
from
Amazing for call center and home use
I've used this headset for over a year now and have been very happy with everything from microphone quality, battery life, sound quality, noise cancellation, connectivity and comfort. I am in a noisy call center and use this headset for 10+ hours of continuous use per day. I have to use the MDA200 dongle to integrate with my hard phone and desktop and occasionally (once a week) the headset will lose connection with the dongle in between calls but resetting it (takes 5 seconds) always resolves the issue. Definitely worth the price. I haven't seen a drop in battery life over the year I've had them. I'm also impressed with music quality. I also have a pair of wired Bose noise cancelling headphones and I think that the noise cancellation is on par and the sound quality may even beat out the Bose set.
Date published: 2018-12-18T00:00:00-05:00