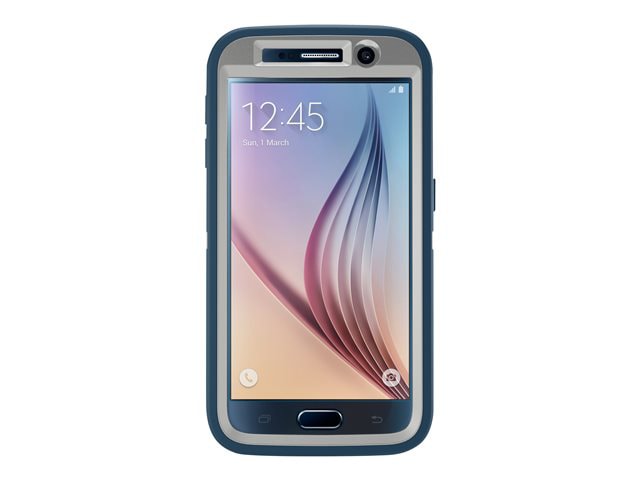 OtterBox Defender Series Samsung Galaxy S6 - protective case for cell phone
Mfg.Part:

77-51158
|
CDW Part:

4050494
|
UNSPSC:

53121705 span >
Protective case for cell phone
casual blue
for Samsung Galaxy S6
View Full
OtterBox Defender Series Samsung Galaxy S6 - protective case for cell phone
Product Overview
Main Features
Protective case for cell phone
casual blue
for Samsung Galaxy S6
5
5
Indistructable
These are a must have for your cell or mobil phone; absolutely superb technology; I had the Otterbox Defender on my Galaxy S4; I couldn't find my cell one afternoon; looked everywhere; it was sitting on top of my car; it blew off at about 50kms an hour, tumbled end over end down the pavement and hit the centre meridian cement barrier; had to double back and pick it up; expecting a smashed screen for sure, I picked it up and there was barely a scuff mark on it and it worked perfectly! I couldn't believe it! Great job all you folks at Otterbox! I've had one on all my phones well worth the investment.
5
5
Patrick review
Great product, great service I couldn't ask for more.
5
5
Like a Rock
Great phone protection, good resistance won't slide off items, won't fall out off the belt holder.
3
5
Screen protector reduces sensitivity significantly
While the case and the clip are rugged and convenient, the screen protector reduces my phones screen sensitivity by over 50%. doing basic things like typing or opening an app can become extremely frustrating!
3
5
Dent and scratch
I have bought 3 Otterbox defender series cases in the the 3 years. EVERY ONE has arrived damaged. The first one had a huge scratch on the face plate, the second one had a nick out of the bottom part of the plastic case and the third one also had a huge scratch on the face plate. For what these things cost, I expect to receive them in new condition since that is supposedly what I'm paying for. I won't buy any more.
5
5
My first Otterbox buy
Hi all,I bought this case a two weeks ago and so far I love it. It feels sturdy and I don't have to worry about it breaking anymore. I bought the Moroccan sky color and it is really pretty in person. Even more so than online. One note of caution however would be, make sure you clean your screen thoroughly before putting the case on. Dust or other particles will remain and you will just either have to live with it or remove the case to clean it.
5
5
Love these cases
Very good case. Saved my phone a couple of times when dropped. I take the screen protector off when it shows wear and put on a Zagg. The belt clip is solid and handy to use.
5
5
Fantastic case
I've had my S6 in a Defender case now for almost a year, has been dropped and battered but phone still looks brand new inside. Rubber cover to charging port showing signs of wear but gets charged every night so on to be expected. Great buy, well worth the money if you want to protect your phone.
^ Back to Top