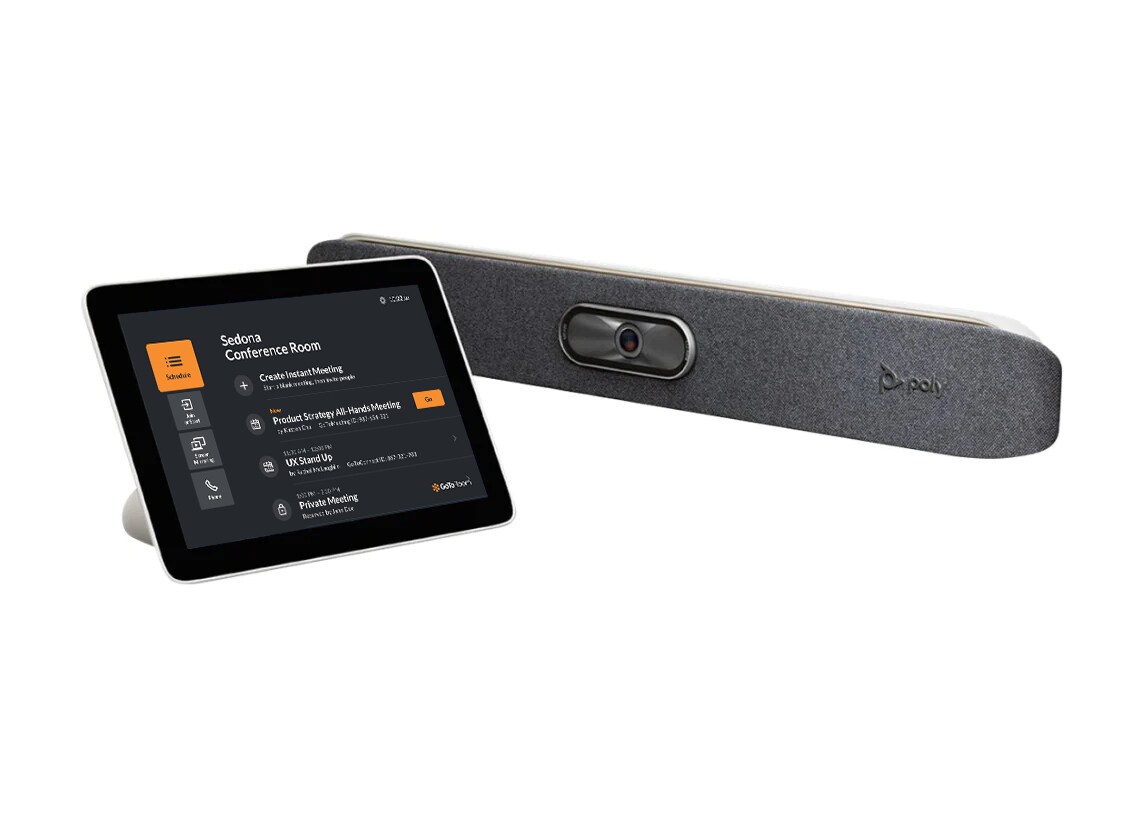 Know your gear
VIDEO CONFERENCING, MEET RADICAL SIMPLICITY

Just because your meetings are in small spaces doesn't mean those meetings aren't important. Meet the Poly Studio X30, an all-in-one video bar for huddle and small rooms. It's radically simple to use with GoToRoom built right in—no PC or Mac required. Voices are crisp and clear, thanks to a beamforming microphone array and acoustic chamber design. Setup, management, and maintenance are all streamlined, too. Say hello to lower IT costs.


CONTROL YOUR COLLABORATION WITH EASE

The intuitive touch interface of TC8 provides easy access to Poly video conferencing solutions. The sleek design features an 8" high-resolution touch display to ensure that the control options are clear and accessible. A single cable carries both power and data to reduce clutter. After using the Poly TC8, you'll never stress about getting your meeting going again. Having confidence that you can easily initiate, join, or share content lets you focus on better collaboration.

WHAT IS GOTOROOM?

Part of GoTo, the most comprehensive suite of collaboration products in the industry, [like GoToMeeting, GoToWebinar & GoToConnect], GoToRoom is an all-new hardware and software bundle that enables organizations to go from unboxing to meeting in a matter of minutes. Part of GoTo, the most comprehensive suite of collaboration products in the industry, GoToRoom is the simplest and most affordable way for businesses to transform conference rooms into collaborative meeting spaces.


GoToRoom license not included. Must be purchased separately.
Terms and Conditions
These services are considered Third Party Services, and this purchase is subject to CDW's Third Party Cloud Services Terms and Conditions, unless you have a written agreement with CDW covering your purchase of products and services, in which case this purchase is subject to such other written agreement.
The third-party Service Provider will provide these services directly to you pursuant to the Service Provider's standard terms and conditions or such other terms as agreed upon directly between you and the Service Provider. The Service Provider, not CDW, will be responsible to you for delivery and performance of these services. Except as otherwise set forth in the Service Provider's agreement, these services are non-cancellable, and all fees are non-refundable.
Software Details
Video conferencing kit
with Poly TC8
View Tech Specs