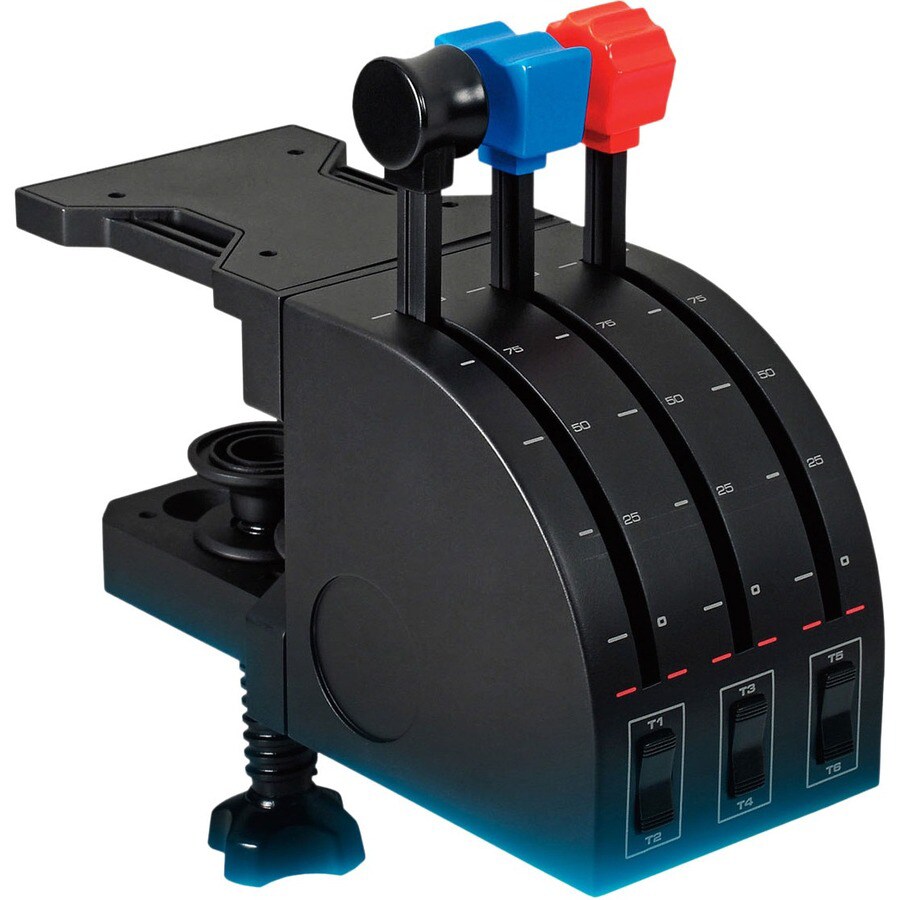 Quick tech specs
View All
Know your gear
If you like to fly multi-engine aircraft, most flight sim controllers leave you a couple throttles short. Flight Throttle Quadrant is the solution, providing three extra levers to control even more engines, flaps, gear, spoilers or any other programmable axes. In addition, three momentary, two-way toggle switches on the quadrant's base create a total of nine programmable commands. Add it to Logitech G Flight Yoke System for double the throttle axes.
Logitech Flight Throttle Quadrant - throttle - wired
is rated
3.78
out of
5
by
9
.
Rated

5

out of

5
by
SimHappy
from
Great throttle quadrant for the price!
Dell had super quick shipping on these. I bought two of them. The only downside is in X-Plane they are a bit "noisy" on calibration. Also these are entirely made of plastic but to be expected given the price. Saitek/Dell has a very reasonable price on these. I will be switching up once Honeycomb releases it Bravo Throttle Quadrant; these are to get me by until then given my CH Throttle Quadrant went bad.
Date published: 2020-05-16T00:00:00-04:00
Rated

5

out of

5
by
fosheem
from
Well designed, smooth action, highly recommended
Flexible configuration and smooth throttle levers are highlights of this well made device. You get extra colored throttle ends, so you can set it up however best reflects your needs. The switches are well made and have a solid feel. This works great with Microsoft Flight Simulator, where there is a practical default configuration, so you can fly immediately or reconfigure the commands, as you wish.
Date published: 2021-06-05T00:00:00-04:00
Rated

5

out of

5
by
Bryan
from
Good accessory that is hard to find
Solid piece of equipment - one switch doesn't have a good tactile feel but that's ok with me
Date published: 2021-05-18T00:00:00-04:00
Rated

5

out of

5
by
Gil D.
from
Works fine with MSFS2020.
The Logitech Throttle Quadrant worked just fine for my MSFS2020. I only needed to download the latest driver from Logitech. I am quite pleased with my purchase. Also, the product arrived ahead of the estimated shipping date. As always this product maintains the quality of other Logitech devices.
Date published: 2021-02-16T00:00:00-05:00
Rated

5

out of

5
by
Lilo
from
This is a great throttle quadrant!
This is a great throttle quadrant! There a different ways to mount it to your desk or whatever, so that was nice as I was able to set it up in a way that still allows me to retract my keyboard under the desk. It functions great in the application I'm using it for, Prepar3D. A bonus feature I didn't expect, was that it has a trigger when you move from the zero to reverse position that can be used to turn on reverse thrust etc. Overall, very happy with this purchase!
Date published: 2020-07-23T00:00:00-04:00
Rated

5

out of

5
by
Maddog
from
Logitech Flight Quadrant is awesome!!!
Great product for flight simulator 2020. It's been so hard to find but Dell came through!
Date published: 2020-10-03T00:00:00-04:00
Rated

5

out of

5
by
MAchete
from
Defective, cheap.
Waited over a month then got a defective unit. It's flimsy and cheaply made.
Date published: 2020-10-08T00:00:00-04:00
Rated

5

out of

5
by
Bombaso
from
Great hardware horrible shipping
Great hardware. Only issues was the horrible delay on shipping. It seemed to change every week for a month.
Date published: 2020-09-29T00:00:00-04:00
Rated

5

out of

5
by
CD
from
Does not work with MSFS2020
As of this review, it is not supported by MFSF 2020, or Logitech. Drivers are just not available.
Date published: 2020-08-20T00:00:00-04:00