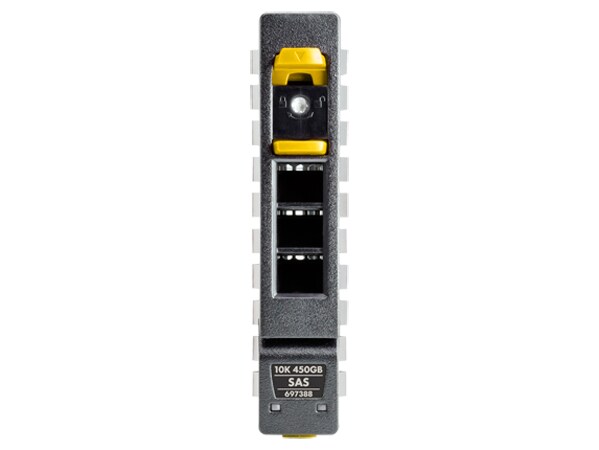 Quick tech specs
4 TB
3.5" LFF
NL
for HPE M6720 SAS Drive Enclosure (3.5" LFF)
hot-swap
SAS 6Gb/s
7200 rpm
View All
Know your gear
HPE 3PAR StoreServ Storage is designed to deliver the agility and efficiency demanded by virtual data centers integrating SAP products. All HPE 3PAR models are targeted towards the most demanding SAP customers for their SAP production systems and landscapes; they are simple to use, yet powerful, autonomically tiered, and multi-tenant storage arrays.
Contact Sales Assistance
(800) 800-4239
,
Monday-Friday 7am-7:30pm CT
HPE - hard drive - 4 TB - SAS 6Gb/s
is rated
5.00
out of
5
by
3
.
Rated

5

out of

5
by
SushilKumar1
from
Reliable with a good user interface and helpful support
What is our primary use case? The solution is mostly used for storage. What is most valuable? The user interface is very good. It's impressive. I find it very easy to understand. It offers good scalability. The stability is very reliable. There is the possibility of using it in a hybrid way. It's a very popular product for enterprise storage. It's good for medium to enterprise-level companies. It's easy to set up the product. Technical support has been helpful. What needs improvement? This solution is now at end-of-life. We have found the solution to be expensive. For how long have I used the solution? I've been using with the solution for the last six years. What do I think about the stability of the solution? The solution is very stable and extremely reliable. There are no bugs or glitches and it doesn't crash or freeze. What do I think about the scalability of the solution? It is scalable and easily expands. We have various customers on the solution. They might have thousands of users overall, however, we have four to five clients using the product in general. How are customer service and support? We have been satisfied with the level of technical support we get. They are helpful and responsive. Which solution did I use previously and why did I switch? We also use Primera and PowerStore. How was the initial setup? The initial setup is very straightforward and simple. We also use Primera and PowerStore and the setup is pretty much the same for all of those. How long it takes will be determined by the capacity and the formats. It can take anywhere from six or seven hours up to 24. We might need two to three staff members to handle deployment and maintenance It depends on the SLA and the organizational structure. What's my experience with pricing, setup cost, and licensing? There is a one-time cost once you purchase the solution. There is no perpetual licensing. It is an expensive product. What other advice do I have? I'm an end-user and handle storage only. Unfortunately, I cannot recommend the product as it is at end-of-life. However, I would rate it ten out of ten. Disclaimer: My company has a business relationship with this vendor other than being a customer:Partner
Date published: 2023-03-13T00:00:00-04:00
Rated

5

out of

5
by
SanjayKumar11
from
I like the integration with VMware and the provisioning
What is our primary use case? StoreServ is one of several storage solutions we use, and we also have some SAP and high-availability application workloads. We use it for storage and also as a backup repository. What is most valuable? I like the integration with VMware and the provisioning. We also use data compression but not for any of the critical applications. What needs improvement? HPE could improve by raising awareness when a new product is launched. They must think of ways to better serve and engage with their enterprise customers. HPE is selling enterprise products and mission-critical support. This is not a one-time sale, and then it's over. They need to maintain a relationship with their customer over the life of the product, which is typically four or five years. For how long have I used the solution? I have used HPE storage for eight to 10 years. What do I think about the stability of the solution? I rate HPE StoreServe seven out of 10 for stability. What do I think about the scalability of the solution? I rate HPE StoreServ eight out of 10 for scalability. When we need to scale up, we can continue adding capacity within 3PAR after one year or two years. Some OEMs may recommend purchasing the newest storage model. They offer a better incentive because the new product is cheaper than the upgrade. Storage technology is constantly improving, making it cheaper and cheaper. How are customer service and support? I rate HPE customer service seven out of 10. They have some room for improvement in this area. Which solution did I use previously and why did I switch? We also use Hitachi storage as well as Dell VNX and Unity platforms. What's my experience with pricing, setup cost, and licensing? We pay for a yearly license. What other advice do I have? I rate HPE 3PAR StoreServ nine out of 10. We use HPE because it's a hardware leader locally. We have a longstanding relationship with HPE, so we trust them more than other providers. But it's a stable product that runs with minimal support. Disclaimer: My company has a business relationship with this vendor other than being a customer:
Date published: 2023-02-22T00:00:00-05:00
Rated

5

out of

5
by
Syed-Hassan
from
Professional support, effective storage capabilities, and reliable
What is our primary use case? We are using HPE 3PAR StoreServ for our main enterprise application database. We have a split of hard drive usage in the solution, such as SATA drives. What is most valuable? The most valuable feature of HPE 3PAR StoreServ is its storage capabilities. What needs improvement? HPE 3PAR StoreServ is at its end of life and they are forcing us to purchase new hardware. They will no longer support this solution. They should provide support for a longer time. For example, 10 years instead of five years. For how long have I used the solution? I have been using PE 3PAR StoreServ for approximately four years. What do I think about the stability of the solution? HPE 3PAR StoreServ is a stable solution. We have not had an issue since we have been using it. What do I think about the scalability of the solution? We have approximately three terabytes of usage. The solution is scalable, we are able to add more hardware if needed, such as hard drives. How are customer service and support? The support from HPE 3PAR StoreServ is professional. How was the initial setup? The setup of HPE 3PAR StoreServ is not simple. The configuration is not an easy task to complete. The full deployment took approximately one month. We set up parts to implement, such as databases, applications, and hardware. What about the implementation team? We had support from our local vendors to do the implementation. What's my experience with pricing, setup cost, and licensing? The support for the solution is free for three years, then it is an additional cost. It is approximately $30,000 annually. The price includes a lot of equipment we have not only HPE 3PAR StoreServ. What other advice do I have? We have approximately 100 users that are using this solution. I would recommend this solution to others. I rate HPE 3PAR StoreServ a nine out of ten. Which deployment model are you using for this solution? On-premises Disclaimer: My company has a business relationship with this vendor other than being a customer:Partner
Date published: 2023-02-22T00:00:00-05:00