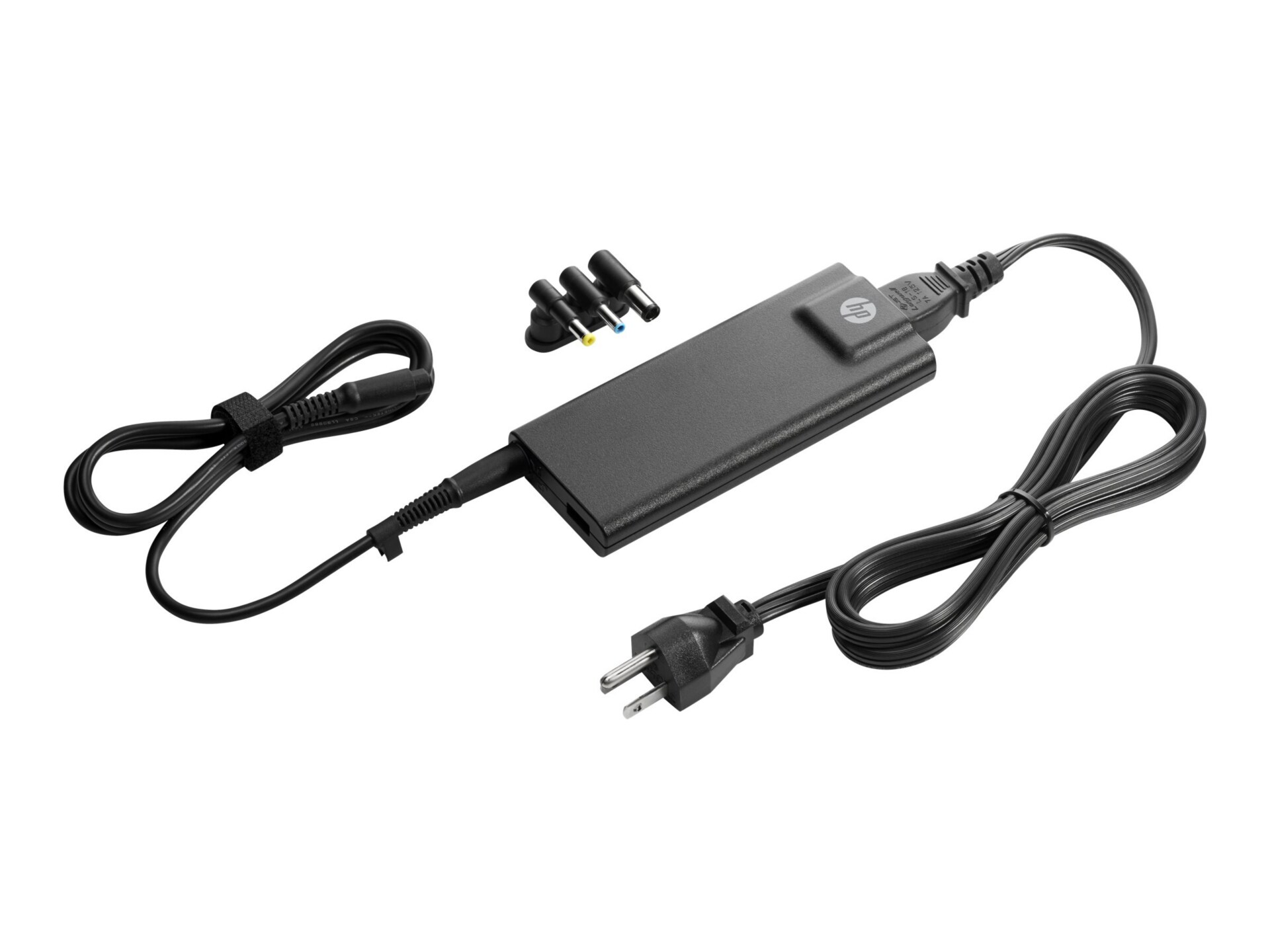 Quick tech specs
Power adapter
United States
90 Watt
for HP 27; ENVY x360 Laptop; Laptop 15; Pavilion 27; Pavilion Laptop 15; Spectre x360 Laptop
View All
Know your gear
Thin and light the HP 90W Slim AC Adapter provides reliable power, regulated by HP's Smart Pin Technology and safeguarded by surge protection, while charging your notebook and USB devices at the same time. An included single cable and 3 interchangeable connection tips provides versatility. These combined features provide an ideal mobile power supply.
HP Slim with USB AC Adapter - power adapter - 90 Watt
is rated
3.63
out of
5
by
8
.
Rated

5

out of

5
by
EtxNana1
from
Love the options
This charger is so great compared to the one that came with my computer. The USB Adapter is an added plus! I love the swivel cord and the fact that it plugs into the connector that goes in the computer. It comes with choices of plugs so you can fit it to different computers.
Date published: 2020-03-12T00:00:00-04:00
Rated

5

out of

5
by
Snoopdawg
from
HP 90W Slim, U Bet !
In one word, how would I describe the HP 90W Slim with USB AC Adapter... Compact, Light, Versatile, Capable. You say that's four words, not to worry, go ahead and pick any one of them and you won't be wrong, and, you won't be disappointed. In my opinion, they are all; true, important and essential. So why are they important ? Laptops were designed to be powerful "Mobile" computing platforms. My wife and I didn't always have wifi at home, so, it was essential that we both had backpacks ready to head out to our local library (this is where compact is good and light is great). My wife and I have three HP laptops (HP; 17Z, Pavilion G7 & G42) and this power supply lists compatibility to them all (more importantly, to many, many, many more as well), that's versatility. As soon as it arrived, I unplugged my laptop from the power supply that came with it, and plugged it into the HP 90W Slim (no issues), so, check off capable. Each of the four items individually are important, but, combine them together and that makes it a (get this, in one word) "CHAMP". Could I get along without it? Sure. Would I want to get along without it? Let's see, I bought one, so, Not a chance! When I want to get up, grab my laptop, and go, I don't want to be messing around unplugging and untangling my home power supply, from power strip to roll top desk (not to mention threading it all back together again, upon return). When I'm out and about I never worry about whether my laptop battery is fully charged, and, I never get that alarming dimming of the screen a laptop does when the battery is on it's last leg. My laptop's battery is always fully charged (once, in a power outage, the fully charged battery let me finish saving my work and provided enough illumination to get a flashlight, before shutting down). I would recommend this product to a family member or a friend (If you read this far, guess that's not a big surprise). ps: Did I mention there's a USB charging port, incase you need to give your phone/devise a little boost? I guess I just did!
Date published: 2020-04-16T00:00:00-04:00
Rated

5

out of

5
by
cmthmpsn
from
Let's hope the replacement does what I want
I am setting up a second work station, and only want to carry my laptop from place to place, I don't want to have to reach around and unplug and untangle a bunch or cords, so I bought this to be the power supply at my second setup. Wanting to have as low a power bill as I can, I purchased (from a different merchant) an eco-friendly surge protector. You know, one of those where you plug the main component of a system in one outlet, and when it draws enough power, all the rest of the outlets are on, but when it doesn't draw enough power, all the peripherals plugged into the rest of the outlets don't receive power. Well, the adapter that I have been carrying around, which I wish to leave back at the first work station, always draws enough power to keep all the peripherals powered. However, THIS adapter seems to only draw enough power to keep the peripheral outlets powered up when it is actually charging the laptop battery. This means, when it's fully charged, so the adapter only has to trickle charge it to keep it topped up, my peripherals are powering up and powering down about every 30 seconds as this adapter cycles on and off dropping a bit of "juice" into the laptop battery. As everyone knows, that's completely unacceptable! I am exchanging this for another identical one to see if this adapter is defective, or if it's designed this way. If this is the way it's designed, I only recommend this if you are using it in a standard, all outlets always on power strip/surge protector.
Date published: 2015-05-15T00:00:00-04:00
Rated

5

out of

5
by
asl83
from
This is a great accessory.
It has 3 different tips that fit other items of mine. It also has a space for a usb plug in which is great because sometimes I don't have room for my cell charger on the wall.
Date published: 2018-01-10T00:00:00-05:00
Rated

5

out of

5
by
TRS55
from
Good transformer for travel
More compact than the transformer supplied with my then-new HP Envy laptop, this transformer is ideal for travel. Negative aspects: HP should have included a travel case. Also, this product is supplied with three different format plugs, needed to connect the power supply to the laptop. Why HP cannot create and use a single format for connectivity to its laptops is beyond me.
Date published: 2017-10-01T00:00:00-04:00
Rated

5

out of

5
by
No never
from
No Greate fetures
HP Did not send the correct size for my laptop. It came with 120 watt supply and the sent me a 90 watt supply
Date published: 2018-10-25T00:00:00-04:00
Rated

5

out of

5
by
Chops
from
Tips are tight enough
Adapter is good and light weight but the connector pins are tight enough and i lost hem as they are very easy to get disconnected. Customer care told me that I cant get only those pins rather i have to buy the entire adapter..
Date published: 2017-07-25T00:00:00-04:00
Rated

5

out of

5
by
teadam
from
Great for Travel
This adapter is a great size for travel. And with the multiple tip connectors, I can use it for both my 14" and 15" HP Envy laptops.
Date published: 2014-07-07T00:00:00-04:00