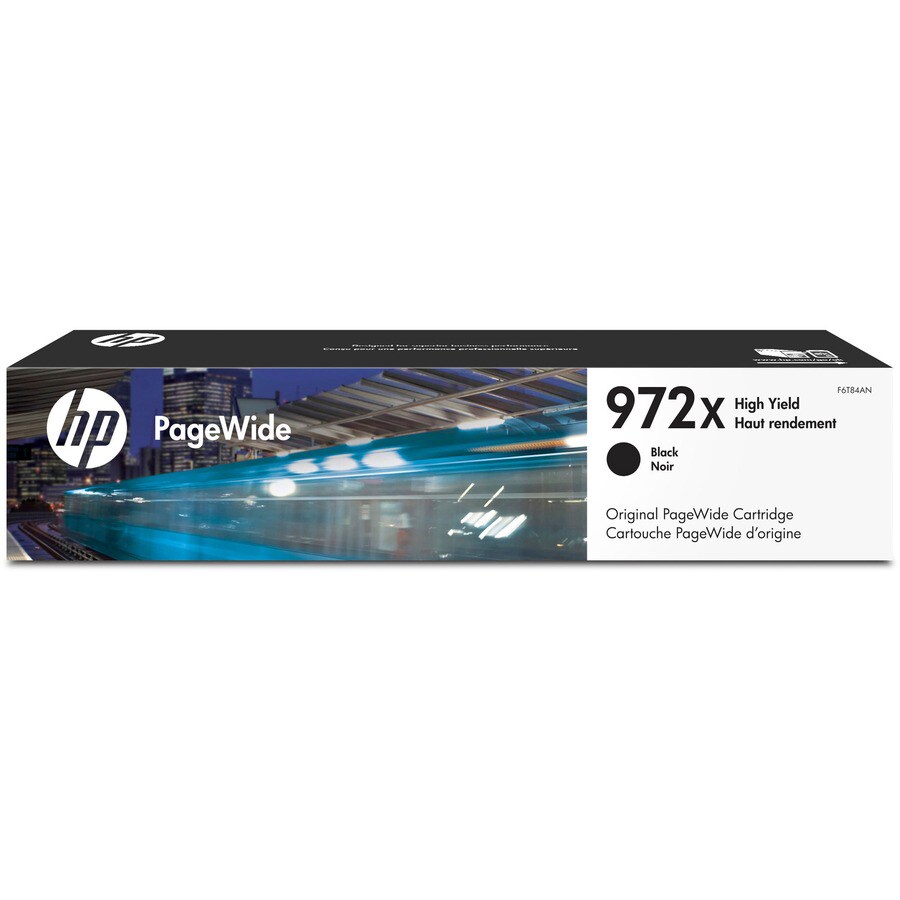 Quick tech specs
182.5 ml
black
PageWide
for PageWide Pro 452
High Yield
original
ink cartridge
View All
Know your gear
Print professional-quality color documents for a great value and help your workgroup thrive. High-speed printing, easy cartridge replacement and recycling, and consistent printing performance make your business case.
HP 972X - High Yield - black - original - PageWide - ink cartridge
is rated
4.63
out of
5
by
8
.
Rated

5

out of

5
by
Daniel Coamo
from
Long life
They are very reliable because their useful life is very extensive.
Date published: 2018-12-19T00:00:00-05:00
Rated

5

out of

5
by
Javier14
from
This product has great features. Very easy to install.
I have been extremely pleased with the M452 printer cartridges. I had them set up in the tool-crib so that the cartridges are available when we need them.
Date published: 2019-03-28T00:00:00-04:00
Rated

5

out of

5
by
JFWatSVR
from
Strongly recomend
We are pleased with the functions and quality of the printer for our office of 6. Had out techie set up the scanning to desktop and email. Easy to use. It's a tad noisy, think about where you'll place it.
Date published: 2017-08-11T00:00:00-04:00
Rated

5

out of

5
by
Jeff R
from
Feeder needs improving
It's a good unit but the one complaint I have is the document feeder. If it's the least bit dirty or the humidity is high, it will try to grab multiple pages and jams up. HP needs to work on that part of it.
Date published: 2019-02-11T00:00:00-05:00
Rated

5

out of

5
by
Cosgirl04
from
Nice printer but expensive cartridges
I purchased the printer because I do a lot of imaging. My 8710 was eating up ink and couldn't handle heavier weight paper. The MFP 477dw does handle the paper ok and it's relatively fast. But I'm afraid the cost of ink will still be an issue. Plus, I really needed borderless printing, which I thought I could work around, but I can't. So, bottomline, it does essentially what is advertised, except maybe the claims for cost of operation (ink!).
Date published: 2018-02-01T00:00:00-05:00
Rated

5

out of

5
by
MiguelAngel07
from
My printer only uses HP High Yield Cartridges
I have several HP products and Page Wide has been great and with the High Yield Cartridge is the way to go, it prints crisp and high quality. The cost is reduced by purchasing this instead of the regular ink. It prints fast and looks great.
Date published: 2017-03-08T00:00:00-05:00
Rated

5

out of

5
by
GA Consultant
from
Beautiful quality and a real workhorse
I bought this AIO for my home office after a client recommended it. While several people share theirs, I am the only user in my business. But I had grown frustrated by the typical "small business" and "home office" all in one printers, which are too wonky and cheap for the volume of printing I do. (I am a writer and a consultant and print out a lot of written reports, media articles and scan large documents.) The ink lasts like a laser printer -- months (and costs about the same). Printing on one or two sides is as simple as a click in the print dialog box, and printing envelopes -- invariably a hassle with the Epsons and Canons of the world -- is simple via the printer's second adjustable tray. (It's as if it says: You're in business, of course you need to print an envelope. How refreshing!) The color and print quality is just beautiful. Scanning is also great -- the document feeder reliably feeds 50 pages without a hickup. My only complaint is that every once in a while scans do not appear on my Mac, or at least are not visible in the folder I have set scans to go to. I have yet to solve that mystery. Otherwise, it seems perfectly compatible with my Mac (OSX High Sierra). Oh, and the paper tray holds a whole ream of paper. It's a beautiful thing.The price is well above what you'd pay for a "home office" printer, but for me it was well worth it to avoid the hours and aggravation of wrangling with document and envelope feeders that stopped working, or running out of ink every other week. The footprint is larger than your typical home office all in one, but it fits on top of a standard bookshelf. (And the sad fact is I had two printers stacked on top of each other so that I could get something printed when one or the other stopped working. So now I'm saving space.)I would also like to note that most of the printer reviews available thru Cnet and Consumer Reports don't seem to address the issues I comment on. I must have read 100 online reviews of other printers, and only one even mentioned this printer. That may be because it falls between small AIO printers and the larger office printers. If my client hadn't given it rave reviews, I would not have considered it. It is well worth the investment. The only thing keeping me from giving it 5 stars is the scanning issue.
Date published: 2019-04-04T00:00:00-04:00
Rated

5

out of

5
by
EddieB67
from
Great HP Cartridge
The HP 972X High yield cartridge has proven to me well worth it's value. I get at minimum the number of sheets the cartridge is stated it should print. the color and clarity have had multiple people asking and commenting on the quality of my papers and handouts. Thank you
Date published: 2019-02-19T00:00:00-05:00
Rated

5

out of

5
by
cmtrl
from
great printer
I have had this about 2 months replaced another hp printerthis is very fast even on 2 sided printing,the colors stay great
Date published: 2018-06-14T00:00:00-04:00
Rated

5

out of

5
by
Jim Free
from
Great Speed & Good Quality
I have always owned HP Printers mostly Office Jets. I have five of them now but I needed something with more speed. I am very please with the HP 972. I was a little apprehensive with the price of the cartridges but the quality of the cartridges and printer is great.
Date published: 2018-06-18T00:00:00-04:00