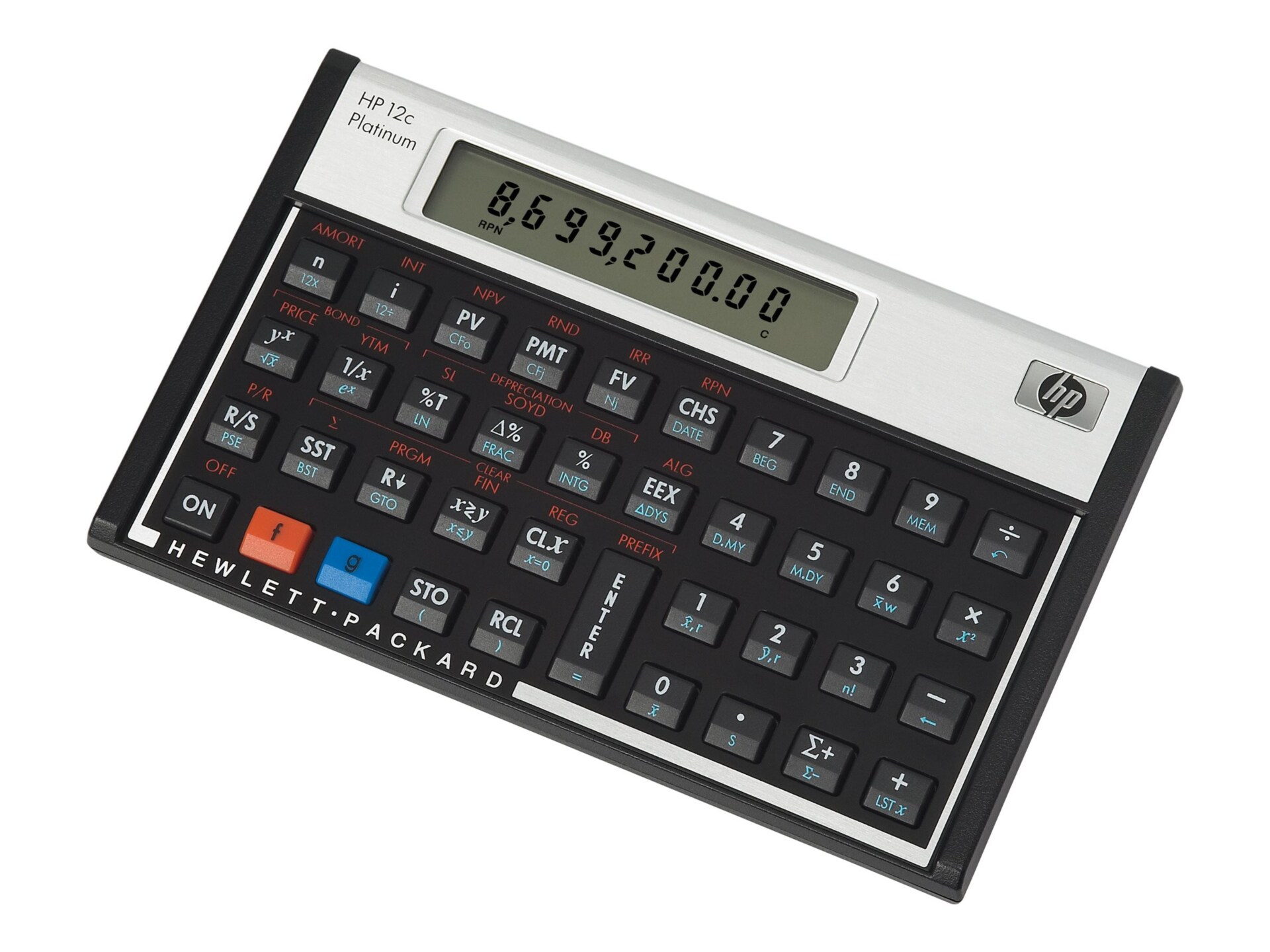 Quick tech specs
View All
Know your gear
This edition of HP's 12c Platinum calculator is a natural for real estate, finance, accounting, economics, and business calculations. It features the HP 12c standard edition's 130+ built-in functions and memory for 80 cash flows, complemented by a black and silver body, and premium pouch.

Get answers fast: easily calculate loan payments, interest rates and conversions, cash flows, bonds, standard deviation, percent, TVM, NPV, IRR, and more

Handle the most complex and detailed financial calculations

Choose between two entry modes: RPN and algebraic

Optimize data entry using the more-than 130 built-in functions

Program up to 400 steps; then execute with the push of a button

Use on CFP and CFA certification exams, plus GARP FRMs

Protect and pad in the upgraded premium pouch
HP 12c Platinum Financial Calculator
is rated
4.40
out of
5
by
10
.
Rated

5

out of

5
by
AccoutingGuy
from
Good performance but poorly made
As a calculator, it does an outstanding performance. Much faster than the older Hp12C. I love the form factor and the RPN data entry which is the way to go. However, I can't give more than 2 stars for two reasons. First the build quality is really poor. After a couple of month the 0 key broke for no apparent reason. More often than not, I have to press twice for key entries. Considering the overall build quality, the warranty is way too short for this expensive product. Now I'm stuck with a defective product that I wouldn't recommend to my student or my colleagues at my office.
Date published: 2009-03-15T00:00:00-04:00
Rated

5

out of

5
by
alee329
from
lifetime choice
I have ever own more than 5 calculators. Every certain years I was tempted to some new calculators with new features, then I had to learn it over again. And repeat.After so many years of learning and re-learning new calculators I decided to stick to one everlasting calculator and give up the new fancy complex features - Use MS-Excel instead. Actually, if your task is hard enough to require a unique feature that drive a calculator upgrade, I guess you will find MS-Office handy when this task happens.I found HP-12C is the best one meeting above strategy. I have own it for over 3 years and never looked back. It's powerful enough, fast enough, reliable enough. And I also want to point out two points that are overlooked by many:1. HP-12c has been produced for 25+ years without major change - longer than any other financial calculator in the world. I don't need to worry about replacement.2. HP-12c battery life is freaking long. This is very, very important. I have ever purchased the most powerful, consequently most expensive HP financial calculator (I think it's HP-18c but am unsure). HP-18c takes 3 batteries and very soon I found out why - the juice runs out after months. I have to carry backup batteries on my trip.On the other hand, my HP-12c last at least 3 times longer with one single CR2032.The faulty power-on button happens to me, sometimes. I see it a manufacturing issue not an architecture design issue.There is A REASON it's produced for so long. I see this ideal to a financial guy and I won't be surprised if Buffett owns one, too.
Date published: 2011-04-12T00:00:00-04:00
Rated

5

out of

5
by
rw68000
from
good for classes
I bought this calculator on clearance. It was about ten dollars more than the 10b. It does so much more. I find it able to do all my finance class problem.
Date published: 2009-05-03T00:00:00-04:00
Rated

5

out of

5
by
snookdog
from
Great Calc
Great calc. I wish they included the original case and not this cheap looking one that the calculator sticks in and can't get it out if left in there for over a day. Anyone know where to get the original case design?Some keys work intermittent at times like 7 and ON.
Date published: 2012-07-05T00:00:00-04:00
Rated

5

out of

5
by
Brasso
from
Extremely good ... but
I am a very long term user of this type of HP calculator - and I would have no other. The improvements to the Platinum version make it a worthwhile purchase. The increased speed was certainly noticeable.However, as other people have noted, it is prone to some keys not reacting to being pressed - and it can sometimes take a two or more key presses. The ON/OFF key on the one I have is particularly prone to this - and it can take three or four presses to wake the calculator up. But once awake, it is excellent!
Date published: 2009-05-29T00:00:00-04:00
Rated

5

out of

5
by
Andy10k
from
Very Nice
Works great, quicker than the older models, great for financial professionals, fits in pocket easily, don't need to break out the computer every time I want to do a quick calculation. Hard to believe it's still this good after 30 years!
Date published: 2011-09-26T00:00:00-04:00
Rated

5

out of

5
by
Finance
from
Wonderful design/Poor quality
The 12C is a wonderfully designed calculator for financial professionals. RPN is an efficient way to process calculations and the built-in equations functions are extremely useful.Unfortunately, my calculator's screen began to 'burn out' after about a year of use. The numbers displayed are no longer clear. Full disclosure, the calculator was heavily used over the last year #I was preparing for levels 1 and 2 of the CFA#. The unit was purchased new from Best Buy.The design is wonderful but the production execution is flawed.I will be purchasing another 12C but I hope this is not a continuous issue.
Date published: 2015-07-29T00:00:00-04:00
Rated

5

out of

5
by
DannyNova
from
so far so good
the buttons on my old hp12C platinum stopped responding after 12 years of almost daily use. replaced with a new one recently and so far so good. it is my favorite calculator and didn't even consider getting a different one.
Date published: 2018-11-12T00:00:00-05:00
Rated

5

out of

5
by
GoMustangs
from
Switched from HP 17B II+ - Easy
I have been using an HP 17B II, but had to switch for the CFA exam. The system is intuitive and easy to use. Not quite as well organized and simple as the 17, but works well.
Date published: 2011-08-25T00:00:00-04:00
Rated

5

out of

5
by
Ernie3
from
Disappointed
I love the HP 12c and I still have an older one I use all the time. However, I purchased a 25th Anniversary Edition HP 12c Platinum in 2007 and it no longer works. The on/off button is hard to use and the #7 key doesn't work at all.
Date published: 2012-02-18T00:00:00-05:00