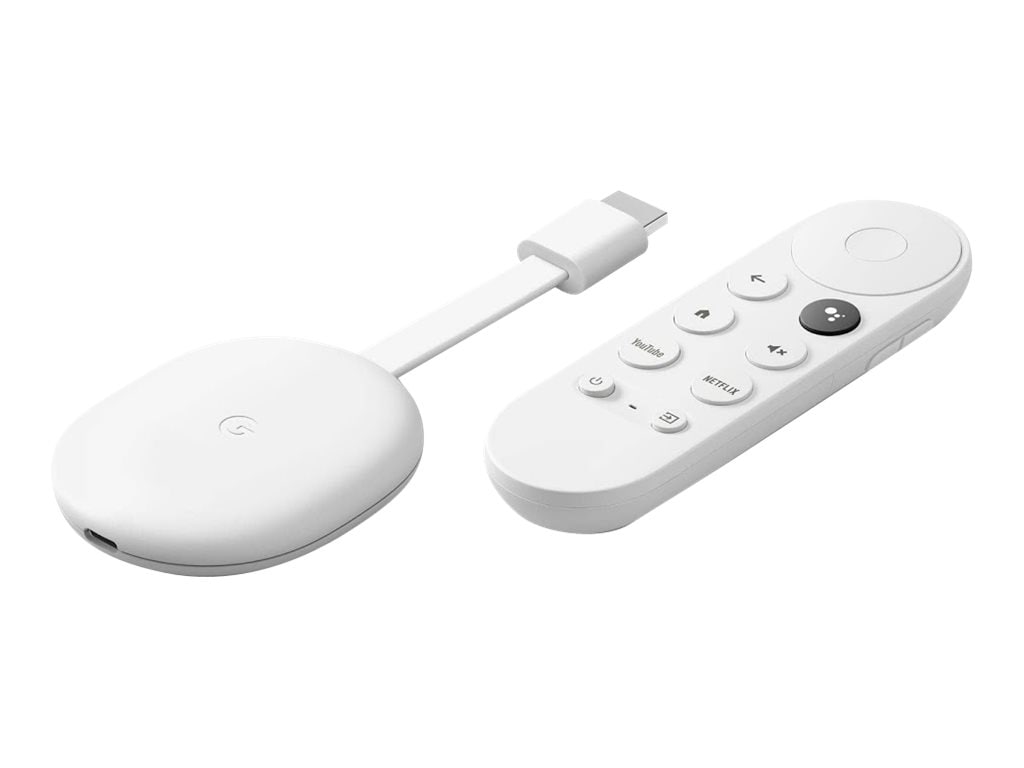 Quick tech specs
View All
Know your gear
Entertainment you love. With a little help from Google.
Google Chromecast with Google TV - AV player
is rated
4.70
out of
5
by
11
.
Rated

5

out of

5
by
Andy
from
Nice
It does what it supposed to do
Date published: 2021-12-02T00:00:00-05:00
Rated

5

out of

5
by
AllSet01
from
All set, just plug in and enjoy with Chromecast.
Plug in and enjoy all the latest apps for your smart TV. My older smart tv does not support HULU already installed so I bought this to watch. It also has the Apple+ that a previous device did not have yet. I am all "set".
Date published: 2022-01-08T00:00:00-05:00
Rated

5

out of

5
by
LeeBin
from
Very good for tv
This replaced my old chromecast ultra, so this review will focus on comparing these two devices. Pros: The remote is actually very nice to have, interface is intuitive, responsive, and good at recommending content across a range of services. You can also use it's assistant button to control other devices in your connected home. Being able to watch my TV and listen with Bluetooth headphones is game-changing. That's the main reason I decided to upgrade. Cons: WiFi connection is not as strong or reliable. On my old chromecast ultra, I almost never had to suffer through anything less than FHD while streaming, and usually had no issues with 4K streaming either. With this chromecast, I frequently find the streaming quality to be less than HD, although sometimes it is capable of stabbing 4K content too. I can only attribute this to a weaker WiFi connection. There is noticable audio lag and sometimes stutter when playing back through Bluetooth headphones. Sometimes it works okay, but often it's so bad that using Bluetooth headphones is not really a practical option. This chromecast has wayyy more issues when casting from my phone the 'traditional' way, than the ultra did. I almost always have to cast twice before a connection is actually established. And playback controls on your phone don't show up when playing content initiated from the remote. Only for content that you casted the traditional way. Overall, the convenience of the remote outweighs the drawbacks for me, and I'm happy to keep using this one instead of my ultra. But I do with Google would just make a no-compromises chromecast. The building blocks are all there
Date published: 2022-01-25T00:00:00-05:00
Rated

5

out of

5
by
Ronak Desai
from
Awesome Google TV + Chromecast
It's a great addition to any TV or a smart TV. It has nice features, The remote can control entire TV, I don't even use my TV's original remote anymore! Voice commands are amazing, no accent issues at all! On top of that nice recommendations from all subscribed streaming apps as well as other available free streaming apps and you tube, all together on homepage! I also like it's Google Photo album sync as a screensaver.
Date published: 2022-12-18T00:00:00-05:00
Rated

5

out of

5
by
shnav
from
Google Chromecast
Easy to set up. Streaming quality is ok
Date published: 2022-11-07T00:00:00-05:00
Rated

5

out of

5
by
Daniel
from
Excellent I recommend it.
Easy to use and fast.
Date published: 2022-12-27T00:00:00-05:00
Rated

5

out of

5
by
Niumann HC
from
4k connection
Great ! 4k connection.
Date published: 2023-01-03T00:00:00-05:00
Rated

5

out of

5
by
Rupert
from
Came in new condition but not very compatible with fire smart tv's
Works as expected. Product delivered in new condition. Only issue is mine is a fire tv and some times the tv wont switch on or respond when i use google tv remote. I have to plug out and plug in thr tv cable or restart the tv, then it works normal. Some times it tiring to do this all the time and end up using fire remote that came with tv instead of chromecast device remote. Need more updates to the software from google to be more compatible with different software smart tvs.
Date published: 2023-02-03T00:00:00-05:00
Rated

5

out of

5
by
cagabit
from
Very happy experience so far, speed and quality
First time using Google TV, other than used versions of Mi and some China noname brand devices with problems. Mi is above average but cpu is not enough, especially have problems with wifi and the too much heat generation. As far as I can see Google TV has not these issues, no access heating and the speed of browsing is superb. I can not confirm %100 now but also the picture quality is better than others. In short very happy with the product, thinking of changing others with Google TV also.
Date published: 2023-04-17T00:00:00-04:00
Rated

5

out of

5
by
Kurt GUREL
from
Practical Device
Although the installation process took longer than I expected, it is very useful. It turns an old working TV into a pretty good smart TV. It would be perfect if it did not restrict application suggestions according to the region it is used in and if Google Chrome browser could be used too.
Date published: 2023-03-26T00:00:00-04:00
Rated

5

out of

5
by
RobZ615
from
The Google TV is all you need for any gaming or streaming needs.
Great device for all your streaming apps. The Google TV Chromecast is my favorite streaming device. This is the second one we have connected to our Bedroom TV.
Date published: 2023-02-20T00:00:00-05:00