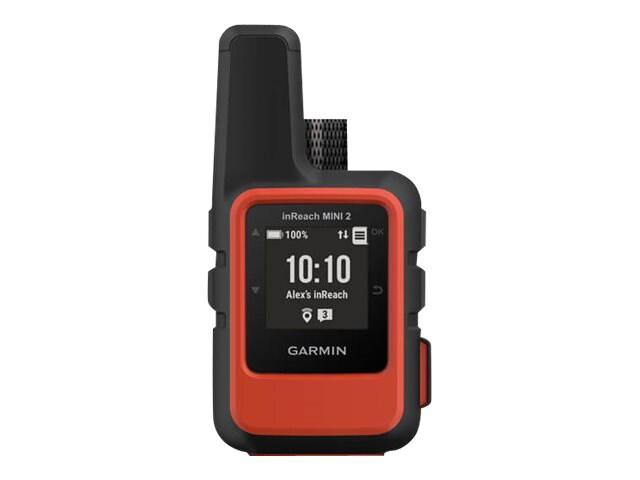 Quick tech specs
GPS/Galileo/QZSS navigator
View All
Know your gear
This compact satellite communicator helps you keep home with you when you're off the grid - adding peace of mind to every adventure, without adding weight to your pack.
Garmin inReach Mini 2 - GPS/Galileo/QZSS navigator
is rated
4.00
out of
5
by
122
.
Rated

5

out of

5
by
freeflyer
from
Perfect for off the grid backpacking
Off the grid backpacking for 5 days in ONP and no issues
Date published: 2022-10-07T00:00:00-04:00
Rated

5

out of

5
by
SubTominAZ
from
Feeling of security
The Mini2 has performed well on 14 MTB rides thus far. The out of cell reach tracking easily transfers to the Garmin 1030 Plus and the Explore app. Tracking is easy, and the 4 messages I sent from out of range we immediately received. Love it.
Date published: 2022-02-28T00:00:00-05:00
Rated

5

out of

5
by
Remote Explorer
from
USB C Finally
Great little satellite communicator. Long battery life. Connects with several other Garmin products like the Fenix watch. Works great with an iPhone. Mapping apps are pretty dated as for planning routes but there's some good third-party options.
Date published: 2022-04-23T00:00:00-04:00
Rated

5

out of

5
by
Micosoft
from
Out of box should include adapter for Backpack Tet
I bought this and the suggestions from both Amazon (no warning) and Garmin (tiny warning) is to get the Backpack tether. You then realise on receiving it you need an additional piece of plastic that came with version 1 for free. For between $14 and $50. Not acceptable Garmin - adapter should be included. Immediate bad experience on box opening for an expensive subscription service. Product Manager should be hauled over coals for this omission.
Date published: 2022-06-07T00:00:00-04:00
Rated

5

out of

5
by
chwilkinson
from
Hate it!
Right now I hate it. It's very user unfriendly and no way to get personal help with specific questions about how to work it. The garmin videos are not user friendly or beginner friendly. I may be returning it before the 90 day time allotment. This product needs contacts with in person people !. The videos are not for beginners and do not cover the basic information.
Date published: 2022-03-17T00:00:00-04:00
Rated

5

out of

5
by
Chainsaw
from
Good device but wish fo more
I bought this to replace an aged SPOT device. It does all the SPOT did in a much smaller package. I wish it would have more detailed maps as part of the Navigational tab. All I get is a blank screen with my trip and no surrounding details. Wish they would add details similar to what you get with regular GPS devices.
Date published: 2022-04-10T00:00:00-04:00
Rated

5

out of

5
by
Maxfir
from
Improved UI and speed
Overall happy with the updated model. New app and additional gps connections make a difference in ease and speed of use. Still takes a while to get gps position in non-clear conditions.
Date published: 2022-03-14T00:00:00-04:00
Rated

5

out of

5
by
dumbbear
from
Much better that my Spot Gen2
Still winter here, so have only used it on my morning dog walks. Sending texts is simple enough. I would like to see some videos on mapping with the Gamin Explore app
Date published: 2022-03-05T00:00:00-05:00
Rated

5

out of

5
by
TechDad2022
from
Great little device
My son took the inReach mini 2 to Patagonia on a week long trip. Before leaving, the preset messages were set to arrived, underway and doing fine. The battery lasted the whole week with 30 min logging/reporting and power off at night. Figuring out which plan works best is probably the hardest task. IMO, the annual safety plan makes the most sense, even with some monthly trackpoint overages. Judicious use of free preset messages provides connection and location without the burden of detailed communication.
Date published: 2022-04-09T00:00:00-04:00
Rated

5

out of

5
by
Leonsdad
from
Mini 2
Let me start off by saying I had no experience with a sat communicator before buying this device. I've used it a few times in the month since I bought it and like it so far. I have had some issues sending messages through the app and I'm not sure why. At first I thought the reason was that I was under tree canopy. But when I tried sending messages from a wide open parking lot with no aerial obstructions, they still wouldn't send through the app. I'll probably contact customer service to find out why. I can send them through the device though. Anyways, good device so far. I bought it over the original mini because all the new inreach devices run off the explorer app. So I figured it would be updated more often. I have yet to use the sos button or tracback. But I'm sure they work good.
Date published: 2022-03-04T00:00:00-05:00
Rated

5

out of

5
by
DesertClimbers
from
Simple and reliable.
A climbing area we frequent has very few areas with cell coverage. Having the InReach Mini is handy, as well as being a serious safety device being in such remote areas.
Date published: 2022-04-06T00:00:00-04:00
Rated

5

out of

5
by
Donkey trail name
from
You are on the wrong trail!!
Section hiking the AT for five years. Took a wrong turn in heavy fog. Wife texted me and said you are on the wrong trail!! Wont leave home without it.
Date published: 2022-04-20T00:00:00-04:00
Rated

5

out of

5
by
ClayB
from
Works well for me!
GPS is sensitive and quick to lock in position. Messaging works fine but built-in messages best created on PC and uploaded to Mini 2. Number of messages probably large enough to minimize need for messages created on device. Text entry for custom messages is usable but clunky. Menu system not really intuitive but with use it is manageable. It works okay with a four-button input/control interface. Using virtual keyboard on smartphone and Bluetooth works okay but then one more electronic device is not always ideal. Subscriptions are a bit steep. Battery life still needs better assessment. I will carry a compact 10 AH power bank and GZ Nomad 7 for recharging on longer hikes. Bottom line - it does what I want without unwanted weight and size. I would recommend this device to a friend if their needs are similar to mine.
Date published: 2022-03-06T00:00:00-05:00
Rated

5

out of

5
by
SSL21
from
InReach® Mini 2
I had several InReach devices, from Delorme all the way up to Montana 700i. Each is unique. It depends what one needs and mostly what for. It is really nice to have screens, like 66i and 700i but size of Mini is so attractive and does amazing work, including better accuracy and longer battery life. Plus USB-C charging and Explore integration made my final choice toward Mini 2. Good job Garmin!
Date published: 2022-03-21T00:00:00-04:00
Rated

5

out of

5
by
GarGreen
from
Have not subscribed or used yet
It's small and fairly light weight for what it is. Got this to use when I do the CT to let my wife know where I am and for the emergency SOS. Plan on starting July 3rd or 5th so will know morethen
Date published: 2022-03-07T00:00:00-05:00
Rated

5

out of

5
by
BMBham
from
Easy to use
I have only used it a few times, in town, to test it. Works well and is easy to use and understand.
Date published: 2022-04-03T00:00:00-04:00
Rated

5

out of

5
by
pnwhiker1
from
Compact Communication!
I'm still getting used to the differences on the Mini2 from the Explorer. I swapped out - don't own a computer and sending a text on the Explorer. Luckily the Explore App makes sending a text on the Mini2 a breeze! Set up and updates are able to be done without a computer, also a plus! Screens on the Mini2 are a challenge to navigate and some features are only available on the device itself. Coordinates are no longer linked to the map, so you also have to set up map share. It's a learning process. I think for the purpose of it I think I'll like the Mini2 despite the monochrome screen (difficult to see in low light) and limited capabilities. Give it a try - everyone needs a similar 11th essential in their gear!
Date published: 2022-04-10T00:00:00-04:00
Rated

5

out of

5
by
Qwerrty122344
from
Peace of mind
Used it on my first outing when I was 3 hours late on a 9 hour back country ski
Date published: 2022-03-21T00:00:00-04:00
Rated

5

out of

5
by
Aggie
from
Light weight and easy to use
I bought this for use on the Great Divide. It was easy to attach to a feed bag. It kept all my contacts aware of my location and it was easy to send text messages along the route. Great buy.
Date published: 2022-08-03T00:00:00-04:00
Rated

5

out of

5
by
Nico Ramirez
from
Great device and happy to have it!
Living in Death Valley makes hiking and exploring so much more comfortable. Love the updated version and I am happy is works with Garmin explorer. It is easy to use and definitely worth the investment for the peace of mind. Also, I am glad to have it when motorcycling out where there is no service. Probably not worth upgrading if you have the mini, but worth it if you do not have one.
Date published: 2022-04-13T00:00:00-04:00
Rated

5

out of

5
by
tvalone1
from
Piece of mind in a light weight package
I have played with this alot with the iphone app and directly with the terminal window. Setting waypoints and navigating back worked well.
Date published: 2022-03-05T00:00:00-05:00
Rated

5

out of

5
by
GregS
from
Beyond Slow
It is beyond me why this device is marketed as anything more than an emergency beacon. Every message takes several minutes, and that's with a wide-open view of a clear sky. There is no reason to get the unlimited Expedition Plan. You will be hard-pressed to send/receive enough messages in a month to justify it.
Date published: 2022-03-23T00:00:00-04:00
Rated

5

out of

5
by
Globalhawk
from
Major improvement!!
I purchased the mini2 to replace my mini. Major upgrades include battery life (biggest improvement), menu navigation, auto track back, compass, and ability to acquire additional satellite systems for better low vis GPS signal. Garmin did well with these new features. Worth the money in my opinion.
Date published: 2022-03-04T00:00:00-05:00
Rated

5

out of

5
by
D90john
from
Good devise for an emergency
I upgraded from the mini to the mini 2. Glad I did as the additional features made it worth the additional $50.
Date published: 2022-05-06T00:00:00-04:00
Rated

5

out of

5
by
tricked
from
price plans
I don't feel you explained that it was going to cost 35.00 a yr. for the freedom plan. At the time of payment it doesn't show up. You don't clearly explain it. I feel you tricked me. That's bad. I'll do my buisness with someone else.
Date published: 2022-02-03T00:00:00-05:00
Rated

5

out of

5
by
Photoguy
from
It works, and can't beat the size, but clunky menu
I've only used this for a few day hikes to test it out, but the trip tracking has worked really well and I've successfully tested the two way texting that worked where there was no chance my phone would have. Only downside is that the menu a little clunky, because you have only a few buttons on the device and a small screen, but it's easy enough to figure out. If you have the room in your bag I'd probably say get the model with the larger color screen, but this has worked very well.
Date published: 2022-03-02T00:00:00-05:00
Rated

5

out of

5
by
runhikemike
from
Great battery life
I upgraded from my original and fantastic InReach Mini. I wanted the better battery life to basically eliminate the need for charging on a 3-4 day trip so I can leave it on all the time. While I do use it as a backcountry device, it also doubles as an everyday safety device since I live in an area where the next major earthquake could take out cell service for at least a few days. This gives me an alternate way of telling out of area family that we're ok.
Date published: 2022-03-06T00:00:00-05:00
Rated

5

out of

5
by
Ultralight survivalist.
from
Awesome
Works great. I have anxiety issues so the peace of mind is priceless. I am a solo hiker. I love the small size and extended battery life. I never had the original.
Date published: 2022-03-20T00:00:00-04:00
Rated

5

out of

5
by
Hikeamundo
from
So many sub-menus!
Only five hikes with this inReach so far, and overall I like it. Compared to my previous model it is super lightweight and easy to access from a pack strap, but there are some concerns. It takes longer to send messages, even after one was just sent, and with clear skies and few trees. Finding screens is so slow because there are just so many sub-menus to recall that I forget where they are! And reading the downloaded user's guide is awkward in the field. However, the Mini2 does work well with the mapping program, my spouse does not have to worry about where I am , and our text messages make it through every time. As I learn the features better I am sure I will grow to really appreciate this new tool.
Date published: 2022-05-04T00:00:00-04:00
Rated

5

out of

5
by
HikingRMA
from
Impressive little device
Users have to know what they're buying. This is a small device that works best in conjunction with a smartphone. I find it easy to use. I understand that the first version had problems and wasn't as easy to use. This version is intuitive. I use it regularly on my hikes.
Date published: 2022-03-18T00:00:00-04:00
Rated

5

out of

5
by
Nickname*
from
It's okay
My deal is that I had an emergency pulmonary event that turned into a close brush with the reaper. Going forward in order to stay active I need to have good communications with the EMTs wherever I go, and I have a pendant that connects with cell service but since I need to keep overlanding I also need something for those times there's no cell service. And, I have learned, there are a LOT of those times. So I popped for the inReach Mini 2, intending to close that gap. Surprise, surprise! There's another gap, and that is the inReach doesn't work indoors. I wanted to be able to chuck this doofus pendant and rely completely on inReach but no way. This in no way means I'm dissatisfied with Garmin. I also bought the Tread XL, which is awesome, and am super happy with it. The reason I gave the inReach 3 stars is because of lack of service indoors, and that alone.
Date published: 2022-03-19T00:00:00-04:00
Rated

5

out of

5
by
Videopitt
from
Awesome Nav Aid
I purchased this so that friends and family could keep track of our progress across the Mojave and for our navigation assist to keep us on the proper trail It worked flawlessly alongside the app on my smart phone. Battery life was impressive, too.
Date published: 2022-05-05T00:00:00-04:00
Rated

5

out of

5
by
Kay W
from
I feel so safe!
I have SO MUCH peace of mind while I'm adventuring with my InReach! The peace of mind is worth it for this device alone! I've used it several times to send texts when I didn't have service in the outdoors, and it's amazing, and so easy to use (especially with the App you can download on your phone, and with the configurations you can make on the internet before your trip)! I'll be going to Colorado soon, and I will 100% bring this along! It's seriously takes a load off my chest knowing that I can reach someone in case of an emergency! Not only that, but the Safety Plan that I got really isn't outrageously priced each month, and that's a load off too! Before I bought the device, I was afraid the satellite subscription would be too expensive, but it's honestly really reasonable for how much peace of mind I have!! (:
Date published: 2022-05-09T00:00:00-04:00
Rated

5

out of

5
by
NewChuck
from
Great size, great battery life, better app.
I'm a cyclist and hiker/backpacker, who uses my InReach several times a week. I upgraded to the Mini 2 from a larger InReach Explorer +. I appreciate the lighter weight, smaller size while having as much or more battery life. I like the USB-C charging. My feelings as mixed when it comes to the new app. InReach is so much easier when using through the app, but as many things Garmin, the apps leave me wanting. I think over time, and after watching more tutorials this will get better.
Date published: 2022-03-01T00:00:00-05:00
Rated

5

out of

5
by
Jrcamper
from
Let me st the start date for the sateli service.
I ordered the InReach and started the process of setting up the required satellite service but had to stop because I don't want to activate (and start paying for service) until the following month. Archaic service policy.
Date published: 2022-02-25T00:00:00-05:00
Rated

5

out of

5
by
Canary
from
Until something better comes
Poorly implemented software, requires constant updates and has issues syncing to most current Android phone and Garmin Instinct 2 Solar (actually a decent product). New hardware is mostly cosmetic, a lateral change at best from previous iteration. Absurd subscription fees, cost prohibitive to ensure the safety of those with lesser means translates to me lack of consideration and gatekeeping. Borderline predatory marketing tactics. Absentee customer support.
Date published: 2022-03-13T00:00:00-05:00
Rated

5

out of

5
by
Greg9
from
Comforting safety tool
As an aging diabetic I love to go on long walks by myself. I am often in areas with no cell phone coverage. The mini 2 is great to allow my wife to track my whereabouts and know where to send rescue folks should that be warranted. The device makes both of us feel safer.
Date published: 2022-02-28T00:00:00-05:00
Rated

5

out of

5
by
rudiholt
from
Works well
This is my first Inreach product but I have been purchasing Garmin products since before GPS constellation was completed. The unit seems to work well. I have used it in fairly dense tree cover and it still would talk to the satellite. It is a little cumbersome to use I will admit. It is hard to know when it is actually talking correctly to the satellite network other than sending a test message or seeing that the last tracking info was sent. It would be nice if it was a little more informational driven but it does work. The battery life claims are a bit higher than what I am actually seeing. I put the unit on normal tracking and have it start tracking as soon as I turn it on. I can get about 3 days with it before the battery goes out. I don't do any long treks without power so this is fine for me. The Garmin share website is pretty neat. It will show your friends where you are in real time. I wish that the pricing was lower than what it is. I chose the recreation plan.
Date published: 2022-05-04T00:00:00-04:00
Rated

5

out of

5
by
DillmanFamily
from
Great Tool for Communication Navigation & Safety
I bought this a month ago and it has been the best choice for a compact Tool for Communication, Navigation & Safety.
Date published: 2022-05-02T00:00:00-04:00
Rated

5

out of

5
by
See Oh Two
from
Full features in a small package
I've been using a 8 year old early model of the InReach, dating from before Garmin's purchase. This new Mini-2 is such an improvement. It has all the features (as long as your phone is still working) at a fraction of the size. And the battery lasts much longer.
Date published: 2022-02-27T00:00:00-05:00
Rated

5

out of

5
by
JTO55
from
Working Well
After struggling for a year with a new and lower priced competitor and simply experiencing it being non-functional, I switched to the inreach. It pairs easily with my phone, has straight forward operation, and a secure way to attach it to a pack via its provided carabiner. Communication with my family has been 100%. So, it's more costly but it works. I am satisfied and recommend it to others.
Date published: 2022-03-13T00:00:00-05:00
Rated

5

out of

5
by
Ben035
from
Just the right features
I bought this a month ago and have used it multiple times after the initial setup. Worked exactly as advertised. Perfect size, great features!
Date published: 2022-05-11T00:00:00-04:00
Rated

5

out of

5
by
nurseatn
from
Difficult
A family member bought this for my husband. He hikes long distances and we wanted to have some way to keep track and call out emergencies if needed. He is 70 and he walks where there is no phone ability. We worked on this. Put in maps and places he might be able to contact. I set it up and paid, but it does not work. It is too hard to figure it out.
Date published: 2022-07-08T00:00:00-04:00
Rated

5

out of

5
by
Bowmike
from
Great features
Bought it three weeks ago I'm so happy I did I feel safe and secure now
Date published: 2022-04-08T00:00:00-04:00
Rated

5

out of

5
by
bob777
from
Onboarding difficulties
I bough the unit, created an account, and activated the unit. I asked about a subscription discount for a first time owner. No response yet. Also, when I fired up the unit, it is asking me to re-activate, even through I activated. I don't understand if one can activate but not yet set up a subscription.
Date published: 2022-07-27T00:00:00-04:00
Rated

5

out of

5
by
bob29
from
works great
I bought this a month ago and so happy that I did...
Date published: 2022-05-17T00:00:00-04:00
Rated

5

out of

5
by
Reddog
from
High expectations for the device
I travel by car on expeditions around the country each year and many times end up in locations with non-existent or poor cell service. I'm an experienced navigator and outdoorsman and have the necessary gear for all occasions. I go off road a lot into remote areas alone except for my dog and needed a communicator that worked no matter where I was. I wanted some way to notify my wife of changes to my itinerary for safety reasons, not to mention emergency calls for help. The device seems to send messages slower than what I expected but it sends them so no problem. The features are well thought out and it pairs easily with my iphone and the inReach ap. I bought it for one reason only: safety. Looking forward to using it on my trips in 2022.
Date published: 2022-03-17T00:00:00-04:00
Rated

5

out of

5
by
Ekim007
from
Difficult to use, set up and is not that reliable
The device simply isn't very good. The UI is terrible, any type of canopy greatly reduces both battery life and transmission ability.
Date published: 2022-04-12T00:00:00-04:00
Rated

5

out of

5
by
Vern
from
Perfect size
I bought this to carry in a small plane and for those hunting and fishing trips where there is no cell or wifi. It will work well for checking in and also in case of an emergency
Date published: 2022-04-03T00:00:00-04:00
Rated

5

out of

5
by
OMMA
from
Great but complicated
I have used this on a couple backpacking trips so my wife can keep track of me and it works well. At 77 years old many of the features that come intuitively to younger users are not so easily grasped. Maybe there are videos available to help explain some of the features. I would recommend it but advise that to get full functionality required a step learning curve.
Date published: 2022-03-15T00:00:00-04:00
Rated

5

out of

5
by
DonL
from
Auto Track issues
With the Mini 2 set to Auto Track, the activity track recorded doesn't contain many bread crumbs even with Activity Recording set to High Density. Manually starting tracking on the unit itself builds a breadcrumb file with 10 times as many points.
Date published: 2022-05-13T00:00:00-04:00
Rated

5

out of

5
by
PyrateJD
from
Amazing battery life
I've only got 14 days of use so far, but I started at 96% battery and left it on 10 minute updates. Running non-stop it's now down to 53% battery.
Date published: 2022-02-23T00:00:00-05:00
Rated

5

out of

5
by
MattS
from
Fantastic Peace of Mind!
I got this as a birthday present from my wife (probably more for her than for me :) ) I have so far used it on a test run through the city, on a day hike, and on a long long long climbing bike ride through Shenandoah NP and the thing has worked wonders. Paired with my Fenix 6, it has given me peace of mind knowing that I can reach out if anything goes wrong, and I can be found/contacted if anyone needs me! The functionality can be a bit clunky but easily figured out after a scroll through and some intro videos/instructions!
Date published: 2022-03-24T00:00:00-04:00
Rated

5

out of

5
by
Galen
from
Garmin inReach mini 2
I really love the this technology. However, some of the instructions and videos are a little confusing especially the tracking. I called support 3 times before I figured it out. They were very helpful. But in Garmin defense, I'm not very technically knowledgeable. My family is very happy with the ability to keep in touch and track me.
Date published: 2022-03-21T00:00:00-04:00
Rated

5

out of

5
by
Pilgrim
from
Learning Curve
I purchased an inReach mini2 for my through hike on the Appalachian Trail (AT). I have made several shakedown hikes and I took the mini2 on my most recent hike to test it out and become familiar with it. I had trouble determining if / when a message was actually sent and ended up sending a couple of messages twice. I like the fact that you can have preset messages and a contact list set for those messages. I look forward to getting more familiar and comfortable of the features. Overall the mini2 will be an asset to me on the trail from a safety perspective and will compliment the FAROUT APP on my phone.
Date published: 2022-05-09T00:00:00-04:00
Rated

5

out of

5
by
jamnewman
from
Safety is Important
I've been doing a lot more hikes and longer hikes with girlfriends and wanted to add this to my pack to be safe. My husband was happy for me to have it too so he can keep track of the progress we are making when we don't have a cell phone connection.
Date published: 2022-05-09T00:00:00-04:00
Rated

5

out of

5
by
Will18D2P
from
Excellent
Given to me as a gift. Excellent piece of tech for piece of mind out in the field.
Date published: 2022-05-17T00:00:00-04:00
Rated

5

out of

5
by
Susan S.
from
Hopefully I can figure it out?
Just can't seem to make sense of the features? Finding it hard to configure.
Date published: 2022-07-14T00:00:00-04:00
Rated

5

out of

5
by
prrudman
from
Works exactly how I want it to.
Before buying this I was a little concerned about the reviews suggesting that you can only get messages once per hour. The people saying this may want to read the manual. It states very clearly that when you send a message, it listens for replies for 10 minutes. If you are using the tracking feature it also checks for messages at your tracking interval. It does check every hour if you aren't using Tracking or sending a message. You can also force a check manually whenever you want. The biggest issue I have with it is that you cannot set the mapshare URL to be sent by default. It isn't a huge issue as you can just add it to your preset messages. Time to acquire a signal isn't an issues either. I turn it on at the trail head and by the time I am kitted out and ready to go it has a signal. Over all though it works really well and the locations are very accurate.
Date published: 2022-03-09T00:00:00-05:00
Rated

5

out of

5
by
dkolcinski
from
Great piece of equipment
I've long adventured off grid without any back up. I just took it for granted that everything would work out. But I've gotten a few more gray hairs, and with them some more wisdom. I think we owe it to our families and friends to take responsibility for our adventures. Along with basic self-rescue and first aid skills and equipment, I think this is an essential piece of equipment that everyone should carry. Easy interface via Garmin Explore app, long battery life, lightweight and small size - there is always a reason and plenty room for this in your pack. Get one now, and don't forget to practice with it ahead of time before you go.
Date published: 2022-05-03T00:00:00-04:00
Rated

5

out of

5
by
Albender
from
Great feature & excellent customer service
I bought this about a month ago. I am so happy with the new display and functions that enable me to keep in touch with my family while outside the Mobile coverage area! Great customer service with quick response! Thanks Garmin!
Date published: 2022-02-28T00:00:00-05:00
Rated

5

out of

5
by
ColumbusMark
from
Can be a lifesaver.
I originally bought the Mini and was pleased with it. But, this one sounded like it had enough new features to give it a try. So I have been using it now for a month or so and am getting better at figuring out what all it can do. It does way more than I "think" I need, but my favorite things about it (other than having the SOS button for emergencies) is the auto trackback feature and the ability to easily send pre-set messages. Of course, being able to communicate with my smartphone via bluetooth is great. I use the Mini 2 when traveling solo in either my camper van or when hiking.
Date published: 2022-03-31T00:00:00-04:00
Rated

5

out of

5
by
D2fly
from
Initial Review
I bought this unit to replace a 1st generation Spot unit. I was looking to upgrade to: 1) Connect to a better satellite system and 2) To obtain the ability to send custom text messages. I also purchased the extra life-flight rescue service. I like that the unit is small. I used my Spot unit (as I will also use this InReach Mini 2) on my motorcycle adventure journeys. I have so far only done local testing, but satellite connection seems fairly quick. One downside that I see from my old unit is the fact that to send one of the pre-canned messages I now must stop the motorcycle and use a series of buttons to send. The old unit had the ability to push just one button and send my "OK" message and location. I must note here that I had my old unit on a RAM mount on my handlebar, whereas in the future I plan to "wear" the Mini 2 on my person, so the single-button operation essentially goes away regardless. I do find the monthly payment schedule amenable.
Date published: 2022-03-20T00:00:00-04:00
Rated

5

out of

5
by
rjrcolpa
from
Big Features Small Package
Great and highly portable device. Works flawlessly with the IPhone and the app from Garmin. Easy to use and easy to carry. Highly recommended.
Date published: 2022-02-25T00:00:00-05:00
Rated

5

out of

5
by
Farmer @ The Farms
from
Peace of Mind....Priceless
I have had my device for a month and in a few weeks will be out & about with it...in the meantime I have watched many Gamin In Reach webinars and YouTube videos . THANK YOU GARMIN.
Date published: 2022-05-11T00:00:00-04:00
Rated

5

out of

5
by
BOWUSA
from
A little GIANT!
I had a previous model InReach Explorer + but found it too cumbersome for my backpacking needs and I would not say downscaling but upscaling to a more convenient small package.
Date published: 2022-04-07T00:00:00-04:00
Rated

5

out of

5
by
sletch
from
Great peace of mind.
Got this at beginning of April and took it on a trip to Death Valley which was mostly without cell service. Was great to be able to communicate with family and update our status. Also good to know they could reach me if needed.
Date published: 2022-04-19T00:00:00-04:00
Rated

5

out of

5
by
Mountain biker
from
Lousy performance
Lousy performance, Takes forever to send a preset message and often the Recipient cannot locate me! So far a total waste of money and time!
Date published: 2022-04-07T00:00:00-04:00
Rated

5

out of

5
by
Lally
from
Works effectively
It does what it says on the box. Durable construction. The companion apps suffer the same problems as all Garmin apps.
Date published: 2022-04-09T00:00:00-04:00
Rated

5

out of

5
by
Keith M. McDonald
from
Request for custom user waypoints
I purchased the InReach Mini 2 as a failover for a loss of cellular communications in the public safety realm. While it has great potential to alleviate that concern, I found that the public safety icons were lacking and there isn't (currently) a way to add custom user waypoints such as the FEMA Urban Search & Rescue icon set we use for structural assessments and hazard reporting in disasters. I am hoping this is either amended in a future firmware update or a public safety version is released later.
Date published: 2022-03-16T00:00:00-04:00
Rated

5

out of

5
by
Jeffrey354
from
Leaving with a clear mind
I'm out to sea for weeks at a time and now I have a clear mind knowing that I can stay in contact with family.Thanks so much
Date published: 2022-04-25T00:00:00-04:00
Rated

5

out of

5
by
Mterk
from
Peace of mind!
I am into adventure motorcycling which takes me off the beaten path. After seeing a friend get seriously hurt and we had no cell reception, I decided to look into PLB's. I love the Inreach Mini! Love the preset message options for check in! And it pairs easy with your phone if you need to send more in depth messages. And of course the tracking capabilities are great!
Date published: 2022-03-09T00:00:00-05:00
Rated

5

out of

5
by
caad3_xtr
from
Better Interface
Just the upgrade to the Explorer app was worth the upgrade, I can control almost every feature as far as tracking, messaging and saving data from my phone. I essentially pair the device to my phone, turn it on and stick it in my pocket. Everything else I do from my phone, Much improved.
Date published: 2022-03-28T00:00:00-04:00
Rated

5

out of

5
by
Pelagic
from
Great piece of gear, in a tiny package !
I had the mini, really liked it and upgraded to the mini 2 and love it. The extended battery life and capabilities when paired with your iPhone are amazing for anyone traveling off the grid. I'm heading to the arctic circle in two weeks and a suggestion for the Garmin product development folks. In extreme cold temperatures, the unit must be kept inside my coat(s) effecting the signal. If you can, develop a wire antenna that can go on the outside of my parka
Date published: 2022-02-27T00:00:00-05:00
Rated

5

out of

5
by
No name.,)
from
Terrible set up
The set up of the device is horrible. The device will not activate even though the phone and computer identifies it's activated. Worthless. Will be returning. better off with my compass.
Date published: 2022-09-24T00:00:00-04:00
Rated

5

out of

5
by
Greg45
from
Too Complex, would not acquire
I had to return the unit. It would not acquire the satellites. I have other Garmin products and they are fine. Alo would not pair with my phone a Samsung S8, about 3 years old. Disappointed
Date published: 2022-11-16T00:00:00-05:00
Rated

5

out of

5
by
"The Man From Eldorado""T
from
Peace of Mind
I bought this a few months ago and finally found a fellow hunter and hs partner who both had Garmins.I told him that I had been looking for someone who could activate for me. Without hesitation he said I can do that for you and we went to an area that has cell coverage as my camp is in meadow surrounded by hills on top of Rock Mountain in the Rock Creek Area, Southern BC. He spent the next hour setting it up with no charge! This gives me peace of mind as I have hunted in this area for 40 years now. Nowadays I hunt and camp alone as most of my buddies are long gone or too old. I am 69 and have had Alzheimer's for 5 years now along with other medical issues. It's good to have the SOS feature along with text messaging. I think I have coverage for 3 months as I will only hunt Sept. Oct. and Nov. I'm usually there until Dec. 21st for bow season but I tore out both shoulders a few years ago dragging a bull elk downhill to my camp. There's still a moose in the area so I will probably take the shot if presented like last year. Thank you for your great product and life saving SOS feature!
Date published: 2022-11-15T00:00:00-05:00
Rated

5

out of

5
by
doctor
from
Activation issues
Just got the device and had to enter my personal contact information, friend contact info cc# etc. 3 times. Very problematic website kept kicking me out/back. I sure hope I don't get charged twice!
Date published: 2022-11-15T00:00:00-05:00
Rated

5

out of

5
by
actor
from
not good
Bought yesterday and the unit only displays French. Unable to get English
Date published: 2022-11-08T00:00:00-05:00
Rated

5

out of

5
by
mooracer
from
Great unit, severely lacking instructions
I have been using this unit for a few weeks. I love the unit , the size, and the battery life. The instructions on how to use it are really lacking. I figured out how to send a message but how can someone text me when I'm out of cell range? Some instructional videos should be provided. If they are available, I haven't been able to find them. I bought a screen protector and a silicone case which are a must. You would think that for $400 that these cheap items would have been included. I bought the $70 diving case for protection when the unit is attached to my knapsack or stowed in some equipment bags. I have this unit for safety reasons and my life or anyone I stop to help's life is worth the cost of the unit and the overpriced subscription. Life can change in split second, hopefully this unit will be there and work when I'm in need of help.
Date published: 2022-12-12T00:00:00-05:00
Rated

5

out of

5
by
DrJim
from
Nice piece of tech
I've had the inreach mini for some time now, and it's been good, but it was a bit finicky with getting good reception through tree cover. I was also concerned about the battery, as I've had it for sometime the mini 2 you're supposed to have better battery life but I haven't seen much difference between the original mini in the mini 2. I am glad that I have it though, and I'm also happy with improved battery life.
Date published: 2022-12-13T00:00:00-05:00
Rated

5

out of

5
by
euro16v
from
small, lightweight, good feature set
Almost a must have if you venture anywhere cell phone signal doesn't exist. My family appreciates that I can still check in while in the back country. Screen is easily readable, good battery life for such a small device. Decent cell phone apps to assist in communication.
Date published: 2022-12-19T00:00:00-05:00
Rated

5

out of

5
by
ddubs2
from
Works Well, Tracking Issues, Long Delays Sending
I'll preface by saying I've only used the device one time for a 4 day trip into the Smoky Mountains. The overall functionality is great, and does what it is meant to do: a) give you the ability to communicate with people when outside of cell range (for me my wife and daughter) b) give people the ability to track my progress (they can compare that to the predetermined route, or just track where I am) c) should an emergency arise, SOS and communicate with responders (which I didn't use, thankfully, so not 100% sure this function works) My issues arise specifically when it comes to sending a receiving messages; the delay on sending and receiving at times was quite long (3-4 minutes to send a message) which is concerning as the reason we spend so much money on a device like this is to be able to communicate in case of emergency. Should a true emergency arise, my confidence that this will allow me to communicate QUICKLY with first responders is low. This would be less of an issue if I were able to send a longer message than the 160 characters allowed per message. I will say it was pretty cloudy most of the time, but there was no tree coverage where we camped and the device had a clear view of the sky (again, other than the clouds). My last issue with the product is that the live tracking is pretty lousy. don't get me wrong, it does give someone the ability to see the general vicinity of where I am, but if I look back after the fact to try and see how far I hiked and how long it took, all of the data points are way off. It has multiple miles added to each hike, with pings that look like I've backtracked the entire route, which throws everything else off. There is also no way to go back into my track and revise/update the true route taken.
Date published: 2022-12-20T00:00:00-05:00
Rated

5

out of

5
by
Dad2
from
Great way to stay in touch while in remote areas
Bought it before going hunting this year. It's nice being able to text pretty much from anywhere.
Date published: 2022-12-18T00:00:00-05:00
Rated

5

out of

5
by
TexDuke
from
Simple Sat com
Nothing too special. Not the most innovative user interface. Not the quickest to obtain a signal when view not obstructed. Long battery life.
Date published: 2022-12-24T00:00:00-05:00
Rated

5

out of

5
by
EnricoNP
from
Stay in touch with family during your trip
I got it tow month ago and used in several hikes. I use it to communicate my location to my family at home as well as track my location on I-phone. Easy to use, reliable, good battery life, peace of mind while hiking alone in remote locations.
Date published: 2022-12-27T00:00:00-05:00
Rated

5

out of

5
by
RikR
from
Purchased for emergency use primarily
Still trying to figure if you can save a track on device without sending track points. So far I don't think so. Disappointed the 3 preset messages were changed to check-in's just before I purchased which I did not know. The "I'm checking in, everything is okay" is fine but the other two, I'm starting/ending my trip are lame, I'm probably in cell service at that point so what's the point.
Date published: 2022-12-27T00:00:00-05:00
Rated

5

out of

5
by
Survival Dispatch
from
Survival Dispatch Approved
The inReach Mini 2 is an amazing device. We're absolutely blown away by the battery life. If you spend time off the grid this is the best safety device you can have. We've tested the competitors, and while they perform ok, Garmin takes things to the next level by integrating syncronization amongst all of the products they make.
Date published: 2022-12-23T00:00:00-05:00
Rated

5

out of

5
by
mockernut
from
Peace of Mind
I bought this for my family to be able to have peace of mind when I am out solo hiking/backpacking. The features are pretty intuitive and it didn't take long to figure out the basic operations. I use it mainly for the simple check in messages and to have it in case I need to use the SOS for an accident or health emergency (which thankfully I haven't had to use...yet). I like the size and the screen is clear and easy to read even without my glasses on. I do wish that you could do more from the phone app rather than having to go to my laptop for some things but all in all a very good product.
Date published: 2022-12-26T00:00:00-05:00
Rated

5

out of

5
by
POSj2022
from
Good but could be better...
Seems to work as advertised but am seriously disappointed that the three Check-in Messages can no longer be customized by the user. That needs to be reinstated with a software update. Very much unlike Garmin, which is otherwise a world class outfit, to limit this device's functionality to save a few corporate dimes. Would have been a 5-star review. It would be nice if there were an icon showing the satellite signal strength even if it had to be a menu item and not continually displayed if that saved battery life.
Date published: 2022-12-23T00:00:00-05:00
Rated

5

out of

5
by
AZ Jim
from
Reliable
I purchased this to replace another brand of satellite communicator. Unlike the other brand, this one has been 100% reliable when sending messages and tracking points. The battery life is also much better. I'm very happy. A device such as this, possibly used in a life or death situation, must be 100% reliable.
Date published: 2022-12-05T00:00:00-05:00
Rated

5

out of

5
by
Dust
from
Battery life is excellent !
Just completed a 2 1/2 day hike thru the Big Cypress portion of the Florida Trail. The battery life was at 97% at the start and 92% at conclusion using hourly updates. It's nice to hike with a device that is so small and has little energy requirements.
Date published: 2023-01-13T00:00:00-05:00
Rated

5

out of

5
by
Sam10
from
It's ok….
My husband bought this for me for a safari trip to Africa. After 10 days use - it's ok. Currently trying to look at the maps and the app and website are not great. Quite disappointed in the product as this is not my first Garmin product- I have 6 different Garmin products. If you just want the security of knowing you can try and text someone or have an SOS button available- then that's the only reason to buy the product.
Date published: 2023-01-12T00:00:00-05:00
Rated

5

out of

5
by
Novi
from
Hand over your credit card.
I have been on the Garmin site and on Youtube to try to figure out how to use the InReach II without running up a fantastic monthly bill. So far I have found that the inReach is not as easy to use as I have come to expect from Garmin. Dissapointing. Also the fees for using the service are greedy. Garmin should figure out if they want to sell the InReach unit for profit or sell the service for profit. But not BOTH. Analogy, this feels like the local gas station telling me I have to buy a gas pump in order to buy gas from them. Got it?
Date published: 2023-01-09T00:00:00-05:00
Rated

5

out of

5
by
NewUser6589
from
Poor
I bought this as a safety and navigation device but found it wasn't much more accurate than downloading an AllTrails map from my phone. The subscription plans are horrible since I only want to use it for the back country trips which happen 3 times per year but they only offer yearly plans. The usability of the apps is also extremely poor and not intuitive. You have to use multiple apps to complete simple tasks.
Date published: 2023-01-08T00:00:00-05:00
Rated

5

out of

5
by
KLugo
from
Easy to figure out
I have only played with this device in local wildlife areas but using it is easy, set up is simple. Great features and love the piece of mind.
Date published: 2023-01-10T00:00:00-05:00
Rated

5

out of

5
by
thekayaker
from
Mixed bag
It works as advertised. I've sent a few messages and that's neat. I'm not impressed that I have to pay for a subscription to access the same features (like TracBac) that were free on my Garmin Geko 201 that I was using 25 years ago. (I actually really liked that unit). I would understand if you charged more for advanced new features, but basic GPS functions should have been included.
Date published: 2023-01-05T00:00:00-05:00
Rated

5

out of

5
by
JLGranth
from
Simple and Works
I'm too often trail running and MTB where there's no cell service. If something were to happen, what would I do. The Mini 2 is light, has a great battery life, and works. I'm very happy with it so far! I love that my Fenix watch pairs with it giving me easy access to messages and tracking.
Date published: 2023-01-08T00:00:00-05:00
Rated

5

out of

5
by
cisco
from
Connection Issues but Awesome Once Overcome
I have a Samsung S21 Phone. The instructions for linking my phone to the inReach did not work very well and I had to experiment a lot to get them linked properly. For instance, inReach wanted me to download "Messenger" to my phone rather than "Explore" to link up. I have saved instructions for how to do this for when I've gone a long time between inReach uses and have forgotten the "work arounds" I used.
Date published: 2023-01-09T00:00:00-05:00
Rated

5

out of

5
by
Pinpoint
from
Small Form, Big peace of mind
The Garmin Reach was purchased as a safety precaution for a drive from Lower 48 to Fairbanks AK during the heart of winter. It held a charge for several days and operated as expected. We didn't "Need" it, on this trip, but stoked to have an SOS device for future Alaska adventures.
Date published: 2023-01-08T00:00:00-05:00
Rated

5

out of

5
by
Chablis22
from
Easy to Use
The Garmin inReach Mini 2 is easy to set up and use. Very small and easy to clip to my pack for emergency access. It gave me a great sense of confidence having this while hiking in the Rocky Mountains over Christmas. My husband had a medical emergency earlier this year so having the Garmin Mini gave me a sense of relief in case we needed emergency help.
Date published: 2023-01-10T00:00:00-05:00
Rated

5

out of

5
by
OLYBOYS2023
from
PEACE OF MIND
I purchased this after a few episodes of needing to communicate with my wife and family while on extended backpacking trips and backcountry skiing missions. Integrates great with my Fenix watch and overall easy to use on its own. Set up was intuitive and I look forward to exploring all the vast number of features.
Date published: 2023-01-10T00:00:00-05:00
Rated

5

out of

5
by
Pack Slayer
from
Fantastic Addition to a hike
Wife bought it for me for Xmas. Was great to have on my Hike to Three Ridges Wilderness. We did get off on the wrong trail and the alert for off course was a huge help before we got too far down it. The wives loved that we could periodically check in to show them we were alive. All in all, probably the signal most important piece of gear that I didn't realize I needed. Worth every penny!!
Date published: 2023-01-08T00:00:00-05:00
Rated

5

out of

5
by
Chief51
from
SCUBA Application
I have tested this unit and it has been proven to allow a diver to turn tracking on, place it in the waterproof case, attach it to their BCD, and go diving. The unit automatically sends their position to anyone with permission passively while they are on the surface of the water so long as the unit is above the surface. The unit will transmit their position while in the waterproof case. In case of the diver becoming lost or needing to alert emergency services, the diver can remove the inreach from the waterproof case while on the surface, activate the SOS feature then either return the unit to the waterproof case or keep above the water out of the case, so long as the unit is above the water, it will transmit their location and two-way messages. I have the unit tethered to my BCD as it will not float in case I drop it. This unit is valuable in many other applications too; while out of all communications during a recent Florida hurricane, I was able to use this device to alert family members and it was my link to emergency services when cell was out. I will never be without one of these as it is the perfect compliment to my EPIRB and my float plan. I BLEED GARMIN!!!
Date published: 2023-01-11T00:00:00-05:00
Rated

5

out of

5
by
DaveSal
from
User friendly
Regardless of how in depth you want to be with the information provided by the mini2, the user interface makes it a breeze to use.
Date published: 2023-01-05T00:00:00-05:00
Rated

5

out of

5
by
Carl H Jackson
from
Works well, peace of mind
I've used the mini on two hikes. You have to point the mini towards the sky to get a signal and it takes a few minutes to connect. The pre-set check in msgs are easy but typing free form msgs is very hard. I did connect it to the garmin app on my phone via blue tooth and that works better. The mapping/tracking & sharing is good. Luckily haven't needed to use the SOS. I also have the FarOut app, I heard that uses GPS too but not 100% sure. If it does then the mini is quite expensive just for SOS.
Date published: 2023-01-04T00:00:00-05:00
Rated

5

out of

5
by
Lostandfound
from
Very difficult to figure out
I've had it a month and still can't get it to use the contacts I've entered. I have no clue. Now I'll have to sit with someone who knows the secret handshake to figure this thing out. Sheesh.... I'm excited to be able to use it, and I know of others who do so successfully, but as it stands now, my idea of having my Zumo XT, inReach Mini2 and Sena all connected and happy is not happening.
Date published: 2023-01-04T00:00:00-05:00
Rated

5

out of

5
by
Gramps AT21
from
Why shouldn't it work
Honestly I have not had a chance to evaluate it in the field and probably won't for another six weeks but here I was prompted for feedback. This is not my first inreach device. My last one lasted seven years and was used repeatedly on PCT section hikes and in 2021 on a thru-hike of the Appalachian Trail. If it works as well as the one it is replacing I will be very satisfied.
Date published: 2023-01-19T00:00:00-05:00
Rated

5

out of

5
by
Anastasia
from
Easy to use for people who are not techy.
I found the manual a bit too simple. I had to Google some deeper topics. The App is user friendly.
Date published: 2023-01-03T00:00:00-05:00
Rated

5

out of

5
by
MarcS
from
InReach
Very easy to set up and works like it should. I was able to communicate on my elk hunt where there was no cell service.
Date published: 2022-12-29T00:00:00-05:00
Rated

5

out of

5
by
Bimski
from
The Mini – 2 is a GIANT!
As a previous owner of a Garmin in reach Explorer+, and more recently a Montana 750i, I am now the proud owner of a mini – 2 and I love it! The Explorer + worked ok to track my activities in the wild, but the keyboard was problematic, and the phone app interface was less than adequate. Two years ago, I purchased a Montana 750i. It's great, it's a tracker app, it's a GPS, it does everything. The one thing I learned when using the Montana is - I do not need everything when I'm out. It's heavy. I Don't need a separate camera. My phone and my separate GPS on both my mountain bike and motorcycle take care of my GPS needs. All I really need is a good tracker that can get me whether if I need it. The purchase of the mini-2 and then just learning about the Garmin messenger, phone app, make the combination of the two exactly what I need. And the mini, too, I can wear on my body if I get separated from my two wheelers. The battery lasts a very long time, in the messenger program on my phone does everything I needed to do so I do not really even need to touch the mini-2. And, the mini- 2 costs half as much as the Montana 750i and about the same as the explorer+. This may be the last in-reach device I buy, unless you can put it in a really nice watch with long battery life and easy recharge capability. I'll be buying that if you can accomplish that Mr. Garmin. Thanks again!
Date published: 2022-12-29T00:00:00-05:00
Rated

5

out of

5
by
Why Not
from
SOS / Messaging / GPS / MapShare
Emergency SOS - Expensive! I'm a 65yo adventure motorcyclist and spend time outside of cell service so having satellite emergency SOS is essential but at $400 for the Mini 2 device and no less than $175 annual subscription it is very expensive for a service that hopefully will never be used! Messaging on the Mini 2 is ridiculous but the Explorer App makes it manageable yet pricey. I use the Freedom Safety Subsciption to save money but this means I pay $0.50 per custom message. I can send "check-in" messages for free which are limited but get the job done. Overall other services appear better at messaging but have additional cost. GPS has gotten to be a free service on my cell phone and over the years and other companies like GAIA have become quit good and are my first choice for navigation. GPS Tracking and TrackBack on the Mini 2 is simply BAD however navigation via the Explorer App can be usable once you figure out Garmin archaic structure. MapShare is Garmin way to share your location and route with family and friends but again it's pricey. On the Freedom Safety plan I have to pay $0.10 for each tracking point so if you set the Send Interval to 10 minutes I pay $0.60 per hours while tracking so if you just leave it on for the entire trip it adds up to $14.40 per day on top of your monthly subscription and device cost. I just leave MapShare turned off and share my location via free "check-in" messages with my wife.
Date published: 2022-12-30T00:00:00-05:00
Rated

5

out of

5
by
HikingHusky
from
Almost perfect!
I bought this primarily for the peace-of-mind aspect of having communications when I'm off-grid (by intention or not), and for that I find it perfect in size, battery life and capability. I'm also an avid GPS logger, with logs of all my travels and hikes back to 2005, and had secondary interest in using my Mini 2 to replace my standalone logger. Mixed results to date: the UI and operation give me the sense the teams at Garmin behind this weren't on the same page as the confusion between "tracking" and "activity recording" is great for user and UI. Sometimes it logs a detailed track, sometimes only every ten minutes - regardless of settings for high detail. My experimentation, I've found that auto-track always logs at once-per-ten-minutes, while if I manual restart tracking it will log with detail. Looking forward to Garmin pushing a firmware update with some clarifications and tweaks to the UI in this regard, at which point this is a five-star must-have device.
Date published: 2023-01-12T00:00:00-05:00
Rated

5

out of

5
by
Capt Jerry
from
What great service
We bought it just before we left for the Bahamas. I didn't expect to need it for an emergency but we did. The response from inreach was great and the follow-up was very comforting. I recommend to every boater I know.
Date published: 2023-01-16T00:00:00-05:00
Rated

5

out of

5
by
TLEE
from
Horrible
So this item only lasted 27 hrs with a full charge very over rated
Date published: 2023-01-16T00:00:00-05:00
Rated

5

out of

5
by
Sessions
from
Complicated
This was a gift from family to help them feel more comfortable when we are out of cellular range when hiking and camping. I'm impressed with its technology. I'm also still confused on how to truly use it AND how to explain to family how to track us. In time I guess!!!
Date published: 2023-01-18T00:00:00-05:00
Rated

5

out of

5
by
Rich73
from
Great Customer Service
I love it! I will admit that for an older non tech guy, getting it set up and running was not intuitive. But, the fact that I can call and visit with great folks to walk me through it makes it work for me. It is a great device! Super customer service! I would buy it again.
Date published: 2023-01-25T00:00:00-05:00
Rated

5

out of

5
by
Riowrangler
from
Great features
I have owned three different InReach devices. This is the best one I have used. Super functional and perfect for when I'm hunting or in a through hike!!!
Date published: 2023-01-21T00:00:00-05:00
Rated

5

out of

5
by
Randy6414
from
Great peace of mind
I purchased this because my son was departing on a six week ocean trip, and we wanted a way to keep in touch with him, as well as an extra layer of safety for him while on board. The inReach sends automated track points at intervals preset by us, so we can log in and view his position, and track his progress on his passage. He can also send us preset messages (choosing from three that we predetermined) for free, or he can also type his own custom message or text (that counts against our free monthly alotment.) Further, in an emergency, he can initiate an SOS message anywhere on the globe--real peace of mind. Pros: you're in touch regardless of cell phone service plan or connection; those on land can track the progress and most recent position of those at sea; free check in messages add to peace of mind; custom written text messages are a nice extra feature for two-way communication if needed; you can operate this unit completely separate from a phone--no need to find the phone, etc.; the SOS feature is an extra safety layer on top of an EPIRB, with the added bonus of the ability to communicate two ways with rescuers, via text message. Cons: it takes a little getting used to the interface, both on the inReach device itself, as well as the Garmin Explore app, and the Garmin website; things display differently on the app versus the website; allow a week to use it and get familiar with it--both the device and the app or website for the land-based party--before you go to sea. Lastly, Garmin reduced the availability of custom check in messages in September of 2022, which was unknown to me when I made the purchase and subscribed to the service. An inquiry to Garmin customer service got the me ability to pre-customize my check in messages, so we were able to set up three meaningful messages for my son to choose from, rather than the default "I'm checking in, everything is ok," which gets repetitive and doesn't help as much as it could. After Garmin gave restored that ability, I am very happy with the purchase. More of those customizable preset check in messages would be even better (five? ten?). We will use the device on our boats for sailing and offshore fishing even after my son returns from his six week trip.
Date published: 2023-01-23T00:00:00-05:00
Rated

5

out of

5
by
Older and wiser
from
Security
I bought this because I ski and hike alone or with one other person most of the time. We're often not in cell service range. It was easy enough to set up and start using. A little pricey but worth it. We're fit and experienced and hope to only use it to say we'll be late for supper sometime
Date published: 2023-01-26T00:00:00-05:00
Rated

5

out of

5
by
Trailhawk
from
Great device
Nice size. I found it easy to use. Pease of mind in backcountry for family.
Date published: 2023-01-26T00:00:00-05:00
Rated

5

out of

5
by
elle
from
safety net
I have only used the unit on one trip. There is definitely a learning curve for the communication features. I am basically a luddite, so the operations were not intuitive for me. My family enjoyed the contact and location info.
Date published: 2023-01-26T00:00:00-05:00