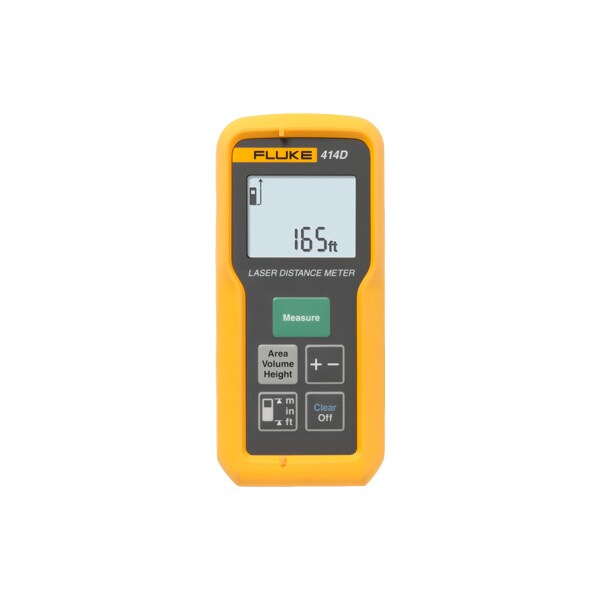 FLUKE LASER DISTANCE METER 50M 165FT
Mfg.Part: FLUKE-414D | CDW Part: 3024591

Contact Sales Assistance
(800) 800-4239, Monday-Friday 7am-7:30pm CT
FLUKE LASER DISTANCE METER 50M 165FT
FLUKE LASER DISTANCE METER 50M 165FT is rated4.33 out of5 by3.
Rated 5 out of 5
by
eponte5
from
So much easier then a tape measure
I've had this for a few years now, and it always works, and when someone argues that it can't be that exact they pull out their tape measure and bang on!!!! Love it
Date published: 2016-12-07T00:00:00-05:00
Rated 5 out of 5
by
Daleh
from
Does not last
I bought this a couple of months ago and used it about 6 times. I went to use it again and the laser had stopped working. I had stored it in a protected place. I switched to fluke because they are usually a good quality. This unit is not.
Date published: 2019-03-20T00:00:00-04:00
Rated 5 out of 5
by
Danny Boy
from
Easy to use.
I have been using this for a while now and it is extremely accurate when going up against a standard tape measure. Makes my job easier!!!
Date published: 2016-12-07T00:00:00-05:00
Rated 5 out of 5
by
MLSLLC
from
displeased is not the proper decsription
I purchased a model 414-D; what a piece of junk, it seem's the lazer is extreamly under powered, it would only perform in low light situations and then the accurcy was not there. I taped the height of a wall at 8 feet and 1/2 inch, the 414D showed it at 6 feet 10 1/8 inches, I hope the 424 model is equiped with a better lazer and before I purchase it the supplier will have to prove that it will work in sun light.
Date published: 2014-03-03T00:00:00-05:00
Rated 5 out of 5
by
Arthur
from
Suggestion for improvement Laser Distance Meter
Hello. I want to apologize for machine translation, I don't know very well English. I would like to offer to improve a device for measuring distances. I use the Fluke 414D Laser Distance Meter, it suits me, of course, but I had the idea, and in my opinion none of your competitors do not have such devices. Very often it is necessary to measure the height or length of a room, but it is not always convenient to measure from the floor or from the wall. I think your engineers will not be very difficult to create a device with a double-sided laser beam, with the two ends of the device And in this case, it will be possible to measure for example the height of the room without putting the device on the ground, and just holding it in your hands in a vertical position, and of course the device must summarize the two distances and issue the final height of the room.
Date published: 2015-04-04T00:00:00-04:00
Rated 5 out of 5
by
Ricke4310
from
Excellent Accuracy and Time saving tool.
Purchased the 414D Laser Distance meter over a month ago, use it it daily, very accurate, improved my efficiency, saving me time when calculating distances.
Date published: 2016-12-09T00:00:00-05:00