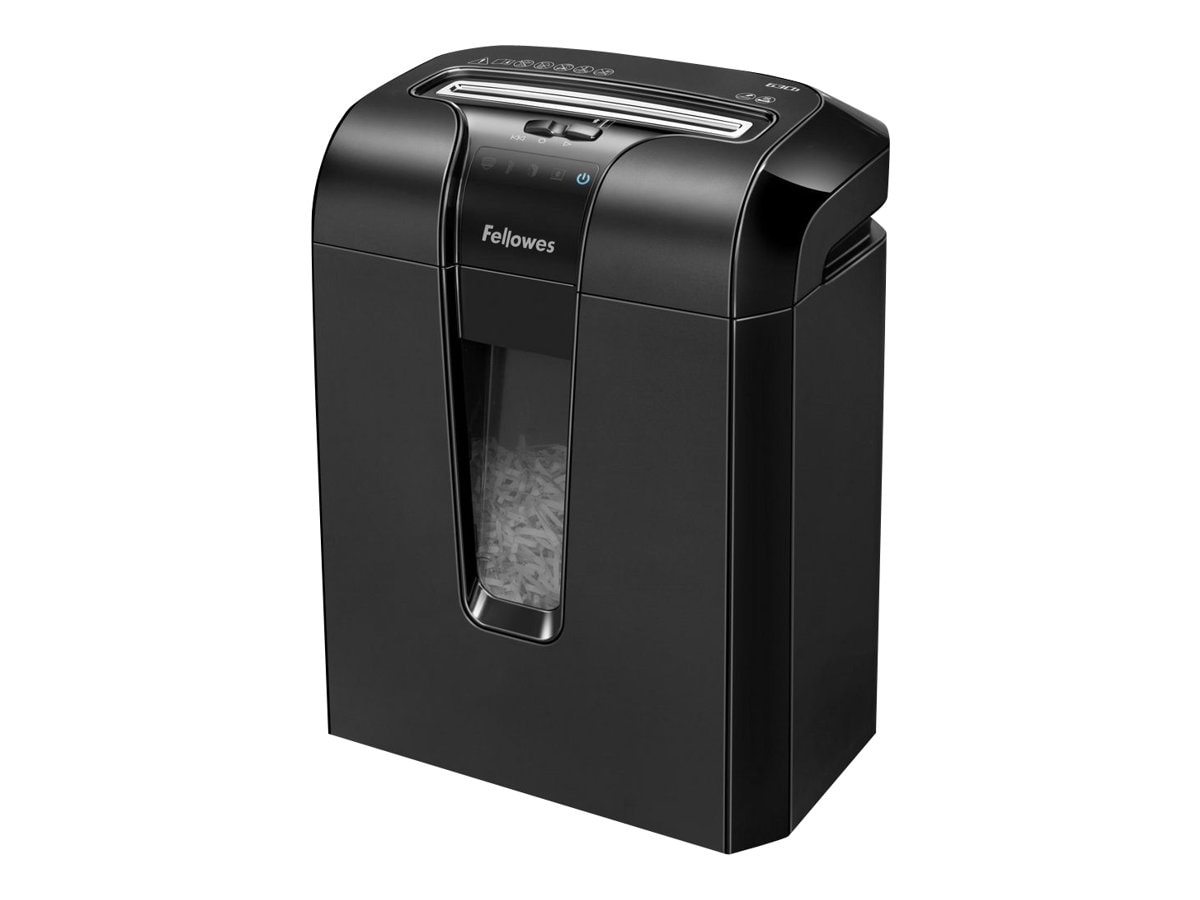 Fellowes Powershred 63Cb - shredder
Mfg.Part: 4600001 | CDW Part: 2912248 | UNSPSC: 44101603
Fellowes Powershred 63Cb - shredder
Product Overview
Main Features
Shredder
cross-cut
0.156 in x 2 in
P-3
Fellowes Powershred 63Cb - shredder is rated5.00 out of5 by3.
Rated 5 out of 5
by
NewPurchaser
from
New Purchase
Like this shredder a lot. Seems to be very safe (in terms of protecting fingers if they're even close to the shred area) and energy-efficient--I don't feel bad leaving this shredder plugged in. Nice size bin means you don't have to empty it too often.
Date published: 2014-09-15T00:00:00-04:00
Rated 5 out of 5
by
Atholr
from
Really Happy
I purchase the Powershred 63Cb after a new shredder that I had just purchased overheated after a few minutes and the motor burnt out. The 63Cb has a feature that cuts out and switches off the motor BEFORE it burns out. This vital feature added to the solidness and good looks of the 63Cb make this my favourite shredder ever.
Date published: 2016-04-22T00:00:00-04:00
Rated 5 out of 5
by
Cassandra
from
I gave it a fair chance
I am disappointed with the performance of this shredder. the design is poor in that the contain does not easily slid in and out and can be tricky to reinsert. the Jam blocker has yet to realize that it is supposed to prevent jams....not constantly cause them. I really feel like I spent way to much for the shredder but I was brand loyal and opted to stick with Fellowes. Unfortunately when this one dies I will consider some other brands.
Date published: 2013-08-02T00:00:00-04:00
Rated 5 out of 5
by
papercut22
from
I'm confused
I thought I was purchasing a brand new item, but when I received my shredder, I took a very close look at the insides. I found some shredded paper and thought right away, "Did they sell me a refurbished item?" Sure looks like it and makes me wonder.
Date published: 2015-04-13T00:00:00-04:00
Rated 5 out of 5
by
Chief1
from
crc46000
Cheapley made, had to put felt pads under unit, so it would not scratch the floor. Motor/shred sits on a flimsy cabinet. Unit is quit.
Date published: 2017-07-27T00:00:00-04:00
Rated 5 out of 5
by
kevinw
from
Performs as promised
We purchased this product prior to cleaning out and reorganizing 30+ years of files in our home. We subjected it to almost 3 weeks of serious shredding and it performed as advertised with nary a glitch. We are very satisfied.
Date published: 2013-12-06T00:00:00-05:00
Rated 5 out of 5
by
CanukShredder2015
from
Registering the Product for Canada
The online registration form (and contest) says applicable to North America; ie. Canada included. It does not allow for entry of a Canadian address, because it requires that a "State" be entered, but does not list provinces for Canada so the form cannot be completed. My address is in Calgary, Alberta, Canada. Since I had to select a "State" to proceed, I selected Alaska. Please correct the form to include a blank space for alternates to "State" to be entered. I have just set up the shredder and will begin to use it. Big expectations !
Date published: 2015-05-11T00:00:00-04:00
Rated 5 out of 5
by
Lizzy50
from
Sanity saver!
New year's goal was to get my mail and paper work in some kind of order. I saw your shredder advertised in the target flyer.I decided that's what I needed and sure enough it had been the best little worker. No more worries about my name getting in the recycling junk mail.I just put it through powershred63CB and it turns it into pet bedding.I especially like the cool down feature.I have had no problems and have all ready reached my goal for this year thanks to Fellowes powershred63CB. I give this product 5 stars hands down.
Date published: 2015-02-09T00:00:00-05:00
Rated 5 out of 5
by
Gerry
from
The 63cb Shredder works perfect for my home use. My old shredder died and I replaced it with this much nicer model
This shredder is awesome and it looks great. Much better then my old shredder that could not shred as many sheets and was always Jamming. Also, the 63cb is so much easier to empty then my old model.
Date published: 2014-02-27T00:00:00-05:00
Rated 5 out of 5
by
COMX
from
Grateful User
I had been using another brand of shredder for several years and it worked fine, except that the switch had been broken for some time. And so I had to open the pull-out bin and put my left hand in under the hood, depress the on switch and hold it the entire time I was shredding. So I was constantly bent over, feeding the paper with my right hand and holding the switch with my left. The new Fellowes 63Cb is a great machine and I'll be using it all day today, so I'm certain I'll like it even better after today. I've not had a jam yet and, although I've only shredded a few hundred sheets of paper thus far, I've not yet experienced the cool-down period. I'm very grateful for my new office shredder! Suggestion: I would prefer, however, that the oil container came with the shredder because I didn't know I needed one and so I now need to order that separately.
Date published: 2013-07-12T00:00:00-04:00