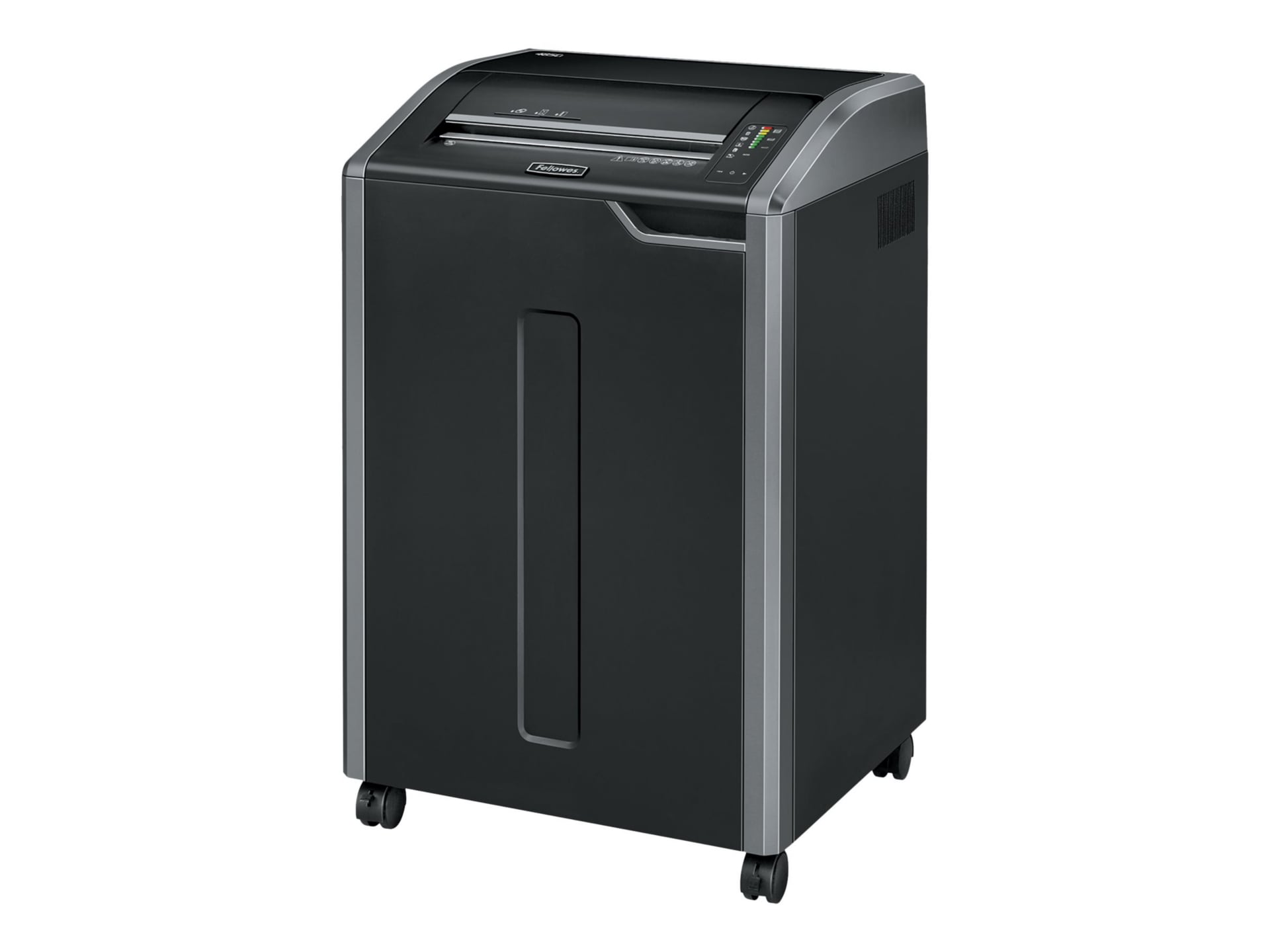 Quick tech specs
View All
Know your gear
Features
- 100% Jam Proof System eliminates paper jams and powers through tough jobs
- Auto-Oil™ automatically lubricates the cutters to enhance performance and extend shredder life
- Patented SafeSense® Technology stops shredding when hands touch the paper opening
- Energy Savings System reduces energy consumption by up to 70%, compared to conventional commercial shredders during normal usage
- Designed and assembled in the USA (TAA Compliant)
- Extra wide 16" paper entry
- Shreds 28 sheets per pass into 5/32" x 1-1/8" cross-cut particles (Security Level 3)
- Continuous duty motor offers non-stop shredding
- 35 gallon bin
- For 10+ users

COO: USA
Fellowes Powershred 485CI Shredder-TAA
is rated
4.00
out of
5
by
9
.
Rated

5

out of

5
by
Jill
from
Average
The machine is basically an average machine. I was quite surprised since we paid a pretty penny for it. It's quite loud. But besides that, it does what it is supposed to do without any trouble.
Date published: 2010-09-20T00:00:00-04:00
Rated

5

out of

5
by
Fab4Girl
from
XLNT Shredder!
Replaced a very old, NOISY shredder with a Fellowes. Only issue seems to be slower shredding, but that could be due to fact Fellowes is a criss-cross and old machine did strips. Old machine sounded like a jet taking off. This is a great shredder!
Date published: 2011-04-06T00:00:00-04:00
Rated

5

out of

5
by
Structa
from
Worth Repeating
We already had this model when given the opportunity to replace it with anything we wanted. We decided that because our old model was still running strong and easy enough to maintain, that we'd like another, newer model and are pleased to have it! Our organization does a lot of shredding of docs and CDs/DVDs so we needed a powerful strong unit.
Date published: 2015-10-26T00:00:00-04:00
Rated

5

out of

5
by
Donald
from
A True Workhorse
With all of the regulations regarding identity theft, it was imperative that we destroy whatever paper documentation that was no longer necessary for our credit cards and credit accounts. The C-480C fit the bill and has met all of our expectations.
Date published: 2009-05-26T00:00:00-04:00
Rated

5

out of

5
by
ahatuwm
from
null
The shredder worked great in the beginning but after a year or so the shedder sometimes work but most times doesn't. The jam light stays on and there is nothing jamming it.
Date published: 2010-03-08T00:00:00-05:00
Rated

5

out of

5
by
PJPJ
from
So good we bought two
The shredder has a very intuitive sensor so our big shred jobs went very quickly. I also never feel like my fingers could come in contact with the blades. The design is clever because it takes space constraints into account and fits into our small available nook, though it is not a tiny machine. It also is not very loud considering the power it has. I also really like not having to oil the machine often. Once a year or so, I fill it with the oil and then don't have to think about it. One thing i think that should be updated is the box that the shredding is caught in, its cardboard so it if gets dirty you kind of have to live with it. I do like that cardboard is bio-degradable and i think they need to keep that 'green' aspect to the catch bin but with a slightly better material. Anyway we liked it enough to buy a second one when our demand increased.
Date published: 2017-08-01T00:00:00-04:00
Rated

5

out of

5
by
Doctor
from
Good investment
Powerful shredder without jam up issues. Only issue is noisy and occasional squeaks.
Date published: 2009-08-27T00:00:00-04:00
Rated

5

out of

5
by
Payroll
from
Great Machine...Out with the old in with the new
Great purchase for our small office. Good safety features. The shreader tells you if you are trying to feed it too many sheets or if you can feed it more. Also it warns you if the bag is filled reducing clean up. It is quiet enough to continue with a conference call one office away.
Date published: 2017-08-22T00:00:00-04:00
Rated

5

out of

5
by
DJ
from
Oil problems
I researched shredders for a month before I chose to get this one for our office. When it works, it's great. The first one I got had a missing part and leaked oil. I had that part replaced but still had problems with oil leaking. They sent me a new machine. This one doesn't seem to leak because we only add 1/2 a bottle of oil at a time but now the jam light stays on and we hit the forward button to feed paper through. Sometimes it makes strange sounds. It runs by itself when we turn it on, before we put anything in it. We've had the computer kit replaced on it already too. We clean the sensor but that doesn't help. It only has a year warranty on it so I'm not sure what will happen since all the problems I've had started within 3 months of my purchase and now it's been over a year. This was one of the first models to have an internal oiler from what I hear. I hope they work out these problems because I really like it otherwise. I'm not sure if these problems are just kinks that have to be worked out and hopefully improved on the next model.
Date published: 2009-09-29T00:00:00-04:00