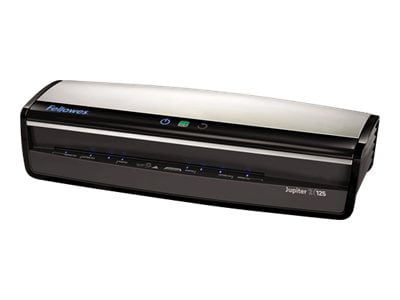 Quick tech specs
heat or cold laminator
12.5 in
View All
Know your gear
The Fellowes Jupiter 2 125 Pouch Laminator offers a wide range of applications for offices, school projects and other recreational uses. With its InstaHeat Technology, this laminating machine warms up in a minute for quick use. Ensure high-quality finish at a rate of up to 30 inches per minute courtesy a six-roller system. In addition, its AutoSense Technology system efficiently detects the pouch type and self-adjusts to the suitable setting. In case of mis-feeds, the Advanced Pouch Tracking system of this pouch laminator reverses the pouch for efficient use. An auto shut-off feature of this Fellowes laminator prevents overheating.
Pouch laminator for hot pouches up to 10 mil thick and cold pouches
Ideal for reference documents, signage, flash cards, IDs, maps, photographs, scrapbooking and more
Fellowes Jupiter 2 125 - laminator - pouch
is rated
4.55
out of
5
by
31
.
Rated

5

out of

5
by
Toasty
from
Love this laminator
This laminator makes superb laminated copies. You only have to run it through once where I have had to run it through several times with other machines. This was a great purchase!
Date published: 2019-07-29T00:00:00-04:00
Rated

5

out of

5
by
Lynnie
from
Fellowes Jupiter 2 125 Laminator
We just purchased the Jupiter 2 125 laminator to replace an aged Fellowes unit. This new machine heats up in a short time and laminates like a dream! Staff will love using this vs the old one (that lasted a long time).
Date published: 2019-07-22T00:00:00-04:00
Rated

5

out of

5
by
WBL3
from
WOW! Great purchase decision.
Was not sure what to expect from a laminator purchase. What I found was great. I took the machine out of the box, read the instructions, plugged in the power cord, put a document into a packet, inserted into the machine and out came a perfectly laminated document. I did this 60 times before I completed my first session with the machine. What a find.
Date published: 2017-05-07T00:00:00-04:00
Rated

5

out of

5
by
RainE
from
Fellows laminater
We needed a laminator to seal large documents but wanted a low profile. This product served both needs & we are very pleased with the tight seal that was formed. It gives you a quality finish.
Date published: 2014-09-03T00:00:00-04:00
Rated

5

out of

5
by
Nigil
from
Works great
Bought this to laminate wallet sized cards. Works great and does the job designed.
Date published: 2019-05-23T00:00:00-04:00
Rated

5

out of

5
by
Fatz65
from
Excellent purchase
I was able to make 10 laminates in less than 10 minutes, whereas my old machine would take 20 minutes just to warm up.
Date published: 2015-08-24T00:00:00-04:00
Rated

5

out of

5
by
Ryandsi
from
Great laminator
This is very well made and works like a charm, very easy and well worth the money!
Date published: 2018-08-02T00:00:00-04:00
Rated

5

out of

5
by
MontanaBuyer
from
Super easy laminator
This laminator has worked perfectly from the first use and is very user friendly. I have only run a few projects on it so I can't comment on it's longevity, but I definitely think I will get my money's worth. It heats up in no time and creates a smooth, flat finish with little or no cool-down between sheets. I purchased this after reading many reviews about Fellowes and other brands of laminators, and I can see why this is the preferred brand.
Date published: 2015-06-15T00:00:00-04:00
Rated

5

out of

5
by
Coordinator
from
Fellows Jupiter 2 125 Laminator
I have been laminating for years, and I have to say this is the worst laminator I have ever used. If the pouch is not perfectly centered it jams, the corners curl or the pouch bunches up. It is so bad I am going to forego the $200+ and get a new laminator.
Date published: 2018-04-26T00:00:00-04:00
Rated

5

out of

5
by
c21randyb
from
Works Great
I bought this to laminate various office papers, and also some legal documents, and it is fabulous. A+
Date published: 2014-08-04T00:00:00-04:00
Rated

5

out of

5
by
LumberJack
from
excellent purchase
I found the instructions easy to follow . Once the laminator was in place it was quick and adjusted properly to the film pouches we used . I was pleasently surprised that I did not need to put the laminating pouch in a carrier as in the past . This helped to speed up our job
Date published: 2014-12-10T00:00:00-05:00
Rated

5

out of

5
by
Anita
from
So Quiet
This model (Jupiter 2 125) is so quiet and simple to use. Happy we made the choice to purchase it.
Date published: 2015-07-15T00:00:00-04:00
Rated

5

out of

5
by
nino368
from
The "good" laminator
The machine is noticeably heavier than the ones I have owned before and it heats up very quickly. It detects the thickness automatically and adjusts the speed accordingly. It does an excellent job. It is fast. The adherence is flawless. The starting kit includes a "roll cleaner page" that you should feed through the machine before turning it off. It also includes about 10 x 3ml pouches. I am very happy with this product and hope it will serve me for many years.
Date published: 2017-06-09T00:00:00-04:00
Rated

5

out of

5
by
akmgr
from
Great Laminator!
The laminator is a little larger than I had hoped, but it works great!
Date published: 2016-06-07T00:00:00-04:00
Rated

5

out of

5
by
MisterFixIt
from
Great Machine!
This is a great Laminator for the office, being able to handle the different size pockets is a huge plus for us. It has many uses for all departments of the company.
Date published: 2016-06-30T00:00:00-04:00
Rated

5

out of

5
by
Mojo365
from
Great addition
This machine is great! I love the anit jamming functions. It does not take a long time to heat and I love the sleek look of the machine.
Date published: 2017-08-28T00:00:00-04:00
Rated

5

out of

5
by
NamelessCynic
from
Excellent Laminator
I don't have anything bad to say about this machine. It couldn't be easier to use, it's sturdy, and it's a huge improvement over the older models: it's almost impossible to burn yourself, and you don't have to mess around with little cardboard sleeves. If I had to find something to complain about, the quiet little noise that the rollers make when it's running is a little high pitched. I'd recommend this over most laminators I've used.
Date published: 2014-07-15T00:00:00-04:00
Rated

5

out of

5
by
Fishing
from
Noisey
I found this laminator to be extremely noisey. I've had 4 laminators over 10 years and this is the loudest I've ever had. Also is very slow feeding through. On the up side...it heats up extremely fast.
Date published: 2015-07-27T00:00:00-04:00
Rated

5

out of

5
by
Cuttinup1
from
Top Rank Quality Purchase
Having done some mild searching in retail outlets to get a possible idea of a good durable laminator with quality features, I finished with best laminators search on the internet. the Fellowes Brand stood tall in many categories particularly in the quality ratings for the price. Purchasing the Jupiter 2 125 has turned out to be above expectation. What a quality made product with quick warm up and extremely clear laminates. Very happy with this purchase and the performance. Definitely commercial quality at home business pricing...
Date published: 2015-03-29T00:00:00-04:00
Rated

5

out of

5
by
AJ28
from
Awesome Product and Awesome Support
This product is working really good, is quick in laminating sheets and the best part , the support Department is really good , wuickly resolve the issue.
Date published: 2014-12-01T00:00:00-05:00
Rated

5

out of

5
by
HoustonTexan
from
Nice Heavy Duty Laminator - Highly Recommended!
The Fellowes Jupiter2 125 Laminator seems to be a great product. I have only tested a couple of pages but it works very well. When the machine is first turned on, it warms up in about a minute which is very quick. Since I use the product at home now, it is great that the HeatGuard Technology keeps the outside of the unit cool to touch so that nobody might accidentally burn themselves. I did not experience any jams in the two documents I laminated, but I like the auto reverse mode that can reverse the document if there is a problem as it is feeding into the unit. I used the Enhance3 mil pouches (a starter pack of 10 of these pouches was included with the unit) and, even though they are the thinnest ones available, they did not have any air bubbles or problems. I also like the fact that the unit's auto-adjust system automatically detects the pouch thickness and adjusts the settings so there is no room for "operator error" that might melt a pouch or have it not seal properly. At 22 inches wide the laminator requires a fairly large amount of space. You should also all a depth of at least 20 inches to accommodate the laminator and the output tray. This is a heavy duty product that works well at home or even in an office setting. The starter pack of pouches includes a laminating roller cleaning sheet that you should feed through the unit after each use to remove possible excess glue from the rollers. I am new to the product but am a fan and highly recommend it for your laminating needs.
Date published: 2015-05-08T00:00:00-04:00
Rated

5

out of

5
by
TimInPhoenix
from
The Must Have Laminator
This laminator is everything is promises to be. Ready in to use in seconds. Laminates quickly and has a reverse function to assist with anti-jamming.
Date published: 2022-03-27T00:00:00-04:00
Rated

5

out of

5
by
AGWSWMD
from
Fast & efficient
We recently upgraded our 15yr old laminator. We researched many brands, and decided to try the Fellowes Jupiter model. It's great for small and large projects, great for thicker mils and we were really excited to do laminations without carriers! This machine far exceeded our expectations right out of the box!
Date published: 2022-03-08T00:00:00-05:00
Rated

5

out of

5
by
Bourne
from
This is my Dream Laminator
I love this Product Jupiter 2 A3 Laminator because this is my Dream ever. Hoping to have one of this kinda nice and versatile product.
Date published: 2022-01-01T00:00:00-05:00
Rated

5

out of

5
by
BuckyKat
from
Adhesive residue and auto-sense problems
The first two pouches I ran through the machine emerged from the rear of the laminator with a lot of adhesive on them. The cleaning sheet was unable to reduce the adhesive so I sent through a third pouch and the leading edge emerged damaged, as if it got snagged on something. Running the cleaning sheet through the laminator again also emerged damaged as well. Called Fellowes tech support and they suggested returning it so I submitted an RMA. The replacement laminator I received also doesn't work. I've attempted to run three pouches through it and as soon as the leading edge emerges from the rear of the unit the auto-sense "feature" kicks on and reverses the pouch back out.
Date published: 2016-12-06T00:00:00-05:00
Rated

5

out of

5
by
HappyEduca
from
Luxurious Laminator
Best Laminator I have used and purchased! I highly recommend the Jupiter 2 Laminator to users.We would purchase this item again!
Date published: 2020-09-10T00:00:00-04:00
Rated

5

out of

5
by
dant
from
Great Laminations
A very good and sturdy lamination. I do lots of 11x17 documents and this works well. It also does well on much smaller items, too. Fits perfectly on my desk.
Date published: 2021-05-06T00:00:00-04:00
Rated

5

out of

5
by
guigui1819
from
Ce produit fait du 11x17
J'adore ce produit. La précedente j'avais une spectra 95 je l'ai tres bien aimer mais elle ne faisais pas de 11x17 et maintenant j'avais besoin de faire du ledger. Je recommande fortement ce produit. Tres robuste comme machine et tres simple d'utilisation.
Date published: 2021-06-14T00:00:00-04:00
Rated

5

out of

5
by
HLCHOUSTON
from
Great Laminator
We've only had this laminator for a week and it is already being put to good use. Excellent results with this machine and it will laminate really thick pages.
Date published: 2019-11-25T00:00:00-05:00
Rated

5

out of

5
by
glickd23
from
Sad
This little laminator worked great for 2 years. Then about the time the warranty expired it just quit working. I called Fellowes and they thought either the mother board or the heating element went out. Now whenever it is turned on and it is trying to heat up it will start beeping one long, extremely LOUD, screeching beep. It does not heat at all. There isn't any way to open up the machine in case there is an inner jam, and this little machine should last longer than 2 years. We didn't use it everyday and when we did use it we only laminated a few pages at a time. We have 2 other larger laminators for bigger jobs. We purchased this little machine to use so we didn't have to heat our bigger machines for laminating only a few pages. This machine is quite handy but should have lasted much longer and should be able to be opened to be worked on. It is like too much other technology today. It falls into the "just throw it away and get another new one" area. Where is Emmitt's Fix-It Shop when you need it?
Date published: 2019-10-29T00:00:00-04:00
Rated

5

out of

5
by
Kantilal
from
Excellent quality machine
The Jupiter J3 is a fantastically easy and reliable Laminator built to work fast and high quality.
Date published: 2019-12-10T00:00:00-05:00